Best Valentine's Day Gift Ideas of 2023 For Your Loved ones
February 03, 2023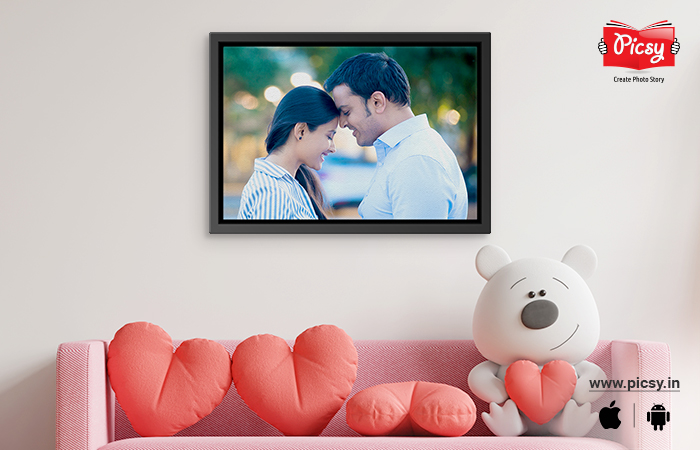 You might sometimes feel quite annoyed in deciding the appropriate gift for your partner. The reason is that you might have already given them the best gifts. We understand your concern, which is why we have curated this interesting write-up for you. It will surely help you to decide on the best Valentine's Day gift ideas. But before that, let us see why exactly we celebrate Valentine's Day.
Add Beauty to Your Space with These Décor Pieces
Try these beautiful art pieces if you plan to induce a romantic flair to your space.
Check out Picsy's stunning range of home décor pieces.
Skip to...
Valentine's Day Gifts Online
Although there are various gifts Valentine's Day gifts online, you can select the best one as per the choice of your significant other.
Origin of Valentine's Day
Valentine's Day is also called the feast of Saint Valentine, celebrated annually on 14th February. It basically originated as a Christian feast day honoring Christian martyrs, especially Saint Valentine.
Valentine Week Gift Ideas
Valentine's week should be completely devoted to your significant other. Starting from 7th February, Rose Day, to 14th February, Valentine's Day, surprise your partner with these exciting gifts. So, let us figure out the latest valentine week gift ideas.
Rose Day Gift
Rose Day is celebrated on 7th February. It marks the beginning of the Valentine's Day week celebration. So, as the beginning of the lovers' week, you can gift a beautifully made bouquet of roses. This will serve as a symbol that your relationship also should bloom like those blooming roses. It will not only look beautiful but also make your better half feel how special they are to you. It is the perfect Rose Day gift.
Propose Day Gift
Propose Day is on 8th February; it marks the second occasion of lovers' week. It is the perfect time to propose to your girlfriend/boyfriend. It is the time when you can propose to your partner to get married to them.
To make this day memorable one, gift them a Proposal Photo Book as Propose Day gift comprising all your mushy moments. Create your romantic story and imprint it into a photo book so it can be cherished for a lifetime. And whenever your partner flips through its pages, they will be reminded of your love towards them. Creating your photo book is an excellent way to relish your memories.
Chocolate Day Gift
Chocolate Day is celebrated on 9th February. Isn't it the given fact that we all love chocolates? It is the perfect Chocolate Day gift that you can for your partner. As a memorable gift, you can create a hamper consisting of all the favorite chocolates of your beloved. You can also add a few cute handwritten notes to make it all the more personalized. And trust me, your partner is going to love it. In addition to this, after giving them a chocolate hamper, ask your partner to share those chocolates with you. I mean, literally eating the chocolates together.
Teddy Day Gift
We celebrate teddy Day on 10th February. Teddy is the cutest and most adorable Teddy Day gift for your partner. Get a big, fluffy teddy to make them happy. And it will serve as a comforting segment when they are upset.
Promise Day Gifts
We celebrate Promise Day on 11th February. This Promise Day, not only make a promise but also gift something to your beloved. As the Promise Day gift, give a beautiful greeting card that has your feeling written on it. Let's see what other you can try.
Valentine Moments Photo Book
To create a beautiful yet memorable photo book full of love, you can choose the photos from your first few coffee dates or remembering the moments through short texts and cute notes. Just make sure it should not look cluttered and try to keep it simple and sweet. Include all the memories from your first meal together, first concert, or first trip together. Through the medium of Picsy, treasure those firsts permanently by creating your Valentine's Day Photo book using numerous layouts and templates.
Hug Day Gifts
Hug Day is celebrated on 12th February, which signifies the time when you both can express your feelings for each other. The couples embrace their loved ones by hugging them. Hugs are celebrated as the warmth of the love the couples share. Let us see what are the top Hug Day gifts.
A Beautiful Ring
To make it more special, you can gift a beautiful ring, and trust me, your significant other will fall head over heels for this gift. For the ring, you can go for the name of your beloved engraved on it.
Acrylic Photo Prints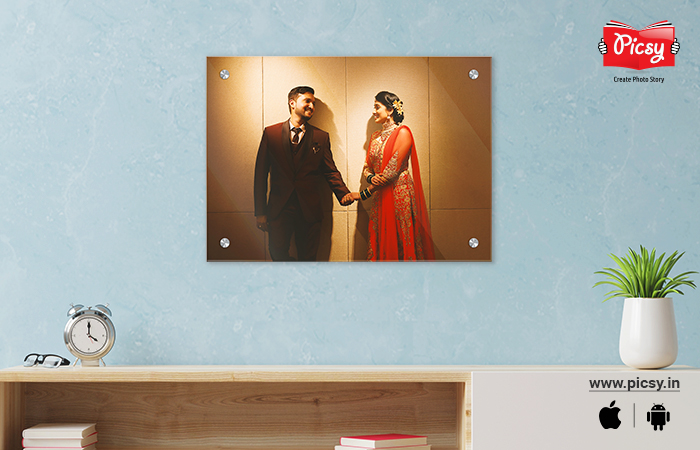 This Valentine's week, how about gifting something that serves as a daily dose of romance? Surprise your partner with a beautiful picture of yours transformed into an acrylic photo print. And you can place it in your bedroom, which would be the first thing your partner will look at after waking up. It will be a great start to the Day.
Choose your favorite Acrylic Photo Print by downloading the Picsy App.
Kiss Day Gift
Kiss Day is celebrated on 13th February and is a step ahead in your relationship. With a kiss, gift your partner canvas prints as a Kiss Day gift that your partner can cherish for a lifetime. When you get your maze of memories printed on a canvas, it induces life to the beautiful moments you spent together as a couple.
Valentine's Day Gifts for His and Her
Valentine's Day is celebrated on 14th February. It is the most special day for lovers. They try to seize the Day by being with each other and cherishing the love they have among them. Let us see what are his and hers Valentine's gifts.
Gifts for Him
A Classic Watch
If your man tends to get late, then gift him a classic watch that he will not only love but will also help him to reach for the dates with you on time.
Wallet
If it gets a little difficult for your man to manage the cash, then gifting him a wallet will be a great gift for him. You can get it customized to make it more special and get his name engraved on it.
Gifts for Her
Jhumkas
Every girl out there has their heart over jhumkas, so seize this opportunity to make your girl smile. And you surely cannot go wrong with a jewelry piece. So, surprise your beautiful girl with a pair of beautiful jhumkas that go well with her traditional outfits.
Photo Calendar
Unfold the collection of your lovely memories by transforming them into a photo calendar. Select the best twelve shots and transform them into a precious photo calendar. Your girl is undoubtedly going to love this gift from your side.
Best Valentine Day Gifts for Girlfriend
Let us help you in selecting the best valentine gift for girlfriend.
Personalized Cushions
This Valentine's Day, surprise your girlfriend by gifting her personalized cushions. You can either get her favorite picture imprinted on it or get the combination of your name engraved. To make it seem more romantic, choose red color for the cushion.
Floating Frame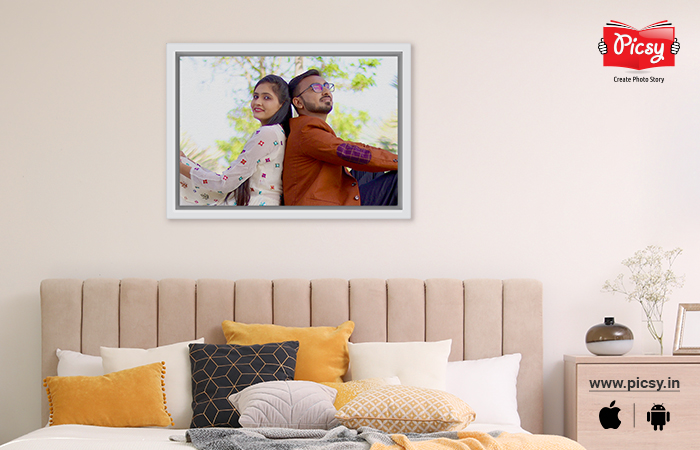 Girls love customized gifts. So, surprise your girl by gifting her a beautiful floating frame. Select the best picture of you both to transform it into a floating frame, and she can place it in the bedroom, and it will be a constant reminder of your love for her.

Best Valentine's Day Gift for Boyfriend
Let us figure out what could be the best valentine gift for boyfriend.
A Love Letter Jar
Take a jar and fill it with cute love notes. Pen down the reasons stating why you love him the most. And unrolling those letters will make him feel so special.
Valentine Day Gift for Wife
Your wife surely makes everything feel better. So, this Valentine's Day, surprise her with lovely gifts that showcase your love for her. Here is the list of Valentine Day gift for wife.
Valentine Vibes Photo Book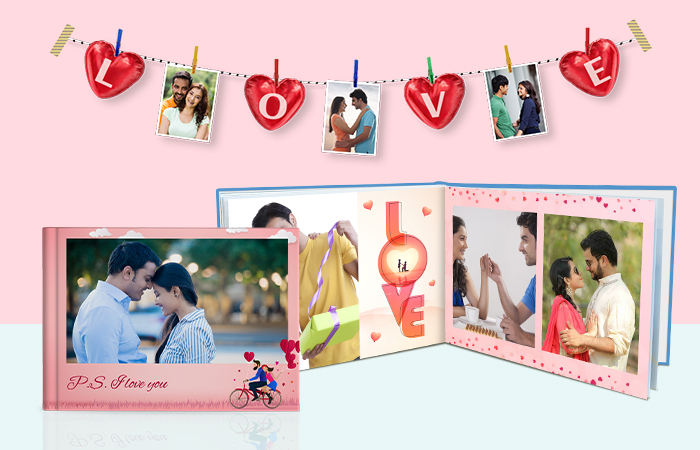 Reignite the romance between you two by gifting your wife a memory-cherishing valentine vibes photo book. In this photo book, include the memories highlighting the relationship that you both spent as a couple. And the moment your wife flips through its pages, she will be filled with love for you all the more. So, seize this opportunity to make your wife happy.
Make your memories more beautiful with Picsy's high-quality Photo Books.
Valentine Day Gift for Husband
The husband is like that superhero who constantly supports his partner and sticks by her side through thick and thin. Let us see what could be the perfect Valentine's Day gift for husband.
His Favorite Play Station
It is a given fact that your man will be a fan of gaming. So, how about gifting him something of his choice? This Valentine's Day, surprise your man with PS5. This will bring a cheek-to-cheek smile to his face. Moreover, he will feel how much you care about his choices
Winding Up
We hope that this write-up might have been successful in guiding you about what should be the perfect gift for your significant other. However, photo gifts hold great importance as they help to relish the memories you have spent with your partner.
Leave the responsibility of premium quality photo gifts. Download the Picsy App and select the best gift for your partner.
Photo Gifts for Your Partner
Valentine's Day is the perfect time to relive the best memories spent as a couple.Try your hand on Picsy's wide range of Photo Books and Photo Calendars.
FAQS related to Valentine's Day Gift Ideas
1.What will be the best gift for Valentine's Day?
In my opinion, a photo book is the best gift as it helps to relive the best moments with your partner.
2. What can I gift my boyfriend on Valentine's Day?
To surprise your boyfriend this Valentine's Day, gift him an acrylic print that has your picture. He can place it in his bedroom and be reminded of your love for him.
3. What is the best gift for a girlfriend on Valentine's Day?
This Valentine's Day, gift a floating frame to your girlfriend.
4. What are the top three selling gifts on Valentine's Day?
A photo book, acrylic prints, and roses are the top-selling gifts on Valentine's Day.
Ready to hold your memories in hand?