10 Best Valentine's Day Gift Ideas For You In 2023
Jan 16, 2021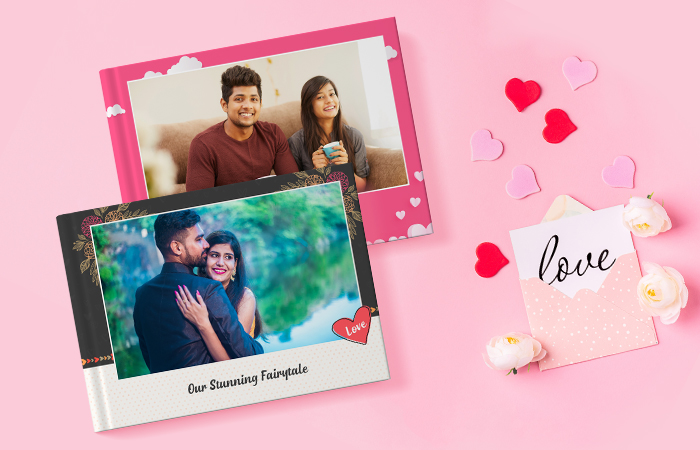 Sometimes it's annoying when you have to pick a gift for your partner because when you look back, there's nothing left. This valentine's day, make your significant other feel loved and adored by creating a Valentine's Day photo book for them. It's easier to create and the outcome is always pleasing. Gift them something they will cherish all their life rather than some transient or ordinary gifts. Reliving every moment you have spent together is the loveliest feeling ever and that's when you will know how heartfelt your photo book can be. If you are looking forward to a personalized photo book, then we are here to design it for you.
Picsy is one of the smart and superfast app to create photo books.Just select your desired theme, upload your photos, preview and order your photo book.It's a great way to turn your adorable moments of young and refreshing love and first shared experiences into a book for life. The best part is that the options are flexible enough to design it accordingly. The themes, sizes, paper finish, binding cover, splendid layouts, and templates, you can edit all of them while creating a photo book. Use this beautiful valentine vibes photo book from Picsy, to recall those moments you have created together and will bring you two closer. Remember to choose photos in a way that will highlight the bond between you two. Here are our few ideas for your valentine's themed treasured keepsakes for life.
1. Valentine Vibes Photo Book
Cherish eternal romance in different shades of love. Create a Romantic photo book full of incredible memories, highlighting your relationship. Feel the love and keep those special memories alive with the help of Picsy. It also offers you several book sizes, cover styles, and layouts along with beautiful long-lasting bindings and outstanding print quality. Cherish all the big and small moments that brought you joy at times and a beautiful smile at your faces.
2. Valentine Moments Photo Book
To create a beautiful yet memorable photo book full of love, you can choose the photos from your first few coffee dates or remembering the moments through short texts and cute notes. Just make sure it should not look cluttered and try to keep it simple and sweet. Include all the memories from your first meal together, first concert, or first trip together. Through the medium of Picsy, treasure those firsts permanently by creating your Valentine's Day Photo book using numerous layouts and templates.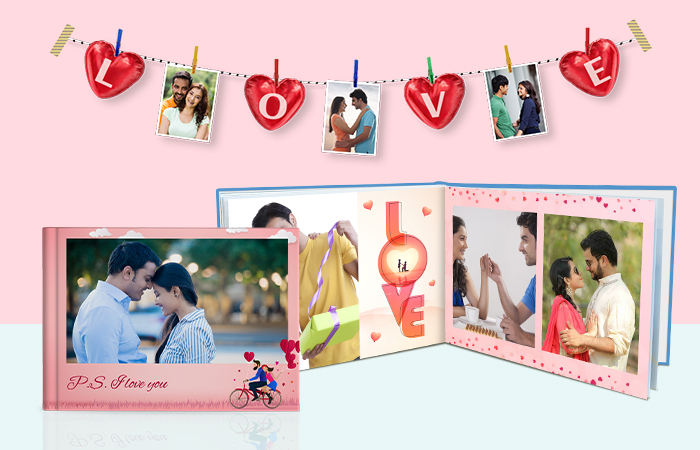 3. Love Tales Photo Book
Create an adorable love story in these beautiful photo books from Picsy. All you have to do is, choose the photos of your choice and let the Picsy do the thing for you, within a little time. Unfold your love tale with numerous options of themes, layouts, sizes, and printing styles along with vibrant shades. You can even add some of the romantic quotes dedicating them and let them know, how much you appreciate them.
4. Favorite Moments Photo Book
Although love stays forever yet that young age love always seems adorable and reflects happiness whenever relived. Showcase those lighthearted memories in a photo book. Celebrate all those moments again with Picsy and tell your story through those candid shots and resemble a tale everyone would love. Choose the themes and colors of your choice according to the pictures you already chose, along with adding cute notes. Preserve every single moment into these stunning photo books.
5. Anniversary Gild Photo Book
Showcase your favorite story photos in sparkling designs. If you are married, then you can choose the pictures from your wedding day and admire them for life. You can also add short poems or cute texts to express your feelings giving your book a touch of affection. Fall in love with your partner all over again every time you eye on your coffee table with the anniversary photo book on it.
6. Pre-wedding Vibes Photo Book
This Valentine's Day, romantically celebrate your pre-wedding moments. There's no other perfect way to showcase your love than a romantic photo album, and Picsy has made it easier for you. Let your love grow endlessly with the new beginnings in your life and make your love story beautiful with photo books online with Picsy.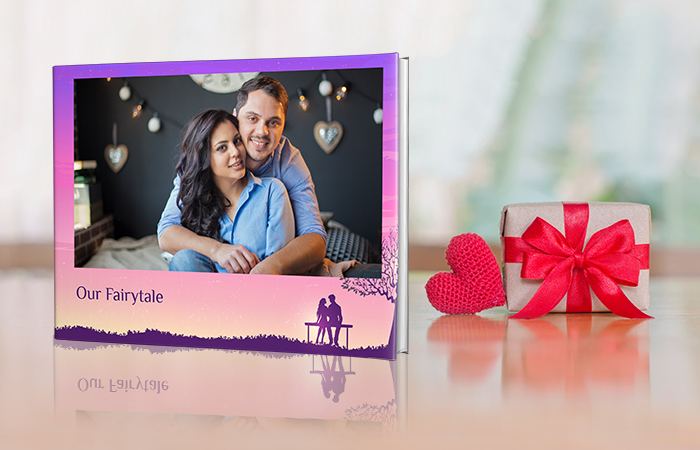 7. Vintage Winds Photo Book
Create a classic photo book for your valentine with the magic of vintage touch. Celebrate all those moments in your relationship that brought you joy in one or the other way with Picsy. It lets you organize your pictures and create a treasury full of happy memories with a personalized Valentine's Day photo album. Create a masterpiece full of timeless memories with a style and a vintage touch.
8. Eternally Engaged Photo Book
Recollect the engagement memories with lovely frames and messages. Surely everyone would want to create a beautiful and lasting work of art expressing their love and affection. If you just got engaged, then you must put all the pictures of your relationship in a certain order to tell a story along the way. Celebrate your new-found love with Picsy using its numerous options of layouts and themes.
9. Beach Holiday's Photo Book
Make your beach getaway extra wavy for your valentine with this beach special photo book from Picsy. This time remember your holidays by treasuring them into a photo book rather than searching for the pictures in your phone gallery every time you want to memorize it. The little details about your beach side candlelight dinner or the places you visited; will add a spark to your Valentine's Day book.
10. Year In a Review Photo Book
Whether it's your first anniversary or first Valentine's Day together, revisit those moments from the past year you two have shared with each other in this cheerful year in a review photo book. You can choose photos with all the habits of you two and the fun behind those special moments along with all the weekend getaways you went on to celebrate love and life. With this year in a review photo book from Picsy, catchup all the past year's emotions once again and bring joy in your hearts.
Loved it? Download Picsy app now - www.picsy.app
Ready to hold your memories in hand?