Print Photos on Canvas are getting trendy! Know Why?
October 14, 2021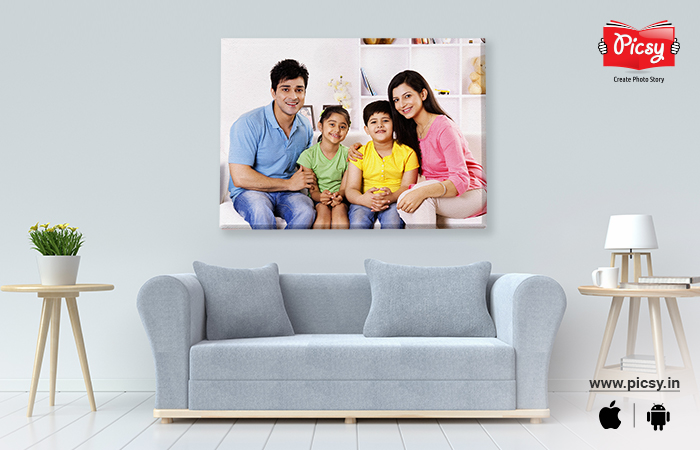 "Say cheese," you got the cheek-to-cheek smile on your face, didn't you? So, it suggests that you love getting clicked. But does it get tiresome for you to keep the photos intact? Does it lead to the concern of preserving the photos as they might get misplayed in the digital world? And of course, none of us want to lose out on our special moments spent with our loved ones, right?
Here comes the need to print pictures on canvas which serves as a rescuer. There are a plethora of reasons why canvas prints of your special moments are relevant even in this digital world. Still, musing over it? Let us dive into the article to understand better why you should decide to print photos on canvas.
Why are Canvas Photo Prints So Popular?
Have you ever given it a thought why people are going gaga over canvas prints? Of course, there would be some X factor in them. Is it like you are missing out on something important? Don't have FOMO (Fear of missing out). We are here to help you figure out the reason for its popularity.
They are Pocket-Friendly
We Indians try to get away with expenses and want everything at discounted prices, right? What if there is something this amazing and affordable? In this case, the temptation is not a sin! The beautiful canvas photo prints cost way lesser than any other framed alternatives. Not only this, you have the liberty to experiment with various pictures in your collection of memories.
Serve as Appropriate Gifts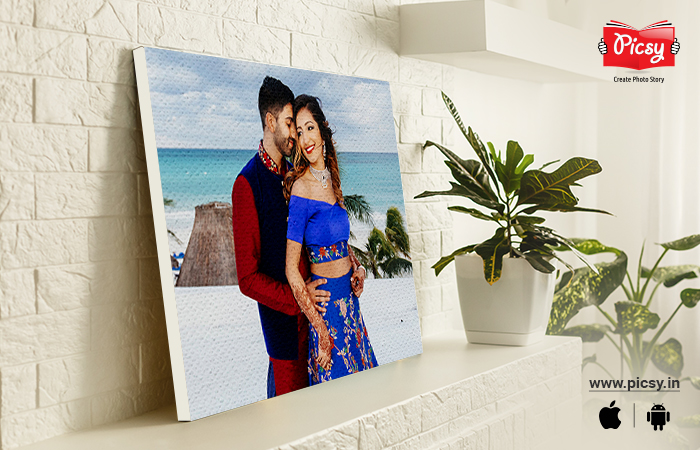 Do you also get extremely perplexed in choosing an appropriate gift for your loved one? These mesmerizing canvas prints resolve this problem. As it is your personalized product, you can modify it completely according to you. You have the liberty to choose the sort of memory you seek to print and send as a gift. Be it a trip memory or the wedding of your favorite sibling, the purpose of gifting a valuable item as photos on canvas really upgrade your personal setting.
Great Home Décor Piece
Do you love decorating your space? If yes, then canvas prints are a great keepsake and upgrade your space. And this is one of the greatest benefits of canvas photo prints. Moreover, there is a great variety of canvas prints to choose from as per your choice. After all, they will be used in your personal space, so why not experiment with contemporary, modern, traditional, or even rustic décor.
Undeniable Reasons to Print Photos on Canvas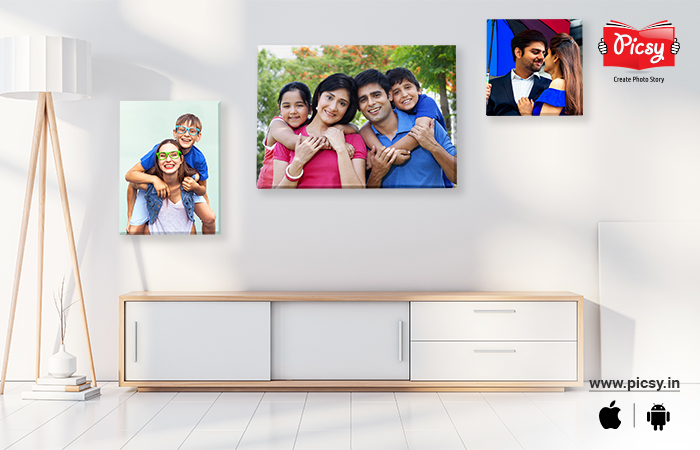 Did it happen to you that you visited one of your friends and encountered a beautiful photo print on canvas hung on their wall and got extremely encapsulated by its beauty? Are you confused why print photos on canvas are trending? Let us figure out the reasons for the same.
Their Durability is Unmatchable
We Indians love clicking pictures with our family. But aren't you scared that those pictures might get misplaced in the hustle-bustle of the digital world? So, why not preserve and flaunt our family canvas prints. And the icing on the cake is, they are durable. And we anyway, fall in love with something which is durable. Canvas is stern, and its robust material enables it to function for a great span of time. Thus, these canvas prints are undoubtedly an asset.
3D Effect
It is one of the greatest advantages of canvas photo prints. While the conventional pictures give the impression of 'flat Stanley,' these jaw-droppingly beautiful canvas prints stand out and give a three-dimensional perspective. When canvas prints are hung on the wall, they give life to those beautiful memories. And who doesn't want to relive the beautiful moments?
Asset for Businesses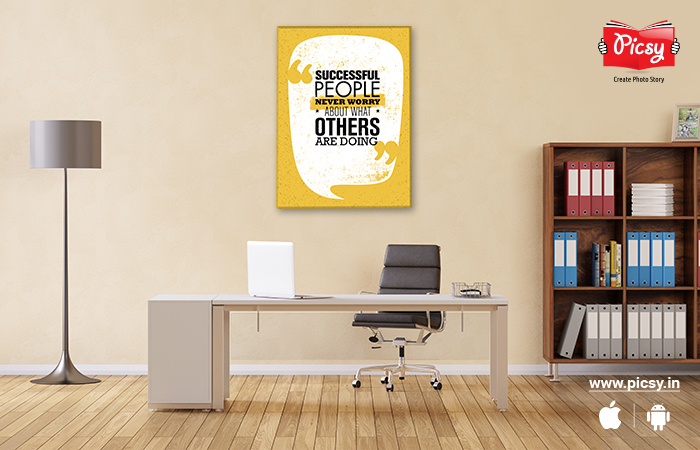 If you are in the notion that canvas prints are limited to personal space, then you are missing out on an important fact. Even businesses can also rely on them to upgrade their market appeal. For instance, you can hang a motivational quote in the work area to ease out the employees on the monotonous Monday morning blues. Not only this, but have you experimented with including promotional stuff on a canvas? Not yet? Try it out. It is definitely going to give a hike to your business.
Royal Feeling
A quick question, have you ever visited a heritage? Gosh, the sort of paintings they have on the walls are extremely aesthetic to the extent that you cannot take your eyes off. And the thought of having a hand on them might have definitely crossed your mind, right? Then, the canvas print is your go-to choice. They not only make the picture appear artistic but give out a royal feeling of possessing such an aesthetic décor at home.
Essential Pointers Before Printing Your Photos on Canvas
Choosing Right Photos
Don't you think our pictures are directly associated with our memories? Yes, right? And as every guest would have an eye on the canvas prints thus, it becomes extremely important to choose the right photos for canvas prints. Here comes your role of scrutinizing your digital photographs and choosing the best one amongst them. So, why delay? Quickly open your treasure of photos and select the best one.
Appropriate Canvas Style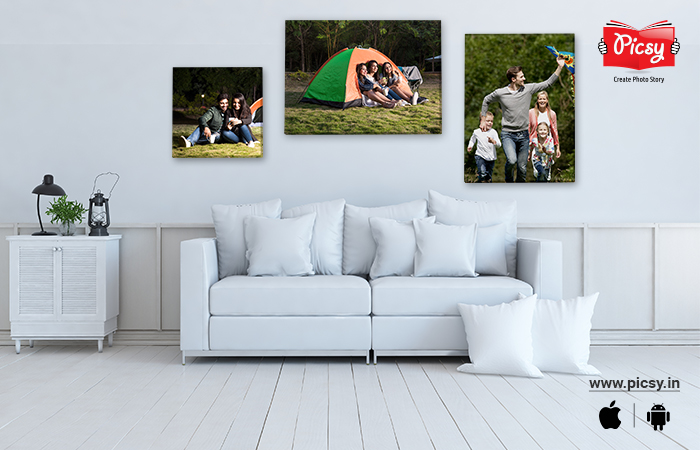 Canvas prints are available in various shapes and sizes. And trust me, they look really amazing. But don't get carried away, and be mindful while making a decision. Also, do not forget to take into consideration the place where they would be hung. For instance, if you plan to hang it on the living room wall, go for the cropped image.
Image Quality
The image is going to be hung on the wall, so it ought to be beautiful, right? So, pay extra attention to the quality of the image. It should be high-definition and check if it requires editing. Or else the pixels would be scattered. And, of course, you would definitely not want that.
Choosing Right Size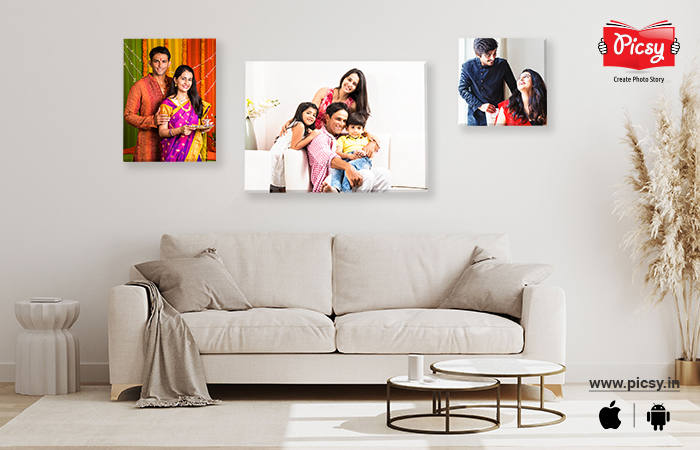 Your canvas print is going to be hung on the wall. That is why choosing the appropriate size for the canvas prints takes the limelight. After all, everyone crossing that aesthetic piece of art should be awed by its beauty. Then, why not go for a massive art for the living area and a small canvas print for the bedroom. They are available in various sizes like 20" x 30", 18" x 24", 20" x 20" ,12" x 16" etc.
Matte Vs. Glossy
Various people opt for different paper finishes- matte and glossy. But here, the most confusing segment comes into the picture; which is better, matte or glossy. Basically, the matte paper is multifaceted and has a semi-gloss finish, and can be used in both inkjet and laser printers. On the contrary, a glossy finish is shinier and enables the picture to pop out, thereby giving out a smooth texture. However, there is no right or wrong. You can choose as per your choice.
The Appropriate Type of Canvas Photo Prints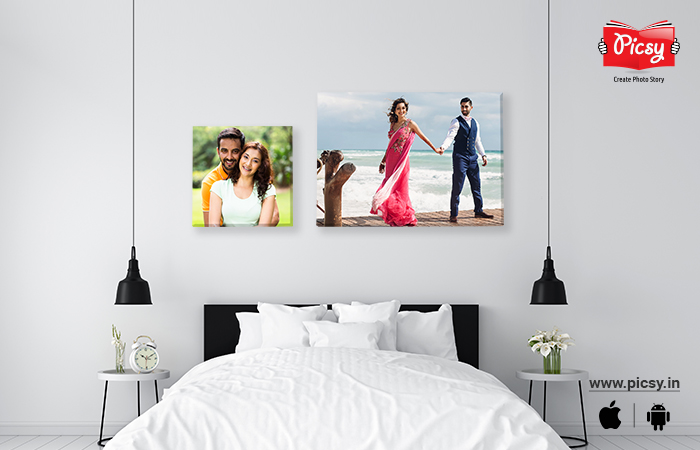 As canvas photo prints are hitting the market trend, they are available in various types; small format canvas prints, large format canvas prints, single canvas prints, and canvas displays. Let us get to know about them.
Small Format Canvas Prints
If you want the canvas photo print to be hung on the shelf, then opt for this. They come in sizes like 12" x 16" to 15" x 20". These miniature pictures will be a constant reminder of the happy moments spent with your loved ones.
Large Format Canvas Prints
The large-format canvas prints come in the size of 20" x 30", canvasis a reliable choice to make a statement. They are the most appropriate choice to go for when you seek to hang your canvas print in the bedroom or living room.
Single Canvas Prints
Have you heard of the saying, 'simple is elegant, the single canvas print abides by that. They are basic yet elegant. They are frameless and are suitable for any wall in your house. Doesn't it seem worth giving a try?
Canvas Displays
Canvas display serves the purpose of narrating the tale. Then, why not bring your happy moments to life and cherish them with these stunning canvas prints.
Conclusion
Whoa! You seem to be convinced that how important these beautiful canvas prints are, aren't you? Now, you might be wondering who can offer proficient canvas prints, right? We have the solution to that as well. Picsy is well-known for its efficient services in delivering the best photo books and canvas prints. Don't worry. It is not a tiresome task. You just have to download Picsy app, and it will take care of your canvas print. You do not even have to struggle with dealing with print sizes; our expert team will ease out the task for you. Feeling relaxed, aren't you? So, without delay, download Picsy and get your mesmerizing piece of art delivered to your doorstep.
Ready to hold your memories in hand?