Guide to make a Perfect Travel Scrapbook
July 20, 2022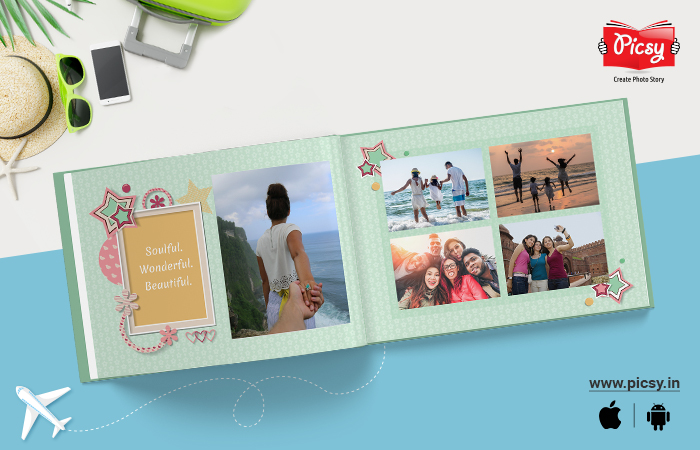 There is no question mark about if one likes to travel. To travel is to find oneself. And while bidding adieu from the destination, we leave a part of our soul in the place and bring bits of the place in the form of memories and photographs. I believe it's a fantastic approach to revisit those wonderful moments and take your mind off the monotony of everyday life.
Some like to keep these memories as is in their phone memory and lose them eventually, and some bind them close to their heart by framing them as Travel Photo Albums. But I ask you to be creative with your dear memories. Create a travel scrapbook!
What is a Travel Scrapbook?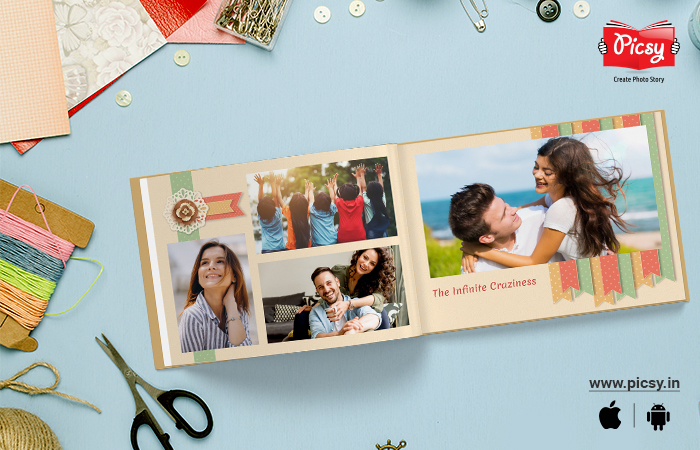 A scrapbook is typical memorabilia of events that are close to your heart with some added artwork on it. Going by the same definition, a travel scrapbook is a presentation of travel photography with clipart, designs, and a bit of personalization to it. Scrapbook is all about customization; hence the true definition of a travel scrapbook would be however you want to make it. So, I ask you, how do you want it to look? Dynamic and chic or minimal and sober? Or how can you create a personalized travel scrapbook that you want – what are the ways? Let's check out.
Download Picsy app and create an alluring
travel scrapbook!
Making a Travel Scrapbook – The Idea
Making a personalized vacation logbook and bringing it to life can be done in a variety of ways. I keep a variety of travel journals, bullet journals, fancy travel photobooks, travel scrapbooks, and tiny travel sketches scrapbooks too.
Depending on the sort of diary or diaries you decide to create, you will need different supplies for travel scrapbooking. You simply need a notepad and a pen if you're keeping more of a diary or travel log. You'll probably require something else if you're sketching. All you need while checking the travel packing checklist is a camera because I advise creating travel scrapbooks once you've returned from your trip.
Making a travel scrapbook is no rocket science. You can go as you like. Cut photo prints, add stickers and quotes – the aim is to keep the memories as alive as possible. If you are active on Instagram and see the travel reels, you'll know travel scrapbooks are the hardcopy of those versions. They are basically, in today's world, called making Instagram photobooks with your travel memories.
Feel the enchantment of varied places with Picsy's Travel Photo Books
Travel Scrapbook Ideas for the Globetrotter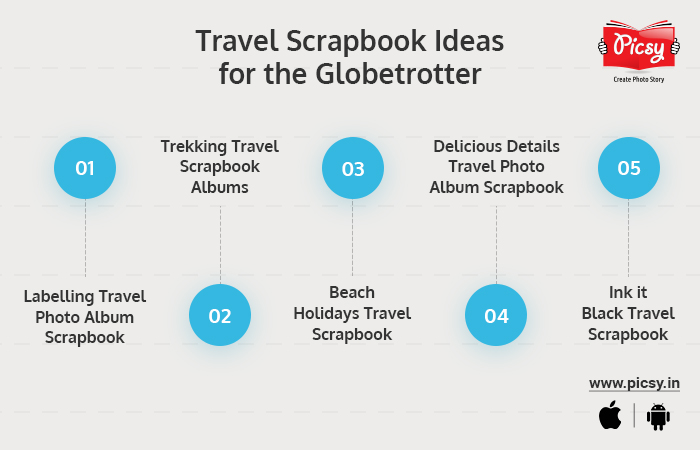 Sifting through the photo library to remember vacation experiences is one of our favourite past hours. Turning a page is the classic kind of swiping that we actually like! With a picture book that documents your adventures, we can help you turn your swipe-happy photos into page-turning gems. Check these travel photobook ideas and give your travel memories a wonderful platform.
Labelling Travel Photo Album Scrapbook
Make sure to include your travel destinations on the photo book cover, even though it seems obvious. To make your theme obvious to friends and relatives who may just happen to see it on your side table and give it a flip through, tag the travel scrapbook with the name of the place and the date you visited.
Trekking Travel Scrapbook Albums
Trekking is a hell of an experience. If these experiences are not documented, it is a loss. Get to the peak of the mountain and capture the sunrise or the road trip photography shots. Make sure to seize the trekking trip and keep your camera in your hand, carefully though; few roads can be bumpy.
Beach Holidays Travel Scrapbook
Get some vitamin sea and preserve those times on a beach holiday photo album. Those are the majestic feeling when sunshine falls on your skin and waves crash from the ocean on your feet. Whether you travel with your friends, family, or the love of your life, these memories are irreplaceable.
Delicious Details Travel Photo Album Scrapbook
Each trip is different because of the minor quirks and experiences. Spread to your culinary explorations; those pages beckon to be devoured! Whether the pizzas of Italy, burgers of America, or the mustard fish of Bengal, document the extraordinary and experience the delights of authentic cuisine.
Ink it Black Travel Scrapbook
If you are still wondering what to do with your vacation photos, get a black, minimal yet elegant travel scrapbook. Save all of your breath-taking vacation memories in a classy layout that combines the allure of black with personalized inscriptions.
Using a Ink it Black travel photo book, give your memories a frame that will make you happy. It is the ideal platform for preserving your priceless moments in an album of photo books. All your favourite photographs may be edited and arranged whatever you choose, making you preview the designs before you approve them.
Conclusion
Whether you create e chic travel photo album with road maps and memories or you pin delicious foods and restaurants, creating a travel scrapbook online is a task that gives your happiness every time you flip the pages. To get the most awesome travel scrapbook, download the Picsy app and let your imaginations flow.
Picsy is the hub of presenting memories – whether you create custom canvas prints, get photo prints, or simply make a photo album book, you are going to love the result. So, for yourself or someone you love, try Picsy!
Ready to hold your memories in hand?