Happy Holi Wishes, Quotes, Messages of 2023
March 3, 2023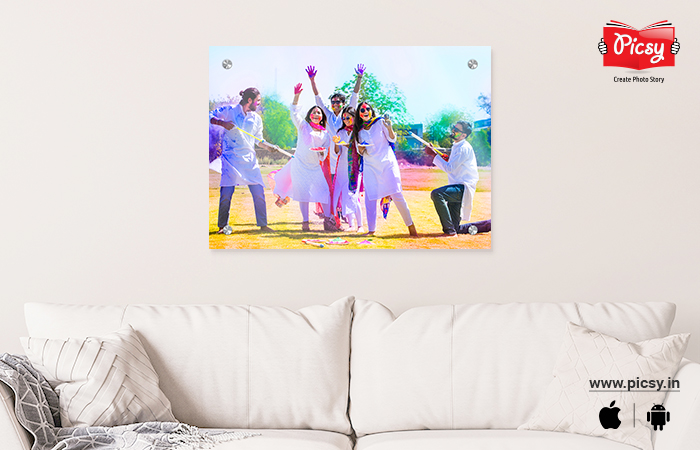 Holi is the festival of happiness and colors and is celebrated with utmost joy and enthusiasm throughout the nation. This beautiful festival of colors marks the end of winter, as well as the victory of good over evil. And it is the perfect time of celebration along with welcoming the arrival of the summer.
Indeed, we celebrate this festival of colors with utmost zeal, but one thing that confuses us is what wishes and messages should we pen down for our loved ones. At times we definitely wonder what to write. You surely would have been bored of writing the same message every year. We understand and that is the reason why we have curated a list of innovative Holi captions, wishes, and messages. So, let us dive into this write-up.
Glamorize the Walls Using Memorable Art Pieces
Multiply the happiness of the festivals using beautiful art pieces. They hold the power to beautify your walls and make you relive your memories. Check out Picsy's amazing range of art pieces.
Skip to...
History of Holi
The traditions of Holi vary throughout the nation and have their roots embedded in Hindu mythology. In a lot of places, the festival of Holi is associated with the legend of Hiranyakashyap, the demon king.
The tale goes like this, Hiranyakashyap took help from his sister Holika, to kill his son, Prahlada, a worshipper of Lord Vishnu. In order to kill Prahlada, Holika sat with him on the pyre wearing her cloak that will protect her from burning in the fire. But Prahlada got protected and Holika got burned in the fire.
On the same night, Lord Vishnu was successful in killing Hiranyakashyap, and this way it is a victory of good over evil. In a lot of areas of India, a massive pyre is lit on a night just before Holi to celebrate this occasion.This way, the festival of Holi marks the victory of good over evil.
What is Lath Maar Holi?
Apart from the basic Holi celebration, one quite famous celebration of Holi is Lath Maar Holi. Lath means sticks, Maar means to beat. The name Lath Maar Holi deals with celebrating the festival of Holi by beating with sticks. Holi is a festival of colors, so in Lath Maar Holi, the additional part is Lath.
A great number of people from almost the entire nation visit the village to celebrate Lath Maar Holi to honor Lord Krishna and Radha Rani. Lath Maar Holi is celebrated with extreme zeal in Mathura. The place has special importance as it is the birthplace of Lord Krishna.
This festival is celebrated seven days before the actual day of the Holi celebration. In 2023, Lath Maar Holi in Barsana is on the 1st of March and in Nandgaon it is on the 2nd of March.
Happy Holi Wishes, Quotes, Messages – 2023
After knowing why we celebrate Holi, let us figure out the latest wishes, quotes, and quotes to use in the wishes of Holi 2023.
Forgot all the problems and be drenched in the happy colors of Holi. Happy Holi.
May this Holi bring an abundance of happiness to your life. Wishing you and your family a happy Holi.Sending you happy Holi wishes.
On this happy occasion of Holi, may your life be filled with the colors of happiness.Happy Holi 2023.
Holi is the day to express love with colors and shower your love on your loved ones. Wishing you and your family a colorful and happy Holi.
"From the lanes of Mathura and Vrindavana, the colors of Holi have spread all over the country. These colors also carry the message of love, brotherhood, and truth. So, whenever you splash Holi colors on somebody, you give him a promise of being truthful towards him always, maintain brotherhood with him lifelong and shower him with all the possible love throughout your life."
Experiment with your Holi photography skills and click numerous shots for your Instagram feed. Happy Holi.
"May God gift you all the colors of life, colors of joy, colors of happiness, colors of friendship, colors of love, and all other colors you want to paint in your life. Happy Holi."
Holi Wishes in English
Let's see what the best happy Holi messages in English.
Let the beautiful colors of Holi spread the message of positivity. Happy Holi to you and your family.
Enjoy the festive vibes to the fullest and make this festival memorable for you and your family members. Happy Holi.
May God fill your life with happiness. Happy Holi.
Let this festival of colors burn all negativity and bring positivity to life. Happy Holi to you and your family.
Wishing you and your family a Holi filled with beautiful colors, water balloons and not to forget delicious delicacies. Sending you happy Dhuleti wishes.
Holi Wishes in Hindi
Let us familiarize ourselves with the creative Holi wishes in Hindi. This year, let us wish our relatives using Holi wishes in Hindi.
Radha ke sang Krishna ki Holi,
Laayi hai prem ki boli,
Rangeele aasmano se bhari holi,
Laayi hai khushiyon ki toli.
Jab jab Holi aayi,
Saath apne khushiyaan laayi,
Rango ki saugaat laayi,
Apno ka pyaar laayi.
Sada haste raho muskurate raho,
Jaisi haste hai phool,
Duniya ke saare gamm bhula do,
Chaaro or failao khushiyon ke geet,
Mubarak ho aapko Holi ki reet.
Dil mein umang liye, haathon me rang liye,
Mann mein khushiyan liye, apno ko sang liye,
Buzurgo ka aashirwaad liye, bachho ka pyaar liye,
Rango ka khumaar liye, Holi ka tyohaar liye.
Make your Holi more colorful with Picsy's Canvas Prints.
Happy Holi Wishes in Gujarati
Holi na Sundar Rangoni jem Tamne ane Tamara Parivar ne Mara Tarafthi Holi ni Hardik Shubhkamanao.
Asha che ke, Rangono aa Tahevaar Tamane ane Tamara Parivarna Jivanma Khushiyo thi Bhari De. Holi ni Hardik Shubhkamanao.
Holi-Dhuletina Rangberangi Colour Jeu Sundar Tamaru Jivan Bane Tevi Shubhkamano.
Holi-Dhuletino aa Tahevar,Lavyo Hajaro Khushiya, Holina Pavitra Tahevar Par, Aap Saune Abhinandan.
Holi Wishes in Marathi
Majhya Aayushyat Sukhache Vegvegle
Rang Bharnare Dear Navroba,
Aapnas Holi v Dhulivandnachya
Ranberangi Shubhechha.
Majhya Aayushyat Sukhache vegvegle
Rang Bharnari Dear Bayako,
Tula Holi v Dhulivandnachya
Ranberangi Shubhechha.
Sukhachya Rangani
Aaple Jivan Ranberangi hovo,
Holichya Jwalet Vaitacha
Samul Nash Hovo!
Holichya Hardik Shubhechcha!
Rangun Jau Rangat Aata,
Akhand Uthu De Mani Tarang,
Todun Sare Bandh Sare,
Ase Udhluya Aaj He Rang..
Rang Panchmichya Hardik Shubhechcha!
Happy Holi 2023: WhatsApp and Facebook Status
Let us figure out what are the perfect words for Holi status. Enlisted below is the happy Holi status. They are absolutely perfect for your Holi WhatsApp status.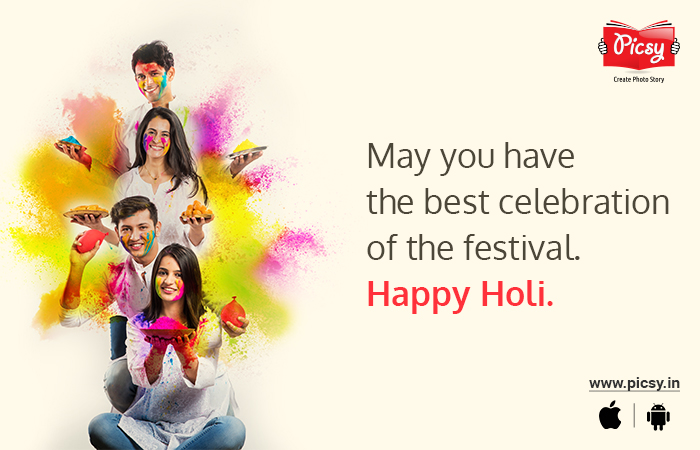 May you have the best celebration of the festival. Happy Holi.
Happy Holi to you and your family. May your life be filled with colors and happiness. Sending you happy Holi wishes.
May this Holi shun away all your problems and make you the happiest. Happy Holi wishes to you and your family.
I pray that this festival of colors makes you the happiest. Happy Dhuleti wishes.
Rang barse aur pyaar ki fuhar se aapki zindagi mehke. Holi ki hardik badhaiyan.
May this Holi be the brightest and happiest for you and your loved ones. Warm Holi greetings to everyone.
May the Holi colors bring ample joy into your life.
Celebrate family togetherness this year with full excitement. Happy Holi.
Happy Holi Quotes
Enlisted below are the happy Holi quotes. So, this year, wish your loved ones in an innovative way, using these inspirational Holi quotes.
"Holi is an apt time to celebrate the colors of our beautiful relationship. Happy Holi"
"This 2023 Holi may bring lots and lots of colorful seasons and days in your life filled with plenty of happiness and love. Wish you a very Happy Holi"
"Holi is the time to celebrate life by forgetting all your tensions and forgiving all your enemies to make it a perfect day. Wishing a very Happy Holi to all."
"Sending you a platter of vibrant colors on Holi- red for happiness, white for peace, green for prosperity, and yellow for friendship. Happy Holi to you."
"Warm greetings on the occasion of Holi to you. May this Holi turns out to be the best Holi of your life that leaves you with good memories to cherish."
Download the Picsy App and explore the wide range of photo-related gifts this Holi!
Happy Holi Messages
After knowing about happy Holi quotes, let us see what are the best Holi messages.
"Wishing a blessed and beautiful Holi with your dear ones. May the brightness of colors and happiness of hearts make it a special one for you." Holika Dahan wishes to you and your family.
"Holi is the festival where hearts connect and joys overflow. Wishing you the most vibrant and high-spirited Holi with your family and friends." Sending you Holi greetings.
"Wishing a blessed and beautiful Holi to you. May the vibrant colors of Holi infuse you with high spirits to take your business to new heights."
"May the festive occasion of Holi shower you with bright opportunities and great success. A very Happy Holi to you."
"Happy Holi to you my love. I am looking forward to splashing you with the brightest of colors to fill your life with eternal happiness and joy."
To make the family reunion memorable, gift your loved one's beautiful acrylic prints.

Closing Words on Holi Wishes
The festival of colors surely gives us the chance to be the happiest. So, take this opportunity to make Holi 2023 memorable for you and your loved ones. After being aware of happy Holi wishes, quotes, and messages, don't forget to gift them beautiful presents that will bring cheek-to-cheek smiles to their faces. Choose the gifts that they are going to love.
For premium-quality photo gifts, you just have to download the Picsy App and get your hand on the best photo gifts that will let you relive your happy memories. In addition to this, seize the opportunity to click ample pictures.
Photo Gifts for Loved Ones
Giving photo gifts is a great way to make your loved ones feel happy and taken care of. Have a look at Picsy's exclusive range of photo gifts.
FAQs Related to Poster Frames
1. What is the relevance of the story behind the Holi festival?
The story takes us back to our Hindu roots where Prahlada wanted to kill Hiranyakashyap. That is why Holika sat with Hiranyakashyap in the pyre but got burned herself. This marks the victory of good over evil
2. What is unique about the Holi festival?
Holi is a festival of colors wherein the joy of celebration is to the zenith. It induces the flair of positivity and fills life with colors.
Ready to hold your memories in hand?