Capture your Happy Holi moments with brilliant photography ideas
March 12, 2021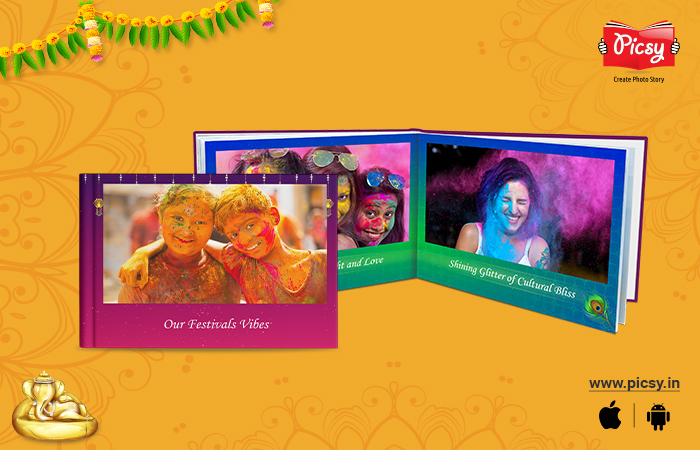 Who doesn't love Holi, the festival of colors? A time when friends and family get together and throw Gulaal and colored water at each other, drenching themselves in an eclectic myriad of colors. India is known around the world as a country with vivid colors, and nothing is comparable to Holi celebrations in the sheer multitude of colors that abound.
Photographing Holi is a fun endeavour, as photographers can get some truly fabulous pictures of candid smiles, multi-colored portraits, and even landscapes. But there are a few precautions that need to be taken before you step out of your home and into the streets where Holi is at its best.
Remember, you can take a shower or have a bath after Holi, but your camera cannot.
Prepare for your Holi photo session with these four easy steps:
Cover the open ends- Make sure that you have sealed all open ends on your camera and its lenses. The colored powder can stick to the body of your camera, and apart from reminding you that you took your camera out on Holi, it can prove to be quite a distraction during professional photoshoots.
A rain cover is a must- Holi is the festival of color as well as colored water. With pichkaaris spraying color with abandon, you need to make sure that your camera has a rain cover to keep it safe from all the water that is being thrown around.
Enough memory in the card to capture everything- This point is a no-brainer. If you plan to set out and photograph Holi, you need to make sure that your memory card has enough space to store all the festive images you will take. We suggest keeping a spare memory card so that you don't have to stop your photography flow midway.
A fully charged battery- Another no-brainer. If you wish to make your Holi photography session last the day, you need to make sure that your camera doesn't run out of juice. We suggest charging your battery the night before and even carrying a spare battery if you have one.
Now that we have our camera safe, sound, and water-resistant, Let's get down to Picsy's list of 5 best Holi photography ideas-
5 Creative Holi photography ideas
1. In the crowd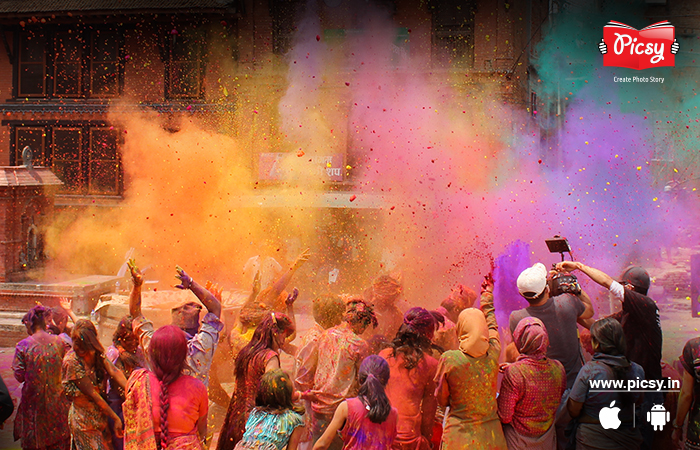 One of the best photography ideas for Holi is to not just photograph the crowds but to be part of the crowd yourself. Being in on the celebrations offers amazing opportunities to capture the festive vibe that permeates Holi crowds. Just make sure you don't drop your camera amidst all the excitement.
While in the crowd, you can click pictures of men, women, and children covered from head to toe in color, making even close friends barely recognizable. The Holi Crowd is almost a sentient being with the people in it ebbing and flowing like the waves of the ocean. Here is where you get to see the heart of Holi and the hearts of the people celebrating it.
2. Beautiful and colorful faces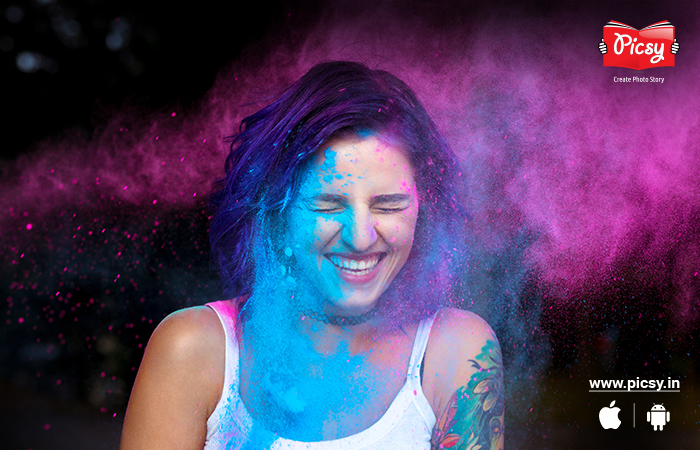 Candid pictures are the best of Holi special photography, and Holi is the perfect occasion to capture as many smiles, frowns, and laughter as possible. Be it an old man with a colorful mustache or a kid with green hands; there is never a dearth of interesting faces during Holi. You could satiate your entire snap happiness in one hour of Holi celebrations thanks to the number of characters you will come across.
3. Hands full of colors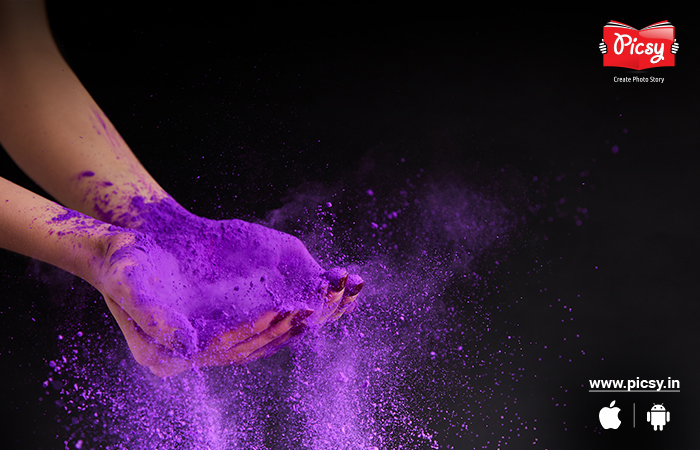 Throwing Gulaal is a beautiful tradition. If you are viewing a crowd from afar for Holi photography, you can almost see a cloud of color over it. The feeling you get when little children tug at your shirt sleeve and asks for a little Gulaal is incomparable, beaten only by the smiles you receive in return. Shutterbugs, keep your cameras primed and ready for this Holi creative photography idea and the many hands that are going to be filled with color. Who knows, some of them might just be aiming at you.
4. Dancing in the rain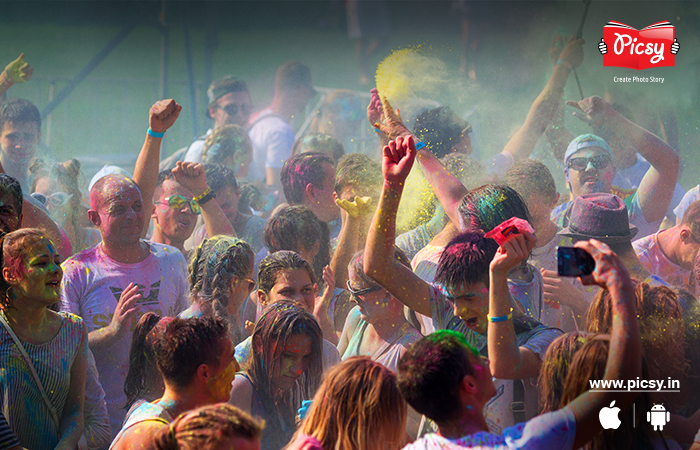 Only one thing can make Holi even better than it is, and that is if it starts raining. Dancing in the rain-drenched in color on Holi is an amazing experience and an equally amazing opportunity for a bout of happy Holi photography. It also is one of the most favoured couple photo poses . With the right camera and lighting, you could capture some true masterpieces of Holi color photography. Just make sure you are carrying that rain cover we talked about earlier.
5. Aerial shots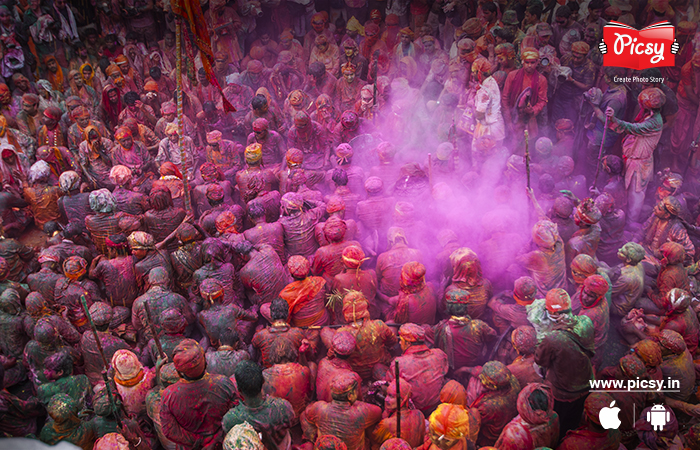 If you are on the lookout for Holi photography tips, then this one is a must-have. If you have a drone, you could take aerial shots of the festivities taking place below. A cost-effective option with almost the same results could be to step out into your balcony and take a few pictures from above.
Read More : 12 convincing smartphone photography tips and tricks for you to do wonders
Wrapping up
So there you have it, five best photography ideas for Holi. But now that you have clicked all these amazing pictures, have you thought about what you are going to do with them. You obviously don't want them languishing on your camera's memory card or on your phone because that would be a disservice to the efforts you have put in.
Don't worry. Picsy has the perfect solution. With Picsy, you can create personalized photo albums that are completely customizable and perfect for all photography ideas for Holi. You can choose your theme layout and even add embellishments and text wherever you want and convert your photos into a beautiful Holi photo album. So this Holi, color up the lives of your friends and family with an exquisite Holi Photo album from Picsy. Get started, download the Picsy app now and get your Holi photo album delivered to your doorstep faster than you can say "Picsy."
Ready to hold your memories in hand?