Discover The Magic of Collage Photo Frames
August 21, 2023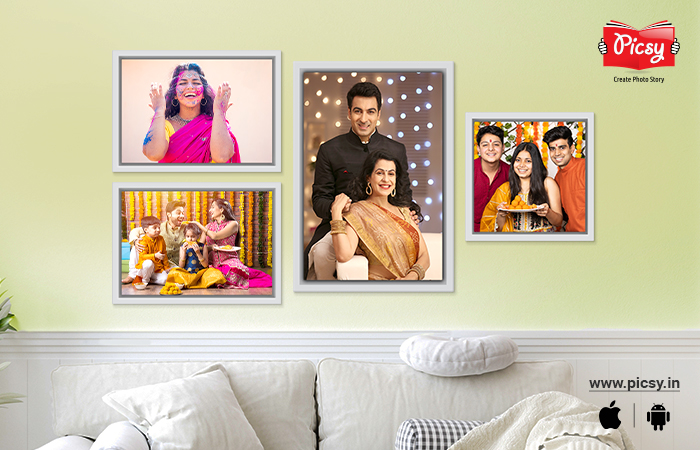 We love to click numerous selfies but don't you also feel that it gets very difficult to select the perfect one? After staring at all the pictures clicked thoroughly, we finally choose the best ones.
But what do we do with so many marvellous pictures? We upload maximum three pictures over social media. What if I tell you can use all of them? Yes, you heard it right!
You can use them in a photo collage. But let us figure out what is a photo collage. And then understand why everyone is going gaga over collage photo frames.
Amp Up the Beauty of Your Home
Picsy has a wonderful collection of wall décor that holds the potential to amp up your space. So, make the walls of your house stylish and appealing. Have a look at them.
Skip to...
What Do You Mean by a Photo Collage?
The term photo collage deals with the collection of pictures that we put together and create one single frame. It gives the opportunity to use multiple pictures in one single frame. And trust me, the way it accentuates the beauty of the memories is commendable.
Why Everyone Loves to Choose Collage Photo Frames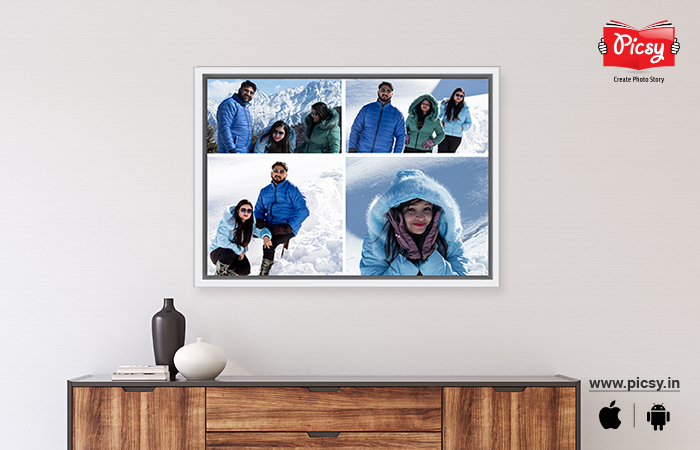 My dear readers, let us find out the reasons why everyone loves choosing collage frames for walls.
Collage Helps to Narrate a Tale
It is believed that framed photo collages hold the potential to narrate million of tales. And when we use multiple pictures, it helps to relive different snippets of memory. Use this opportunity to narrate your tale of your favorite vacation or your fashion photoshoot in your personalized photo collage frame. You can even create photo collage online to liven up your memories.
But be careful; nostalgia will hit you, and you will long go on that vacation again 😀
Collage is Meaningful
You might be wondering can collage be meaningful or is it just an art piece? Let me tell you how? Collage photo frames are simple yet elegant. The best thing about them is you can personalize them and try out your collage frame ideas. When you choose photos of your shared experiences and special moments, it helps you to travel memory lane.
Apart from this, they serve as perfect gifts item. Whether you want to gift it to your friends, wherein you can include their wedding pictures or to your family members, a collage photo frame gift is something that they all will love.
Select a collage photo frames design and gift it to your loved ones. This will surely be a thoughtful gift for them from your side.
Solution for Different Portraits
Collage is the perfect solution for your different portraits. It helps to gather the memories together in a single frame. It is basically a common spot for your memories. This way, you don't have to keep separate frames for different pictures. For instance, a picture of your family trip, one with your furry friend, and one family portrait can be incorporated into a family photo frame collage.
And, if at all you are wondering how to create a photo collage online, then rely on Picsy. It helps to create collage photo frame online in just a few clicks. Picsy is a reliable photo frame collage app. You must give it a try, and then you will surely be in love with it.
Download the Picsy app and own a photo collage to showcase the world.
Alternative to Multiple Frames
Purchasing a bunch of frames and handling them can be really hectic. 6 photo collage frames save you from such a situation. As a collage consists of multiple pictures, you can accumulate them in one frame.
Liven up your DIY photo collage ideas to beautify your space. Be it your engagement or wedding pictures.
Which Can Be the Best Frames for Collage Photos?
There are different types of collage frames for walls that amp up the beauty of your home. Picsy offers a wonderful range of frames that accentuate the beauty of your pictures by framing your pictures. Check them out.
Vinyl Poster Frames
Vinyl poster frames are graphics that are printed using vinyl, which is further wrapped around a wooden frame. They are high quality synthetic PVC black frames. They are custom sizes for your space. You can feel the touch of a premium décor piece that is not so heavy on your pocket. This wooden collage photo frame will enhance the beauty of your memories.
Get your hand on a large photo collage frame to display it in your living room.
Create a family Poster Frame online and own your family memories.
Acrylic Photo Frames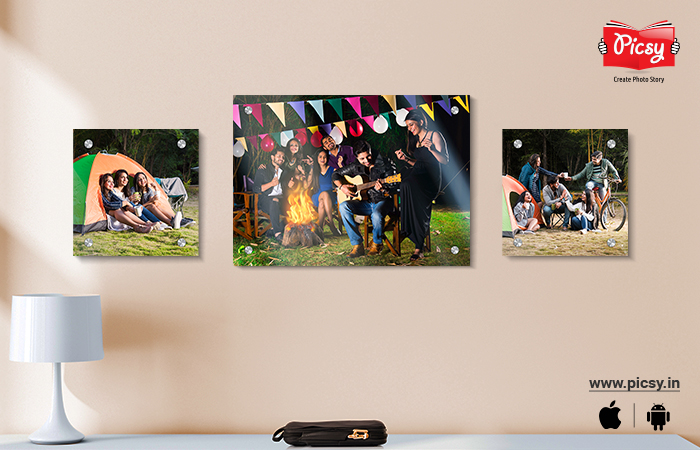 Picsy's acrylic prints are perfect for home décor. The thing that makes us fall in love with them is that they are durable and waterproof. Our skilled craftsmen ensure to make it ideal for all sorts of situations. They have a shiny appearance that makes these prints stand out. They are available in different sizes like
12x16, 16x20, 18x24, 20x30, 12x36, 14x42, 24x36, 36x46, 30x40, 10x10, 12x12, 16x16, 20x20, 24x24, 30x30, 36x36, 40x40
Now you don't have to get worried about how to make a photo wall collage. Just download the Picsy app and you can get yours delivered to your doorstep.
Floating Frames
Picsy's floating frame is another photo frame that you can order to flaunt and relish your memories. As the name goes by, these frames give a floating effect to your pictures when we hang them on the wall. They are HD quality, durable photo frame that gives a sense of a decent art piece for your space. They are available in different sizes. You can select the one that suits your home the best. Get a design of love collage photo frames for wall and display it in your bedroom. It will surely help to reignite romance between you both.

Canvas Photo Frames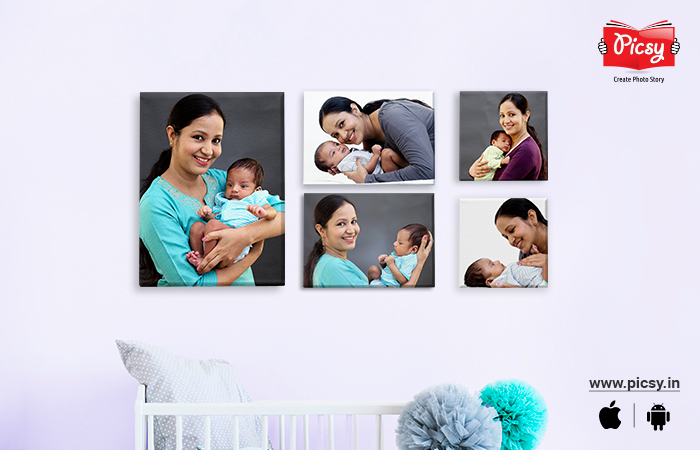 Picsy's canvas prints are ready to hang art pieces. They are tear-resistant, fade-proof, and waterproof. They have a vintage grain texture that makes them extremely appealing. They are made of cotton canvas sheets that are wrapped in a wooden frame. You can select the size of your canvas prints depending on where you want to place them. Picsy offers different sizes of canvas prints like 16x12, 30x20, 24x18, 20x20, and 20x15. Not only this, but Picsy's canvas prints are also available in four different types of wrap styles: Image, mirror, black and white.
Get your hand on Picsy's Canvas Print to add beauty to your space.
Closing Words on Why People Love Collage Photo Frames
My dear readers, I am sure you would have got know why everyone is falling head over heels for photo collage. You would surely be feeling happy after knowing how to transform your pictures into a collage.
So, what is stopping you from owning yours? Just download the Picsy app, upload the collage of your lovely pictures, and get them transformed into a collage photo frame. Then, place it wherever you want to amp up the beauty of the space, in your bedroom, living room or dining room.
Liven Up Your Best Moments with Picsy
Picsy has a wonderful collection of memory keepsakes to flaunt your memories. Check out these beautiful keepsakes.
FAQs Related to Photo Collage Frame
1) Which frame is the best for photo collage?
2) How can you order a photo collage frame from Picsy?
Create a collection of your pictures, upload them on Picsy, and get the premium quality frame. I'll tell you the process. It is a four-step simple procedure. First thing that you have to do is, download the Picsy app, upload the pictures that you want to print, select the appropriate size and wrapping style, last step is to place the order.
3) How to arrange a collage of pictures on a wall?
There are different ways to hang a photo collage. They are enlisted below.
Nails or Hooks: Place the nail or hook on the spot where you want to hang your art piece. Then, position the art piece and see how it beautifies your space.
Tape: Peel off the tape and stick it on the corners of the photos. It will easily hang your picture.
Ready to hold your memories in hand?