Incredible Collage Wall Display Ideas in 2023
November 16, 2021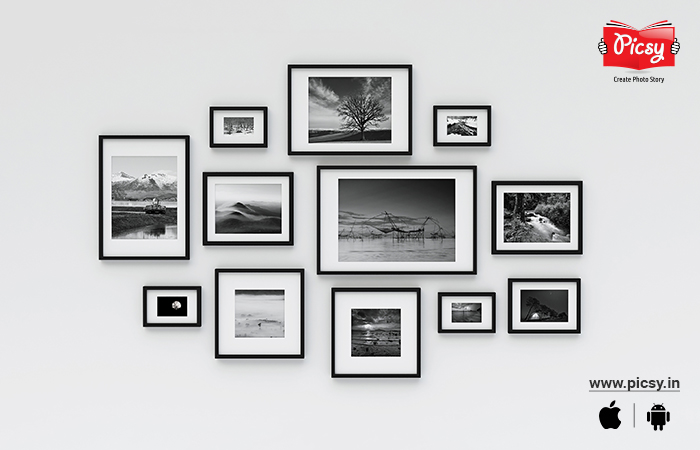 Since the inception of collages in the early 1900s, they have come a long way. Can you guess who was behind the discovery of adjoining two or more art pieces? Take a wild guess.
The person who resonates the best with art, the pioneer of artistry and craft, Picasso.
Did you get it right?
Whether a painting, decoupage, abstract art, or photomontage, a collage can be of anything – you name it, you get it!
The flexibility of collage walls makes it one of the most preferred ways of presenting images close to the heart.
But, why? Why a collage and not a solitary canvas photo print or painting?
Why does it matter? What makes it so favored?
Why are Collage Wall Photos Preferred?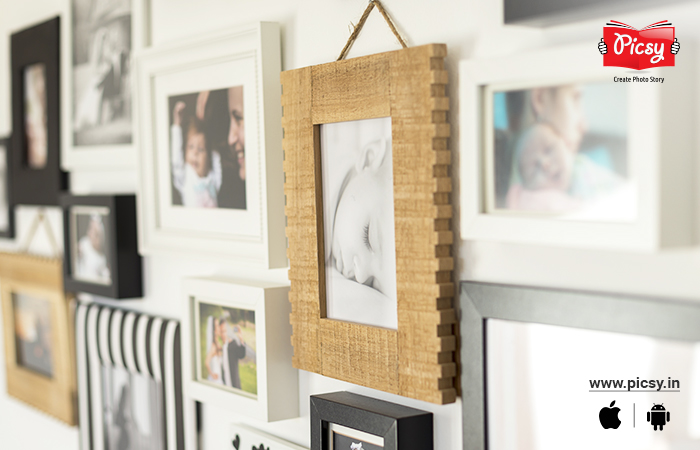 Now that the digital world has defeated the days of reel camera and subsided our heyday of Kodachrome, what do we do? The Facebook wall and Instagram posts have already replaced the stacks of photo albums neatly wrapped in old shoe boxes.
Do we not sit over a cup of tea and flip the pages of a photobook?
We do! But differently.
When you go to college for the first time and find an empty wall in the dorm or buy a new apartment, you want to fill the place with your old memories. After all, memories are what we are. There comes the collage wall like a knight in shining armor to protect all your memories.
But how do you decorate them? We have gauged some foolproof ways to decorate your empty walls with collage.
Read More : Understand How to Create Photo Collage
Easy DIY Collage Wall Ideas
First things first, before making the collage, collect all your photos and print them. Only after printing can you decorate your walls. Moving onto how you can possibly decorate with wall décor items; the ideas are endless. Just like art, a collage wall has no boundaries or limits. To name a few, we have listed down a handful of collage wall ideas.
Your Life in Brief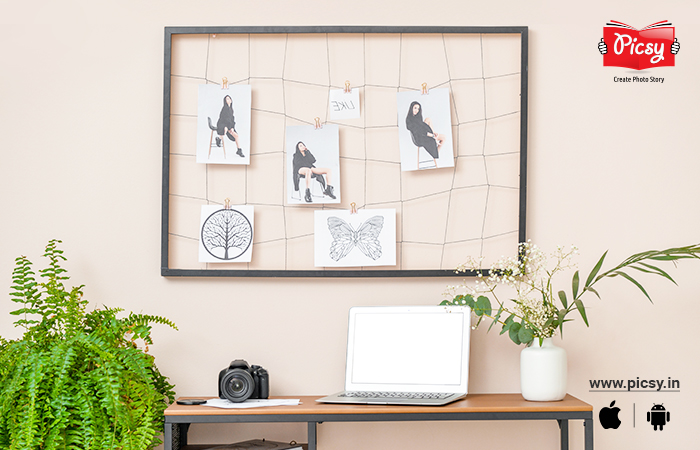 Do you have a desk? Then this is the perfect gallery wall idea for you. On a bulletin board or a mesh, right above your desk, uncover every little picture that describes your life the best. As mentioned earlier, a collage is not confined by images but any art form. If you think a quote describes more about you than your pictures, make a collage of those quotes. You may also keep changing the images whenever you feel you're bored of the old decor.
Corner Collage
Place images on the corners of the wall. It not only looks beautiful but gives the sensation of a gateway to step into the world of memories. Suppose the color of your wall is on a darker tone, showcase images that are bright and vibrant. In comparison, if your wall is on a lighter tone, you may choose any images you wish to display.
Add a 3D Vibe
We often stumble on the idea of how to display canvas on the wall so that it looks alluring. The idea is pretty simple – let it go with the flow. But remember, there must be a flow. And we get that smooth rhythm from canvas floating frames. It gives a 3D vibe as placed in the middle of the frame, keeping a gap of cms to give a floating vibe.
Attached Memories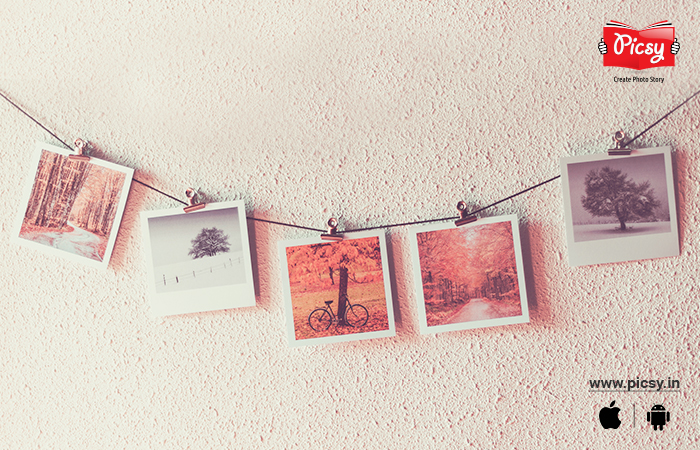 Not every wall collage picture demands to be pasted or mounted on the wall. We understand you might not be comfortable ruining your beloved wall color. That is why we have the very best idea for you. On a string, clip all your favorite memories and hang them where you often stand while sipping on a cup of coffee. The best part about this collage wall is, you don't have to frame the images. You can clip the custom photo prints as is.
Driftwood Display
Not every image needs to be hung on a string of LED lights; choose driftwood instead. It looks aesthetically beautiful, giving a rustic effect to the collage wall. The sepia effect goes brilliantly with the driftwood collage idea by reflecting the brownish hue.
Color of the Wall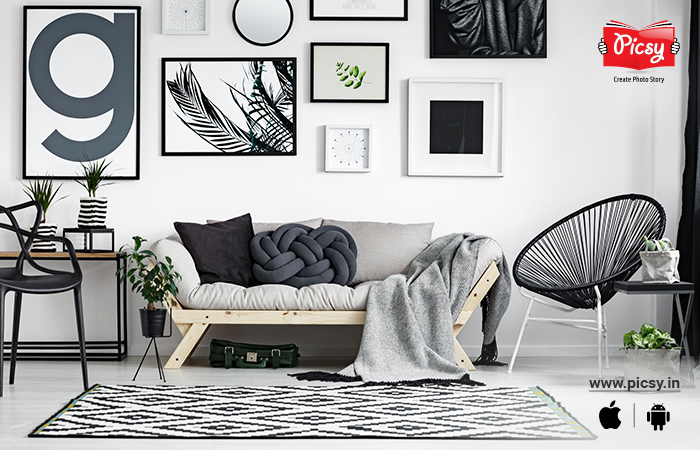 Not always you do have to mount images that are related to your memories. If you are a person of art, place images that go with the hue of your wall. For example, if the color of your wall is white, add images that are red, green, or perhaps black. If you ask us our favorite, we love white art on a cyan background. It subtly says, "I am your chocolate factory, and you be my Willy Wonka."
Instagram Wall
Are you someone who loves to be in the world of social media? Well, you're welcome, because you are going to love this idea. Make an Instagram frame and add all your images inside it. A world-class example of reel meeting reality. We told you, you would love it.
Uniform Theme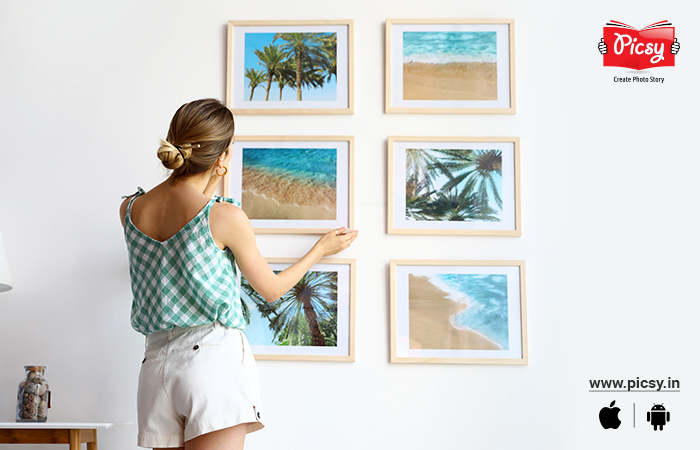 While there is a charm in wild and free, there is beauty in uniform and symmetry. Arrange a bunch of images of the same theme. What do you think reflects more of you? Is it the dose of Vitamin Sea or the echoes from the misty mountains? Make sure to print all the images of the same dimension. Oh, don't miss the frames! They should be the same as well.
Quotes Collage
Are you a quote person? Then dump all images from your quotes folder into your wall. Choose the ones that motivate you to move on in life. Whether it is a Shakespearean quote from old literature or a recent dialogue from Money Heist, mount them in front of you so that you get the zeal to wake up every morning with a bang.
Read More : Best Living Room Wall Quotes You'll Love
Black and White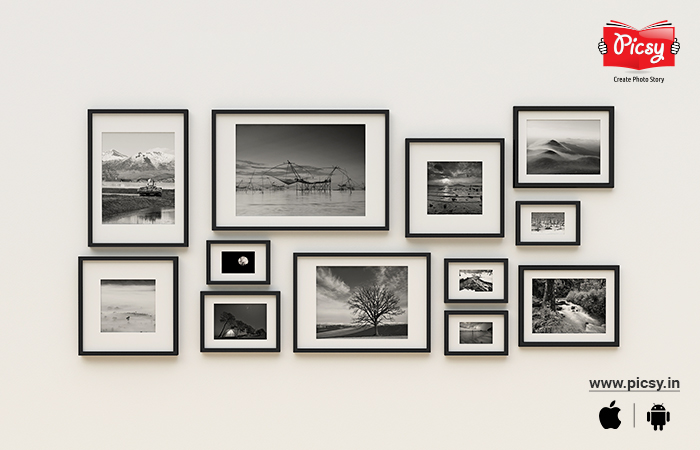 The combination of the color black and white is itself a subject of art. If you want to go classy or old school, choose black and white. It can never fail you. Did you know the combination reflects the sign of power, restraint, and elegance? It looks as powerful as it sounds.
While being on the subject, do you think wall collage can add benefits to your wall other than decorating?
What are the Benefits of Collage Wall?
Of course, it does add benefits. Here are a few pointers that would motivate you to choose a collage wall over any other wall decor.
It Tells a Story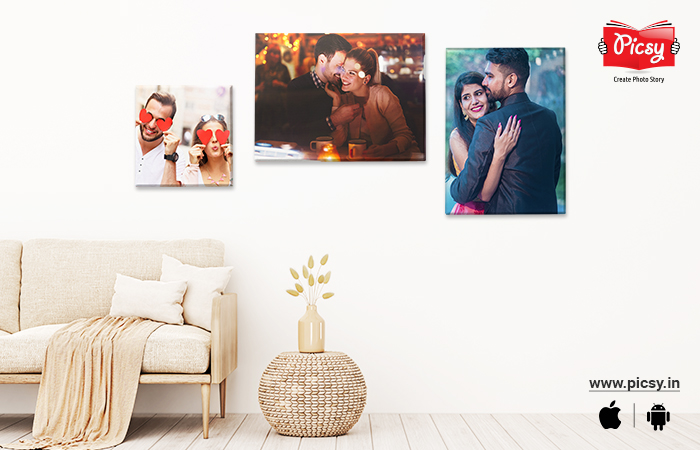 If you are wondering how to hang canvas on a wall that would tell a story, you can do it in two ways. Either hang a sequence of a travel story or how you grew up a time travel story.
It is a Great Way to Preserve Memories
Canvas wall art is such a home décor that allows you to not only uplift the look of your home but fills the house with memories. Imagine entering into a room that speaks of happy memories and nostalgia.
Some Say it Can Be Therapeutic as Well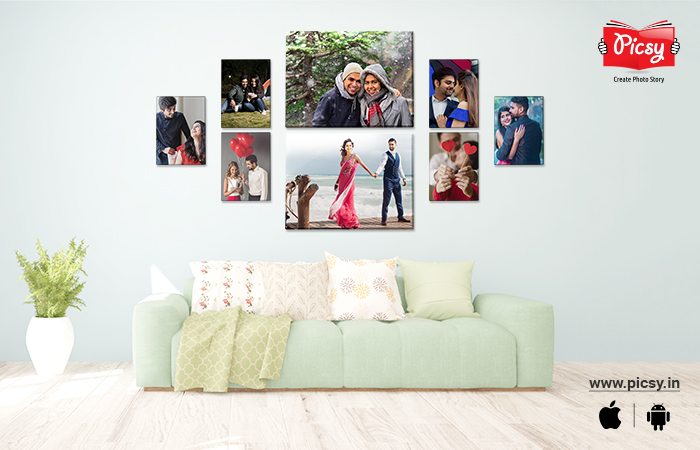 Why not? It, of course, can be therapeutic. Humans are made of love and emotions, if not flesh and blood. These memories are what keep us moving. And with an aesthetic wall art like canvas photo collage, you can relish all your hidden treasures that gives you the motivation to perpetuate in life.
It Can Hide All the Damp Spots
One of the most important yet undiscussed areas of why we decorate living room walls. Every house has that one stubborn corner that keeps showing up damp spots no matter how many times you repair it. Aren't you tired of it? Just hide it with something meaningful. So, the next time you turn your head around it, you don't have to feel frustrated.
Conclusion
Do you think any other wall decor can actually be a multitasker like a college wall? Possibly, not. What are you waiting for? Choose the bunch of images that you would want to look at every day and contact a reliable canvas collage maker.
Speaking of which, did we tell you, at Picsy you can get custom canvas prints at a reasonable cost along with other photo products? Download the Picsy app, and in a few simple steps, get a collage wall of your own and keep preserving your happy memories!
Ready to hold your memories in hand?