How To Make A Photo Wall Collage?
May 28, 2021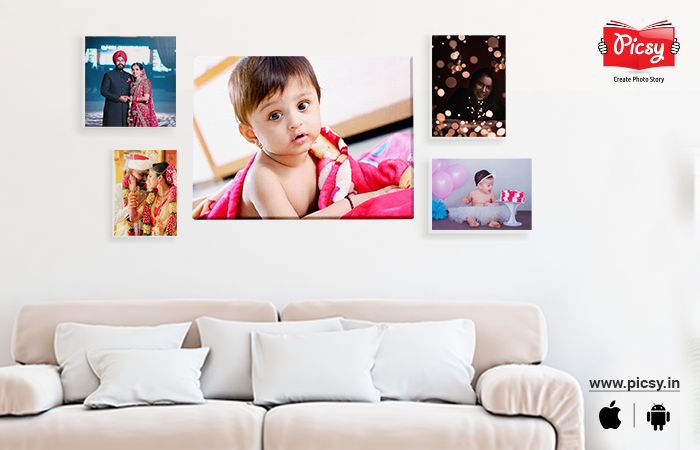 A photo wall collage is a great idea to minimize the number of holes displayed on the wall or fill the room with memories. It gives the homely feeling by surrounding you with nostalgic moments. From setting the tone of the room to displaying your personal motivation, wall collage incorporates beauty into your home décor. Before moving on to how a gallery wall is crafted, let us understand what a wall collage is.
What Is A Photo Wall Collage?
We all have walls that demand a little more love. A wall collage is a fun way to take up those empty spaces and make them entirely inhabitable. But, what is a photo collage? Is it just sticking random images on the wall? Yes, it is that easy, but choosing the ideal wall and the perfect theme is essential to set the ideal environment. An empty wall gives you the opportunity to show how artsy you can get. Fill the void with the things you love, be it your family, pet, or Erin Hanson's poems. Find your starting point; find something that speaks of you. Whatever you choose, that would be the anchor point of how the rest of the room will sail. Now let's move on to how to create a photo wall.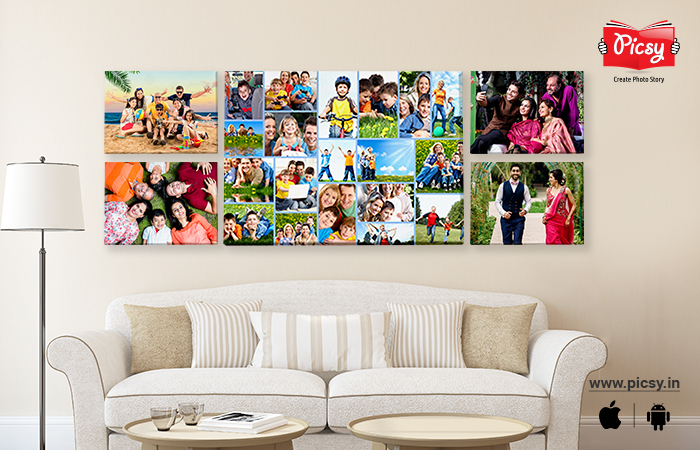 Tips For Choosing Photo Wall Art For Your Home
Making a picture wall is easy. However, there are primarily three parameters in choosing THE PERFECT wall art .
Parameter One: The Size
No, we won't ask you to bring a measuring tape. We will try to keep it very simple for you. To say about it, go with a general idea. If your wall is big, you can use larger images to create a wall collage. Canvas prints can work phenomenally well. In case your wall is comparatively smaller, you might not want to use canvas photo prints and overlap all the images. In a situation like that, you might use photo prints instead. `
Parameter Two: The Medium
There are various photo types to mix and match with your wall. There are decorative templates, canvas prints, photo prints, 3D wall arts, and the list goes on. To form an aesthetically beautiful wall art, you need to understand what your wall is asking for; treat it like a child. Does your wall look massive and dynamic? Then you have a huge canvas to fill with any medium of images the way you like - the potentiality is endless! If your wall is more of a sophisticated kind, sober and minuscule, wooden frames, steel plates, or simple polaroid images work the best.
Parameter Three: The Theme
It is better not to choose any handful of images randomly. Take your time, ask yourself - how do you want to feel when you enter your home? If you are a homesick person, you might want to go for a family photo wall . If your heart seeks nature, go with a neutral color palette and fill your walls with landscape images. It does not necessarily have to be images; you might be a quote person as well. Fill those walls with the favorite quotes that you have saved on your phone for decades. Choosing the right tone sets the entire mood of the room. With consistency in the theme, the walls will speak a story.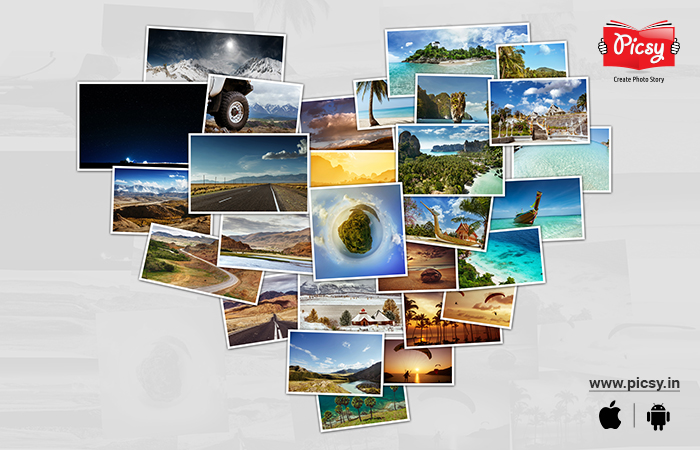 Planning The Photo Wall Collage Layout
Create some space, be it your bed or floor. Don't worry; we are still talking about wall collage. Before attaching the images to the wall, arrange them on the bed (or the floor). How does it look? Do you think you did a good job? - ask yourself. Keep experimenting with the layouts before you decide to stick it. Believe it; this is an A-easy yet helpful hack.
We will list down some easy-to-make gallery wall layouts to help you in creating a photo wall collage.
Organized collage: If cleanliness excites you, the simplest rectangular shape collage will bring your mood in harmony with the wall.
Mural collage: If you like things rustic and raw, overlap images with one another. It will form an eclectic look by combining all your pictures into one glued collage.
Cloud collage: It has nothing to do with AI, but the look of the collage is indeed futuristic with the printed images form the shape of a cloud. You must be wondering, how? Well, try not to create a straight line with the edges of the photos and that's all. You will make a picture wall collage that looks like a cloud.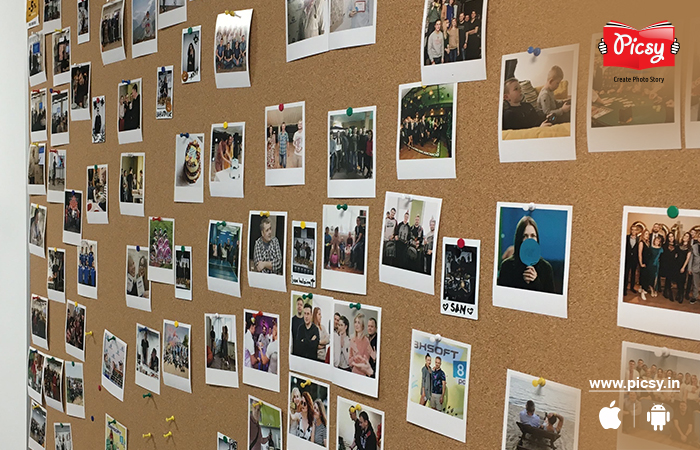 Where To Put A Photo Wall Collage
Let's break the stereotype of wall collage to be the classic living room wall decor , shall we? If you have a tea table or bed table kept just next to a wall, instead of putting standing photo frames on them, decorate the wall collage right on top of it. Another fabulous idea, which you can easily see on English TV dramas, is putting wall collages next to the stairs. Looks classy, no doubt - it literally makes you walk down the memory lane.
How To Hang A Wall Collage
There are many ways to hang a gallery of images . But, you need to choose wisely; else, it might fall off! We don't want you to face that; hence we have mentioned a few tips and tricks to help you in the process.
Tapes
If you are using unframed polaroid images to give a trendy hippie look to your room, you can easily use normal duct tapes or double-sided tapes. It might not be as durable as a properly framed wall album, but hey, it is pocket-friendly and all the more reason to change the images from time to time and fill the room with a new vibe each time.
Hooks
If you are using properly framed images or canvas prints, you need to drill a hook on the spot. Remember, you wouldn't want to miss the mark! Use a pencil before pushing in the drilling machine. As and when the hooks are placed, set all your images on the wall.
Pushpins
If you have a bulletin board and you hardly use it, fill the empty space with post-it pins holding your favorite images along with a to-do list. Trust the idea; the images act like a magnet. It will pull you towards the bulletin board, and as your eyes will fall on the to-do list, it will motivate you to work.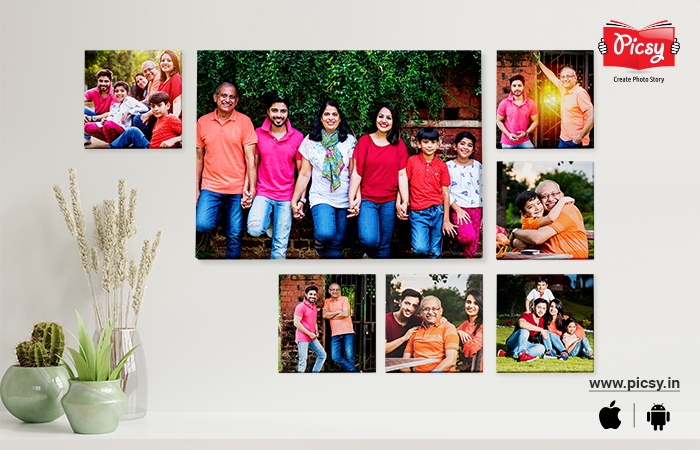 Easy Photo Wall Ideas
Wall gallery does not necessarily have to be a huge bite on your wallet or time-consuming either. If you want to decorate your wall quickly and with some simple photo wall décor ideas, we are here help you with a few small budgets themes:
Trending Fairy-tale Lights
If you open amazon or any eCommerce platform, you will find fairy-tale lights. They have a perfect warm effect of setting a cozy weekend vibe to your room. String them around your room and attach pretty polaroid images with the mini bulbs.
Classy Charcoal
If your wall has a solid color, you can go for the grey-scale classy charcoal theme. It works perfectly in elevating the look of your room.
Old Wooden Windows
Do you have an old window flame? Well, in case you were about to throw it, we just saved an about-to-be masterpiece. All you got to do is get the right measurements of the window panels to print your images. It will give a rustic effect to your wall setting an 18th century mood.
Let's Wrap It Up!
A collection of images on the wall brings out the true color of excitement into your house. If you decide to hang the pictures of our furry friends or admire nature with a few greenery images, the picture wall collage is a lovely idea. With Picsy's endless custom photo prints and canvas prints templates, decorate your walls to tell your untold story. Download the Picsy app from the digital store, place an order for custom photo prints, and get started today!
Ready to hold your memories in hand?