30 Friendship Day Quotes to Warm Your Best Friend's Heart
July 30, 2020
Whether you're enjoying life or having an unwanted fall, you can depend on your friends who are always there for you. A listening ear, a shoulder to lean on, or to lift your mood at a boring event — they make your world a happy place and help you in every step.
There's no bond like the bond between friends, from childhood banters to sharing the greatest secrets of your life.
While we may often not express what they mean to us, now it's time to show how much they matter and express our thankfulness.
Share these Friendship day quotes with your annoying but loving friends. Send friendship day wishes to the most cherished people in your life.
1) Dear friend, thanks for being with me when no-one else was.
2) A friend is one who understands your emotions even if you try to hide it.
3) Dear Friend, on this Friendship Day, I wish you get all the happiness in the universe.
4) Friendship is like the last slice of a Pizza. Everyone wants it, but only one gets it. And I'm lucky to have you. Happy Friendship Day!
5) From pulling legs to pushing us towards excellence in life. Thanks for being a valuable part of my life.
6) You're the most precious gift God has given me.
7) Your standing beside me is worth more than a tight hug.
8) Our friendship like Whiskey. The older it gets, the better it tastes!
9) From my patch-ups to my break-ups – you have been a constant.
10) From smiling in good times, crying during the bad and partying in the worst – To a great friend.Thanks for being my constant.
11) You're the sunshine that makes my cloudy days disappear.
12) I don't know why long drives don't seem so long when you're with me.
13) Relationships may die, but our friendship is immortal.
14) Friends are like salt in a recipe. Without them, life becomes tasteless
15) In my previous life, I must have done something wonderful, which is why I got such a great friend like you.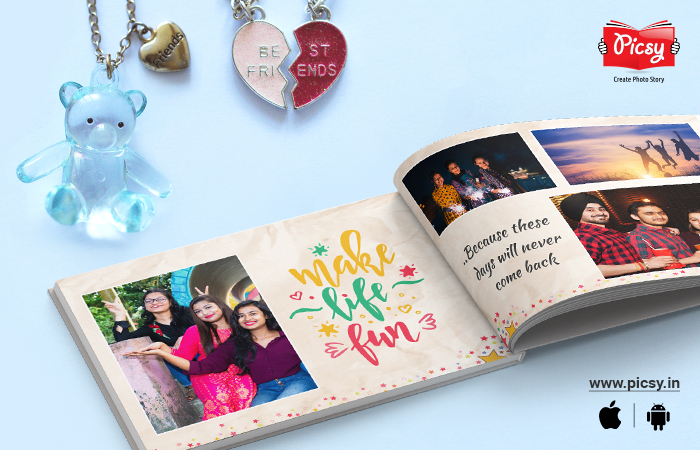 16) A friend is someone who knows the song of your heart. And when you have forgotten the words, they will sing it back to you.
17) A true friend can see behind your mask even though you trick everyone else.
18) It is a good fortune to have one true friend in this lifetime, and keeping that friend is a real blessing.
19) There's nothing better than a friend in this universe -unless it's a friend with insane memories.
20) A single candle can lighten up a whole room. And a true friend lights up the whole life.
21) A real friend is one who joins while the rest of the world walks out.
22) A friend is someone you call during your darkest hour.
23) We might not have a perfect picture together… but at least we are picture perfect!
24) My friend is like a little bundle of joy sent by me to God.
25) Distance can't separate friends because their hearts bind them strongly.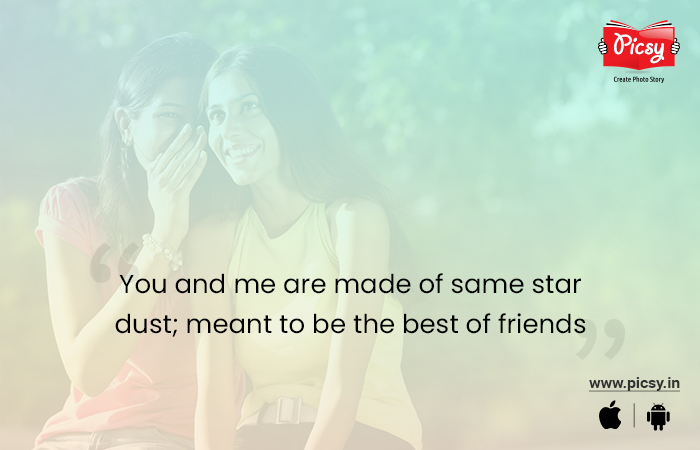 26) A friend is someone who doesn't let you do foolish things alone
27) You are the one who understands me, not just listen to my words.You don't just listen to my words, you understand my feelings.
28) I am normal; my friend is normal. Together we are anything but normal!
29) If his/her name brings a smile to your face, that person is your true friend.
30) A lifetime journey with a forever friend is the most memorable one.
Friendship day is the celebration of the world's most beautiful connection. So if you're still unsure of what to gift your friend- this friendship day, here's one easy yet fantastic idea by which you can make your friend feel special. And that idea is our Best Friend Photo Books collection.
Picsy offers a wide range of genuinely memorable gifts, ones in which your friends can cherish the special moments you have shared with them.
Download Picsy app and browse through our amazing collection of photo books, calendars, canvas prints, and a lot more to immortalize the special bond you have for your close friends.
Ready to hold your memories in hand?