Canvas Print or Poster: Which One Should You Choose?
October 29, 2021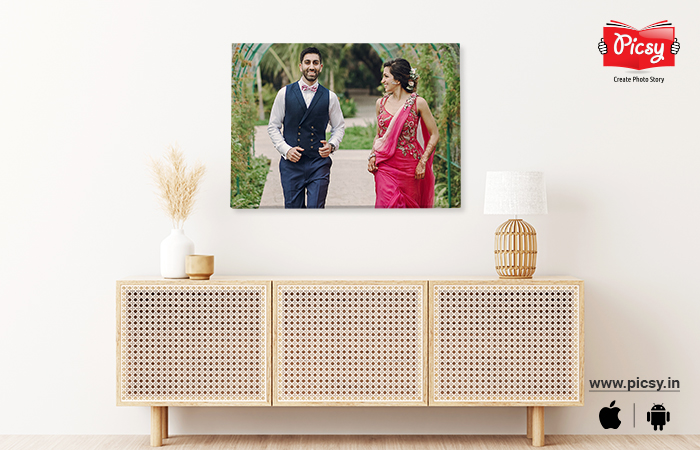 If you are planning to decorate your walls with eye-catching pictures, you sure are in a dilemma between canvas vs. poster. But the point is how you will choose between the two if you do not know enough about them? To understand which is better for your walls, we have penned down the answers to the most frequently asked questions. So, let's take a look.
Getting started with the poster.
What is a Poster?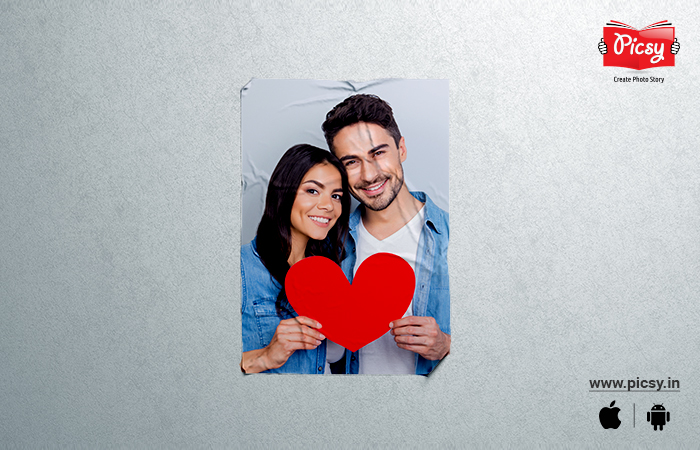 It is needless to say; a poster is one of the cheapest ways to decorate your walls. It is the copy of the original work on a piece of paper that you can stick anywhere possible with the aid of adhesive. It comes in various sizes, ranging from passport-sized posters to banner-sized posters. The possibility is immense when it comes to the spectrum of size. It offers large format prints as well. Whether glossy or matte; posters come in varied sizes and qualities.
However, since posters are printed in volume, the quality of the ink is often compromised. This is the reason why it comes at a cheaper cost, in fact. That does not mean you won't find ANY photo product service that provides high-quality photo posters, they sure do.
Moving onto the canvas prints.
What are Canvas Prints?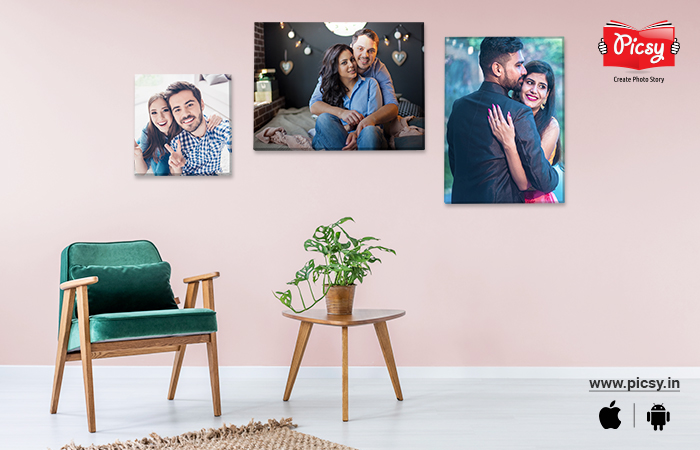 Contrary to popular belief, Canvas prints are not paintings. They are rather images that you would want to hang on walls printed on canvas fabric. Canvas prints are often compared with paintings as the surface texture is the same, and they give an aesthetic acrylic vibe to the room. The cloth that is used to make the canvas is either polyester, linen, or cotton, varying from company to company. Some even use other materials like jute and hemp to distinguish their products.
Once the image is printed onto the canvas sheet, the fabric is stretched on a wooden frame, stapled on the back or the sides of the frame.
Unlike posters, the color of the canvas prints is of higher quality. Usually printed on an inkjet printer, photos on canvas carry every minute detail of the original image. Hence, when you take a good look at it, you can imagine a master painting your image on the fabric.
Now that you know enough about Canvas prints, what do you think – what sets it apart from posters? What is the difference?
Let's understand in detail.
What Sets Canvas Print Apart from Poster?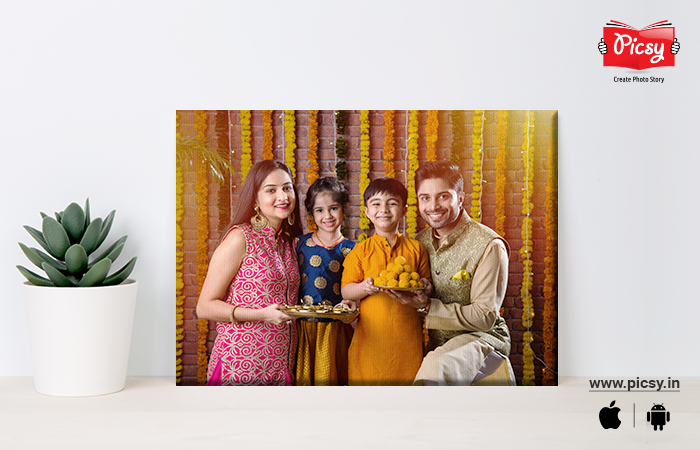 With the explanations above, you can somewhat gauge that the quality and the price surely differ. But to understand the range of differences, we will bifurcate the point of divergences.
1. The Difference of Origin
They both share almost the same route of origin, as the invention of lithography made the origin of posters and canvas prints possible. But if distinguished further, the origin of the posters is associated with the initiation of chromolithography, i.e., the baby steps towards modern mass printing done for newspapers and magazines.
2. Material of the Object
As mentioned earlier, the material is what makes both the image products quite different from each other. Since they are printed on paper, posters are delicate. Even if little force is applied, there is always a possibility of ruining the poster. In comparison, the material used for printing the image is canvas fabric. It is sturdy, durable, and resilient. Even if someone chooses the low-quality canvas print, it cannot be compared with a high-quality poster; the quality of the material differs so much. This is the place where canvas prints steal the show. So, if you are planning to choose custom Canvas Prints for your walls, you should know you have chosen a durable object.
3. The Durability of the Material
The material used for the objects defines durability as well. Since the material used for posters is paper and is delicate, it can not be claimed as a durable object of décor. Whereas, in comparison, as mentioned in the above point, canvas prints are rock-solid durable. The fabric of the canvas print is stretchable, durable, and tough.
4. The Rate of the Products
Quality comes at a cost and hence Canvas photo are costlier than posters. How can you make canvas prints at a bargain, if you are searching for something durable and classy? However, it would be an exaggeration if called costly, since they are easily affordable. The quality of the fabric is what makes Canvas prints the star of the show.
5. The Thickness of the Products
The thickness of the product defines the look of the product, believe it or not. If the thickness is more, it gives a 3D look and a vibe of durability. In contrast, a sleek material looks more trendy, refined, and practical. Speaking of which, Canvas prints are your option if you are looking for thick home décor, but if you want something cosmopolitan, you can also go for the posters.
When compared with paper quality of a poster, canvas prints are often presented as a better means of home décor. Do you think that is true? Or it depends on the perspective?
Let's check it out.
Are Canvas Prints Better Than Poster?
People who have been decorating their walls with larger forms of pictures, such as posters, often switch to canvas prints. Also, canvas prints are blanketing the market. Does that define canvas prints are better off? The materials used to print the images are durable, tough, and do not get easily torn down. These are a few benefits of canvas prints. Canvas prints look phenomenal when a Triptych Canvas is hung on the office wall.
The trick is not to know how to create canvas prints online or how to make the perfect poster, but to choose the right service that can do it for you. Not everyone can deliver what you desire to decorate your walls. So whether you choose poster or canvas prints, make sure to check the ratings and samples of the service you are contacting.
Read More : Photo Prints Styles for Home Décor
Poster or Canvas Prints: Which One Should You Choose?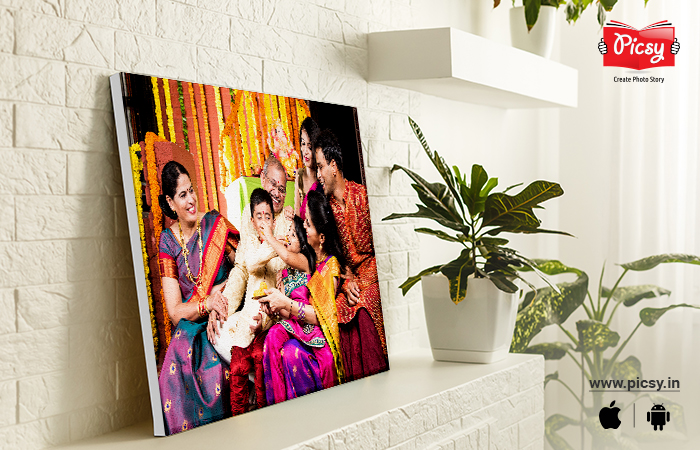 If you have to choose between poster and canvas prints, which one suits you better? Well, we wish we could choose one and help you with an answer. But, the truth is, it depends on the type of image you want to portray and where you want to portray. For example:
i. Office
If you are planning to hang landscape on the empty office walls and elevate the sophisticated decorum, you should go for canvas prints. Because posters are more personal, but a canvas landscape defines class.
ii. Promotion
Posters are a great way to promote your brand. You can get a bulk of prints at an affordable rate. Either hang them around your office or distribute them in the malls. A bit of promotion sure helps to attain the right audience.
iii. Bedroom
It is your own kingdom; here, whether you choose poster or canvas prints, it is your call. Ask yourself, which one you like more, or which of these products can define the real you – is it the raw and trendy poster or the classy and durable canvas prints?
iv. Living Room
Living room is one of the most common places to showcase your memories. Whether you want to portray your furry friend, a family reunion or your trekking story, a canvas print would do justice to your cherished time.
Conclusion:
Hope this article helps you to choose the right product for your walls. Whether you choose custom canvas prints or posters, it sure will elevate the look of your house. With an experienced and perfect partner like Picsy, you can decorate your house with brilliant home décor products.
Did you download Picsy app yet? It is available in the digital store. Get it for free and give your memories a platform to live. Happy Picsy-ing!
Ready to hold your memories in hand?