Find the Perfect Home Décor Gifts Ideas for Your Loved Ones
May 27, 2022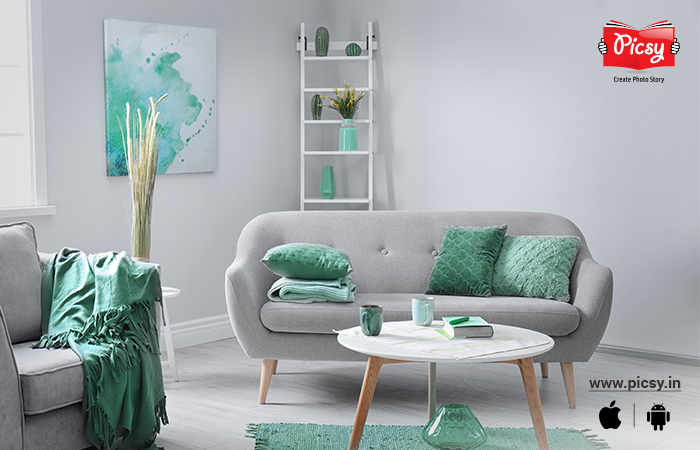 Looking for the perfect gift home décor for any occasion? Look no further and keep reading! In this, I have highlighted some of the best gifts for any home décor lover. Whether you're hoping to add a décor home with custom canvas prints for your own home or looking for a new piece for any family member or friend, we've got you covered. So read on to find the most alluring home décor gift idea for any event! Also, a bonus point for you – a discussion on why home decoration is important.
Importance of Home Décor in Our Lives
There are many different ways to approach home decor. Some designers go for the minimalist style, in comparison some chooses more of an eclectic or traditional look. When it comes to home décor, the only that is important is to find a style that reflects your aura and makes you feel happy and home.
You go out and buy a few plants and decorate your home and office. But the best part of making a home is when you start to make it your own. You put up an IKEA shelf in the bathroom and put all of your favourite lotions and potions. You design a warm light lamp in your bedroom and all your favourite books near it. Or sometimes you make a handmade decoration for home. You make a place for every décor item, and every décor item has a place in your home and your heart. And that's when your home feels like a real home.
Take your home decoration game to the next level with Framed Vinyl Prints from Picsy!
Gift Home Décor to Your Loved Ones
Believe me; these ideas will steal your loved ones' hearts. These ideas are cheap and chic, trendy yet timeless - in a word, just unbeatable. Check out.
Home Décor Gifts for Him
For the man who loves to entertain, a bar cart is a great way to make sure he always has everything he needs for a perfect evening. A wine fridge is a must-have if he adores the red liquid wisdom. If he's a sports fan, a cozy recliner with a built-in television is sure to be a hit. Whatever his style, there's a home decor gift items in this blog perfect for the special man in your life. Check out the home décor ideas for your handsome man.
1. Add Some Photo Prints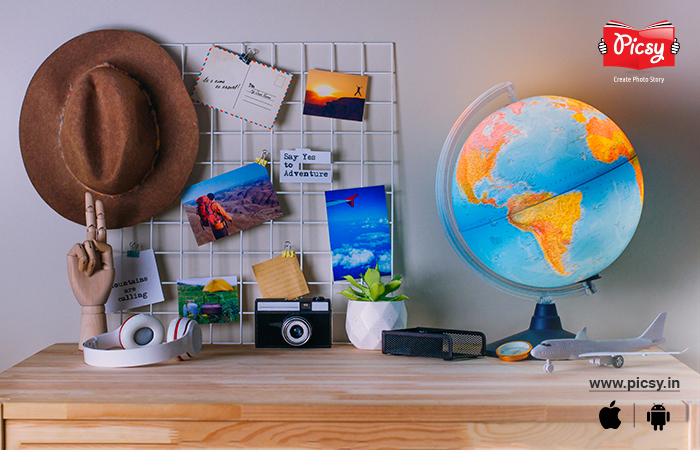 One of most thoughtful yet easy ways to make your house feel like home is to add some memories. Not only do memories add warmth and emotion to a space, but they can also be a great way to show off the great places you have visited. So order photo prints and bring some memories in your home!
2. Add Tt Table
Room decoration gifts are incomplete if you are not adding any fun elements. By fun, we mean something your man can play with, like a Tt-Table, for example. It is furniture that can add sporty style to your space.
3. Add Movie Posters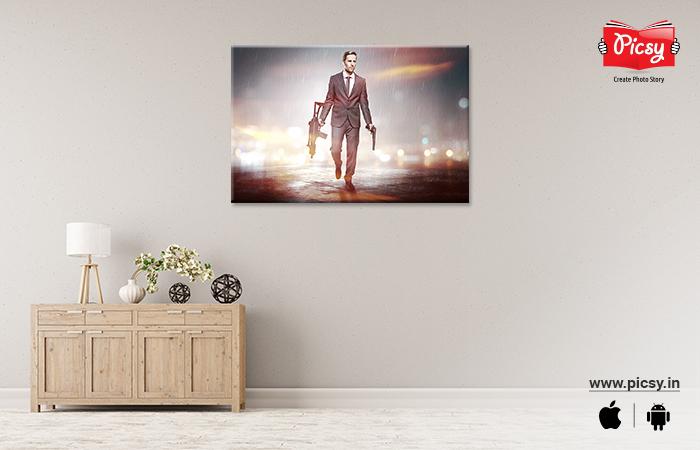 One of the perfect home decor items to gift to your man. Whether to feel the aura of Shah Rukh Khan or celebrate the stunts of our Mr. Khiladi, send any of your favourite movie poster images and get Picsy's durable and bright movie canvas art.
4. Personalized Mirrors
Believe it or not, mirrors are the most clever living room wall décor ideas. The reflections make the room looks bigger and also let your man, whether husband or brother, feel overwhelmed with their hairstyle whenever they wish.
For more unique and personalized products, download the Picsy app and gift your loved ones.
Home Décor Gifts for Her
"She is like a full circle. With her is the power to create, nurture and transform." So you better get something extraordinary for her. Whether room handmade decorations or something eccentric. Here are a few fantastic ideas you cannot say no to.
1. Hang Some Curtains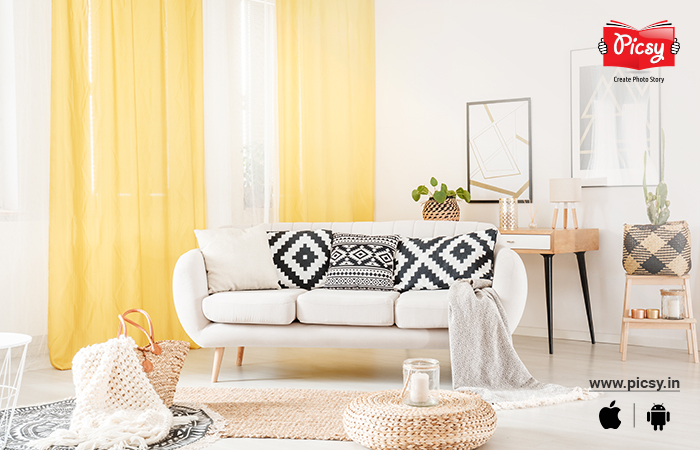 Curtains can be a great way to add some personality and character to a space, and they can also help to make a room feel more cozy and comfortable. Try using tension rods if you're looking for a quick and easy way to add some curtains to your space. Isn't it one of the unique house decor gifts?
2. Add Some Plants
Adding plants to your loved one's space is a great way to add some life and color, and plants can also help to improve the air quality in your home. If you're uncertain what plants to pick, go for the plants that are low maintenance and don't require sunlight like fig or bonsai.
3. Add Some Personal Touches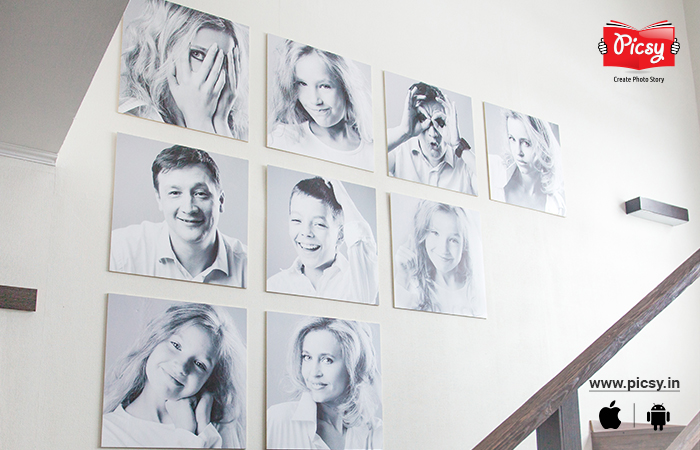 One of the best ways to make your place feel like home is to add some personal touches, like decorated gallery walls in the living room. A kind of décor that has special meaning to you. By incorporating personal touches to your space is a great way to make it seem like your own. This is one of the best home decor gifts for wedding for your wife to make her feel at home at your place.
4. Smart Fireplace
An ethanol rubbing portable alcohol fireplace for indoor and outdoor settings. One of the fanciest home decoration gift items for an upbeat look. It creates an instance of romantic ambiance within a flick of seconds.
Create photo prints online and gift a box of memories to your Queen bee.
Why is Canvas Print the Best Home Décor Gift?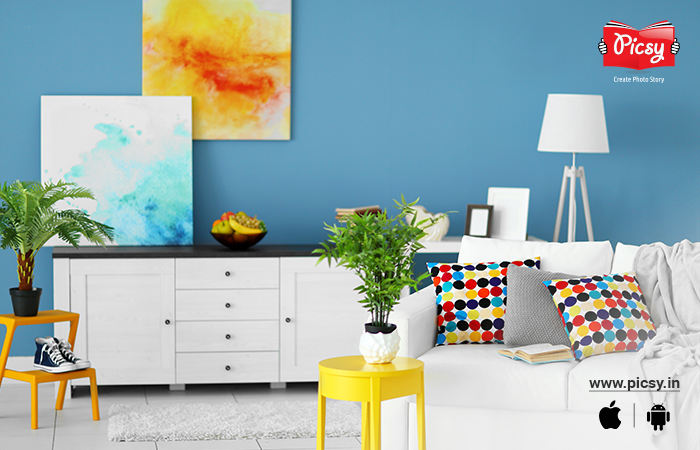 Remember how it felt when you wore your graduation cap or your friends threw a surprise party? Wouldn't it be lovely to live in that moment forever? Considered as of the classic home décor gifts that is what canvas prints are capable of! Whether you are making canvas prints for your bedroom or the living area, it won't just safeguard your dear memories but will also decorate your space. Imagine gifting something so meaningful. Won't it be thoughtful enough to see their precious million dollars smile?
Final Thoughts
There are several decorative gifts for home accessible that deciding where to put them all might be challenging! But don't stress, when it comes to furnishing your home, you can do as you heart tells you.
However, if you're looking for something personal yet creative, like custom canvas prints or other photo products, don't forget Picsy! It has been helping hundreds for ages with its thoughtful home décor and gifting items. Download the Picsy app and get rolling with your gifting idea now!