Choosing The Best Canvas Printing Services for Android and iOS
Last Updated : July 26, 2022
An excellent approach to displaying an original piece of art is to hang a well-made canvas print on your wall. It gives off a feeling of being part of a "great experience," as if you are watching a unique work of art. but not with the costs of the famous artwork.
Any picture, sketch, or drawing may be turned into a work of art using the finest canvas printing services. But in order to truly capture the feel of a masterpiece, you'll need a laser printer with high-resolution printing capabilities, strong, well-made materials, and printing that a talented artist does.
To maintain a picture's enticing appeal without distorting it, the printers must possess certain expertise in regulating an image's colour, clarity, and contrasts.
Top Canvas Prints Apps for Android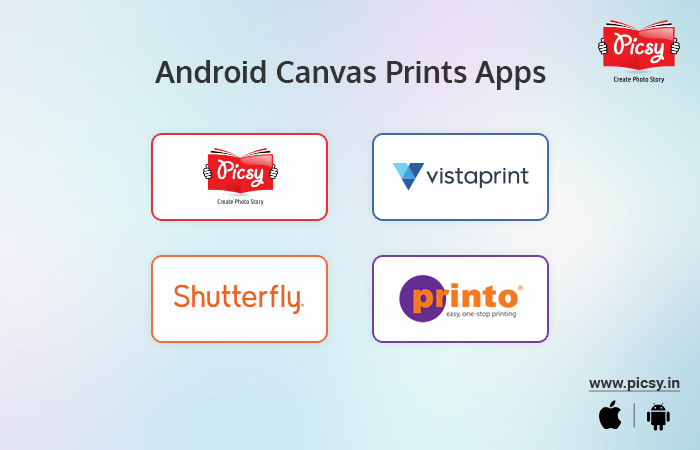 We routinely go through our days, snap pictures of everything, and then promptly forget about them. On our devices, there are countless photos that we barely look at or use. However, making a picture canvas print has never been simpler.
These canvas print ordering apps have made ordering wall decor simple, just like those takeout food ordering apps. Even a desktop and a modem are not necessary. Your phone can be used to instantly order canvas prints of your images! Let's start with Android.
1) Picsy
There are many reasons to consider Picsy – the two would be the expert crafters and high-quality output. These artists are the best on the planet at making canvas prints from scratch, and the artwork they produce is proof of that.
Not simply the degree of quality you receive but also the cost is remarkable. While you might anticipate paying several thousands of rupees to purchase a professionally produced canvas print, you can purchase one from Picsy at a minimum rate.
Looking for the right service to create wall decor? Download Picsy App
2) VistaPrint
Some people desire total creative freedom when it comes to their print. VistaPrint is probably your best option if this describes you. Right from choosing photos for canvas prints to adding filters, you can do it on VistaPrint.
Every component of your canvas collage maker may be altered using VistaPrint, including features you might not have known you could change! When you buy at VistaPrint, you have the power to decide everything from the kind of chassis you use to further image upgrades.
3) Shutterfly
This group is able to provide exceptional quality while also keeping costs as low as possible.
Stick with them if you want artwork of museum-caliber quality. However, there are more size choices than you'll ever dream and you can still afford a beautiful work of art!
Additionally, delivery is incredibly fast; you should receive your canvas wall art within 7 days of placing your order.
Read more: Best Shutterfly Alternative 2022
4) Printo Photo
You might be a skilled photographer who consistently produces stunning images. But the majority of individuals are not. You've reached the right place if your family's dream vacation photo didn't turn out perfectly.
Printo Photo is a printing company that provides free image retouching so that even if the source picture has flaws, you still get a beautiful work of art. It is simple to turn your picture to life thanks to their clear design procedure. You can add free hanging components and other amazing features in addition to free image retouching.
Top Canvas Prints Apps for Apple (iOS)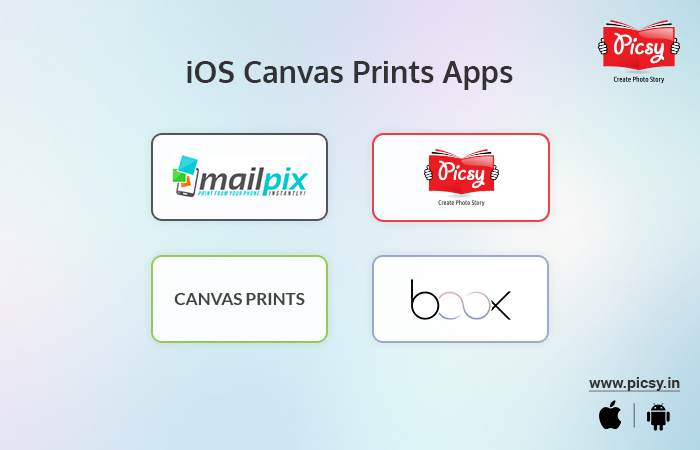 Are you wondering how to create canvas prints online from your iPhone? By purchasing from one of these iOS-enabled canvas print apps, you may bring your favourite memory or artistic masterpiece to life in a contemporary way.
1) MailPix
MailPix is among the least stressful canvas print providers. With a few simple clicks on their user-friendly design interface, this company makes ordering your personalized canvas prints a pleasure. They provide a wide range of customized options, including a huge range of sizes, the option to select between binary and multi canvas prints, and more. So, choose the best canvas print size for you.
As rapid as any brand we've seen is the delivery time. You can take artwork from this app with you to all of your future generations; it is so hardy. Although the cost of these prints seems a bit high, keep in mind that you will get what you spend for, and they are well worth the money.
2) Picsy
As mentioned about Picsy earlier, it is also available for iOS users. For Picsy products, both the price and the quality you receive are astounding. Carefully wrapped canvas sheet around the durable wooden frame is a work of wonder. Available in several sizes, it is one the bests we have got. Whether a movie canvas print, abstract, or simply a family photo, craft it the way you like it with Picsy.
Picsy app allows you to customize your canvas print fully – after all, your home decor should reflect the kind of art you would like to portray, right? Bring home the work of art from the house of Picsy and elevate the way your mundane wall looks.
3) Canvas Prints
It is quite hard to guess what the app does, isn't it? Well, jokes apart, going by its name, I guess I won't have to explain what it is famous for. Your photo can be printed on canvas in a matter of minutes. Firstly, download the app from the Apple App Store. You can choose the image you want to print on canvas from your iPhone's camera roll once our app is open. You can position your image anywhere you like after selecting your photo and deciding on the size of your canvas. After finishing, put your canvas print in your shopping basket and proceed to checkout or make another canvas to add to your order. It's that simple! Speaking of the quality, you won't regret it.
4) Boox-Photo Printing
While we're talking about quality, we'd like to introduce you to boox, one of our favourite canvas print companies. They have developed a reputation for creating photo products of museum quality. You can be confident that if it's beautiful enough even to display in a gallery, it will also look great in your dining room or office. You may be sure that the canvas print you get from boox will impress you and any visitors who have the good fortune of seeing it.
Which is the Best App for Canvas Prints?
In a word, if I have to say best app for canvas prints, I would say Picsy! For our audience here and abroad, I would say I will choose Picsy any day over all the apps, whether you are making a couple canvas prints or simply abstract wall art. It is available both on Android phones and on Apple. Picsy wins the heart of all its customers with top-notch picture quality and durable frames. Not only that, it also avails 24*7 assistance to help you create your dream wall décor. What else do you dream for? Class and durable, Picsy offers both!
Decorate your space with Picsy's Canvas Prints!
Ending Note on App for Canvas Prints
Don't let your life's greatest and most amazing moments disappear into a computer screen.Online canvas prints at reasonable prices can bring your very special memories to life through touch and sense. Make the memories you create last a little bit longer. Going to a nearby manufacturer of canvas prints would be time-consuming and inaccurate. Choose something better, easier, and quicker instead. You may print and remember the most beautiful moments of your life using Picsy Personalized Canvas Prints. To begin, download the Picsy app. A happy clicking!
Ready to hold your memories in hand?