Scrapbook Album Vs Photo Album: How is Scrapbook Different from a Photo Album
February 10, 2022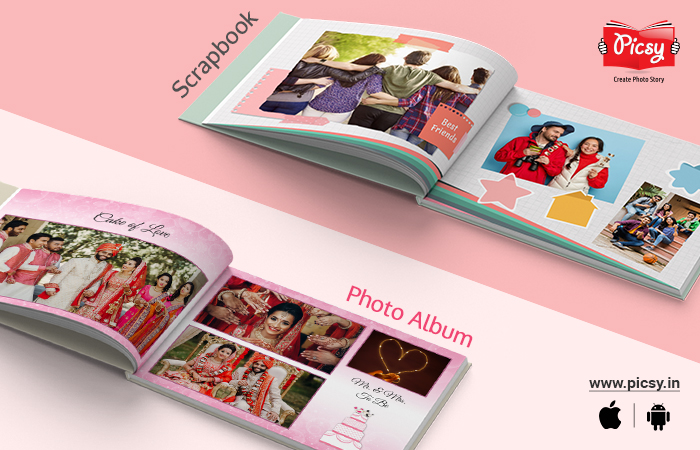 If an image is worth a hundred silent emotions, a scrapbook or a photo album tells way more than that. You can say they instead tell stories. Sure, there are differences between a scrapbook vs photobook, but both are worth more than any other gifts ever presented. They hold life's biggest events and all the secret moments that one might wake up to in the middle of the night. Remember how we used to callously paste the first-love wrinkled love letters on the corner of the scrapbook? Or those glossy wrappers of that chocolate that was once gifted gathering just enough guts? Scrapbook album can make you burst with laughter and accentuate your veiled tears of joy.
But, wait… before running down the memory lane of those long-lost memories, let's first understand what a scrapbook is or what are the types of scrapbooks you can create.
Shall we start?
What is a Scrapbook Album?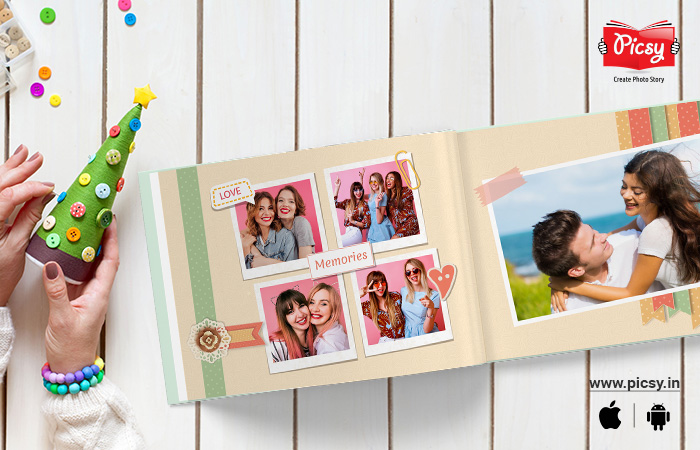 Scrapbooking is understood as the practice of preserving mementos by organizing images, a title tag, narration, and decorations in an appealing layout that is then placed in a keepsake book for the joy of family and friends.
A scrapbooking design or layout is the name given to each page you make. On the other hand, a scrapbook is merely an album containing scrapbooking themes on the pages of the book.
You will need to start making crafting pages before you can construct a scrapbook album. So, first, let's look at how you can do it, and then we will look at some unique ideas you can implement.
How to Make a Scrapbook?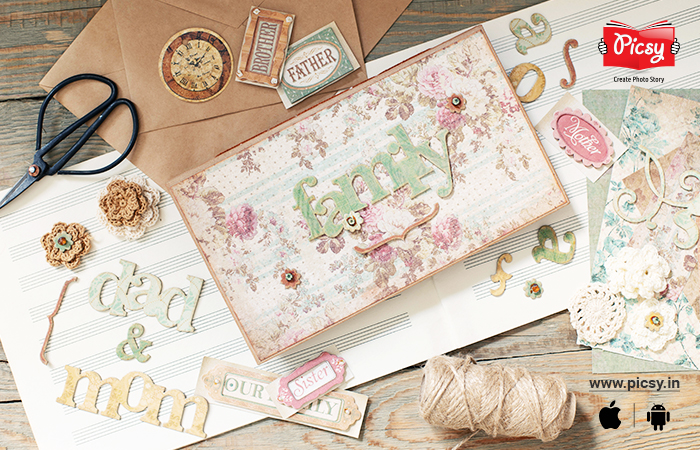 Behind every brilliant artwork, there's hard work. You sure want to make your scrapbook look beautiful and heavy on happy memories. To help you in this journey, we have segregated the steps of 'how to make a scrapbook?' Sounds like a fair deal? Keep reading.
Arranging Happy Memories
We know this does not require any explanation. But, this being the first step, let us anyway explain. All you have to do is take down all your photos in one device, be it your laptop or whatsoever, and check them all. Which are the photos that make your heart go round and round? Collect all of them. Believe me or not, this is actually the most important step while creating a photobook. If you do not collect memories that are happy, the essence of the scrapbook will be ruined.
Bringing Scrapbook to Life
'Now, what does that mean?' you must be wondering. Okay, let me explain. Do you ever collect seashells when you go to a beach or maybe a beads bracelet from another city? Those are your souvenirs. To bring your scrapbook back to life, why do something extra to add up the emotions? Paste those little memorable trinkets along with the photos so that when you flip the pages of your beautiful photo scrapbook, you can time travel within a flip of a finger.
Reshaping the Photos
Were you just thinking that you would paste the photos as is? In this digital world, when you can actually reshape any image in any shape, why go basic? Whether you want to create your scrapbook online or offline, try out the different shapes and sizes to create a feeling of hand-carved artwork. If it is your wedding picture or honeymoon with your partner, try out the heart shape to make it more accurate. If you are pasting a photo of the mountains, you can make a cloud shape.
I hope you have understood the deal so far. Now, before you yawn and pass out, let's discuss something interesting.
Unique and Fun Scrapbook Album Ideas
Scrapbooking is a one-of-a-kind experience if you like craftwork. It is a customized method to preserve and share your beloved and treasured memories. A defined scrapbook, created with love and patience, can truly give your images a life of their own. You can create a scrapbook that speaks more of emotions than artwork with all the souvenirs, stamps, and calligraphy.
But since the ideas of creating a scrapbook are endless, it can be intimidating at times. That's why we've compiled a list of creative scrapbook ideas you can create right at home.
1. Framing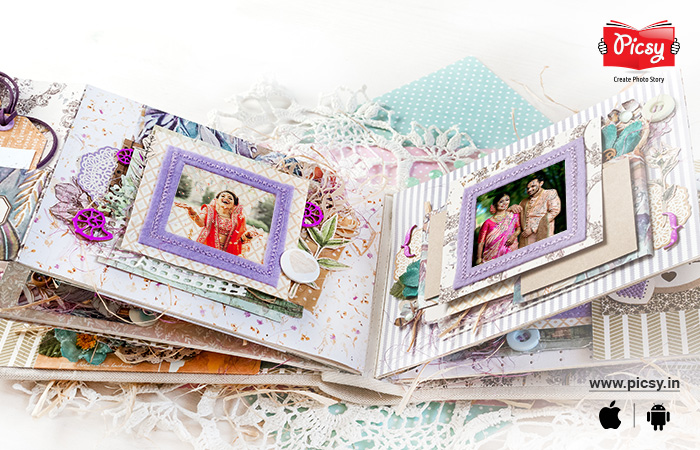 One of the simplest scrapbook layouts is to spend an entire section on a single memorable photograph. We would say (if you are wondering how) feature it on one page. To add features and depth to the page, frame it with a combination of stamps, stencils, and decorations. Believe me; it would look stunning.
2. Watercolor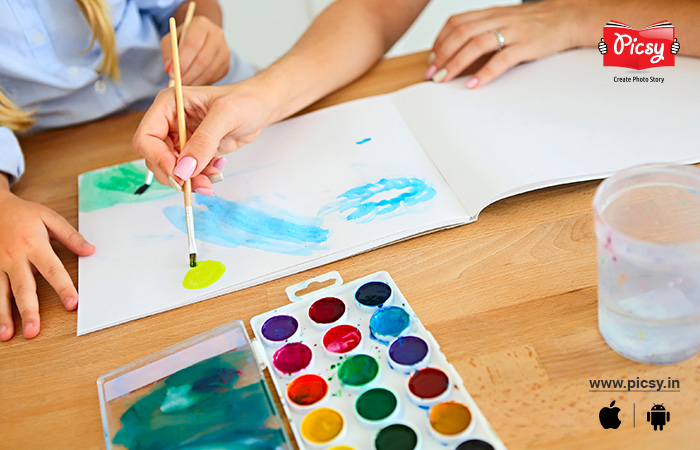 Watercolors are a simple way to add a dash of art to your scrapbook, regardless you fancy yourself artistically or not. Color strokes can instantly change an entire page, and you have to trust me when I say that. You can even draw things on the pages if you're keen enough. Placing the photographs within a burst of color on the page after printing photo prints online will make them shine.
3. Black and White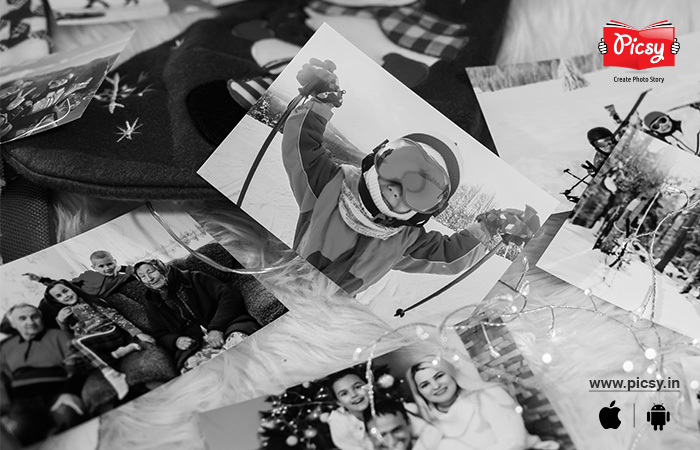 Print your images in black and white and thank me later. Mix color souvenirs and calligraphy with black and white photographs to generate visual contrast. Or, if you want to create a distinct emotional sense, you can also keep the entire book black and white. The greyscale makes everything look classy.
4. Travel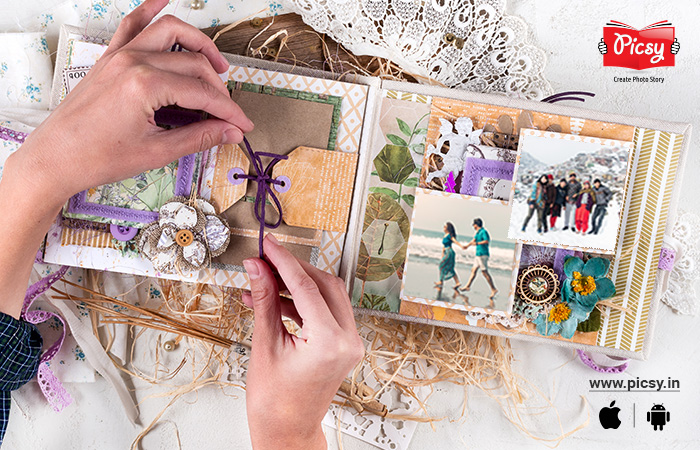 Beginners may think it's easier to concentrate on a single theme rather than trying to complete a whole year or years at once in one scrapbook. Start with vacation because you can get ideas from the location, such as horses or a treehouse in between a jungle, or maybe that beach trip where you were drenched in sunlight.
Read More : What to Do With Your Vacation Photos?
5. Journal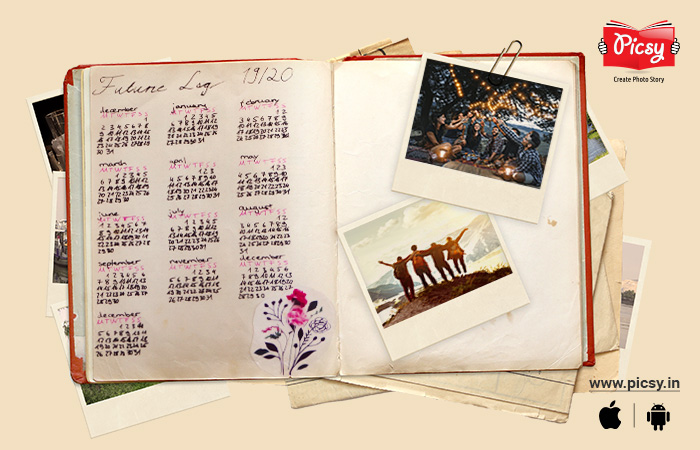 "Let your imagination come to life. Create a Scrapbook and give a platform to your dear memories!"
What is a Photo Album Book?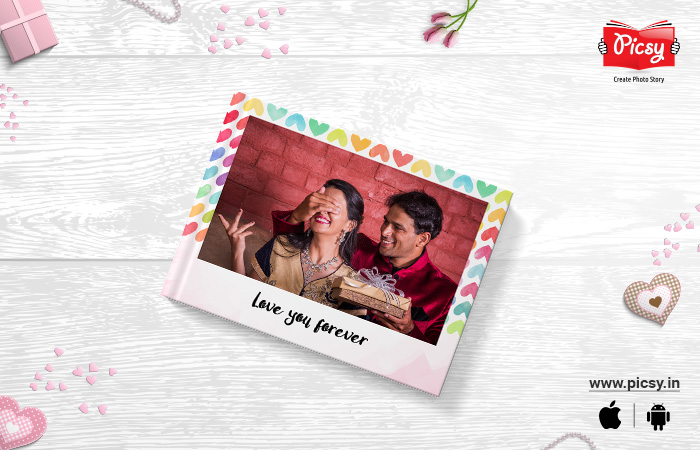 Now that everything seems to have become ONLINE and technology has advanced over the years, the creation of smartphones has overtaken the world today. Posting your favorite photo on your social media profile will surely enable you to recall the moment for a day, whereas doing something truly straightforward and simple for your greatest joys will help you to experience it for a long time.
Making a personalized photo book is among the finest ways to recall them. Now the question is, what is it? A photo album book or photo book is similar to a photo album. Where in an album you manually slip in the photos to make a book, in a photo book, you bind photo prints together to make a book.
How to Make a Photo Album Book?
The world has come to a point where nobody has abundant time but is insufficient. So I am not going to waste another valuable second and start off with the simple steps.
Editing Images
Sometimes we get carried away while clicking images. It is an unending series pressing that red button and capturing a ludicrous number of pictures that in no time fills the 'images' folder. I would say that lessens the essence of the happy time. The more succinct the collection is, the better. So, after arranging the chosen pictures, check if they require any sort of retouching – the brightness, contrast, lighting fixing, etc.
Choosing Templates
If you are creating a personalised photo album online, you will get many template options to choose from. In accordance with your photo book or album theme, you can select the templates. For example, if you want to print pictures of Holi, choose a colorful template. Similarly, if you're going to print images of your baby girl, you can choose a baby pink template.
Arranging Images
Before the process of photo album printing, you have to arrange them digitally. Sure, some services do it for you, but where is the fun if people do it all? 'Your memories, your rules,' that's what I believe in. Arrange the image in a synchronizing order and place the order. That's it, no rocket science.
A good life is a collection of happy memories! Now print your precious memories with Picsy photo products. Download the app to get started!
Interesting Photo Album Ideas
Right this moment, I have so many photo album ideas that a year would seem less to pen them down. However, I am mentioning a few of my favourite types of photo album, that you, too, will enjoy.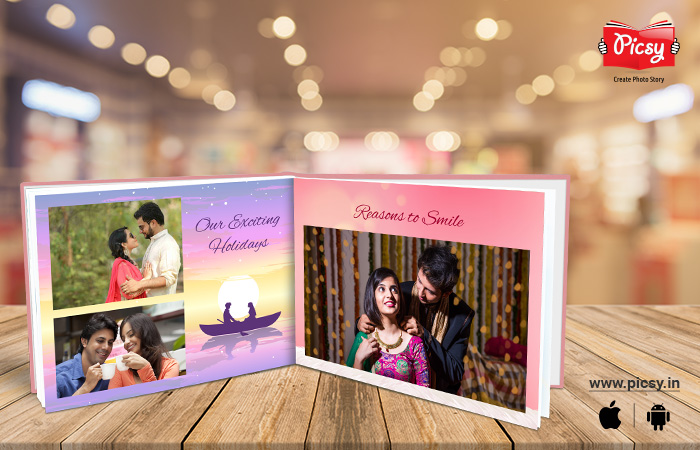 The first time is always memorable. Photobooks are a wonderful way to commemorate special occasions such as graduations, anniversaries, or dates. A personalized photo gallery is always a nice idea, whether you're making it for yourself or giving it as a gift. Tell your sweetheart how much they mean to you this year with these gorgeous Anniversary picture books, and fill your coffee table with memories.
Read More : 7 Amazing Anniversary Photo Album Ideas
2. I Woof You
Using these personalized photo albums to show your unconditional love for your pet is the finest way to respect them and their faithfulness. They certainly deserve to be included in your family album book because they are also members of the family, if not more. They give more of a reason to come back home early, don't they?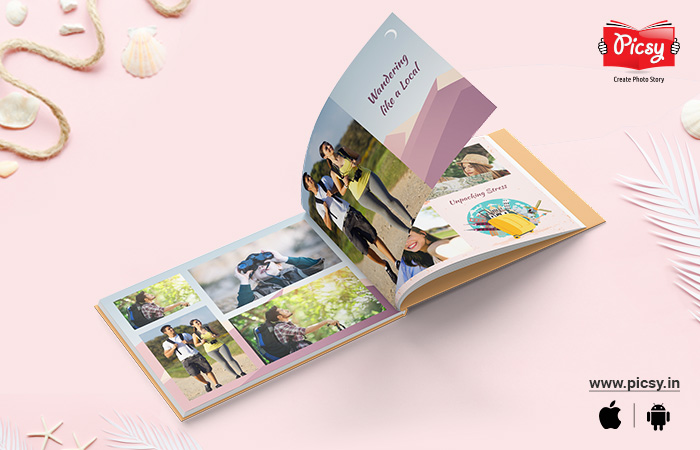 When you print landscape photographs in a photo album with lovely annotations and descriptions reflecting on what you saw, they look artistically alive. All of the photos you took and all of the scenic scenery you saw on a family vacation, a getaway with friends, or a solitary trip ought to be in your holiday vibes photo book.
4. Relishing Art
Do you like painting or photography, or maybe any other kind of art that you can proudly showcase? Then stop telling yourself, "I will print it next time," and go for it. If you don't give a platform to your creation, how will people know about what you are capable of? Forget about people, do it for yourself. Be proud of who you are.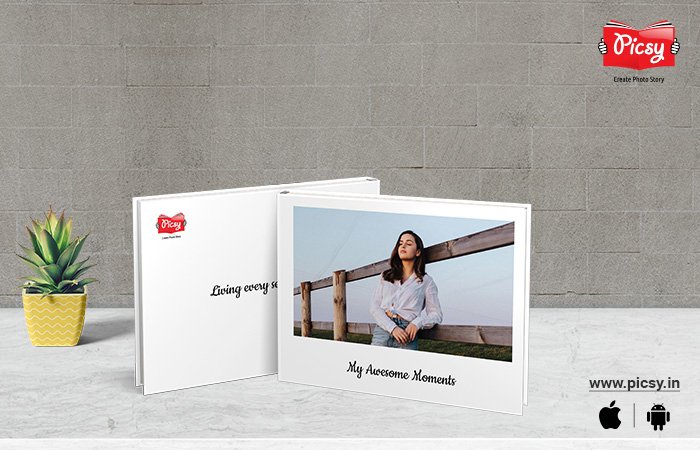 Minimal – design or lifestyle; it is trending and trending for good. So, I say why not merge two great things together – unforgettable memories and minimal elegant white photobook? The color soothes the mind inside out. Add all those memories where you have felt the calmest version of yourself and let the sentence, "At the end of the day, it is what it is," sink deep within you.
Scrapbook vs Photo Album: Which One Should You Gift?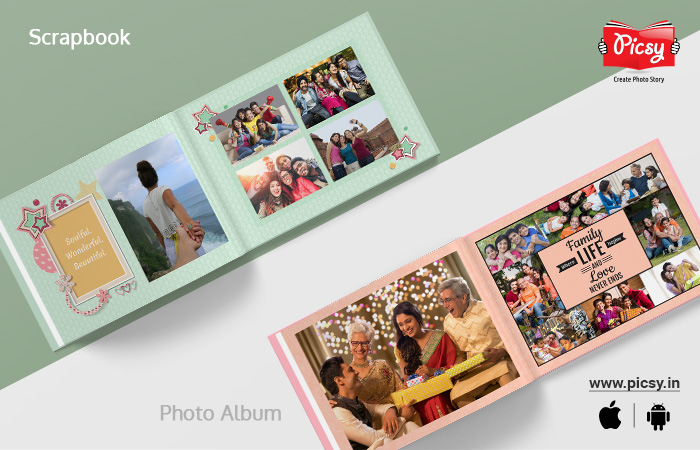 I will be very honest with you while deciding which is better but keep in mind; there is no doubt that both are good. One is more personalized, and the other one can consist of only photos. If you are deciding to gift any one of those to the love of your life, we would say choose scrapbook. Now, why? Well, because there you can add all the love letters, screenshots of your most recalled texts, and whatnot, maybe the first rose as well. When I think of it, it sounds really romantic.
However, if you are planning to gift your relative, we would say go for the photo album. You can include all the photos you both have met, or maybe only your relative has been present. Scrapbook is for people who are close to your heart and do not share a barrier of formal relationship. Scrapbook is for someone who loves you for who you are. Because the closer you are, the more elements you will have that you'd want to add.
Read More : Top Trending Gift Ideas for Every One
Wrapping Up:
Coming to a conclusion, it would be just to mention that both scrapbook and photo album or photo book serves their own purposes. Choosing either one of them will let you set your evening by the coffee table with, God knows, how many wonderful memories.
Speaking of which, to choose one of the best custom photo albums, we recommend you to download Picsy App. It is a simple yet one of the best photo album apps that serves many other delightful photo products. Download and browse all of them. You won't regret it!
Ready to hold your memories in hand?