9 Romantic and Elegant Save the Date Photo Ideas
June 25, 2021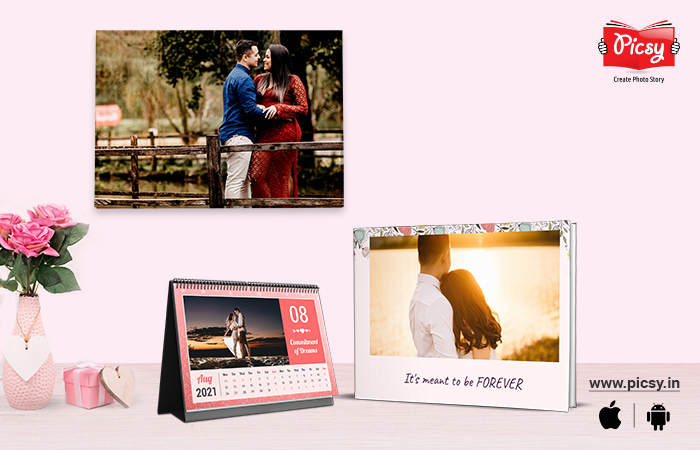 We all like getting clicked, but a stressful situation arises when we have to pose for a photoshoot. This is because there are a plethora of poses for the photoshoot. But are you perplexed about the appropriate one? Do not get stressed out. Here is an article to guide you through it. And you can show off a cute and elegant picture from your photoshoot.
What Is Save the Date Photoshoot?
There are a plethora of ways to be innovative when it comes to save the date photos, as it is the most fun-loving aspect when a wedding is being planned. Undoubtedly, the most favorable way to do that is by online saving the dates.
To set a tone use multi color photos to let your guests have a glimpse of how a wedding would be like. Your save the date photo card is a rational approach and a photo memento to celebrate your bond with the guests. Schedule your save the date photo shoot.
Photo ideas to use at your save the date photoshoot
Are you perplexed how to pose and perform in the photoshoot? Don't stress. Following are some creative photo ideas which you could use to offer a sneak preview of your special day.
Click a selfie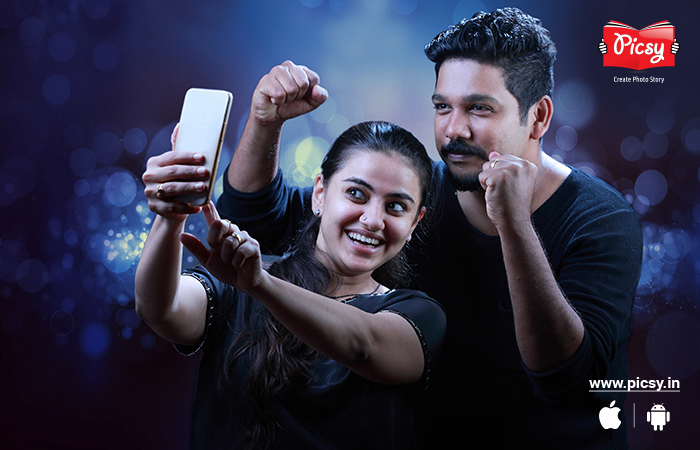 Be it Android or ioS, our cell phones definitely have the camera. If you want to follow a rigid budget for your wedding, you can even skip the expensive photoshoot and capture a beautiful selfie with your beloved. The advantage is it is cost-friendly, and the guests are going to endear the personal and informal vibe.
Acknowledge the nature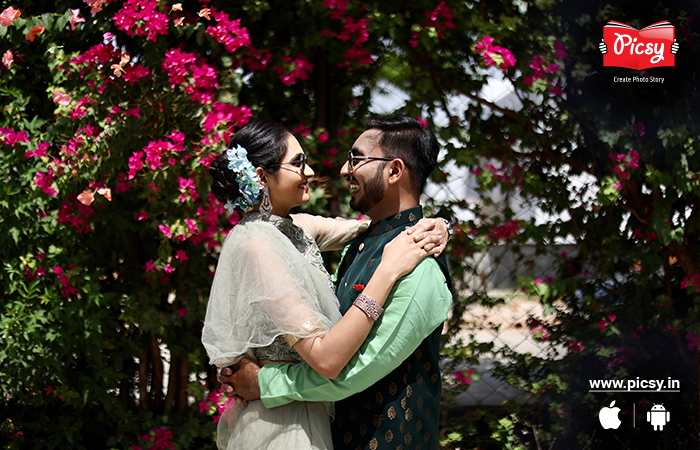 Generally, you cannot reschedule your save the date photoshoot, once you have booked it. Consequently, you will have to deal with the unfriendly weather conditions by turning the situation in your favor. If it is raining, romanticize the moment with the help of an umbrella. If there is snowfall, flaunt your comfy puffer jacket and capture the moment while enjoying the snowflakes. This way, you would not have to reschedule the photoshoot, and you can get your perfect save the date pictures.
Black and white photo as a classic
Give your save the date couple image that classic 80's vibe to make it seem more romantic yet elegant. Dress up as a beautiful romantic couple and flaunt your attire and cozy moment with the help of exemplary black and white color tones.
A photo collage as a go-to option
You will definitely have ample images, and choosing one out of them could be a difficult task. Thus, a collage comprising of save the date couple photos is the best way to manifest different phases of your relationship with your beloved. The collage gives the liberty to include all your favorite images in one photo card. Moreover, it eases the task of selecting one out of so many beautiful images.
Search for fall foliage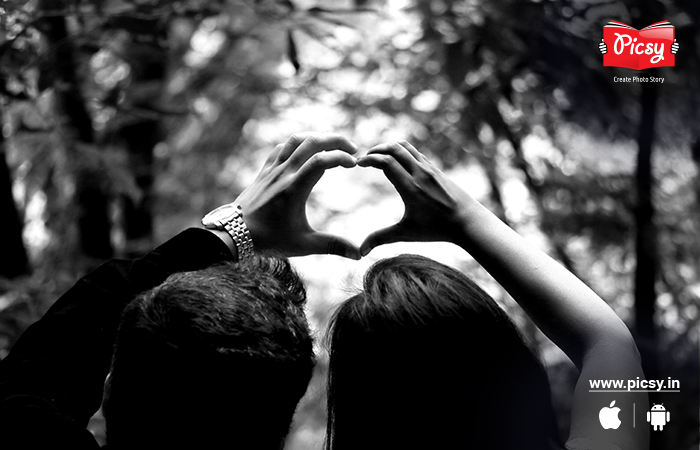 It is one of the most beautiful save the date photo ideas and most appropriate if you plan to get married in the fall. You can conduct your photoshoot in a woodland or a garden or even over a rugged mountain area to get elegant and beautiful images. The rustic area in the background would make the picture more appealing.
Flaunt your pet love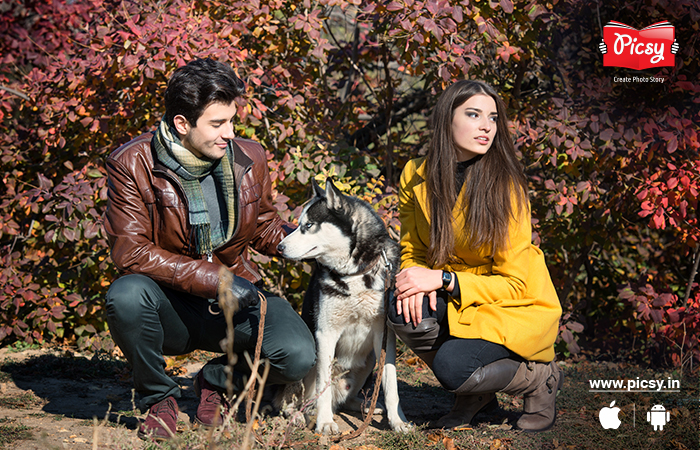 If you and your better half possess a pet, then include that little friend as well in your wedding save the date images to flaunt your pet love. In most cases, pets are prohibited at the wedding venue so that you can include your little friend in your special day this way. And pets love bow over their neck, so tie a cute bow over the neck of your pet and mention your wedding date over the bow.
Click the action shot
If you are an overzealous and active couple, get your action shot clicked for your photo card. You can perform hiking, swimming, jogging or any fun activity which you as a couple enjoy performing. This would make your pre wedding photo shoot appear quite joyful and playful. Moreover, it will showcase your personalities as a couple, thereby making it a great idea for your photoshoot.
Why not cherish a throwback photo?
If you are running out of time and cannot have perform a photoshoot but still wish to have a lovely photo card, then you can brush up your nostalgia and embrace an old photo of yours. You can use the photo to cherish how your love journey started or when you first met. Or if you had known each other when you were toddlers, then flaunt your childhood picture to revisit the memory lane. And if it is an arranged marriage, then you can use your best picture together. However, a throwback picture is a wonderful way to let your guests be aware of your journey of love as you invite them to attend the next step of your relationship.
Indicate your wedding venue or destination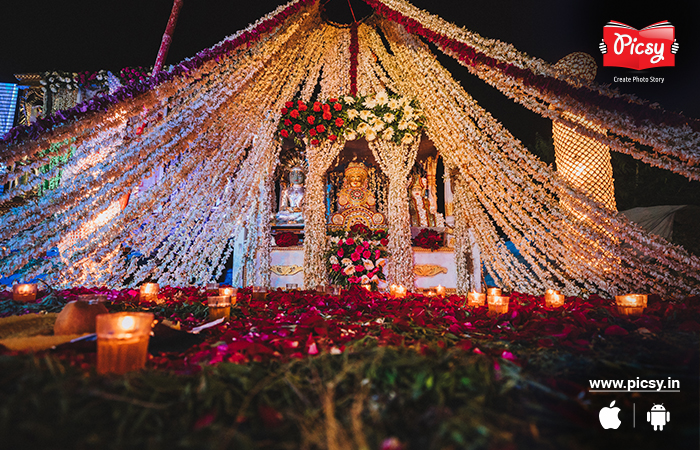 It is a great way to give a hint of the venue to your guests. You can indicate it by demonstrating your venue in your photograph. For instance, if you are planning to have a tropical destination wedding in Greece or Bali, you can use beach to use and perform your save the date photo ideas. However, it is a classy way to let your guests get a glimpse of the wedding and what kind of beauty they can expect on your special day.
At the end of the day, you are sending the photo card that would be serving as your wedding or engagement announcement ideas.
Winding-up
Choose your save the date inspiration from the list as mentioned above. And do not forget, sending the photo card is one of the initial steps of the wedding preparation, so it is completely fine if you have not finalized the details about your wedding yet. As your wedding ceremony is the second beginning of your life, it ought to be special and memorable. Thus, to keep your wedding memories intact and cherish them, you can opt for beautiful couple photo albums which not only adore your beautiful moments but also let you revisit them to feel special and loved.
Get your printed photo albums from Picsy. Picsy delivers the best photo albums. Don't stress; it is not complicated. All you need to do is download the Picsy app and order your desired printed photo album. And you are good to go.
Ready to hold your memories in hand?