The Most Popular Photo Frame Design Guide Today
September 22, 2021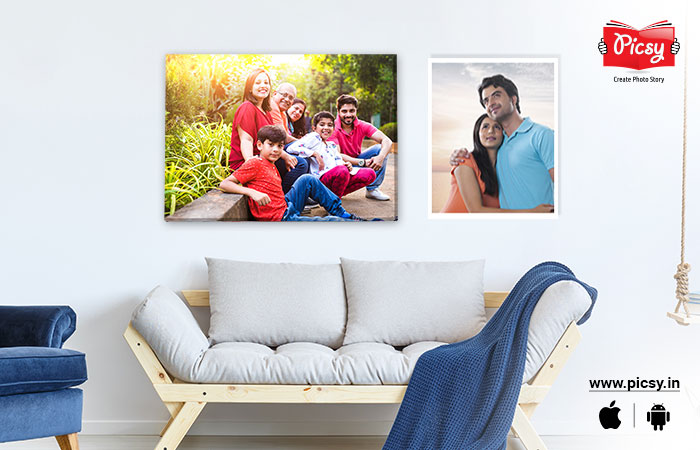 Whether we go out on a good tough trek, or we cry over glasses and pleasurably break, pictures capture every moment of our lives. And the best part is, we can't get enough of it. Just a push of a button in a digital SLR or a smartphone, and there it goes - captured for the lifetime!
The tricky part comes when we plunge into choosing the right frame for exhibiting our darling memories. Farther the obvious exigencies of frame size, orientation, and type, there are other settlements as well that defines the mood of the room.
Let us first understand a few guidelines defining the photo frame sizes.
Picture Frame Guidelines
It is easier to fit if the size of the frame is a centimeter bigger than the photo. Let's say if you have chosen an image of 20cm*35cm; the frame should rather be sized as 21cm*36cm. But, also keep in mind, the larger the matting of the frame, the bigger the frame will be and will not be under the constraints of a 1cm gap.
For a better understanding of the product, refer to the table: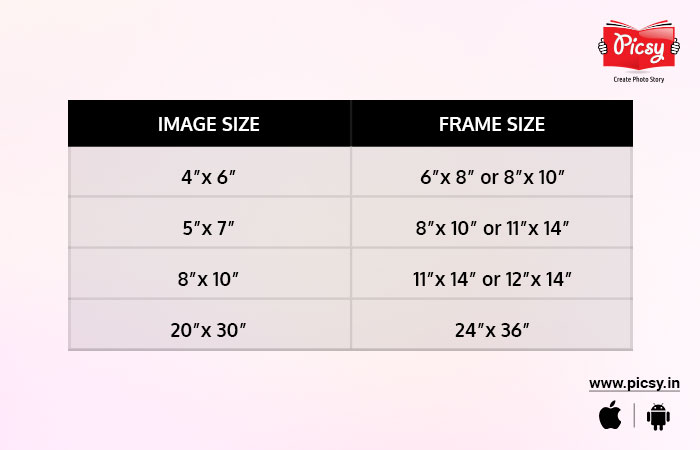 Popular Small Frame Sizes
As mentioned, the frame size depends on the size of the photo prints. So, to understand the frame sizes better, choosing the best photo print sizes is the utmost step.
a. The Standard Size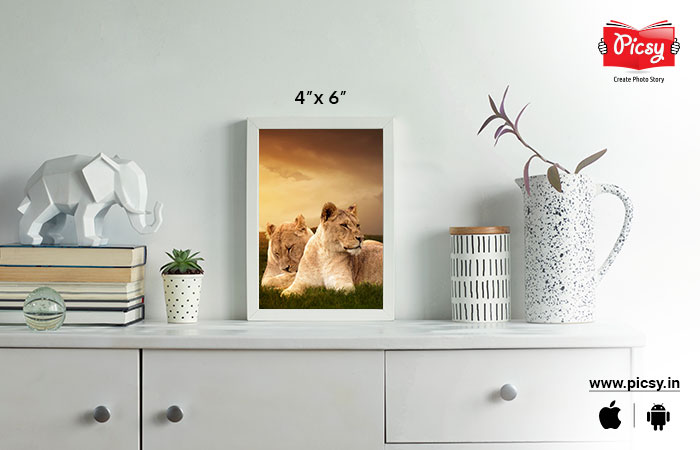 4x6 is the standard picture size that is mostly preferred for 35mm photography. From wildlife photos to family reunion memories, the 4x6 photos are always a good idea.
b. The Preferred Size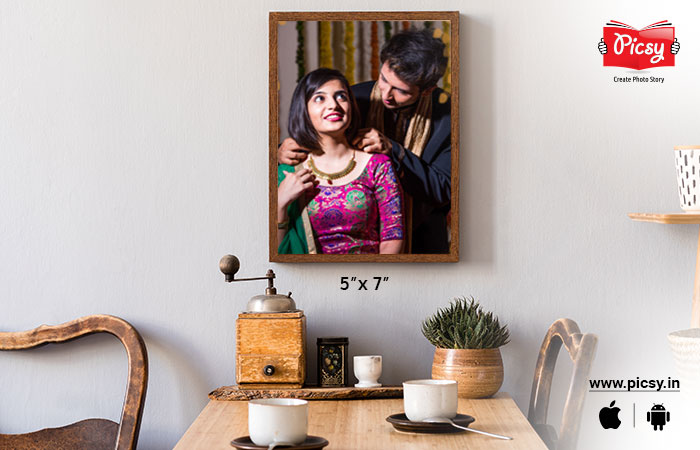 5x7 is another preferred photo print size that readily attracts the attention of viewers. It is basically used when a person is the subject of focus, highlighting the actions to get a clearer shot.
c. The Larger Size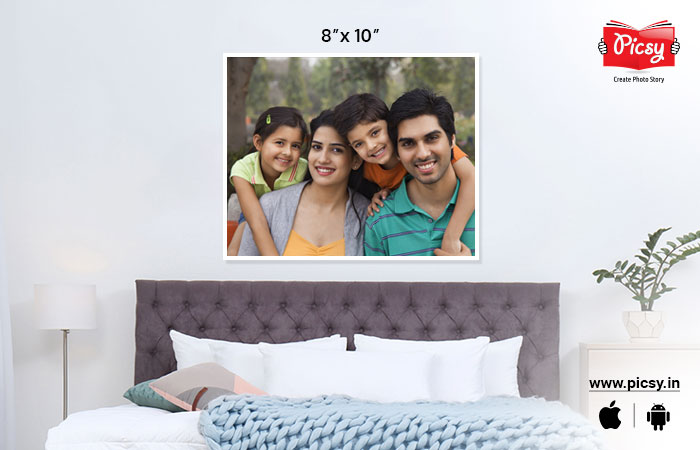 8x10 photo print size is typically used for a group image. The bigger size of the print helps to fit multiple subjects within the frame. So, if you have a big empty wall and a family celebration, you know what to do.
These may be the most popular picture frame sizes, but there are a few other common picture frame sizes as well that are trending these days.
Popular Large Frame Sizes
a. Poster Size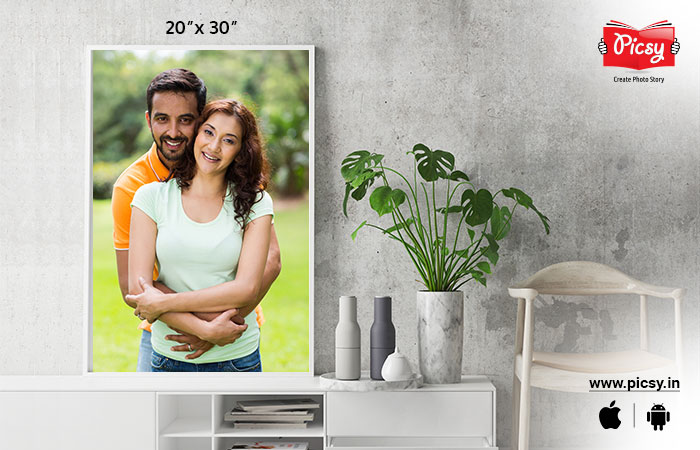 General poster photo prints are naturally sized 20x30. For such frames, the image needs to be crisp so that when printed, it does not get pixelated.
b. Wall Art Size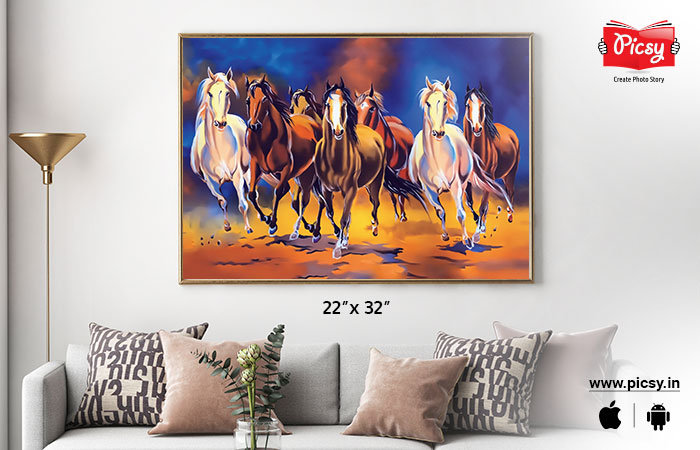 22x32 photo prints are the classic ones. Like the saying goes, "The larger, the better." These tremendous photo prints are used to catch everyone's attention, be it in a huge office space or in the dining room.
Which Photo Frame Type Should You Choose?
When it comes to choosing the right photo frame type, there are various to choose from. Shall we check them out?
1. Modern Frame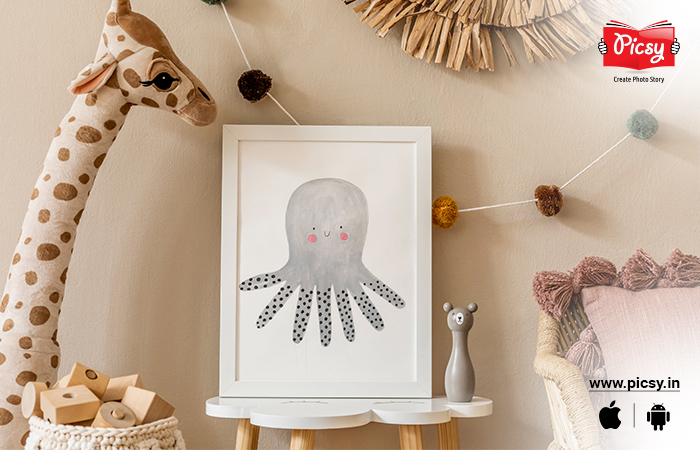 What is it?
This is a thin-style picture frame design that gives a minimalist look to the decorum. With a modern frame, the image takes the focus of the visitors.
Recommended For?
With a modern frame, you can stylize with minimal pictures such as a tree or a door, something that would trigger a mind of an artist.
2. Glass Frame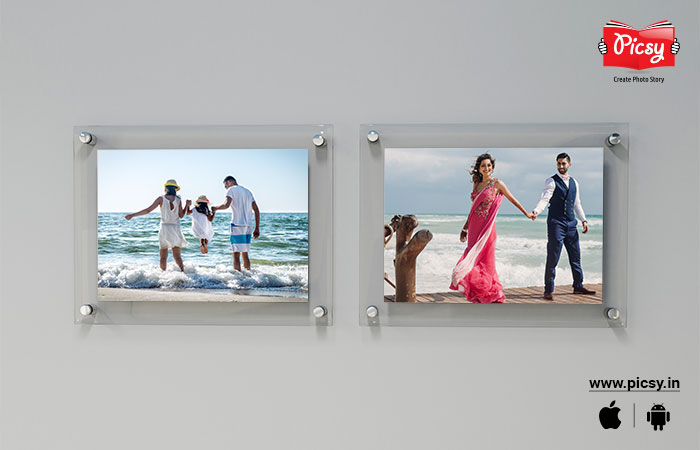 What is it?
Glass frames are also known as floating frames, as transparent glass is used to blanket an image to give a floating vibe to the picture.
Recommended For?
This photo frame design is for all the 'Vitamin Sea' lovers. To relish the unforgettable time of sunbathing and the tingling of waves in your feet, nothing can be better than a glass frame.
3. Wooden Frame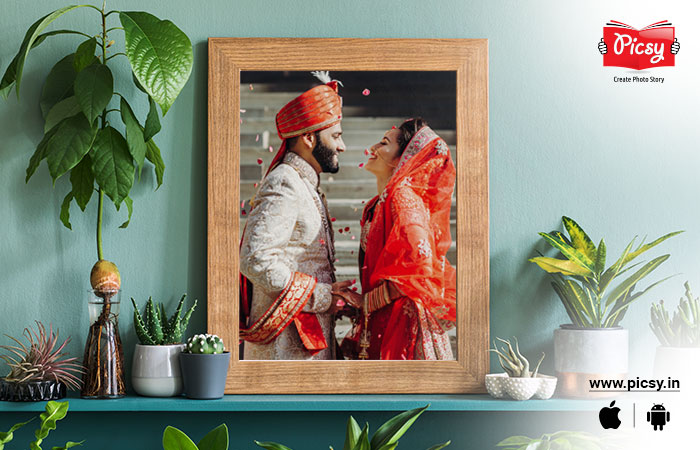 What is it?
Just as it sounds, a wooden picture frame wall design that pairs perfectly with anything possible.
Recommended For?
Whether a family picture or a blend of landscapes, wooden frames can enhance the beauty of any cherished memory.
4. Shelf Frame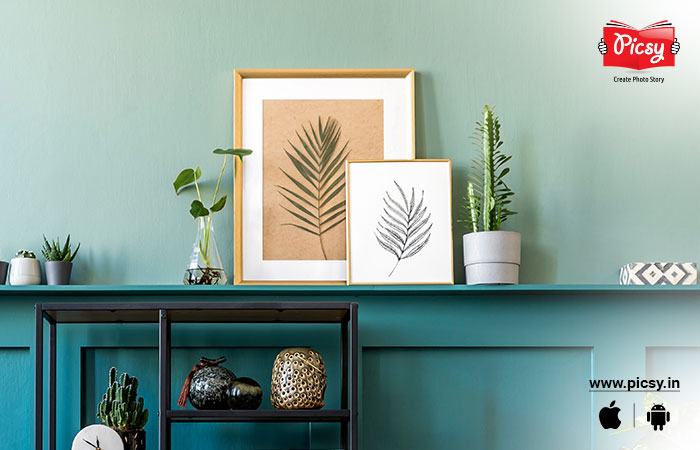 What is it?
Not all frames need to be hung on the walls; a few reserves the place on our shelves. No matter what type of material is used to craft the frame, it is a perfect family frame design.
Recommended For?
It looks best on the bed table just under the lamp. A holistic frame for wedding images (couple images per se). So, whenever you light up the lamp in the middle of the night, you can recall your D-day.
5. Metal Frame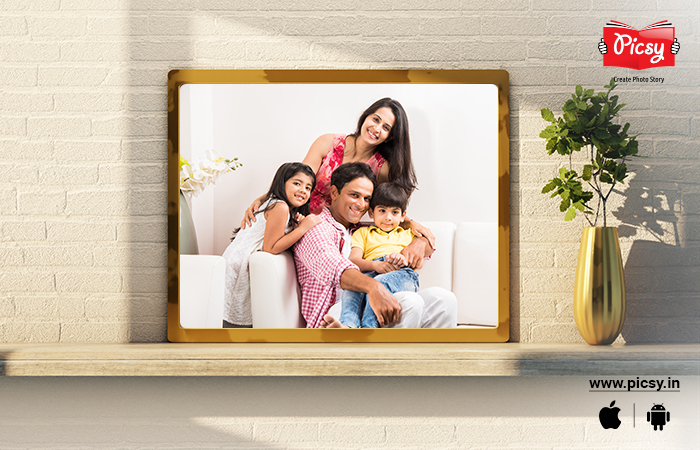 What is it?
Have you ever been to those roadside biker's cafes, where you can see tires and metals as elements of décor? This metal frame does exactly that! Transmits an old rustic feeling.
Recommended For?
If you are planning to decorate your room or café space with antique things, try metal frames to radiate a rustic feel.
6. Collage Frame
What is it?
Ever wondered, if you want a frame for multiple photos, what would you do? That's right, that's when you use collage frames. It may come in different sizes and shapes; choose what looks best in your room.
Recommended For?
A few people use collage frames for a continuous shot, but it is also pretty good for family pictures. If you are the artistic kind, go for the continuous shot. However, if your child is the apple of your eye, why not fill the frames with the images of your children and other loved ones?
7. Framed Vinyl Prints
What is it?
A Vinyl Print is a printing method that uses polyvinyl chloride (a kind of plastic, usually called PVC) to make your memories look glossy and durable. It involves inkjet printing machines to print images on the plastic coating. They are ideal for printing quotes or images (abstracts count, too) on various substrates such as paper, fabric, and plastic.
Recommended For?
A vinyl print can be used as a décor item in homes or offices. Typically, framed vinyl prints are used to make wall art, such as posters or calendars. These artworks can add a vibrant touch to any room and make it look livelier. Placed in living rooms, vinyl prints can replicate the look of canvas wall art ideas and give a glossier look.
Read More : 8 Unique and Creative Photo Print Styles for Home Makeover
Don't Want to Use Picture Frames?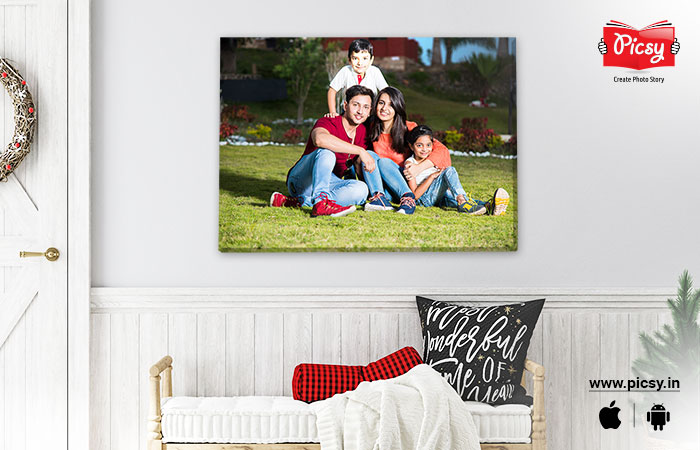 Do you want to evince your images without the photo frame layout but also want to protect your memories from getting damaged? We have the perfect solution for you! The best, affordable, durable, and beautiful solution – Custom Canvas Prints! It offers a creative touch by brightening up your walls. But, make sure the image is vibrant and has a high resolution, else while stretching the canvas sheet, the image might get pixelated.
Creative Home Décor Ideas with Photo Frames
If you think creative photo frame ideas can transform your damp drab walls, we are absolutely right! They don't need to stand tall, all alone with their dull faces. No, not anymore! With these photo frame home décor ideas, you can stylize your walls. The cherry on the top? You can also cherish your joyful priceless memories.
1. Minimal Design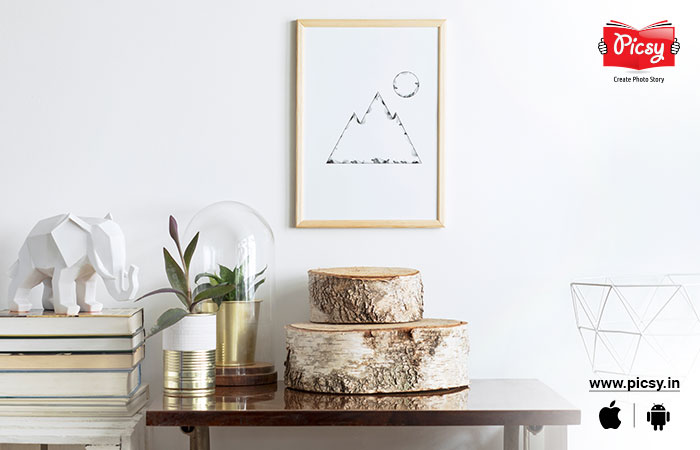 Not all frames need to capture memories; a few can also be draped with subtle designs; either you can draw them or download them from the internet. For better understanding, you can search on Google 'minimal hand-drawn clipart'. You will get a lot of examples.
2. Handmade Design
Are you one of those people who strives to stand out? Then handmade photo frame designs are perfect for you. With twigs and leaves, form a photo frame using a glue gun. Do you want to make it look pretty? Then we would tell you to add flowers and seashells on the diagonal corners. We tell you; it will give you the feeling of traveling to Andaman amidst the monotony of life.
3. Eco-friendly Design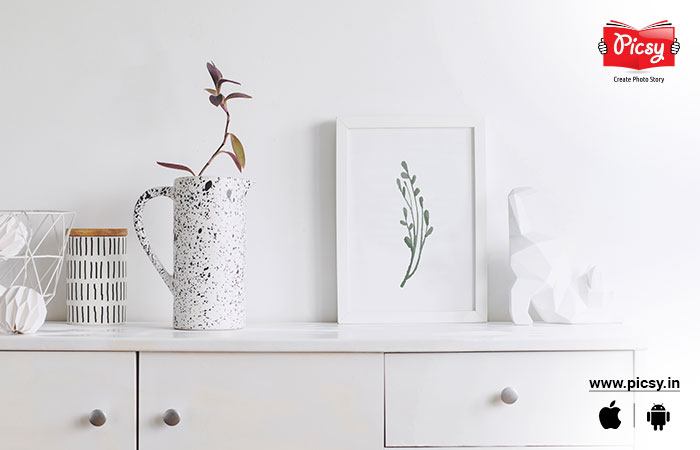 Does violence, riots, wastage of natural resources, and pollution bother you? Then is photo frame idea can ideally fit your room. In a biodegradable photo frame, exhibit a leaf or a dry flower symbolizing your love for nature.
4. Vintage Design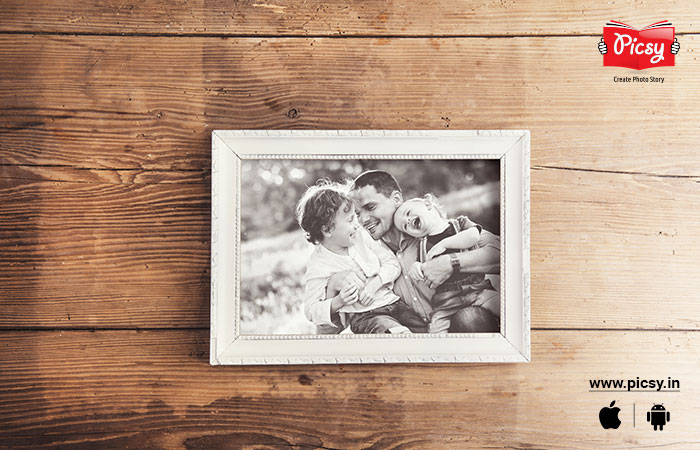 Are you that person who likes to read books over eBooks and movies, longs for the smell of wet mud and sound of gramophones? Then you will love this vintage design idea. Edit the collection of images in sepia and frame them in bronze Victorian frames.
5. Mirror Design
Remember those hand-held mirrors with antique designs on the sides of the frame? Those look gorgeous as photo frames. Don't tell me you never thought of it, because it is absolutely a tremendous idea. Cut the photos in the required shapes and attach them to the mirror.
Conclusion:
Framing images does not mean protecting only the images but the memories tied with them. Enjoy framing and decorating these happy memories artfully with Picsy's high-quality photo prints. It also offers other world-class personalized photo products to relive your long-lost memories. Download the Picsy app to check out the varied range of beautiful templates and order one for yourself. After all, we must pamper ourselves. Get one today and decorate the house with our products, specially crafted with love for you.
Ready to hold your memories in hand?