Happy Independence Day 2023: Independence Day Wishes, Messages and Quotes To Share
July 26, 2023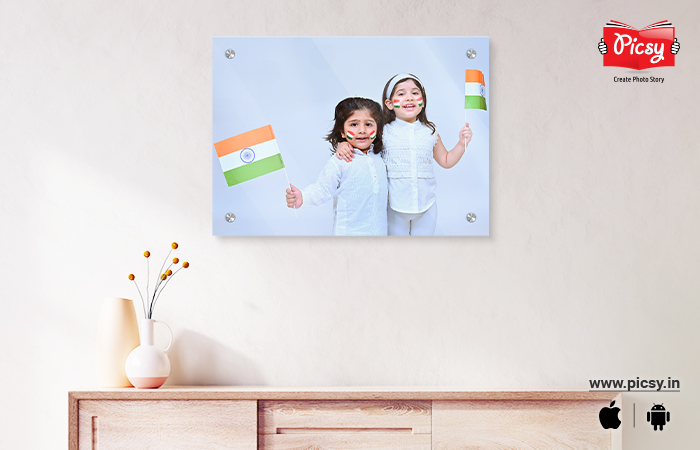 Every year on the 15th of August, we Indians celebrate Independence Day with wholehearted pride and joy. This day back in 1947 India broke free from the chains of British colonial rule and emerged as a free nation. Shouldn't we be proud? Independence Day holds tremendous significance in the hearts of every single Indian, as it portrays the triumph of freedom, the struggle of the fighters, and the spirit of patriotism. So, as we gear up to celebrate Happy Independence Day 2023, let's explore a collection of Independence Day quotes and wishes that you can share with your loved ones, colleagues, and friends.
Before that, we will take a quick look at the history of those who want to relive the patriotic sacrifices of our freedom fighters.
Decorate Your Space with Picsy's Photo Products
If you are looking for an amazing photo decor item to give a new look to your house, check Picsy's lovely photo products. They are stylish, durable and available in different sizes.
Skip to...
History of Indian Independence Day
Before we emerge our souls into good thoughts on Independence Day, let's take a moment to reflect on the rich history of India's Independence Day, shall we? On August 15, 1947, after years of struggle, resistance, and sacrifices led by freedom fighters like Mahatma Gandhi, Rash Behari Bose, Rani Laxmi Bai, Subhash Chandra Bose (and many more), India finally regained freedom from British colonial rule.
We, with the then-new and 1st Prime Minister, Jawaharlal Nehru, unfurled the Indian flag marking the beginning of a new era. How can we forget the first Indian Independence Day celebration that filled the heart of Indians with utter joy?
Let's not forget their sacrifices and make the most of the day by celebrating and sharing the patriotic rejoicing whether by sending Independence Day wishes images on WhatsApp, or going further and hosting an Independence Day celebration at home.
Don't forget to decorate your room, there are tons of home décor trends you will find online.
Happy Independence Day Quotes 2023
Whether you send Independence Day images with quotes or simple happy Independence Day wishes, these quotes would do fine. Here are ten happy Independence Day quotes to inspire and uplift your patriotic spirit.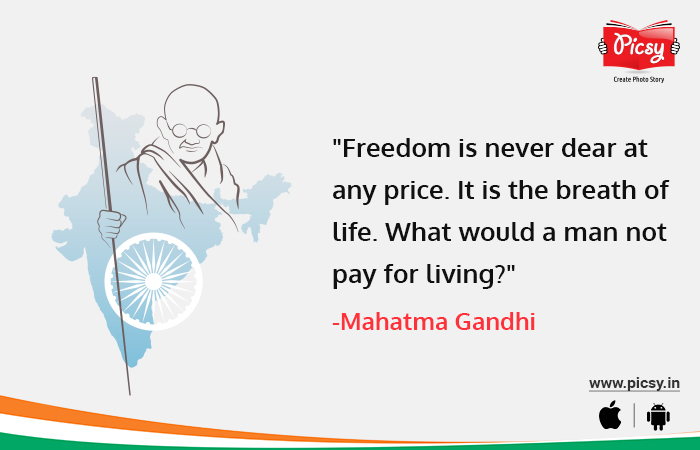 1. "Freedom is never dear at any price. It is the breath of life. What would a man not pay for living?" - Mahatma Gandhi
2. "Long years ago, we made a tryst with destiny, and now the time comes when we shall redeem our pledge, not wholly or in full measure, but very substantially. At the stroke of the midnight hour, when the world sleeps, India will awake to life and freedom." - Jawaharlal Nehru
3. "In the truest sense, freedom cannot be bestowed; it must be achieved." - Netaji Subhash Chandra Bose
4. "Let us together commence a journey of peace, harmony, and progress in South Asia." - Atal Bihari Vajpayee
5. "Swaraj is my birthright, and I shall have it!" - Bal Gangadhar Tilak
6. "The best way to find yourself is to lose yourself in the service of others." - Mahatma Gandhi
7. "One individual may die for an idea, but that idea will, after his death, incarnate itself in a thousand lives." - Netaji Subhash Chandra Bose
8. "A nation's culture resides in the hearts and in the soul of its people." - Mahatma Gandhi
9. "Let new India arise out of peasants' cottage, grasping the plow, out of huts, cobbler, and sweeper." - Swami Vivekananda
10. "We owe a lot to the Indians, who taught us how to count, without which no worthwhile scientific discovery could have been made." - Albert Einstein
Want to frame your favorite patriotic quote? Download the Picsy app now!
Short Quotes on Independence Day
If you are looking for Independence Day WhatsApp statuses that are short here are some beautiful lines on Independence Day that you can send to your friends.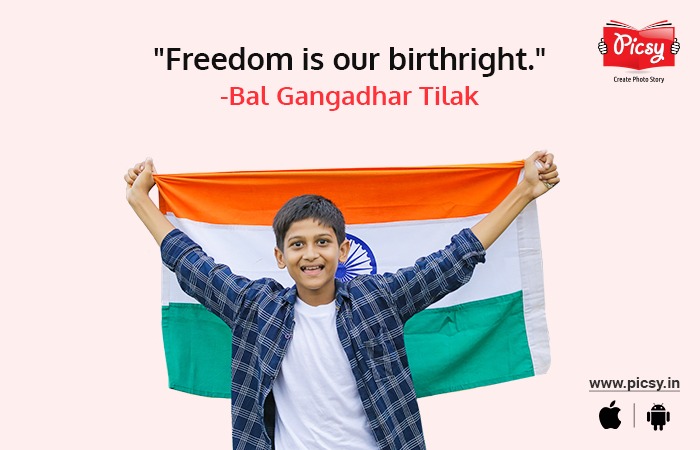 1. "Freedom is our birthright." - Bal Gangadhar Tilak
2. "In unity, we find strength." - Subhash Chandra Bose
3. "Let us celebrate freedom and strive for a better tomorrow." - Atal Bihari Vajpayee
4. "Independence is not just a date, it's a feeling." - Unknown
5. "Freedom is the essence of life." - Mahatma Gandhi
6. "Proud to be an Indian." - Unknown
7. "Independence is the greatest gift we can give ourselves." - Unknown
8. "Freedom is the fuel for progress." - Dr. A.P.J. Abdul Kalam
9. "We are a nation of diversity, united by freedom." - Unknown
10. "Independence Day reminds us of our shared history and our shared dreams for a better future." - Unknown
Happy Independence Day Messages for 2023
Messages for Independence Day should not sound shallow. Rather, it should contain the depth of emotions we have for our country. So, we have listed Independence Day greetings, that will enlighten your patriotic self.
1. Let's keep the memories of all the freedom fighters who sacrificed their lives for our sake and celebrate Independence Day with a hand in our hearts, peace in our minds, and soulful gratitude.
2. Today let's take an oath to make the most of the independence given to us by the patriots and make the country proud.
3. Independence Day should be a proud day to celebrate. Let's join hands and never take independence for granted.
4. Let's take a moment to salute the freedom fighters who fought for the nation. Jai Hind!
5. May the joy of independence be with us forever. May our nation always be free of corruption and dominance.

Happy Independence Day Wishes 2023
When it comes to 15th August, an Independence Day post is a must. Whether it's a Facebook post, Instagram, or any other social media, patriotic happy Independence Day messages experience our patriotism and gratefulness towards all the freedom fighters. Here is a list of Indian Independence Day wishes that you can post on your social media or create a scrapbook with the essence of patriotism.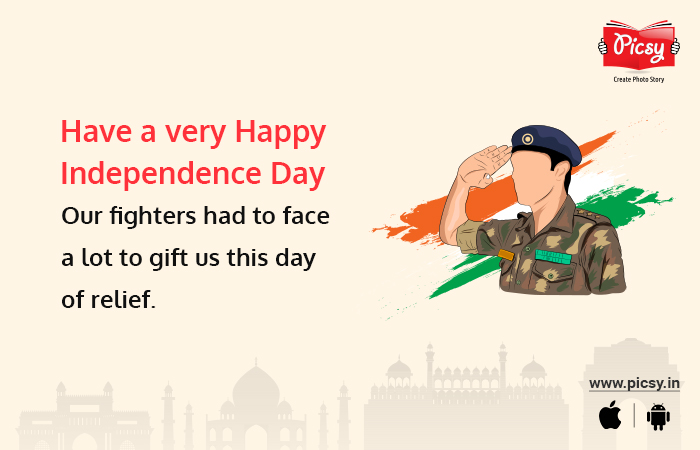 1. Have a very Happy Independence Day. Our fighters had to face a lot to gift us this day of relief.
2. August 15th is the day to honor the freedom fighters of our country. Let's salute and wish them good luck wherever they are.
3. If I am given an opportunity to be born into this world again, I will again choose this great nation. Happy Independence Day. Jai Hindi!
4. Freedom in the mind, faith in the words, pride in our soils. Let's salute the nation on this day Independence Day!
5. So many people might have forgotten the sacrifices, but we never will, the colorful flag of our country furls so high. Happy Independence Day!
Make this Independence Day special and decorate your school bulletin board with Indian Flag Floater Prints!
Independence Day Wishes for WhatsApp Status
Sometimes putting a status on WhatsApp is more efficient than sending Happy Independence Day images to individuals. So, those of you who want to portray patriotism, you can write the below happy Independence Day wishes quotes on an image and put independence day 2023 images as your WhatsApp status.
1. This day let's keep the memories of all the martyrs in our hearts and salute the Indian Flag.
2. Let's just start by wishing the nation before celebrating the day, Happy Independence Day India.
3. May the glory of Independence Day be with us. Wishing you a very happy Independence Day.
4. Freedom is something that can't be bought. Our ancestors had to struggle and fight for it. Let's not forget their immense contributions.
5. Nobody should ever divide the idea of India. Happy Independence Day!
Happy Independence Day in Different Languages
India is a culturally varied country; we have several people speaking several languages all around. But the feeling for Independence Day on 15th August is the same. Here are some happy Independence Day captions in multiple Indian languages.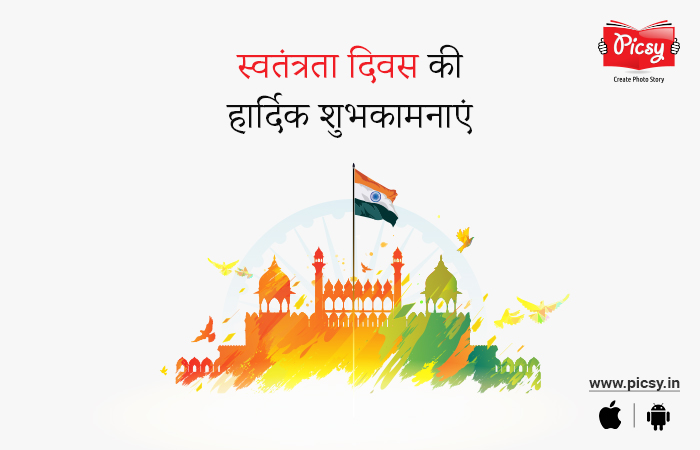 1. Independence Day Wishes in Hindi
स्वतंत्रता दिवस की हार्दिक शुभकामनाएं ।
2. Independence Day Wishes in Sanskrit
स्वतन्त्रता दिवसस्य शुभकामना
3. Independence Day Wishes in Bengali
স্বাধীনতা দিবসের শুভেচ্ছা দেশবাসীকে!
4. Independence Day Wishes in Marathi
स्वातंत्र्यदिनाच्या शुभेच्छा
5. Independence Day Wishes in Tamil
இனிய சுதந்திர தின நல்வாழ்த்துக்கள்
6. Independence Day Wishes in Urdu
یوم آزادی مبارک
7. Independence Day Wishes in Kannada
ಸ್ವಾತಂತ್ರ್ಯ ದಿನಾಚರಣೆ
8. Independence Day Wishes in Gujarati
સ્વતંત્રતા દિવસની શુભેચ્છાઓ
9. Independence Day Wishes in Telugu
హ్యాపీ ఇండిపెండెన్స్ డే
10. Independence Day Wishes in Malayalam
സ്വാതന്ത്ര്യദിനാശംസകൾ
11. Independence Day Wishes in Punjabi
ਸੁਤੰਤਰਤਾ ਦਿਵਸ ਦੀਆਂ ਮੁਬਾਰਕਾਂ
12. Independence Day Wishes in Oriya
ସ୍ୱାଧିନତା ଦିବସର ହାର୍ଦ୍ଧିକ ଅଭିନନ୍ଦନ
It is a Wrap!
We have listed all the best independence day 2023 quotes we had in the bag. Hope you liked the Independence Day quotes and wishes. This year, we will mark the 76th year of Independence and it was all possible for all the great freedom fighters. Let's thank their souls and honor them by printing their images on photo products.
If you are looking for a platform to print patriotic images, Picsy is the right platform. From canvas prints to photo books, we have it all. Give it a quick browse. We are not insisting on getting a product, but what if you fall in love with one of our items that's crafted with love?
76th Year of Independence with Picsy's Products
Whether with Indian flags around and images of freedom fighters, create a sense of unity this Independence Day. And if you want to preserve this patriotic day in a nutshell, we have the perfect products. Check them out.
FAQs Related To Independence Day Wishes 2023
1) Why do we celebrate Independence Day?
We celebrate Independence Day in honor of the freedom fighters who made it possible to let our nation be independent of the colonial raj of the Britishers. It is a proud day for us when India became independent. Hence, it is worth celebrating
2) What is a unique way to wish on Independence Day?
Independence Day evokes patriotism in us. To feel proud to be an Indian we must wish each other on 15th August, to do the least. You can send frame patriotic canvas prints to your loved ones with a small quote written on it or directly send a handwritten card too.
3) Which are the proud Independence Day quotes to share on social media?
There are several quotes you will find online but, "give me blood, and I will give you freedom," by Netaji or "first they ignore you, then they laugh at you, then they fight you and then you win," by Mahatma Gandhi won't erase from our hearts.
4) What is the best quote about freedom to share on Independence Day 2023?
If you are looking for the best quote about India Independence Day 2023, here is what you can share.
"It is easy to kill individuals, but you cannot kill the ideas. Great empires crumbled, while the ideas survived." - Bhagat Singh.
"At the stroke of the midnight hour, when the world sleeps, India will awake to life and freedom." - Jawaharlal Nehru.
"So long as you do not achieve social liberty, whatever freedom is provided by the law is of no avail to you." - BR Ambedkar.
5) How Independence Day wishes should be written?
The best way to wish Independence Day is by keeping the message simple from your heart. Start by saying how proud you are to be an Indian, how freedom fighters inspire you today and at the end do not forget to say, "Happy Independence Day."
Ready to hold your memories in hand?