8 Creative 2023 calendar design ideas to preserve your special memories
December 04, 2020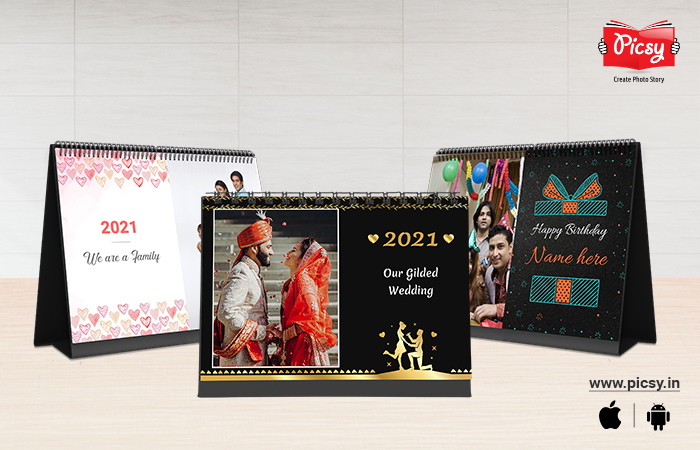 A decent year involves numerous happy moments- your child's first birthday, valentine memories, a family trip to the beach, traditional festivals, corporate gatherings, baby showers, your beloved's birthday, and your anniversary. Phew! You have had so many memorable experiences - it's time to cherish all these magical moments of life
Each experience has its importance, and celebrating these experiences is a vital part of life. Now cherish all the magnificent moments with family, friends, and loved ones in Personalized Photo Calendars online from Picsy.
Give your unforgettable moments the recognition they deserve. Create a Picsy photo calendar online once, and enjoy the moments captured within it for 365 days. Premium photo calendars online from Picsy help you and your family relive the experiences you had as the year progresses. So don't wait any longer. Bring your magical moments to life. Join us as we list out 8 creative calendar ideas for how to make a photo calendar for you, your family, friends, and loved ones to enjoy.
Stunning 2023 Calendar Design Ideas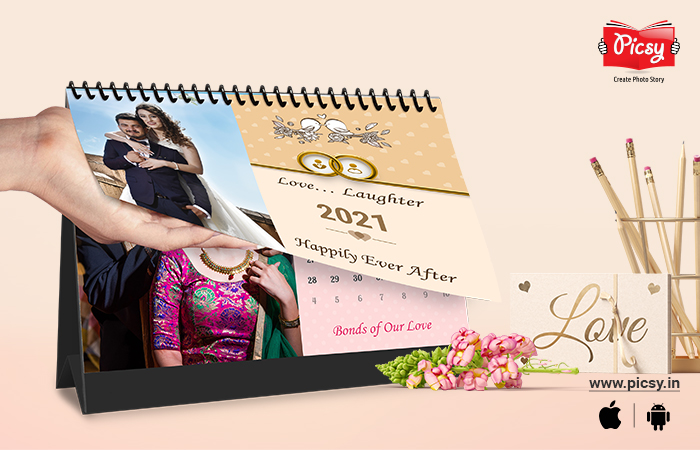 Keep your magical moments safe and cherish the sentimental recollections with your beloved for the entire year in Personalized Love Calendar. Enjoy the feeling of true love this Valentine's day and Celebrate the lasting bond of love you and your special someone share with this creative calendar idea. Feel the heart-warming love vibes of you and your better half with photo calendars online. include elements like hearts, cupids and lots of the color red to jazz up your photo calendar.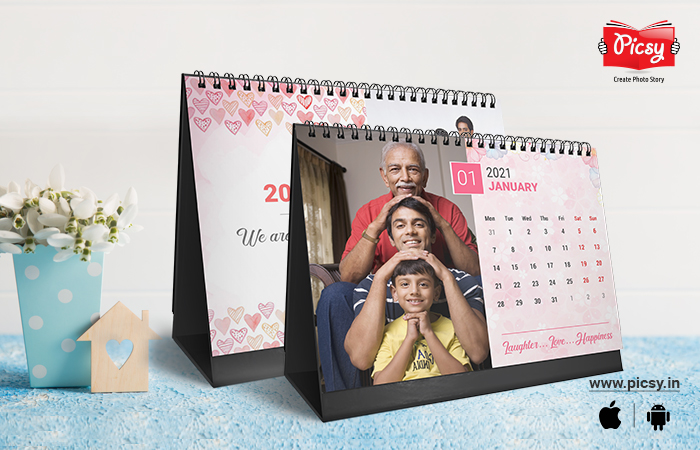 Make premium Personalized Family Photo Calendars with creative family themes brimming with happy smiles and solid bonds Strengthen the unbreakable bond with your family even further and Enjoy fabulous family moments with photo calendars online. Relive all the joy you have felt over the past year together with your family with this 2020 photo calendar idea. You know that your family is lovely. Now let the world know it. Don't forget to put in memerobilia vacation polaroids or pictures of each family member for a particular month for an enhanced visual appeal.
Read More : 25 Cool Ideas To Display Family Photos On Your Walls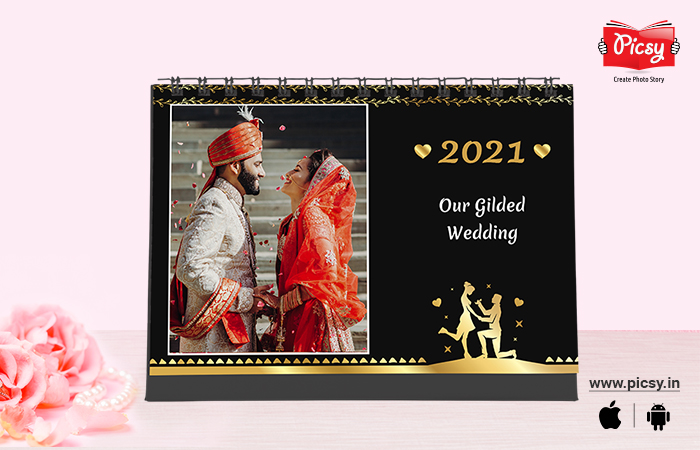 Print and remember the cherished, joyful wedding moments throughout the year with Wedding Photo Calendar Themes. Weddings are momentous and wondrous occasions. Now cherish all your wedding moments and enjoy the vibes of being together with your loved one forever. You have made your vows to your beloved. Now it's time for the "wow' quotients with this wedding photo calendar theme. A classic will never be obsolete, and so it is with this creative 2020 photo calendar idea. Do include embellishments like pictures of your wedding ring and your pre-wedding photoshoot to add to the aesthetic of your photo calendar.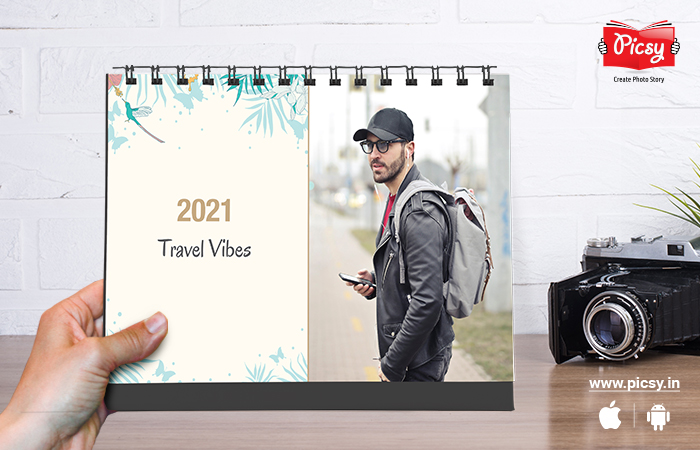 Save all the impeccable journeys and travel moments with creative photo calendar themes from Picsy. Enjoy your travels with your friends and family and cherish every moment Love traveling alone? Now you can document and cherish your solo adventures with this 2020 photo calendar theme. Include images of ticket stubs and pictures of highway milestones to make your travel calendar even more alluring.
Transform your space into a gateway of wanderlust with stunning travel wall decor that captures the essence of your adventures.
Show tremendous love to your little heavenly angel with a wide range of Personalized Desk Calendar Themes brimming with cuteness and care. Babies are the cutest. Now document your moments of frolicking with your baby with this 2020 photo calendar.Watching your baby smile and a laugh feels like heaven. Now document those memories in a beautiful calendar. To make your photo calendar even more precious take photos of your child's favorite toy or even your pets.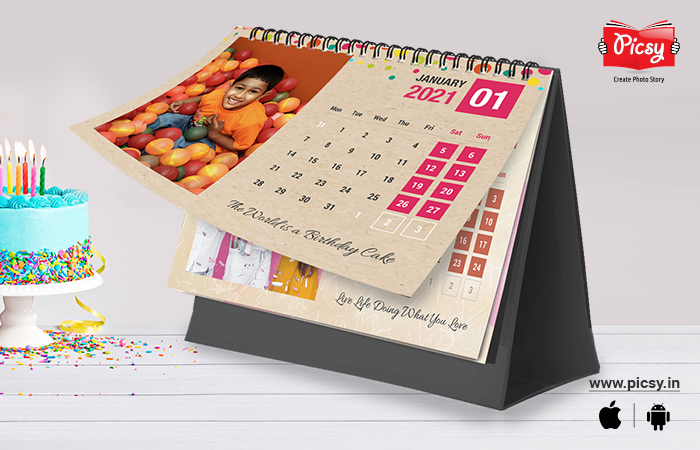 Celebrate cakey birthday moments during that time with premium and hardbound Photo Calendars with a wide range of Themes Enjoy amazing birthday vibes with this uplifting and creative 2020 photo calendar theme. It's your birthday, and you are the star of the show. Cherish your birthday memories with this theme. Birthday elements could include stickers of cakes, candles , party hats and a lot more which are sure to make your photo calendar the talk of the town.
Read More : How to Celebrate Your Baby's First Birthday Differently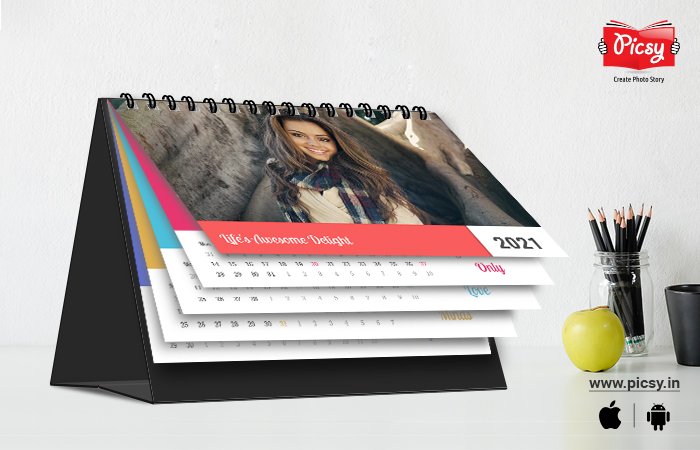 Browse the wide scope of personalized Classic Photo Calendar Themes brimming with grins, laughter, and happy recollections Bring classy to a new level with elegant classic themes. Joy is a trend that never goes out of fashion. Now cherish all your joyful moments with this 2020 photo calendar theme. Nothing says classic better than black and white. Capture your magical moments in monochrome for an added dash of pure class. Conversely, life has numerous hues. Now capture all these classic moments with ease and aplomb.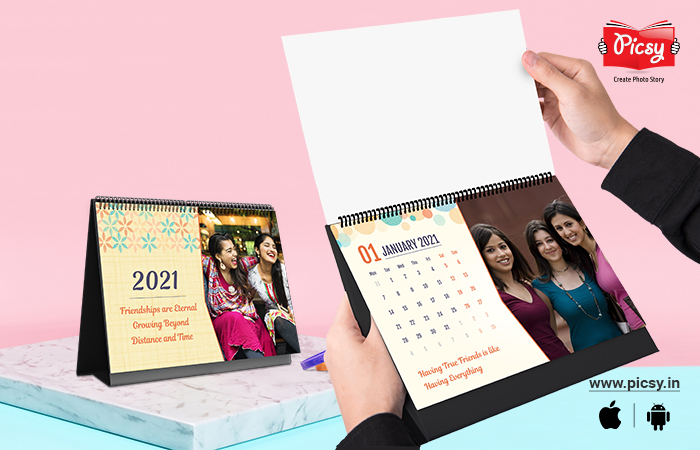 Club all the odd, sweet, insane, and passionate cherished recollections in fun and creative Personalized Photo Calendar Themes Strengthen your bond of friendship even more with this creative theme Friendship is forever. Relive a lifetime of friendship with this photo calendar theme. You could include childhood pictures or picture for each year that you have known your friends to add to its nostalgia vibe.
Wrapping up
Enjoying and reliving moments from your life is fantastic. Now cherish your amazing moments of life all year round with creative calendar ideas and themes from Picsy.
Since there are not many things better than seeing the photos you love consistently, we have crafted a line of personalized photo calendars to fill in as a standing token. Regardless of whether you're looking at your family, your better-half, your friends, or yourself, a gift produced using favorite photos together is something to treasure forever. Get a head start on the holidays and spread cheer with our personalized remembrances with custom photo calendars from Picsy. So don't wait any longer. Download the Picsy app now and get started on your very own personalized photo calendar.
Ready to hold your memories in hand?