Creative Gallery Wall Decor Ideas to Refresh Your Home
September 17, 2021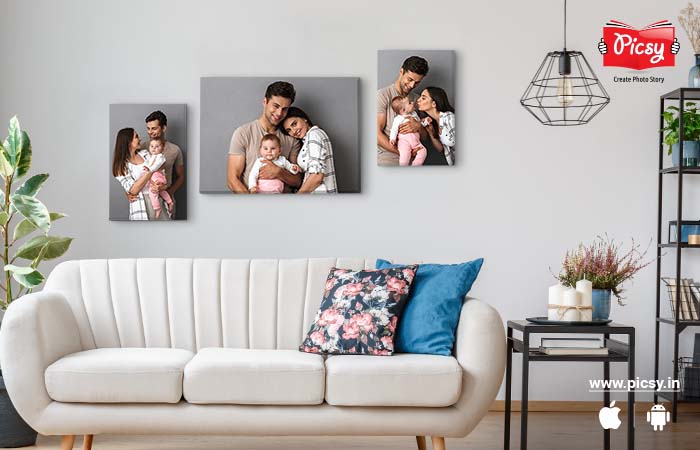 We all love decorating our space, isn't it? But are you aware of the fact that gallery walls can amp up your space? While we keep on admiring the symmetrical collection of art, we cannot neglect the fact that significantly gallery walls have recently diminished from our social media. And some believe that it is out of fashion now. On the other hand, rest feel, gallery walls are evergreen. To validate this suspicion, let us dive into the blog.
Are Gallery Walls Over?
A gallery wall is an accumulation of framed art pieces, photographs, and wall hangings in layman's terms. Gallery walls art is timeless and would never be out of style. They create a visual x-factor on the walls with gallery art. We can design the walls with the help of frames, artworks, etc. Moreover, they bring life to the lifeless, monotonous-looking walls. Thus, they are not over; instead, they are still prevalent in the designing sector.
Gallery Walls Decoration Tips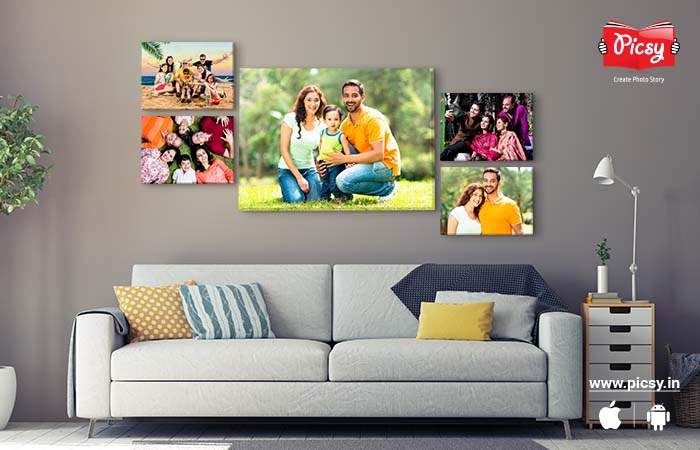 Although there are ample of ways how you can make use of the gallery walls. But to ease out your task, we have chalked out the handy tips for you to use while planning to deal with gallery walls. Following are the tips:
I. Commence From the Center
If you plan to hang your picture gallery wall above the furniture, make sure to position it along with painter's tape to indicate the division between the gallery wall and the furniture piece.
II. Keep a Balance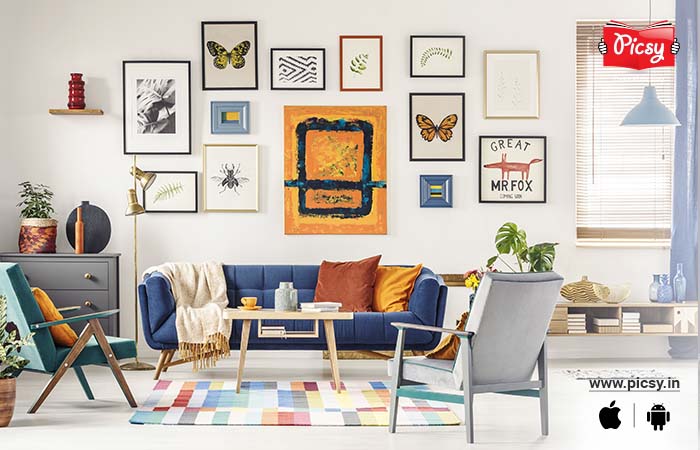 You do not have to be conventional while dealing with gallery walls. Go asymmetrical and unconventional, and pair massive wall art with smaller art pieces. If you wish to have various styles, ensure to sprinkle the art styles to maintain the balance.
III. Be Careful with the Color Scheme
You have to pay extra attention to the color palette of your gallery wall. If you are abiding by contemporary styles, you can opt for custom canvas prints to make the wall seem modern and chic. And if you seek to have a vintage feel, you can opt for that sprinkled-looking vintage frames.
Something extraordinary to keep your décor stand out – order Acrylic Prints from Picsy!
IV. Complement Your Room Style
You can amplify your wall gallery by complementing it with your room style. If your room is peppered with modern décor, you can opt for abstract wall picture frames or bold art pieces. But if your room has a more rustic touch to it, then you should opt for more earthly shades. Along with all this, you can go for your travel photos to decorate as well.
V. Accumulated Art
A feasible tip is to accumulate the art pieces. It is suggested to select the items that go together and, in a way, complement each other. While showcasing small art pieces, rely on the collage.
VI. Gleam Up Your Personality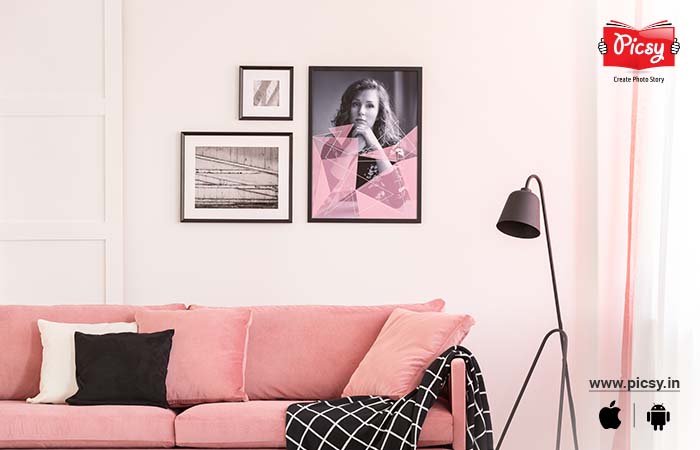 It is really very vital to choose wall art that complements your personality. You can add your choice of gallery images by using the personalized canvas prints. You can even mingle up the matching frames. Apparently, you would want your gallery wall to complement your personality.
Transform your space into an art lover's paradise with Picsy's stunning gallery wall decor.
VII. Opt for the Appropriate Size
It doesn't matter what types of canvas prints you opt for, but it would feel slightly off if the size does not complement your space. Be very cautious while selecting the size as too small would make it seem as if something is missing from the wall, while too massive would give the illusion of an overly bustled art piece. That is why the art piece should cover 50%-75% of your wall space. And when you get perplexed, opt for the huge art pieces.
Why Canvas Prints are Best for Gallery Wall Decoration?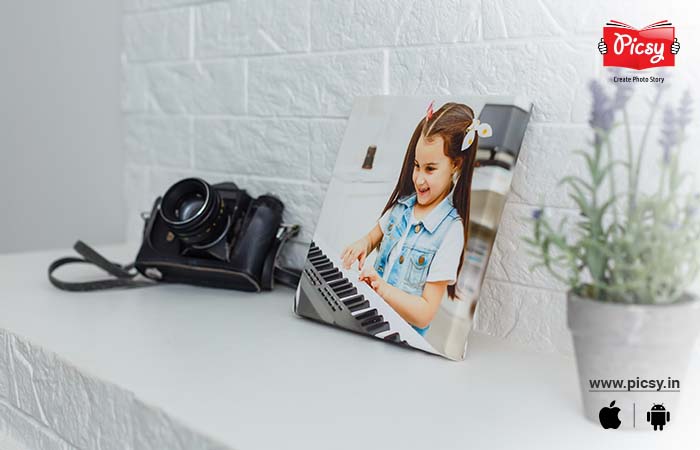 Custom prints are getting too trendy lately, irrespective of rolled canvas or stretched canvas. They add life to your walls. Aren't you already convinced? Let us understand the reasons why to go for canvas prints.
I. Uniqueness
Canvas prints add up that unique element to your wall. They are quirky and amp up the beauty of walls. You can flaunt your design taste in front of the visitors.
II. Great Gifts
Does it happen that you fall short of ideas when it comes to gifts? Custom Canvas Prints serve as the most convenient gifts. Commemorate the special event by gifting your loved one the beautiful canvas print. Though it is an art piece, but it would definitely have a personal touch to it.
III. Convenient
At times, it gets very difficult to get the appropriate print. Canvas prints are convenient, and they beautify your pictures to a great extent.
Choosing a Right Canvas Prints For Gallery Wall Decor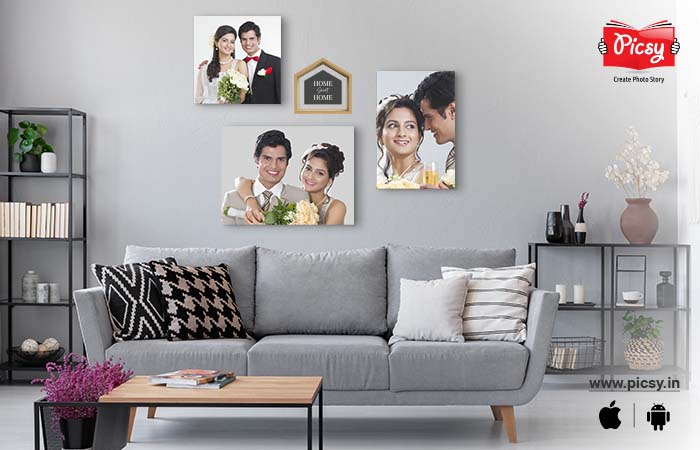 Are you musing over the fact which is the correct canvas print to go for? Is it wise to opt for rolled canvas prints or stretched canvas prints? We have chalked out a few appropriate sizes for the canvas prints.
I. 16" x 14" Canvas Prints
If you have chosen a matted art piece, go for 16" x 14" for your canvas print. It is the most appropriate one when you seek to display details. It would look great in the bedroom or any other corner of the house.
II. 20" x 20" Canvas Prints
It is the most convenient one when you seek to showcase a large photograph but is restricted by the wall space. This size looks appropriate with both, be it a single large picture or various small pictures. It enhances the beauty of the wall to a great extent. However, square size upgrades the photos to another level. In addition to this, they serve as a beautiful centerpiece for your living room.
III. 24" x 18" Canvas Prints
Though it is an unconventional size, it opens up the possibilities to flaunt in various ways. You can place it above the kitchen or on your bedroom wall; it will flaunt your personality. It also gives the illusion of a bird's eye view, thereby showcasing the aesthetic beauty of the photograph.
IV. 20" x 15" Canvas Prints
It is like the x-factor on the wall. You can flaunt your bedroom by placing it above the dresser. It creates the perfect focal point on the wall, and it makes the statement on its own.
Which Canvas Print Suits Your Gallery Wall?
Be it canvas print or metal print, the main task it has to suit your wall, isn't it? We have enlisted various canvas prints, which you can opt for according to the room.
I. Abstract Print for the Bedroom
Read More : Canvas Prints: Makes You Fall in Love with Your Bedroom Décor
II. Small Prints for the Kitchen
Usually, people forget to decorate the walls of the kitchen. You can decorate the countertops by using small art pieces. This way, it will decorate the wall, and it would not seem overdone. You can opt for simple or quirky quotes for the kitchen.
III. Floating Shelf for Office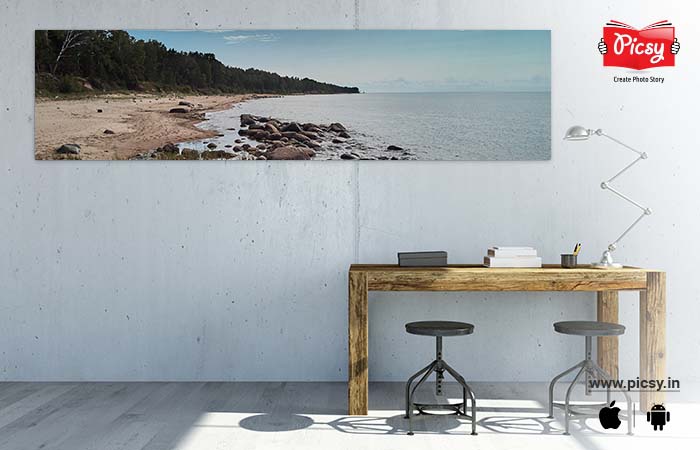 Irrespective of whether you are in an office or working from home, a quirky gallery wall would definitely cheer you up to meet the scary deadlines. You can opt for the floating shelf of your preferred size and shape. Experiment with your creativity in whatever manner you want to upgrade your workspace and motivate you to work efficiently. The best thing about them is that you do not require any nails and can replace them whenever you want.
IV. Massive Gallery Wall for Living Room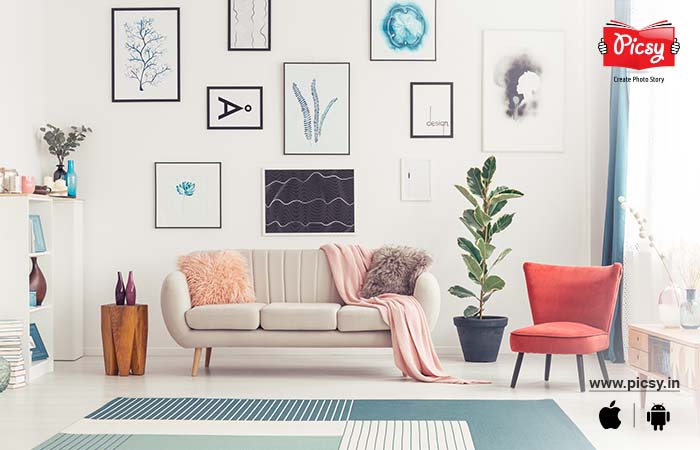 The living room is the most visited area of the house. Undoubtedly, it should have the best gallery wall as it catches the attention of guests who visit you. Look for the massive art piece as it would define your taste in design and showcase your artistry skills. But now, the question which might have been popping in your mind would be how to make canvas prints? We will deal with that as well.
Conclusion
We hope that the article might have been successful in guiding you through the gallery walls. Now, it is time to think about who deals with beautiful canvas prints. Picsy offers wonderful canvas prints which can bring a cheek-to-cheek smile to your face as the prints are really mesmerizing.
Get in touch with us and narrate your beautiful tales through the memory-preserving canvas prints. Install the Picsy app now on your mobile phones to tell your special tale and flaunt your gallery wall. Are you still musing over it? Visit our digital store by downloading Picsy.
Ready to hold your memories in hand?