Honeymoon Planning Guide 2023: How to Make Your Honeymoon Special?
March 03, 2022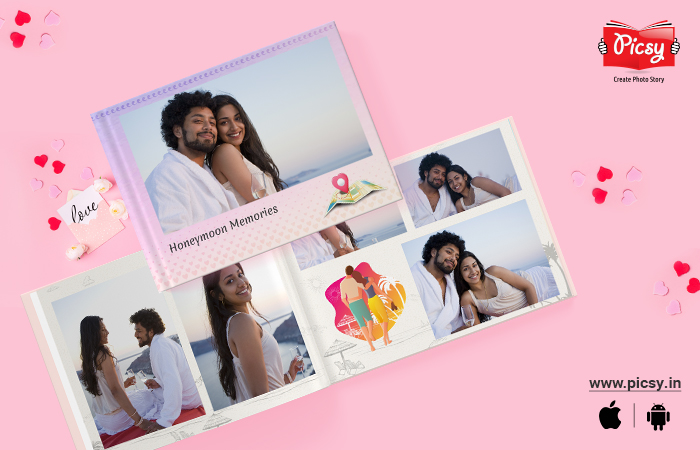 The gorgeously tinted setting Sun and the mist of the mountains; a trip that will connect you two love birds. Yes, we are talking about the honeymoon—a journey to remember your whole life. You dream of it to be the perfect trip with lots and lots of romance and adventure, yet you stumble at 'how to plan honeymoon trip?' Don't worry; we are here to make sure you newly wedded couple plan the best honeymoon trip ever. Starting from budget to places, we have covered it all. Check out our honeymoon planning tips and make the best memories with the love of your life.
What Does Honeymoon Mean?
We all know the honeymoon is the first trip after marriage, a trip to connect without anyone else's interference. Why do we call it 'honeymoon'? Let's share a quick insight. When the honeymoon is bifurcated, 'honey' and 'moon' give the word a valuable meaning. 'Honey' defines the sweet yellow honey indicating the sweetness of marriage. And 'moon' describes a woman's monthlies. So, when you merge the two words, it means a sweet phase where married life is bound with love.
We know you already know enough about what honeymoon means. So, we will directly hit to what is necessary for your ultimate honeymoon trip.
How to Plan a Honeymoon in 2022?
There are so many things to keep in mind before planning a honeymoon, and you are perhaps getting puzzled by the number of options. But the best way to answer how to plan a honeymoon trip is by asking three primary questions before selecting the destination. Those are:
What is it you both want? A trip to a beach, forest, mountain, or possibly a combination of all three? To keep things absolutely unbiased, both of you take two blank papers and write down at least three things you want in the honeymoon. Let's say spa, water sport, forest or simply sunbath. Now combine all the three plus three things and try to find out a place that will cover all of those. That way, it will be a win-win for both of you.
What is your budget? Because if you do not know the budget, it would be quite difficult to choose a place. Sure, deciding the budget is one task, but the catch is, you need to do it quite early. Unfortunately, traveling is expensive ☹. So, we recommend saving the fund slowly.
Do you want it to be an international trip or see the beauty of incredible India? Both are undoubtedly a great choice. Also, it depends on how your budget permits. Thankfully, we have listed down the travel destination accordingly, so it helps you to pick the right destination.
If you have answered all three questions, it is going to be smooth as butter to plan your honeymoon trip further.
Looking for the perfect platform to showcase your honeymoon memories? Hang Picsy's Canvas Prints!
Honeymoon Planning Tips for Insouciant Trip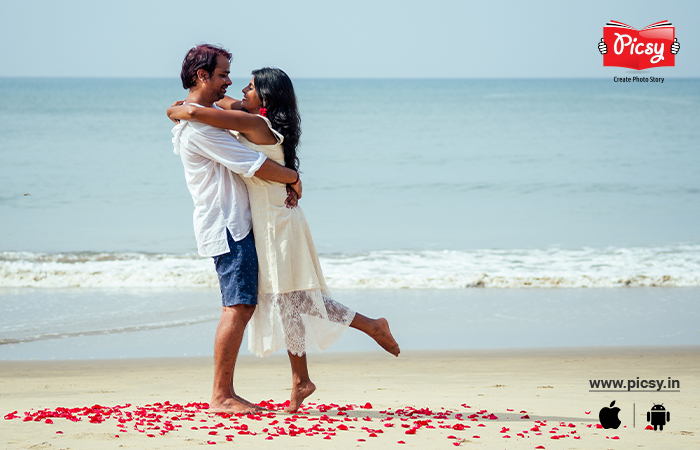 The first step for a hassle-free honeymoon is planning it step by step. A spontaneous trip can be fun, but a honeymoon being one of the most important trips in life, should be planned cautiously. Here are a few romantic honeymoon ideas or tips that will make your honeymoon trip insouciant.
1. Relax and Escapade
Don't smother the trip with so many adventures that you don't get the time to look at your partner. Celebrate and reconnect with your love on this trip. Balance the combination of relaxing and having fun cleverly so that nothing becomes too much.
2. Time Frame
If you both are working people, we understand it is going to be tough to take holidays right after marriage. Sit together and decide a time frame, when and for how long you can manage to be on this extraordinary trip.
3. Party or Solidarity?
Tough choice to make between the hustle and bustle of popular places and calm and serene places of majestic nature, we know. But it is better if you decide beforehand. If you can choose this before picking the destination, it will be easier for you to choose a place without facing many dilemmas, and your honeymoon ideas will be right on point.
4. Advance Booking
Don't forget to book hotels or tickets prior to time. After all, you do not want to be on the waiting list for your honeymoon trip, right? Also, if you book in advance, you will get discounts in most of the places. By prior, we mean 3 to 4 months early.
Now that we have discussed pretty much the important things, let's dive into the biggest question of all.
Best Honeymoon Destinations in 2022
After the chaos of the BIG ceremony, you are perhaps looking forward to researching a few honeymoon places for your dream trip. That is why we are here with two lists for you – international and national places to go for your honeymoon. Let's start with the international list.
Romantic International Honeymoon Destination
When it comes to traveling abroad, the choices are vast. But to narrow it down, we have segregated it into two parts according to the budget and listed down the best places to go for honeymoon.
Affordable International Honeymoon Destinations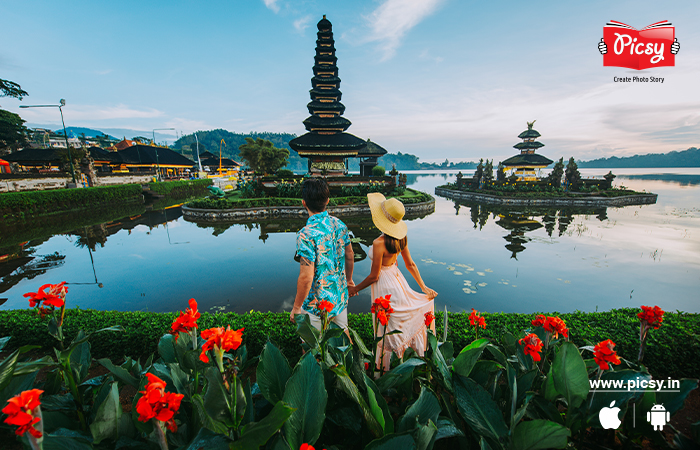 Travelling comes with a cost, no matter where you go it has these days become quite expensive. Yet, there are a few places where you can go with a little budget in your pocket. Let's explore the honeymoon budget destinations abroad.
Singapore
You have heard this name a couple of times, didn't you? The place right above the equator. If you choose Singapore, what can you possibly expect to see?
Singapore flyer
Merlion
Marina Bay
Universal Studios
Lazarus Island
Gardens by the Bay
Helix Bridge
The flight charges range from INR 20,000 to INR 30,000 per head; the overall experience would be completely worth it.
Safeguard your lovely honeymoon memories in our treasures – Order amazing travel photo books for your honeymoon pictures!
Malaysia
Malaysia is known for its beautiful rainforests and beaches. If you go to Malaysia, apart from Asia's rich culture, you will see:
Petronas Twin Towers
Tunku Abdul Rahman National Park
Taman Negara National Park
Sepilok Orang Utan Zoo
Perhentian Islands
Mount Kinabalu
Batu Caves
The flight charges range from INR 10,000 to INR 15,000; you can directly land in the capital of Malaysia, i.e., Kuala Lampur.
Bali
You know where Bali is, right? Want some hint? It starts with I just like India, and also their currency sounds very similar - rupiah. Its Indonesia. Bali is undoubtedly one of the best honeymoon places with high-end resorts at affordable -prices. But if you plan to go there, these are places you can visit:
Pura Taman Ayun
Gitgit Waterfall
Balangan Beach
Tegal Wangi Beach
Tanah Lot
Ubud Palace
Nungnung Waterfall
The flight charges range from INR 11,000 to INR 18,000 per head. But the resort or hotel charges are so cheap that the flight charge won't give you any trouble. By that, we don't mean to say you won't get any luxury resorts.
There are other places, like Sri Lanka, Cambodia, Vietnam, Bhutan, Nepal, and Istanbul, that are also comparatively cheap, and you may want to visit, but we only listed down our favorites. Oh, and when you go, don't forget to preserve these lovely moments on stunning canvas prints or albums.
Luxury International Honeymoon Destinations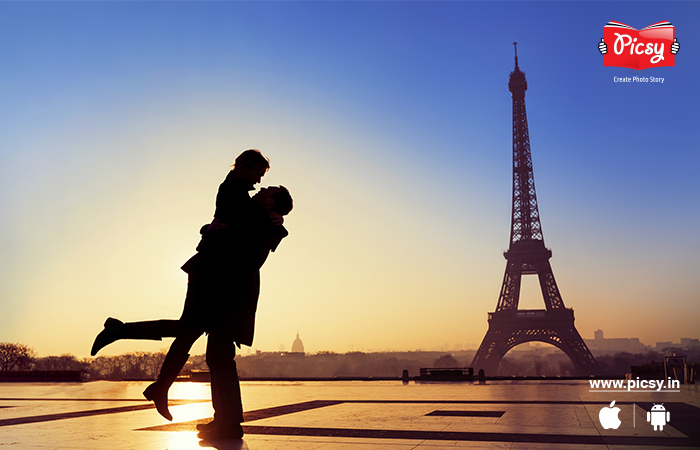 If you do not have the constraints of the economy, why not go big and tick one of your travel checklists? Is it to the stars? No, not literally, but places like Paris are nowhere lesser than that. So, here is a list of our favorite star places apart from the obvious, Paris.
Prague
Prague is the 'heart of history,' as people say, is the capital city of the Czech Republic. If you are going there, remember to add these places to your list:
Prague Castle
Charles Bridge
Old Town Square and the Astronomical Clock
St. Vitus Cathedral
Strahov Monastery
National Gallery
National Theatre
Santorini
Santorini is the classic Greek Thera Island in the southern Aegean Sea. It is an offbeat volcanic island, famous for its cubiform blue and whitewashed houses. If you like things that are extraordinary and are not cliché, this is the place you are looking for. If you go there, put the below places in your list.
Firá
Oia
Caldera cliff wall
Red Beach at Akrotíri
Museum of prehistoric Thira
Church in Pyrgos
The port of Ammoudi Bay
Italy
This place needs no introduction, we suppose. Their pizzas, olive oil, and pasta have already exposed the place pretty much. Even though you might already know, yet if you ever go to Italy, you must add these places to your honeymoon trip.
The Colosseum
Basilica of St. Mark
Milan Cathedral
Lake Como
The Cinque Terre
Leaning Tower of Pisa
Verona
Now that we have explained what to do before the trip let's plan what you can do as a new married honeymoon couple during the journey.
Best Honeymoon Destinations in India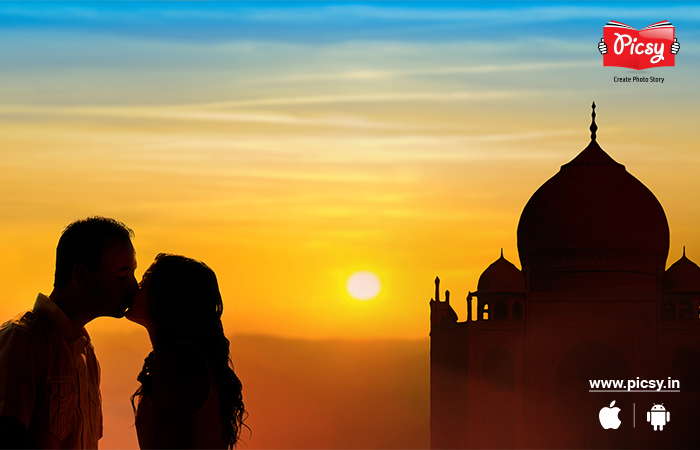 There are hundreds and hundreds of places in India that will amaze you. Your honeymoon will be rocking enough, whether you got to Srinagar, Kerala, Mussoorie, Ooty, or Jaipur. But, it is best advised to choose a place where you both have not been. Yet here is a list of a few places that are worth visiting with your other half. Remember, these moments are never going to come back. To relive the honeymoon period, again and again, create a photo book with exclusive travel photo book ideas.
Hill Stations in India
Though there are many beautiful hill stations in India, but the most gorgeous places to go with your love on your honeymoon are:
Nainital
Shimla and Manali
Auli
Mussoorie
Gulmarg and Pahalgam
Leh-Ladakh
Kasauli
Beaches in India
If the misty mountains are not your thing and your soul calls for some vitamin sea, choose among these beautiful beaches in India.
Gokarna, Goa
Varkala, Kerala
Pondicherry
Tarkarli, Maharashtra
Mamallapuram, Tamil Nadu
Chandipur, Odisha
Mandarmani, West Bengal
Cultural Places in India
India is a place that is rich in culture. To explore the versatile culture of our nation, you can visit these places with your love.
Jaipur
Mysore
Calcutta
Amritsar
Goa
Lucknow
Hampi
Things to Do on Your Honeymoon
There are so many things you can do to express romance. The list will be unending if we add them all. But we have added a few to make your honeymoon special.
Arrange A Candle Light Dinner
Candlelight dinners are classic, and arranging for one on a honeymoon would be a lot more special. Imagine sitting near Arc de Triomphe and having a candlelight dinner with the love of your life.
Romantic Playlist
If you spend some time creating a romantic playlist and playing it while you two have a romantic time in a private pool or the bathtub, your honeymoon is bound to set you guys in a good mood.
Talk About the Best Times Together
What is a better time to talk about the silly and romantic moments you have spent together, if not on your honeymoon? Gaze the stars at night, talk about the lovely moments, and create another one that will be remembered forever.
Read More : How to Surprise Your Wife with Personalized Romantic Love Photo Album?
Best Honeymoon Photoshoot Ideas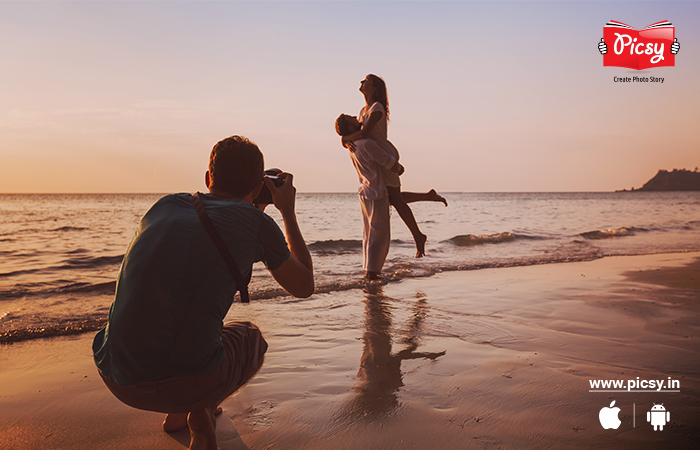 Honeymoon is a memorable trip for all. And preserving memories of this blissful trip is a must. Hence, we have provided a few romantic couples' poses ideas so that you can capture the honeymoon photo shoot in style.
1. If you are going to places like Bali or Goa, there has to be a beach couple photoshoot.
2. If you are booking a resort where there is a bathtub, don't forget to click an image there.
3. Don't forget to take a classic, old English yellow light shot. It takes to a different time zone in a second.
4. If you are too shy in front of the camera yet want to capture your special moments together, try to capture a cute cuddling shot.
5. If you are going somewhere like Andaman and Nicobar Islands, a couple underwater scuba diving picture is a must. It looks out of the world.
6. Do your partner or you fancy images at night? Then a romantic image near the bonfire will look mesmerizing.
7. Honeymoon romance is incomplete if you are not clicking an image of you two holding hands.
8. Another great honeymoon photography idea is, of course, a candid image where both of you are laughing. It would be absolutely best if the candid is real. So, whenever you look at the images later, you can let your heart skip a beat.
9. Let's take the 'can't take my eyes off you' song a bit literally. A silhouette image of both of you gazing at each other.
10. Cheers to marriage, honeymoon, and togetherness. Capture the toast and celebrate your love story for life.
Now that you have captured all the beautiful shots, it is time to frame them or preserve them in beautiful photo books.
How to Preserve Your Honeymoon Memories Forever?
We know you want to preserve your dearest memories with your spouse for eternity. But, alas! We don't have any hold of time. Also, it is sometimes said time is just a concept. Did you know that? Quite insightful, actually. But, in 'our' reality in this world, if we have to preserve the memories forever, we choose Picsy's honeymoon albums. They are durable, creative, and quite easy to make. Of course, you can also order custom photo prints online, but preserving these memories on a photobook will last a lifetime.
Conclusion
We hope our romantic honeymoon ideas have helped you to plan your dream honeymoon. Could we help you? To preserve your lovely moments, don't forget to choose romantic photo albums. Wait, are you asking where you will get it? Of course, at Picsy! It is the best photo printing app that is easy to create and has hundreds of free templates available. Did you download the Picsy application yet? Go, start Picsying now!
Ready to hold your memories in hand?