Diwali is Calling These Personalized Photo Products To Your Home
November 1, 2023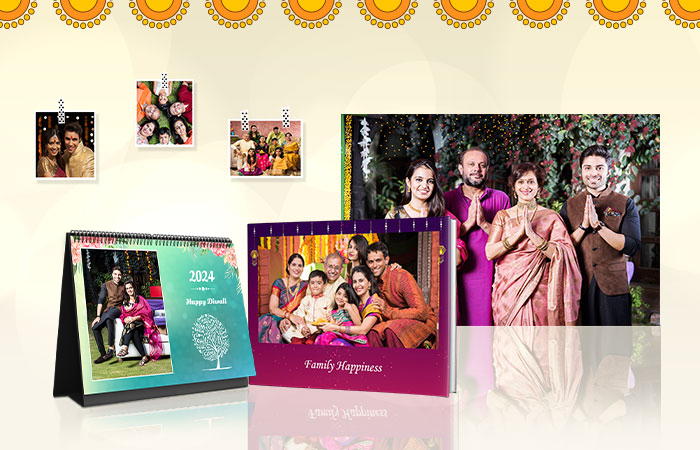 Diwali is coming and we're all excited.
While everything else is sorted, how about few new and out-of-the-box ideas to decorate your home? Eventually, it's all about 'Feeling Home' in home.
Diwali is calling these personalized photo products, your responsibility is to receive and answer it personally. Tell your stunning Diwali story uniquely and express your infinite love for them in Festive Special Photo Products. Let's see it one by one.
Festival Vibes Photo Books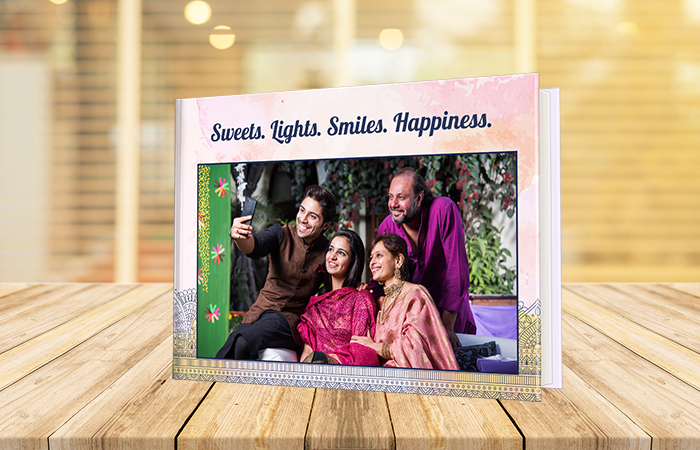 Photo Book theme specially designed for festivals, what better than Diwali will you find the occasion to preserve forever? Festival Vibes Photo Books has layouts and design that just fits right for your celebration vibes. Every moment of 5 days ought to be relived because these memories never come back to us; we need to go back to them. Check out this awesome festive-y theme and you will already be in the celebration mode (mood).
Festive Fun Photo Books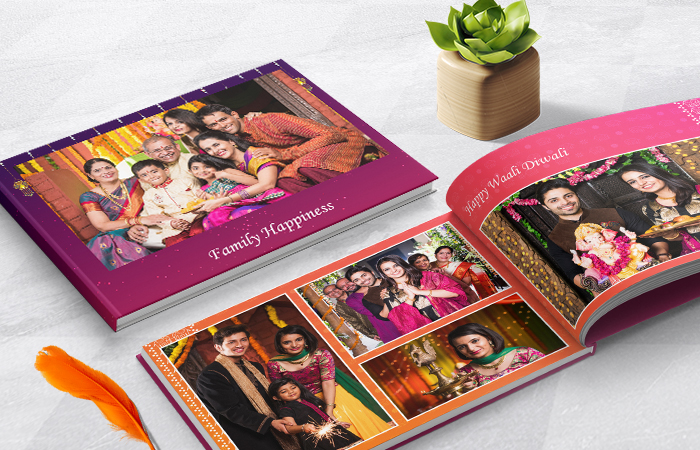 Diwali is marked by large firework displays and sharing gifts i.e. Families having FUN. This theme specifically focuses on vibrancy and diversity of people and culture of India. Express your festive fun in glittering and happy frames. Print your fun moments this Diwali and see for yourself the magic of touch. Your happy memories seems happier when you touch it. Check out this vibrant theme and you will crave for D-Day right now.
Fab Family Calendars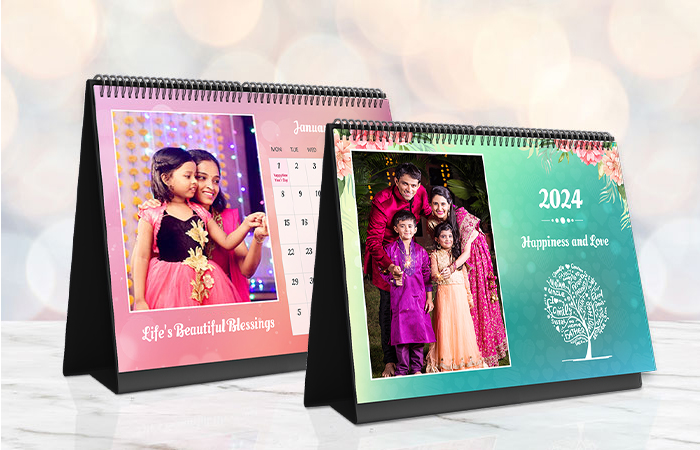 There is a strong belief among Indians that Diwali brings prosperity and success as the New Year embarks. Have you thought of printing your festival happiness month by month? It is indeed a great idea in giving food and goods to those in need but it is equally crucial to see it right in front of your eyes so you can do it again. Fab Family Calendars is for YOU and your FAMILY. Check out this fabulous calendar and you will feel happy every day.
Funtastic Family Photo Books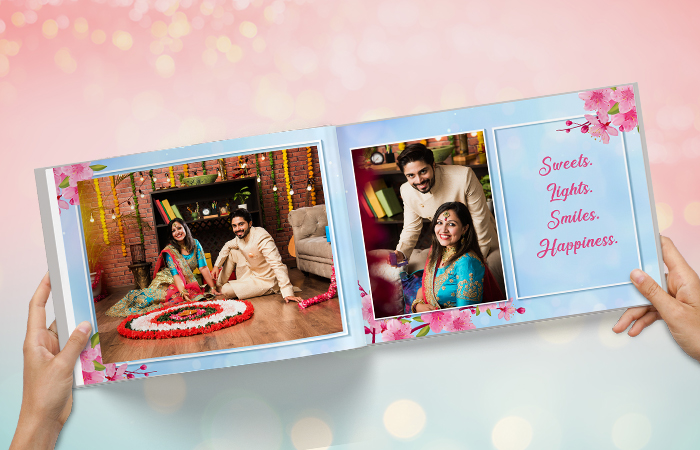 What's the secret of a happy family? It's respective. Each family celebrating Diwali will have its own choice of meal, sweets, rangolis, diyas, and the food play a central theme to the celebrations. Enjoying every small memories and cherishing it together makes a Fantastic combination. Relive it in fantastic family photo albums. Check out Funtastic Family theme from Picsy.
Canvas Prints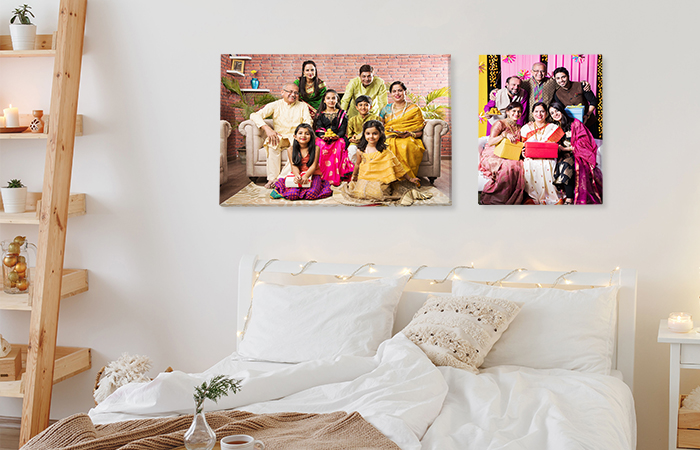 In Diwali, painting the wall is one of the very first things we do, but is it only option to give elegance to your home? Your wall looks great but it needs a companion. Visualize it on your new colored wall – Canvas Print of your favorite full family photo.Check out wide range of canvas prints and choose what suits your 'Wall of Fame'.
Happy Family Photo Books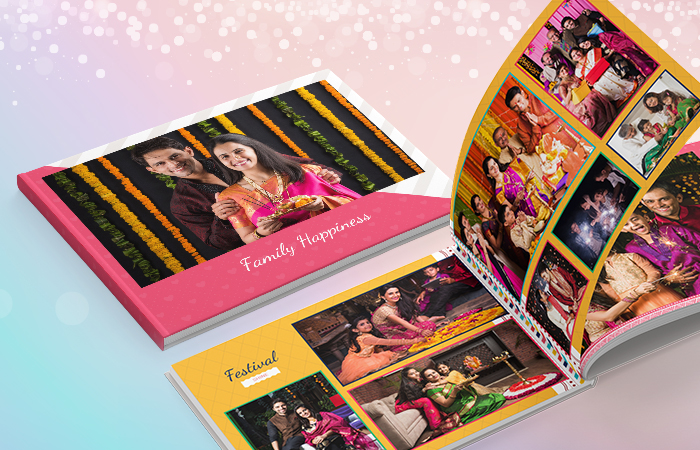 You have put much efforts in making your loved ones time special. You say it right - Family that stays together, slays together. The celebration however lacks one thing. Preserving feature. This ideal but important feature is a feather along with rich savoury and sweet dishes. Don't miss it and print every happy memories. Check out Picsy's wonderful Happy Family theme and rejoice happiness.
Family Joy Calendars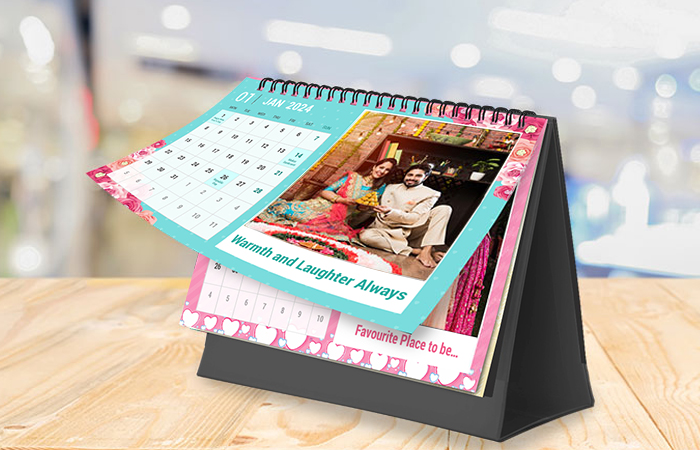 You and your family will mostly be busy in either preparing for food or making rangolis or bursting fireworks or exchange gifts. Now, if you're involved in all of these joyful activities, you better click pictures, okay? Living the moment in present is one thing but to feed your nostalgia, it's crucial that you have personalized family calendars. You know, right? Personalization has its own charm and experience it for yourself in Family Joy Calendars.
To present the best Diwali gifts to your loved ones, download the Picsy App now.
The demon king Ravanna is slaughtered by Lord Rama and He is on the way to return his home land. We are talking about the time way longer than you assume. It's 15th century BC and Lord Rama has rescued Sita with the help of Hanumanji and troops. This is the time people across the country are planning to celebrate it. The triumph of good over evil, light over darkness and god over evil is 'Diwali'.
The festival whose significance is beyond tradition and culture. One of the most celebrated festivals in India, Diwali is all about HAPPINESS. The real joy of this festival is in the togetherness of whole family reciting prayers, lighting colorful diyas, making and eating sweets, sharing gifts and caring for each other, and bursting fireworks for 5 days.
Millions of Indians want to make these days special in their own version. Some by wearing new clothes, few by cleaning homes, everyone decorate their entrance of home by creating Rangolis, and most of us give food and gifts to those in need. The conclusion is 'Happiness' and 'Togetherness'.
Preserving your festival moments was never so simple, smart and quick. Download Picsy App Now – Print and rewind your family + festive moments for lifetime. Happy Diwali and Happy New Year in Advance!
Ready to hold your memories in hand?