21 BEST CHRISTMAS GIFTS 2023: HOLIDAY PRESENT IDEAS FOR EVERYONE
November 26, 2021
Christmas is almost here, and it is high time to get a head-start on the holidays with a list of the very best Christmas gifts for your friends, family, and loved ones
With our list of unforgettable, one-of-a-kind gifts from stocking stuffers to DIY snow globes, personalized Christmas photo calendars, and big-ticket items like a wall of Christmas photo canvas prints, we have it all.
Now delight your family, wow your friends, and rekindle the romance with your loved one with the 20 best Christmas gift ideas 2021 from Picsy.
Best Christmas Gifts Ideas 2021
1. DIY Snow Globe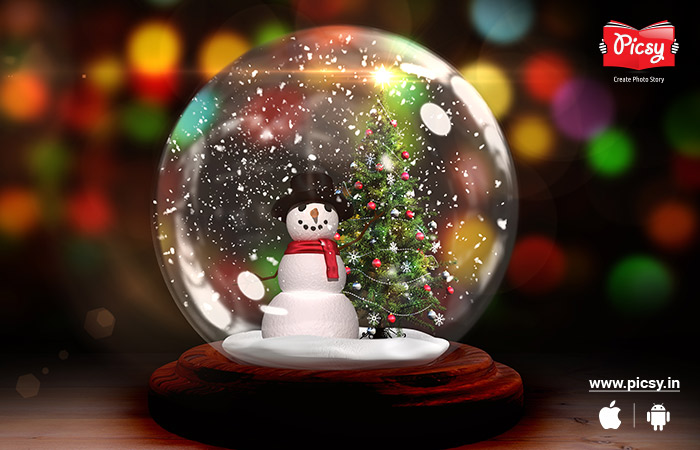 DIY snow Globes are lovely Christmas gift ideas for 2021. Now your loved one can enjoy a winter wonderland wherever he or she is. All you need is a miniature Christmas tree, some glue, some twine or ribbons for decoration, some glycerine, and a little glass bottle. Mix the lot and viola you have a perfect small snow globe.
2. Chocolate-Covered Coffee Spoons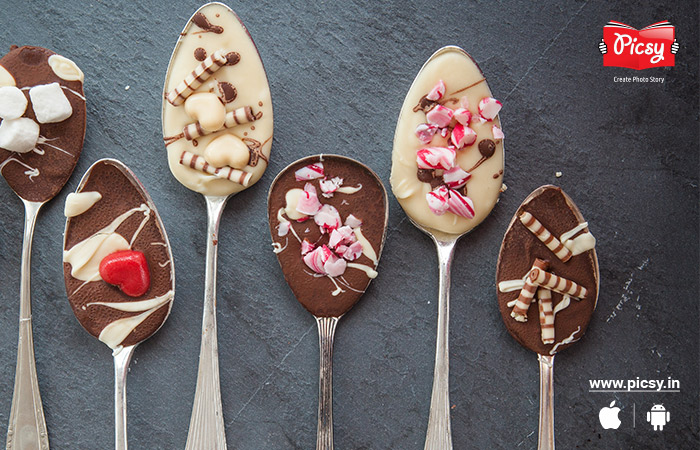 Who doesn't love Chocolate? Add to that the novelty of having the perfect scoop of Chocolate on a cute coffee spoon adorned with all the frills of Christmas like cherries, bells, and even a Christmas tree. Just make sure your decorations are edible, and you have one of the best DIY Christmas gifts.
3. Christmas Wall Collage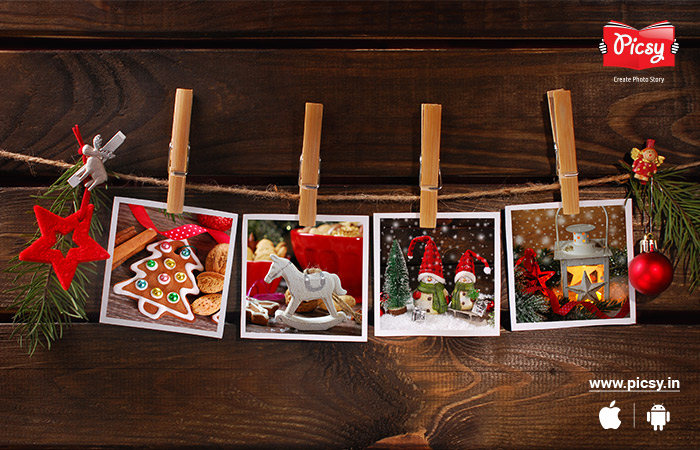 We have said it over and over again, even though we know that you know. Jokes apart, we all know that a physical print of a photograph surpasses a digital image on a screen by miles. This Christmas, you can gift your friends, family exquisite photo prints from Picsy. You could even decorate a whole wall with a photo collage adorned with some fairy lights for a beautiful festive look.
Read More : How to Choose Photos for Your Gallery Wall
4. Mini Gingerbread House Mug Topper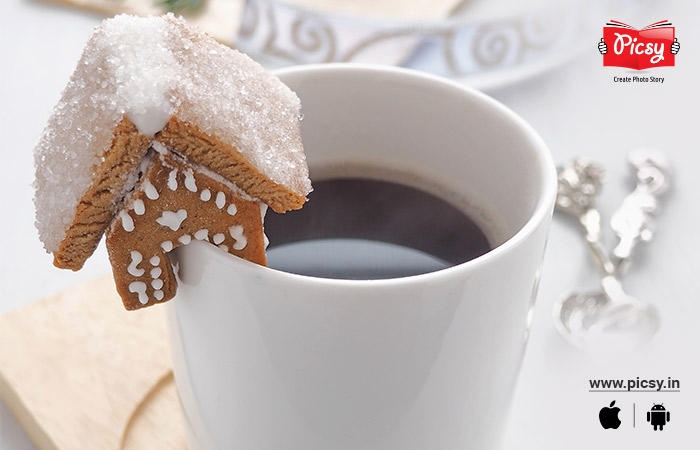 Now dress up your loved one's morning mug of coffee, cocoa, or tea with a cute gingerbread decoration. You could try making a little house a la Hansel and Gretel, or you could even experiment with other shapes like candy canes or Santa hats.
5. Personalized Photo Calendars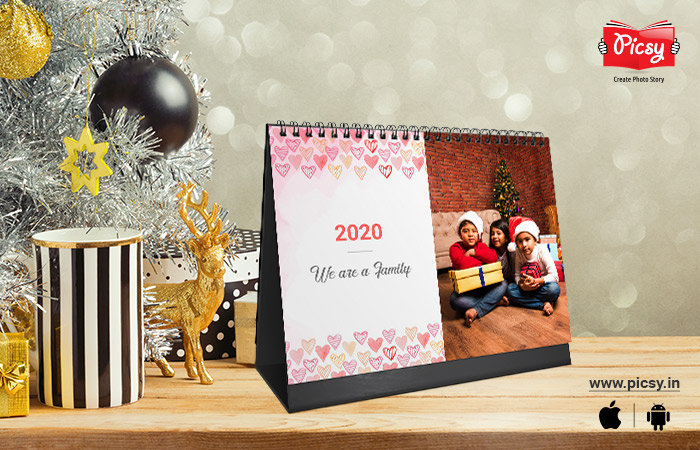 Imagine having a ready reminder on your desk of all the fun festive times you have spent with your friends and family. If you are looking for Christmas gifts cherished all year round, then a customized photo calendar from Picsy is the perfect option to brighten up a workday.
6. Ceramic Candle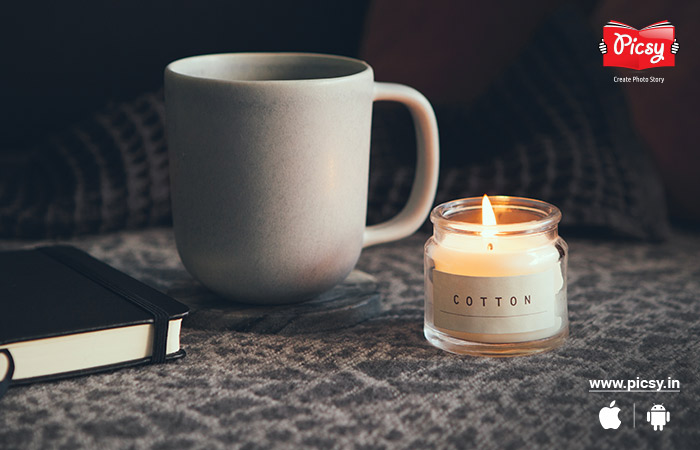 Candles are highly in vogue and yet make the best Christmas gifts. Whether you choose a ceramic candle with a photo of the person you are gifting it to or just a scented one with a perfume carrying the notes of Christmas, you are in for a sur-fire win.
7. Canvas Prints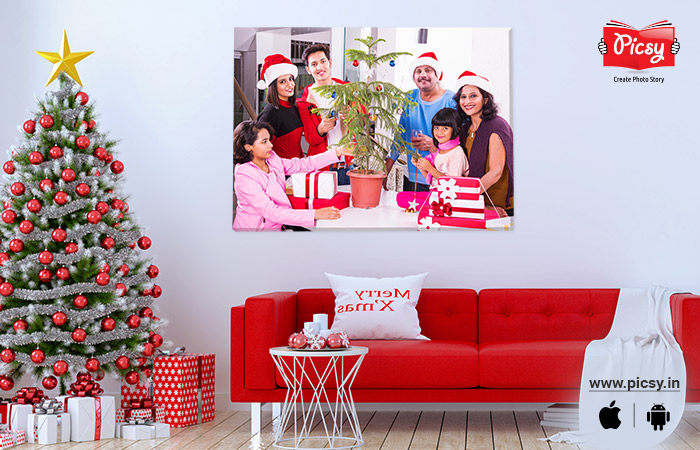 A gift that doubles up as a home décor piece is sure to get you so many brownie points that your Christmas stocking won't be enough to carry them. Choose from a wide range of custom canvas prints from Picsy to add a stunning dash of the holiday spirit to your friends and family's home décor.
Read More : Canvas print ideas to dive into your pool of memories
8. Personalized Ornaments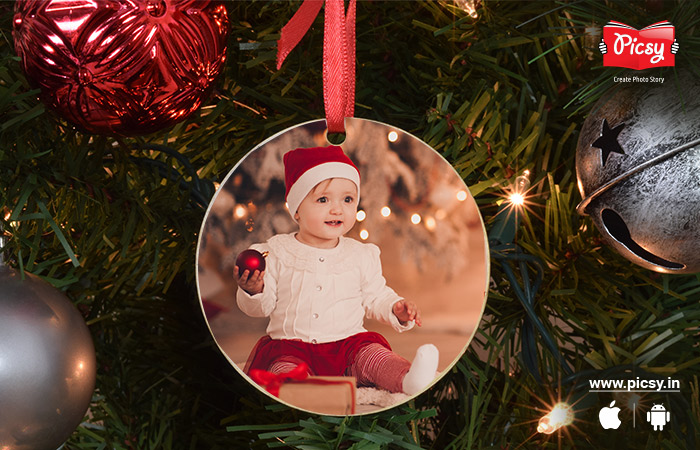 The above is one of the most appealing Christmas gift ideas for 2021. Create personalized ornaments that you can both wear or use to decorate your Christmas tree. You could choose ribbons, polaroid photos, magnets, and a lot more to celebrate the extraordinary people you call your friends and family.
9. Custom Photo Puzzles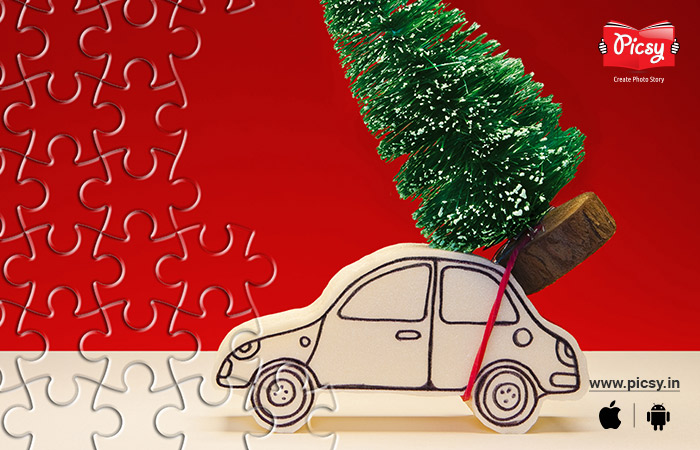 We can't forget that even though it's Christmas, it's still quarantine time. And what do people love while sitting indoors enjoying a hot mug of cocoa? Jigsaw puzzles. You can turn special moments of the year before into Jigsaw puzzles to gift to the kids in your family.
10. Fleece Blanket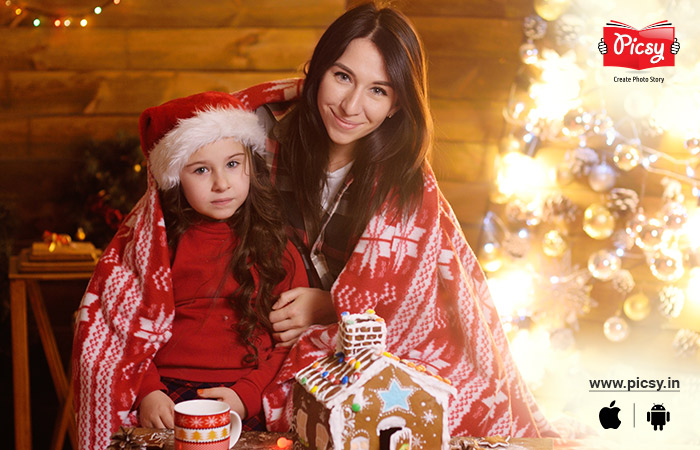 Christmas means that the winter is in full swing and nothing gets you through winter better than a fleece blanket. Gift your friends, family, and loved one's fleece blankets that they can snuggle up in on a cold day.
11. Christmas Mugs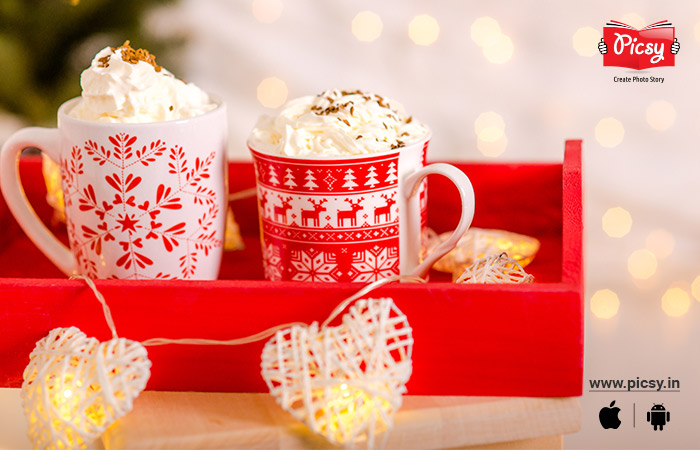 Everyone loves a Christmas mug. The best part is that there are so many designs and varieties available in the market that you could spend a whole day just choosing one. There is a Christmas mug out there for everyone. From slogans to cartoons to personalized messages, a Christmas mug is one of Christmas's best gifts in 2021.
12. Christmas Mouse Pads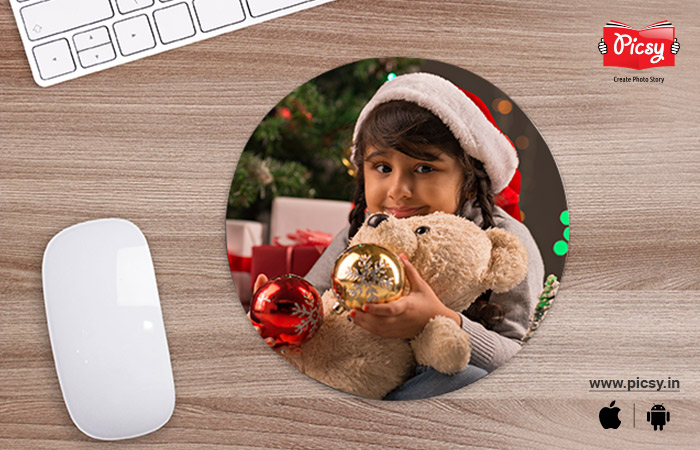 In the tech-infused world of today, everyone needs accessories for their computers. And what better way to add a sprinkling of Christmas cheer to your workspace than with a Christmas mouse pad.
13. Reusable Tote Bag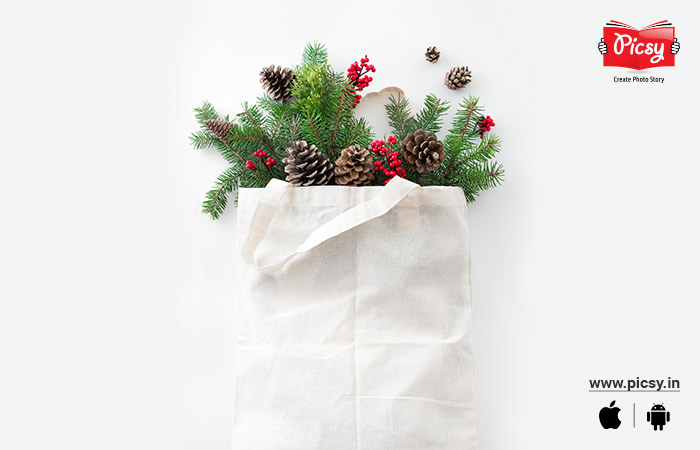 A Christmas tote bag makes a lovely and very eco-friendly Christmas gift. You could choose one with Christmas motifs on it or something simpler like a slogan or photographs to showcase your friend's and loved one's personality and style.
14. Merry Christmas Photo Books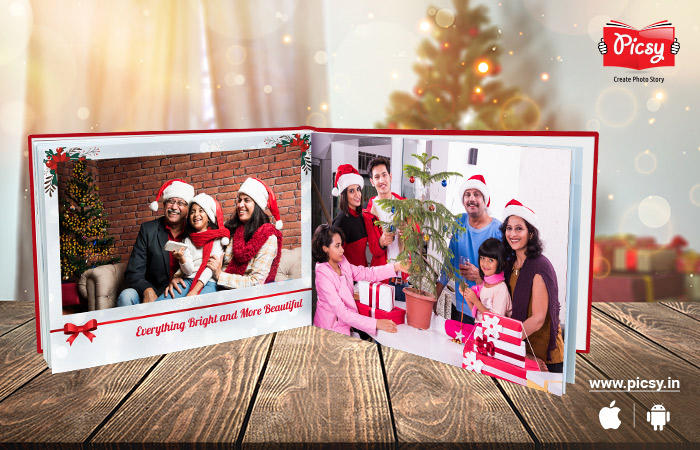 Now gift your friends, family, and love one's memories in the form of Merry Christmas photo books from Picsy. You can choose from a wide range of sizes, custom layouts, themes, and even finishes to create a wonderful Christmas gift that can be revisited again and again, each time solidifying the bond you share and also keeping your Christmas memories fresh.
Read More : How to Create a Perfect Photo Book?
15. Christmas USB to Keep Memories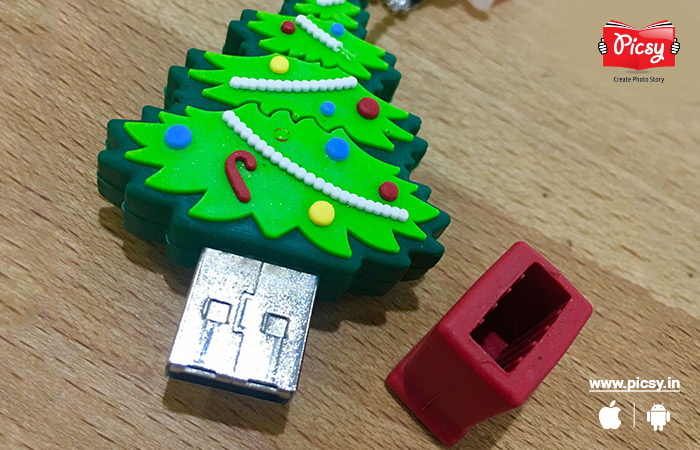 Exactly as remarkable as CD's were back in the day, a Christmas USB packed with a variety of goodies like Christmas movies, carols, images, and photos makes for a genuinely fabulous entree into the list of best Christmas gifts for 2021.
16. Christmas Card Set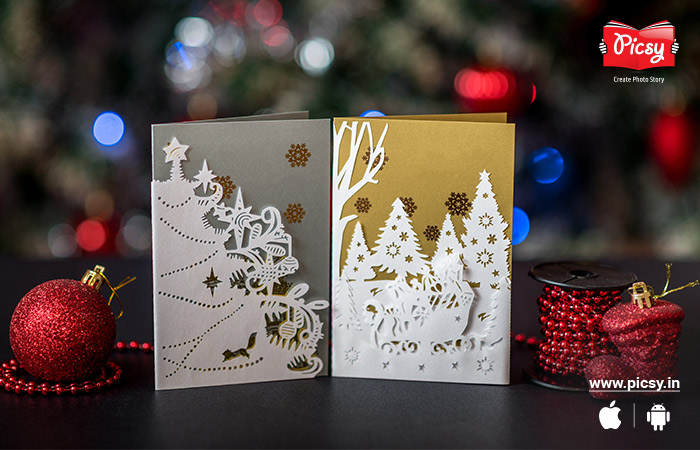 Cards are a Christmas classic. You cannot only pour your heart out in one of them. You could choose a card that could make the recipient laugh, fall in love, become happy, and even nostalgic. To add an extra dash of love to your card, you could try making DIY cards for all your friends and family.
17. Bubble Bath Gift Set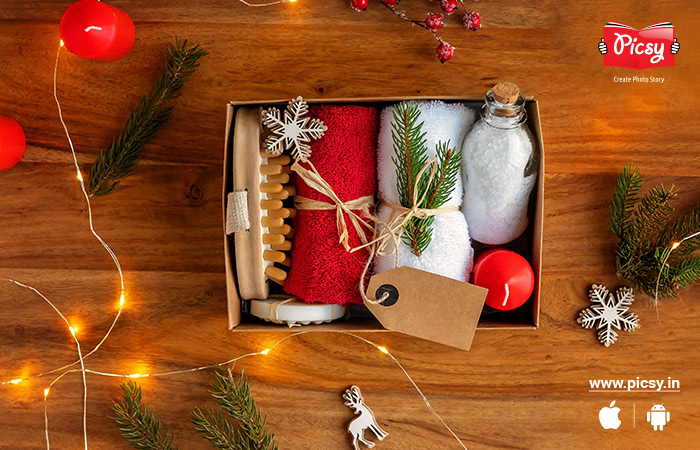 Create a bubble bath gift set this Christmas. Top it off with a personal not note for each of the recipients on your list, and don't' forget to include all the products that would make up a spa routine. Just don't get jealous and keep it all for yourself.
18. Christmas Cookies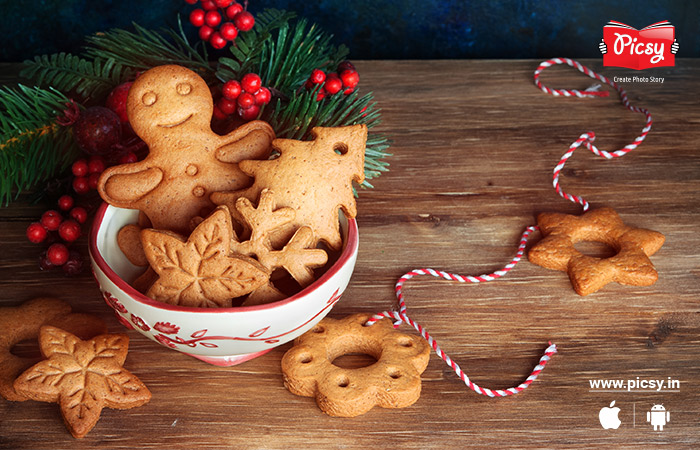 Christmas is incomplete without Cookies. Why would Santa even get us any gifts if we didn't make cookies for him on Christmas eve? Now make sure that Santa comes to the homes of all your friends, family, and love ones by gifting them a lovely large box of Christmas cookies.
19. Succulent Garden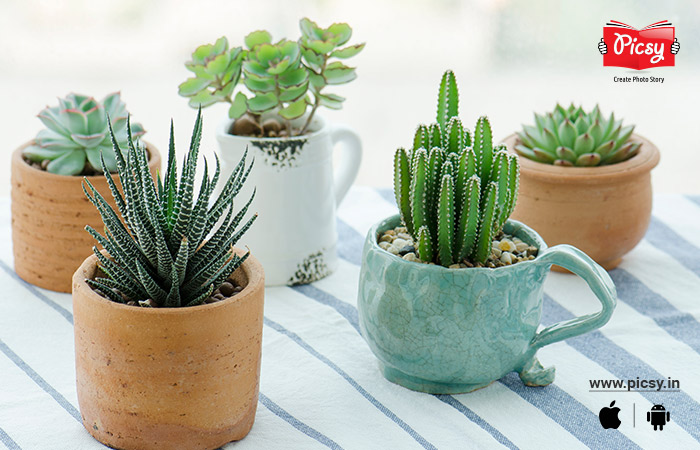 Succulents are cute and fun. A succulent garden, however, takes its appeal to a whole new level. For Christmas 2021, keep a succulent garden on your list for gifting ideas and spread good vibes.
20. Mulled Wine Gift Set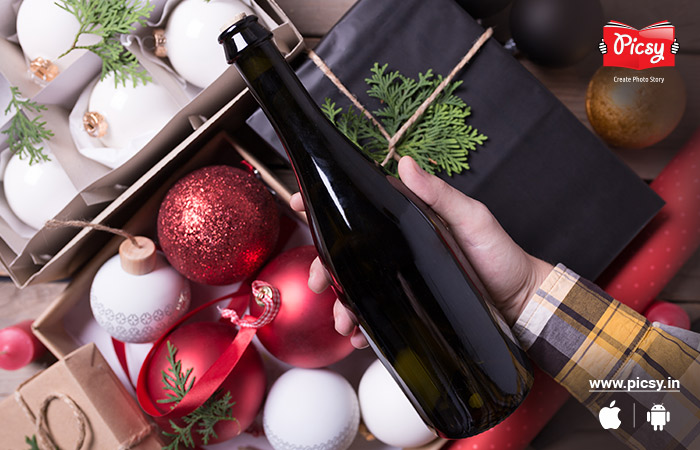 Mulled wine is a winter favorite. Enliven your Christmas gifting with a box set of red wine and spices so that your friends and family can begin brewing mulled wine. You could also include some glassware in your gift so that they have a truly joyful experience.
21. Revisit the Memories with Acrylic Prints
Now that the year is almost to its end cherish the wonderful memories with fine and durable acrylic prints. They look chic and beautiful with acrylic studs on them. It is durable and sleek and does not let your dear memories fade. Get one now before Christmas knocks on the door.
Wrapping Up
The excitement one feels while opening up a gift made especially for you cannot be matched, and that is precisely what we have gone for with our list of the twenty best Christmas gifts for 2021.
But what adds another layer to the feel of a Christmas Gift is personalization. With a wide range of completely customizable and personalized photo gifts from Picsy, you can step up your Christmas gifting. Christmas is close, so don't waste too much time. Create your own Christmas photo story. Download the Picsy app now.
Ready to hold your memories in hand?