24 SPELLBOUND BIRTHDAY CARD IDEAS YOU NEED TO KNOW
July 03, 2023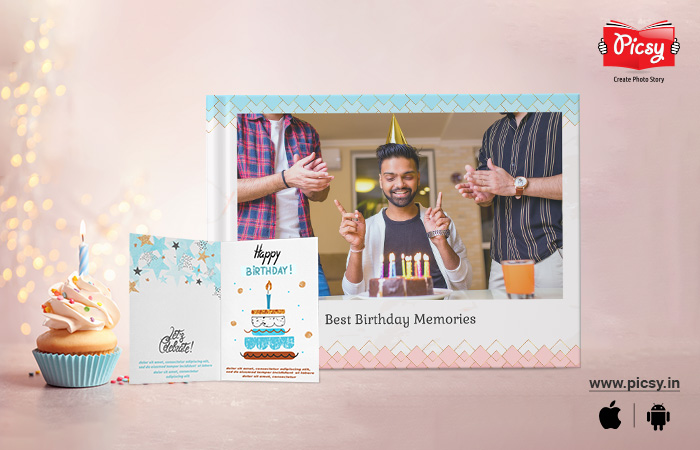 To see our loved one's smile cheeks to ear, we keep getting mystified to find the best possible gifts on their birthday. Don't we? And why should we not? They deserve the world's happiness. But what we forget is to tell them what they mean to us. Hence, to add a bit extra to your special gifts, we have jotted down tons of diy birthday card ideas that you can make for your beloved birthday man or woman.
Make the Birthday Special with Picsy's Wall Decors
Make your loved one's birthday extra special with Picsy's alluring wall decors. From canvas prints to poster frames, they are affordable, stylish and perfect for your walls.
Skip to...
Birthday Card Ideas for Him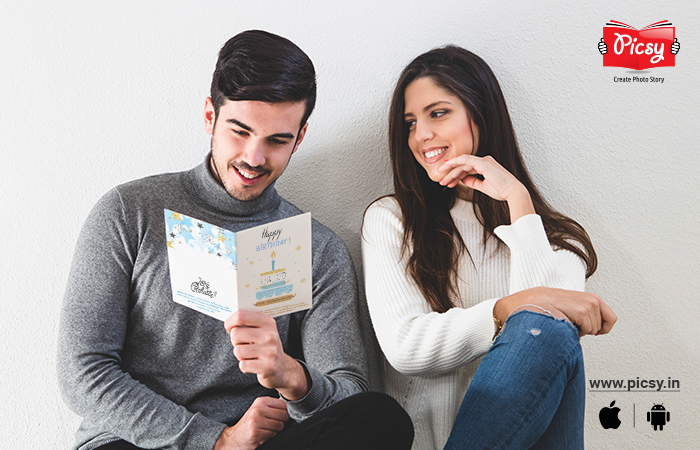 Whether you are looking for a birthday card for brother or birthday wishes for grandfather, this list of birthday cards will help you to make your favorite person's birthday memorable. Don't worry, these birthday card ideas are for all – we have covered all of them. Let's check out.
Birthday Card Ideas for Boyfriend
Have you selected the card for boyfriend's birthday yet? If not, these birthday card ideas will sprinkle the love you have for him on his day. Let's check them out.
Handmade Box Card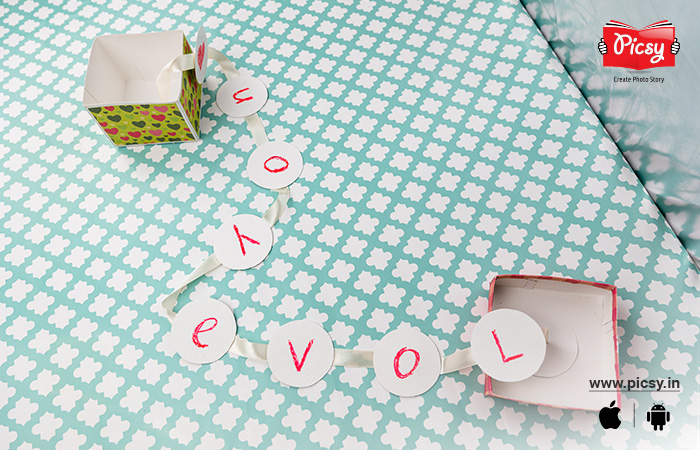 Not a conventional card but a box happy birthday card for boyfriend is an 'out of the box' idea. Take a cardboard and make a box out of it. Now cut out alphabets and paste your mini message – "I Love You," "My Birthday Man," "You Are Irreplaceable," or anything that you would want to tell him. Isn't it an awesome birthday card for boyfriend?
Handmade Love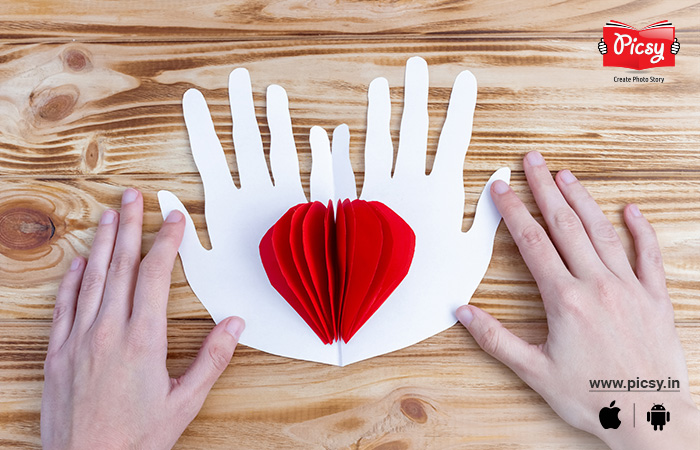 This card idea literally signifies "giving you, my heart." Isn't that wonderful? Place your hands on white paper and ask someone to draw the outline. Now cut out the shape of your hands carefully. In between the paper, add a heart fur ball or red heart-shaped paper. So, the moment your boyfriend opens the birthday card design, he will see your metaphoric heart as his birthday gift.
Are you Looking for something special gift to send along with a birthday card? Picsy's stunning canvas print won't disappoint you!
Romantic Birthday Card Ideas for Husband
No matter how many times you have fought over choosing food menus and picking the movies to watch together, you love your crooked man and his child-like attitude. Don't let the charm of true love fade, and let's arrange some affectionate birthday cards for your man. I have listed some ideas on birthday card for husband that you can try on his birthday. Check them out.
Photobook Birthday Card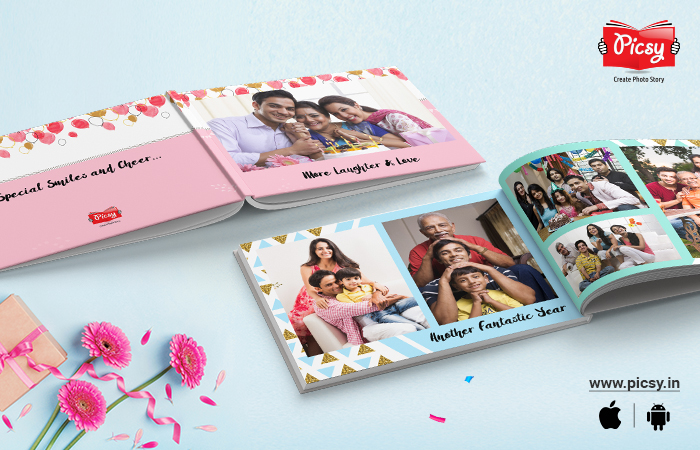 Not every card has to look like a card; it can also look like a book full of memories. By that, we mean to say birthday photo books. Collect all the beautiful moments together and let your man preserve them for life.
Woolen Love Balls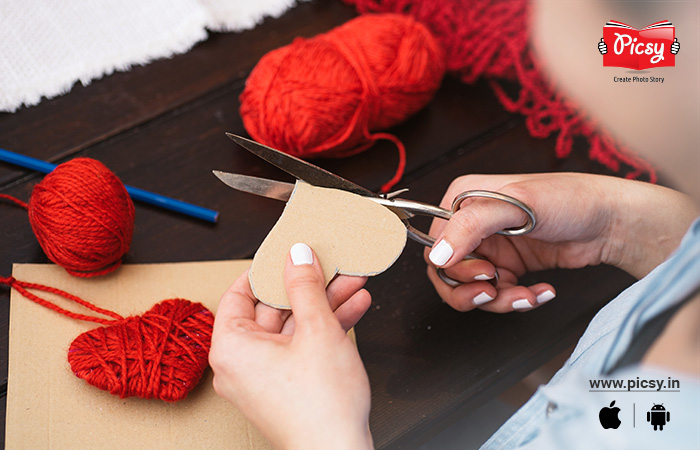 For this DIY birthday card, you'd require only four basic things –cardboard, a red wool ball, a scissor to cut them, and glue to stick them. Cut the cardboard into four or five heart-shaped pieces and wrap it with red wool. Now take the remaining cardboard and fold it like a card and hang or paste the woolen hearts around it. See? We are keeping it easy for you.
DIY Love Envelope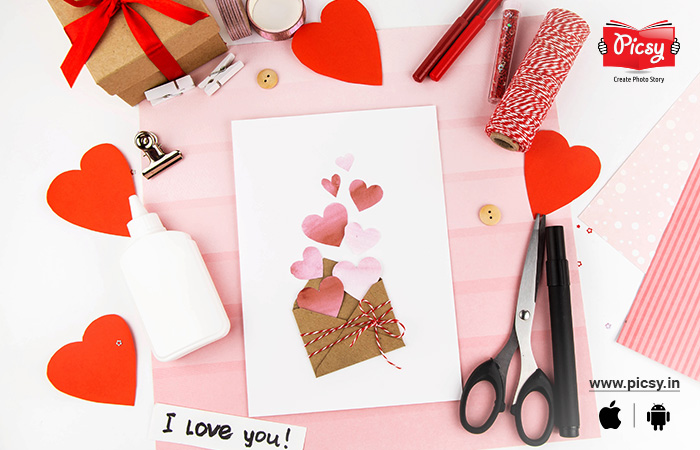 This card is quite an 'upside down' kind of idea to awe your beloved man. On white paper, cut colored paper and make an envelope. Now, paste the envelope on the white sheet and add a few colored hearts appearing as coming out from the envelope.
Looking for a platform to frame birthday memories? Get Picsy's wall decors!
Birthday Card Ideas for Brother
No matter how notorious he is with the TV remote and how comically he acts when he shows the fake WWE moves, you will protect him from everyone till you die; your love for your brother is that selfless, isn't it? Birthday of your dearest brother who, when he ages, feels like you are aging. Hence, a few sweet ideas on birthday card for brother as well.
Ribbon Cake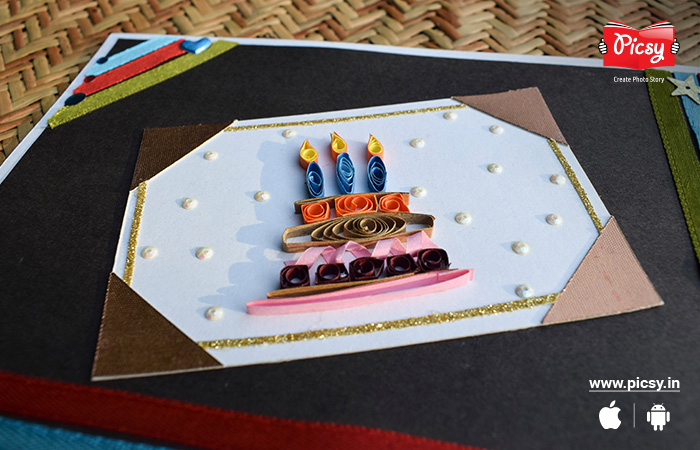 If you have a little brother whom you love more than the world and want to invite all your close relatives on his birthday, this 1st birthday invitation card idea serves quite rightly. Roll and twist a few colored art pieces of paper, or you may also use ribbons instead and make a birthday cake with candles on top. Believe us; a happy birthday greeting card can't get easier than this.
Favorite Place DIY Card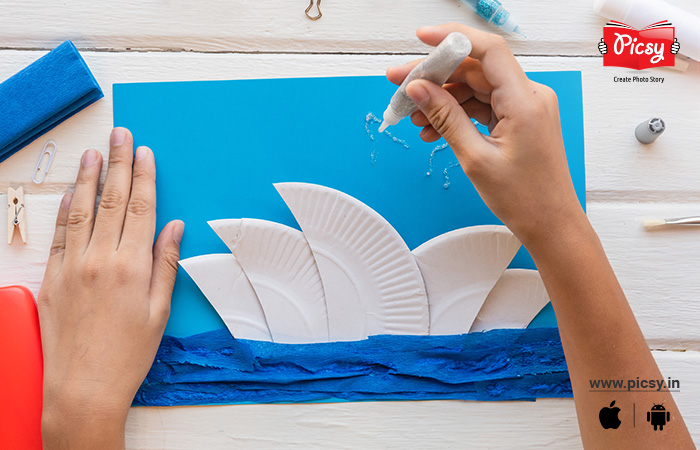 Is your brother a travel freak and often talks about going overseas? Take a few thermocol plates and craft his favorite sight he would love to visit – is it the Sydney Opera House or the Eiffel Tower? A great way to tell him on his birthday how much you support his dreams. This is one of the most thoughtful happy birthday card ideas that might take a while to make but is completely worth it.
Want a birthday gift for your brother? Get poster frames for all his travel photos!
Birthday Card Ideas for Father
The man who taught you how to walk, also the one who now asks, "how to send images over WhatsApp?" – father, the man of wisdom. So, on this special day, a happy birthday card for father is a must. If you are wondering how to make a birthday card, don't worry; these are easy birthday card wishes that you can also use as a birthday invitation card.
DIY Cup of Tea Card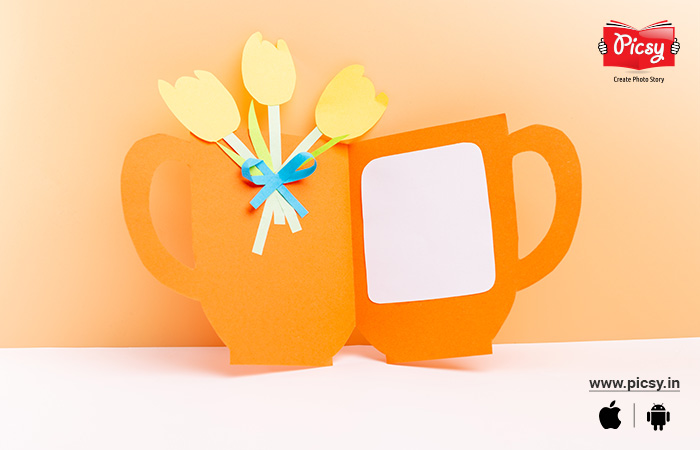 No matter whether your dad is a tea person or coffee, he is always something or the other; utterly a 'cup-person,' if we may say. Hence, this idea is surely a hit. Draw a cup on a piece of paper and fold it in half. Now carefully cut it, tracing the layout, and you will get a cup card for your dad. If your dad likes flowers, a bow, or anything else, you can add that to the card. But remember, keep a slight space to add the best birthday wishes and messages. Isn't it one of the most beautiful handmade birthday card ideas?
Handmade T-Shirt Card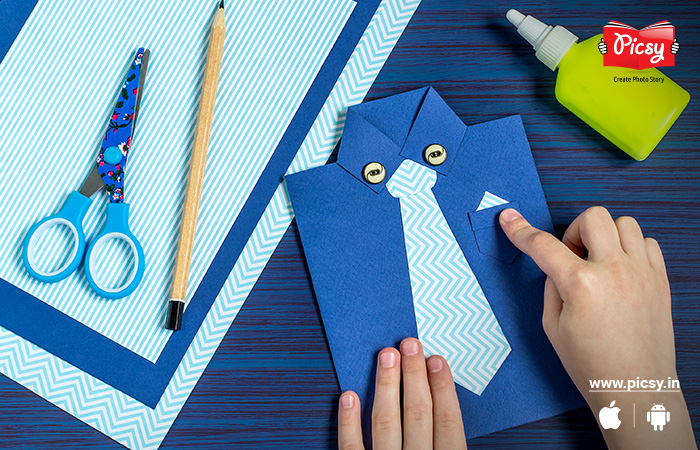 What is it that your dad loves to wear? Is it a T-shirt, dhoti or leather jacket? With some YouTube tutorials and origami tricks, let's ace your dad's birthday card, yeah? The old soul deserves to be pampered for a day, doesn't he?
Birthday Card Ideas for Grandfather
You can easily get unique birthday card ideas online and buy them too. But, to give something that's handmade has its own charm, and grandfather prefer the little diy cards for sure. So, why not give one on his birthday? Here are a few creative ideas on birthday card for your grandfather.
DIY Flower Water Color Birthday Card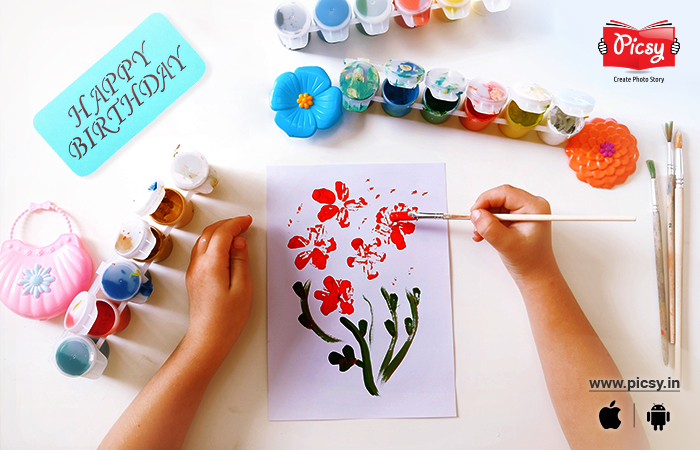 This has to be one of the loveliest birthday card ideas for grandfather. Paint his favorite flower on a blank card write a small note inside. It should make his day brighter.
Family Tree DIY Birthday Card
Grandfather being one of the oldest members in the family, he sure treasures the family branches. Ask your mom or father about the whole family (in case you don't know) and make a family tree card for him on his birthday with small piece of cake in the bottom. It's a small gesture to remind him, everyone in the family dears him.
Birthday Card Ideas for Her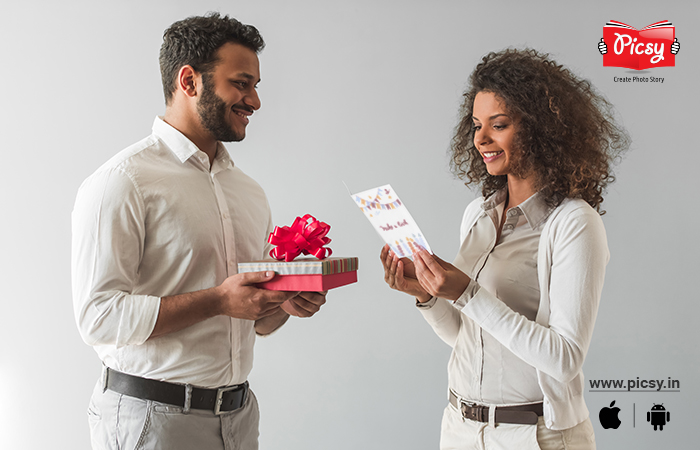 Women love sweet long sentences and designer birthday cards with a letter written on them make them tickled pink. So, to make all the ladies in your life smile a little louder, we have shared a few ideas on how to make homemade handmade birthday cards.
Birthday Card Ideas for Girlfriend
Are you looking for the right thing to present to your princess? She is perhaps looking for your presence more than anything else. But to be present all the time might not be convenient for all. Why not give her a card? So, when you are not present, she can open the card and read your sweet sentences over and over again.
Handwritten Card Letter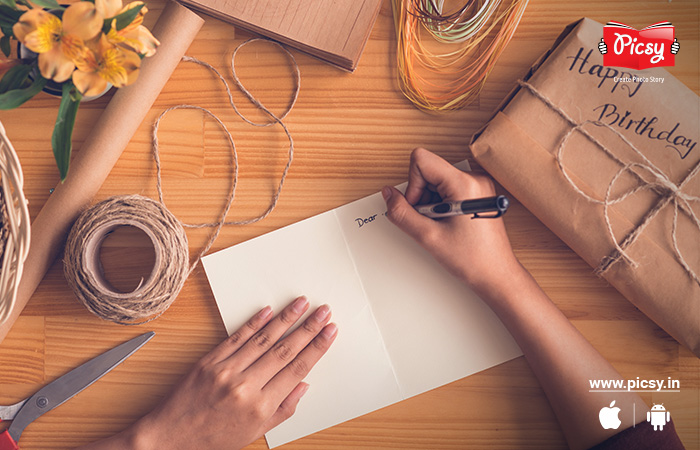 We know, the distance and the resilience seem uncanny between you and your girlfriend. It feels unjustified when you are not present right at midnight when it is her birthday. But the best you can do is write down your feelings on a handmade greeting card and present your love.
DIY Flower Card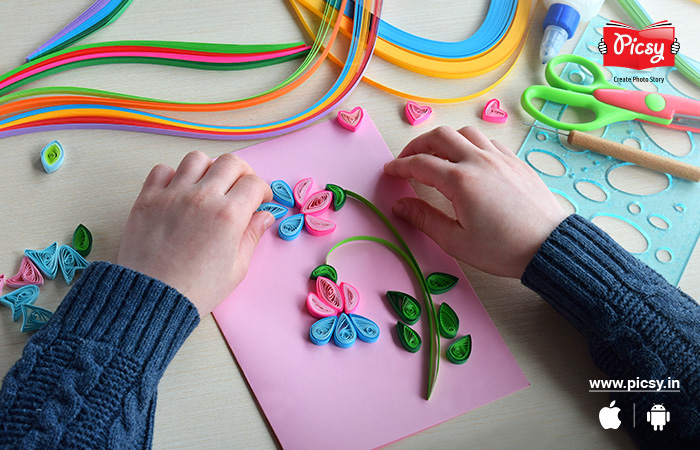 You sure can give birthday card images and an actual flower, but the flower will eventually die. Why not make something that won't perish so quickly? If she likes flowers, just like the birthday cake card idea, you can make something floral designs for your sweet fairy.
Just birthday card isn't enough, you might need something more special for your Girl! Picsy's
Love Photo Albums is all you need!
Birthday Card Ideas for Wife
Don't let the love go old but grow old. Don't forget her birthday. Surprise her; we bet she will be head over heels for the effort you are hoping to put. Of course, you are here for birthday card ideas for wife. So here are a few of them.
Flower Bouquet Card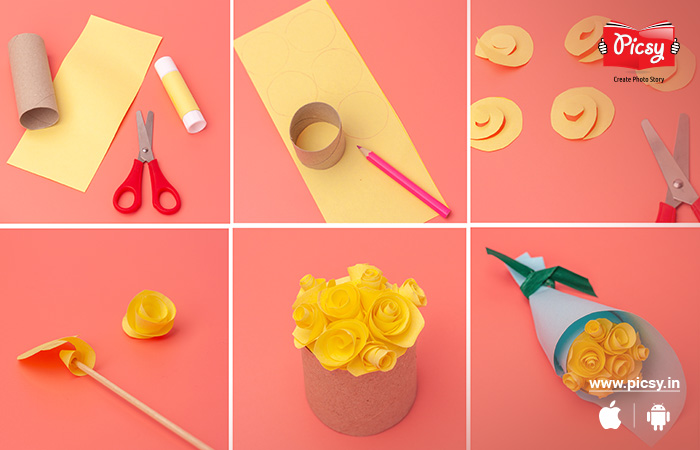 Women love flowers, whether its handmade or real. But let's show some act of kindness to the poor flowers and instead make some with colored art papers, shall we? So, what, if it doesn't look like a card? The effort counts, mate! Moreover, this idea of a birthday bouquet actually looks pretty lit.
DIY Food Card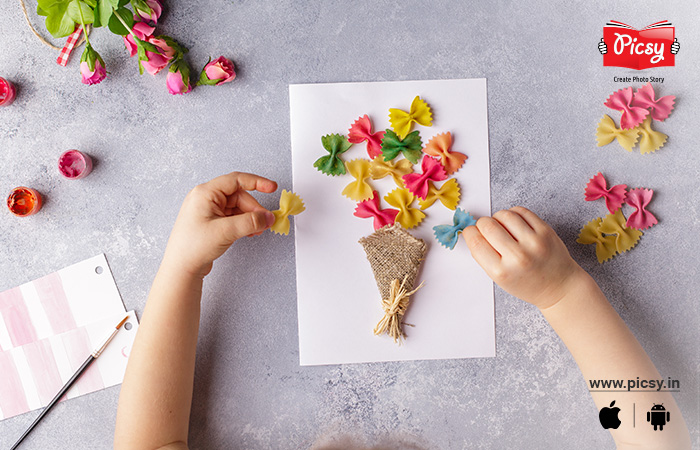 Do you think your woman is a foodie? When she sees the last slice of pizza, she hogs it? Well, then she is going to love this birthday card. With colorful macaroni, create a beautiful bouquet of 'look-alike' flowers.
Birthday Card Ideas for Mother
We can barely think of something that can touch the level of sacrifices she has made. When we say 'she,' we mean every single mom out there. The unbelievable amount of effort and selflessness almost feels like we are dreaming. This can't be real. How can a human, who looks so much like us, be so Godly, we ask? Nevertheless, at least we should do what we can do for them. Hence here are a few birthday card for mom to make her feel special and her birthday memorable.
Lace Card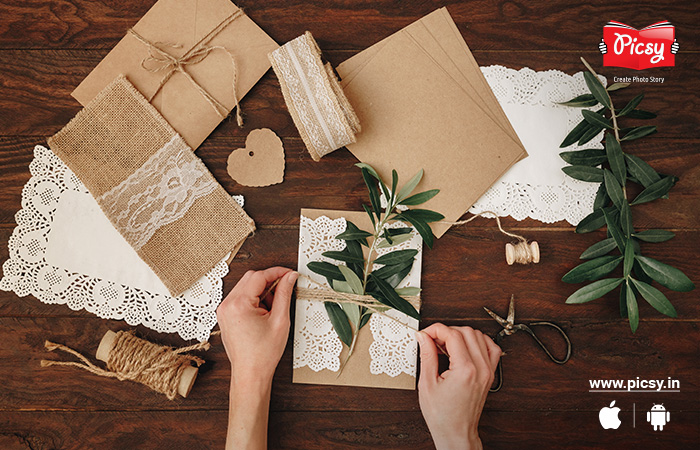 Trust us, mothers like laces. No matter which color or pattern the lace is, she will love this card. Take a handmade paper and cut it into a size of a birthday card. Write your message on it, and then wrap it with the lace. To add more earthiness to the lovely, eco-friendly birthday card, you may also add a flower or a branch of leaves. It is also a great addition to an eco-friendly theme party if you are looking for birthday decoration ideas.
Monochrome Card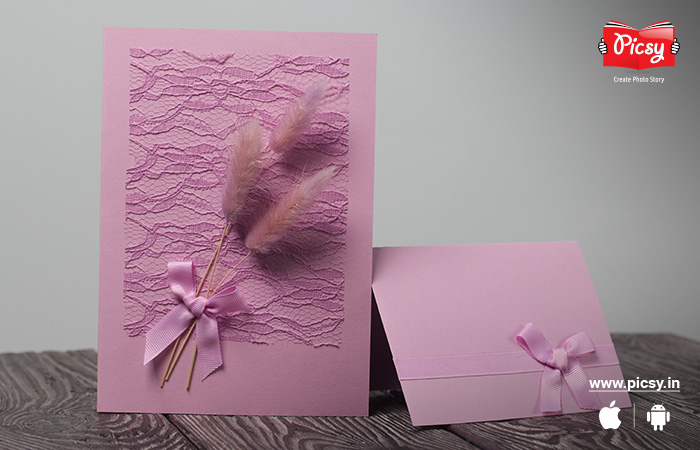 What is your mom's favorite color? Is it mauve or teal? Did we get it right? No matter what the color is, this is one of those handmade cards which subtly says, "See? I remember," that too, not only her birthday but her favorite color as well. Sometimes running an extra mile is what makes things extraordinary. Why not try to recall her favorite color and make an easy, simple birthday card handmade?
Birthday Card Ideas for Sister
A sister is a person who is no lesser than your mother or your best friend, right? You know all her little secrets, and so does she. A sister is no less of a protector than a father or brother. Your sister, elder or younger, is the only person who can understand you completely. Don't you think she would love to hear all these lovely words from you? Why not write her something on a happy birthday card for sister? I have listed some birthday card ideas for sister that you can try making quite easily.
Need a unique gift for your sister's birthday? Download the Picsy App and start browsing all photo gifting options.
Notebook Card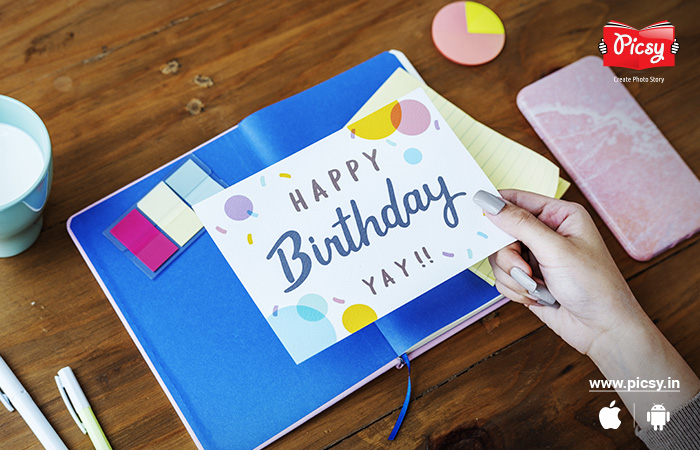 Is your sister the type of person who likes to write a diary? Buy a diary and fill the first page by pasting a handmade happy birthday card. Oh no, you are not done here. As we said, we are here to make your sister feel good. So, write a short birthday note telling how much she means to you in the diary.
Dry Leaf Card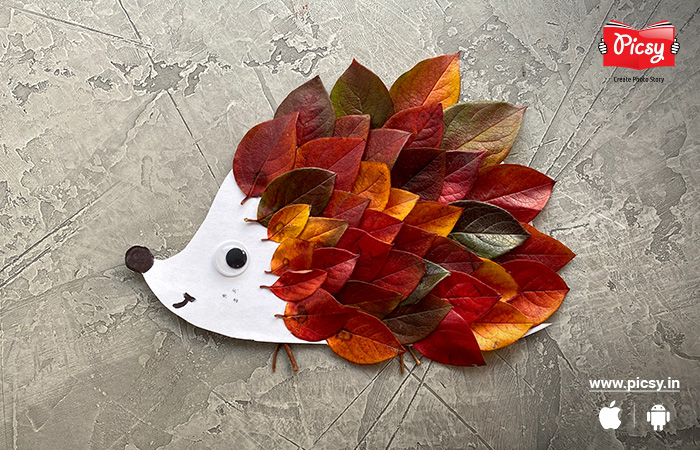 This is a fun DIY birthday card for your younger sister – something she would adore. So, what, she can't read and write yet? She, of course, loves to play. Collect dry leaves from the garden (or compound) and create an animal or anything out of it. Believe it; your little sister will treasure your unique birthday card.
Origami Card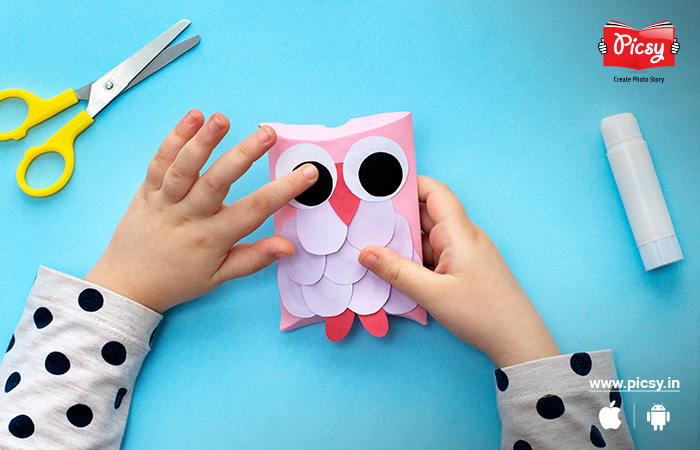 It is just another adorable birthday card idea that will be smitten with applause. With the help of a few folds and twists, make Money Heist's red origami bird or anything else you want. This is surely one in the hundreds birthday card making ideas that can serve as birthday cards for kids.
Birthday Card Ideas for Grandmother
Grandmothers are the prettiest and most softspoken people. No matter what you do, she always helps you to get away from your mom's scolding. On her birthday, tell her how much you love her by writing on a handmade card. Here are a few birthday card for grandmother that you can use.
Resin Art DIY Birthday Card
Resin art is pretty famous these days. You can get it online or from store. Add a few dry flowers and images of you and gradma on the art and treat it like a card she can display. Though it is exactly not like a traditional card, but why no go for something unique?
Floating Frame for Birthdays
Do you know about canvas floating frames? They are hardly, durable and gives a 3D look to the image. Frame your grandmother's image with you and gift her on her birthday. Why go for a paper card when you can get something durable. Don't forget to write a lovely quote on it for your grandma.
Birthday Card Ideas for Others
Apart from family and our partners, there are other people in our lives too who means a lot. Whether that's your teacher, best friend or a coach. Here I am listing the best birthday card ideas for those people. Make the best of the birthday wishes and messages.
Birthday Card Ideas for Teacher
Teachers are like guide who drives us to the right path. Starting from learning manners to every chapter in the syllabus, teachers give their best. On their birthday, surprise them with a dry leaf birthday card engraved their name on it. If that is out of your league, you can simply take a white page and pencil, write how much they mean to you and hand it over. Make sure to put your name too so they know who gave it. Aren't these birthday card for teacher unique?
Birthday Card Ideas for Best Friend
Best friends are like a sibling from another mother. We wait for their birthday like it is our own. Birthday cards for best friend should be full of best wishes, fun images and goes without saying inside jokes. Last but not the least, it should be more of friends birthday card photo album, because I am sure you have a lot to say to your best mate.
Looking for Someone to Help You with the Birthday Card Making?
Did you choose the birthday card you want for your beloved's birthday? We hope our list helped you. Don't tell us you forgot the gift while planning the card. In case you have, we still got it covered for you. Get photo products! They are any day, a superhit gift item. No matter whom you are gifting, it will work just fine. Whether it is a lovely canvas print as home décor or simply a photobook, get it to make it to the birthday party on time.
Speaking of which, you can get all these items on Picsy. Download the Picsy application and get access to various photo products. Go type on the digital store 'Picsy' now and hit the download button. We tell you; it is going to be your savior.
Celebrate Birthday with Photo Products
With a birthday card, wish birthday to your dear ones with Picsy's personalized photo products. Whether a 3D floating frame for the living room or a decent personalized calendar, every penny is worth it.
FAQs Related Birthday Card Ideas
What to write on a birthday card?

Wish them happy birthday and let them know how much they mean to you.

What is the cutest way to wish your friend on birthday?

Write a small message on a handmade card and gift a photobook with all your memories together.
Ready to hold your memories in hand?