Trendy Return Gift Ideas for Your Loved Ones
Updated: June 17, 2022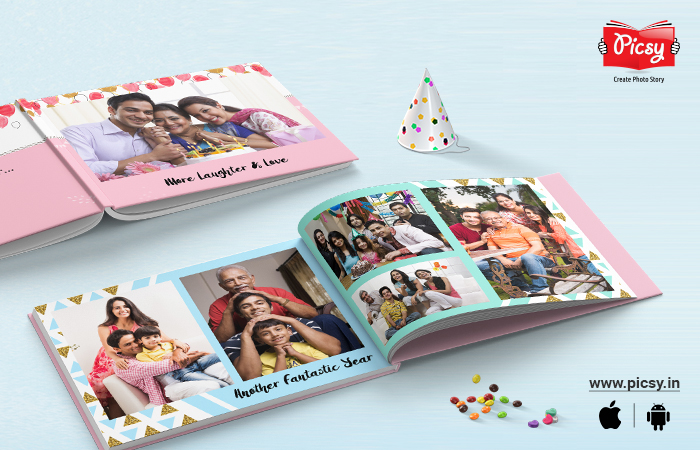 Gifts hold great meaning in our lives. That is why they should be something that our loved ones love and cherish for a lifetime. And the gesture of giving gifts is directly aligned with our love for our loved ones. We usually give gifts to build our bond with others, and it suggests that it reflects your understanding with the other individual. Moreover, giving a gift to someone we care about enables us to convey our feelings for them.
We cannot neglect the fact that we all love receiving gifts, but we usually tend to get confused about what we should gift to our loved ones as return gifts. Please do not fret. We have chalked out this amazing list of trending gift ideas for you that you can give to your loved ones to make them feel special. So, let us dive into it.
What is a Return Gift?
A return gift is a beautiful token of appreciation to show gratitude to our loved ones. It surely makes the individual happy who hands over the gift to us. Let us introduce you to the various return gift ideas.
Best Return Gift Ideas in 2022
Let us familiarize ourselves with the trending return gift ideas.
Top Birthday Return Gift Ideas
Here, we will discuss all the gift ideas which are popular and relished by the people who receive them. In other words, these are for-sure-gonna-nail-it kinds of gift ideas. Let's check out.
Birthday Photo Books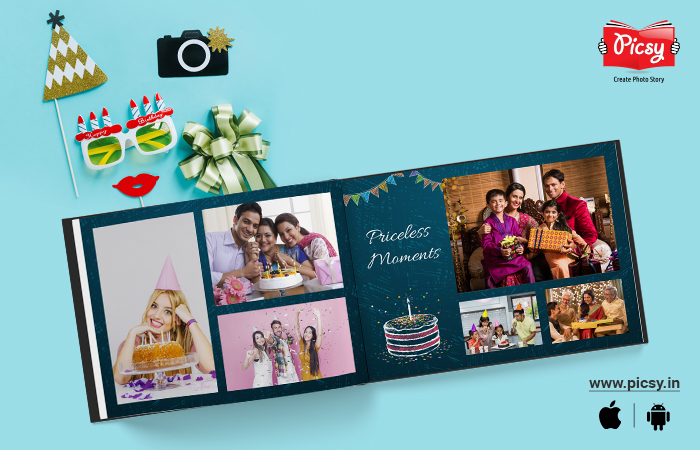 Photo books are a great way to celebrate any bond or relationship you share with your loved ones. Accumulate all the beautiful memories and pack them in a photo book. Photo books serve as the best return gifts for birthday. Whenever your loved ones glance at it, they will be reminded of the happy moments spent together.
Pro Tip: Create a birthday photo book and cherish the happy memories.
Mason Jar
Mason jars have recently grown popular lately. You can opt for a colorful mason jar and also put in a small note showing your gratitude. It will be a lovely return gift for your loved one.
Wedding Return Gift Ideas
Usually, when we talk about the wedding, flowers and perfumes come to our mind. It is something that gives a feeling of a new beginning, something fresh. Hence, just like weddings, here are a few fresh yet evergreen wedding return gift ideas.
Perfume
When your loved one has attended your wedding and showered their fragrance, gifting them a lovely fragrance packed in perfume as a return gift for wedding is indeed a great idea.
Beautiful Plants
Plants play a vital role in inducing positivity in the environment. That is why they serve as wonderful wedding return gifts for your loved one.
Read More : Best Wedding Album Ideas
Return Gift Ideas for Housewarming
Housewarming is an event that requires a lot of good luck. A new house, a new life, and a new place to build new memories. For an event as such, here are a few return gift ideas. Keep reading.
Wine Rack
A classic wine collection just induces beauty in the house. And gifting a classic wine rack with a bottle of wine will surely serve as one of the most interesting return gifts for housewarming.
Canvas Print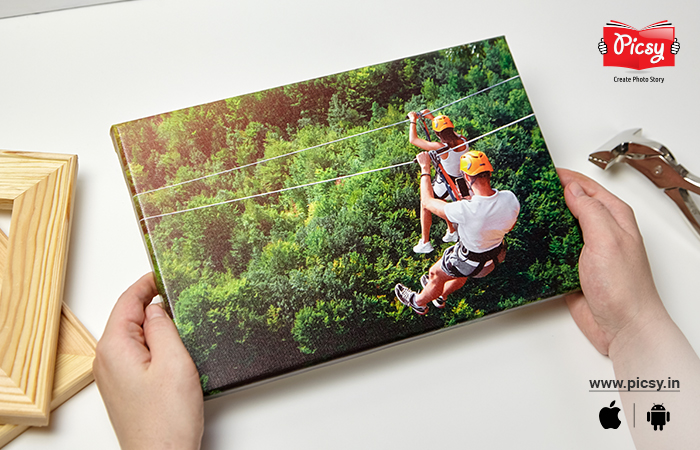 Let your loved ones hang the bursts of happiness on the walls of their house with the help of canvas prints. Gift them a lovely canvas print that they can preserve as a keepsake and a witness to your bond.
Engagement Return Gift Ideas
Engagement is the first step toward tying the final knot. It is equally important and a happy event. For an event as such, these gift ideas would be just perfect.
Gift Cards
Make your loved ones feel special by gifting them gift cards. It will surely make them feel special and serve as the best return gifts for engagement.
Personalized Mugs
When you gift the personalized mug to your loved ones as a return gift will show what they mean to you.
An engagement is the first step towards a journey of forever. Celebrate these special moments with Picsy Photo Products. Download the app now!
Anniversary Return Gift Ideas
Whether marriage anniversary or anniversary of your office, a return gift is a sweet gesture to make your guests feel welcome—a list of a small token of appreciation that you can gift your visitors. Keep reading.
Anniversary Photo calendars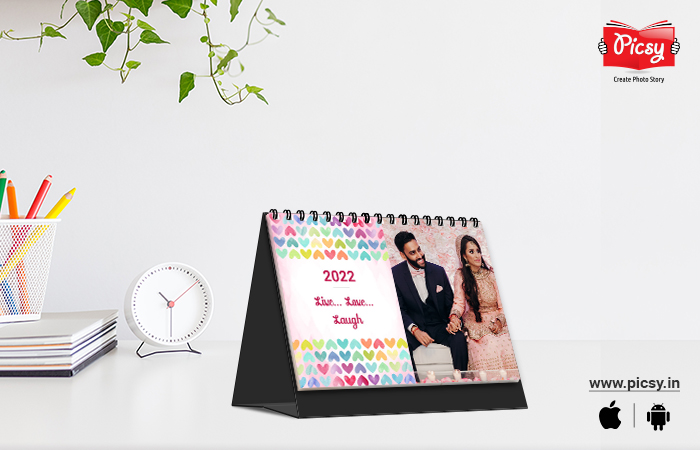 A daily dose of love from your loved ones just induces positivity in our lives. So, let your loved ones feel special. Gift them a beautiful personalized photo calendar that they can flip through for 365 days and be reminded of your love for them.
Rakhi Return Gift Ideas
The festival of Rakhi embraces the bond shared by brother and sister. Let us help you to know what could be the appropriate rakhi return gift.
Beard Catcher
If your brother is a lazy lad, then gifting him a beard catcher is surely going to make him happy. It is helpful in making the task of styling the beard easy.
This Raksha Bandhan, Celebrate your family togetherness with Picsy's Family Photo Albums. Get started now!
Polaroid Photo Frames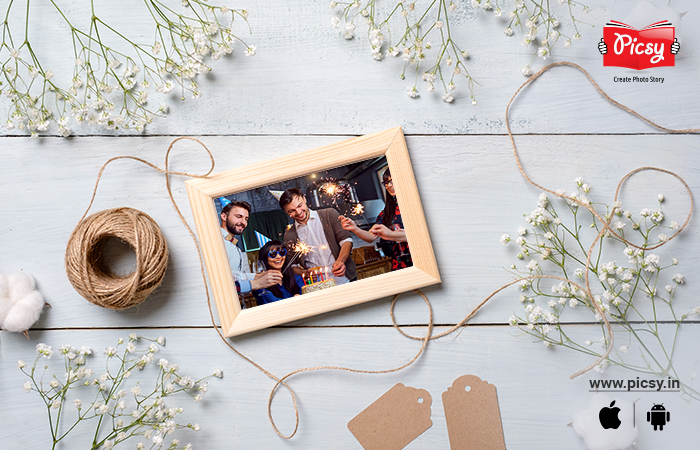 Polaroid pictures are indeed an aesthetically beautiful way to beautify your space. Get your brother some printed pictures of their loved ones along with attached clips so that they can be used to hang anywhere in the room. And if you want, you can even gift the camera.
Read More : Unique Rakhi Gift Ideas for Sisters
Return Gift Ideas for Adults
It is a little difficult to make adults happy. But giving them a return gift will surely make them have a cheek-to-cheek smile.
Family Portrait Print
We are all stuck in our lives, and having a family portrait around us will make us happy. So it is indeed a wonderful idea to gift a family portrait to your loved ones. They are surely going to cherish and serve as the best return gift for adults.
Leather Make-up Bag
A classic bag that stores the essentials of your loved one is something she is going to love. To make your mumma/maasi/chachi/ bua feel special, gift them a classic leather make-up bag. And customize the bag by embarking their initials on them.
For extra special members, get extra special gifts; order Canvas Floating Frame from Picsy!
Return Gift Ideas for Kids
We are well aware of the fact that kids love receiving gifts. So, they are surely going to love it. Let us know what could be the lovely return gifts for kids.
Clay Sculpting Set
Let your kid learn and play simultaneously with the help of this interesting clay sculpting set. It will help them be creative, and do not forget to click their pictures of your young artists. So, you can show them when they grow up how they used to play.
A Religious Scripture
The kids learn the value of our culture at a very young age. Let a religious scripture be the child's return gift, be it your niece/nephew or your own kid. They are definitely going to learn values from it and cherish this beautiful gift for the rest of their lives.
Unique Return Gift Ideas
We all love gifts that uniquely suit our choice. So, in order to let your loved ones feel special, take help from these suggestions. Let us make you aware of the unique return gifts for your loved ones.
Photo Album
Be it old school or absolutely modern thinking people, everyone falls head over heels for the photo album gift. The reason is that they induce life to our memories and help us to relive them whenever we wish to travel the memory lane. So, undoubtedly it is a wonderful return gift you can gift to your loved ones to show them your love towards them. Accumulate the best memories you shared with your loved ones and pack them up in a photo album.
Customized Quilt
Most of us like to snuggle and sleep in a blanket. So, gifting a customized quilt as a return gift to your loved one is surely something they are going to love. Get the cute pictures printed on it, and they will be reminded of your love for them whenever they are going to glance at that customized quilt.
Closing Words on Return Gifts Ideas
Gifts are a symbol of your love for your dear ones. We give return gifts as an expression of gratitude and love for our dear ones. Now, you have gained a clear idea to burst off the confusion about what you should gift as a return gift. However, we have shared an extensive list of gifts, but photo gifts like photo books, canvas prints, and photo calendars surely take the heart away. Please don't get worried about this. For all your photo-related concerns, Picsy is at your rescue. Download the Picsy app, and we will treat you with numerous themes that suit your requirement. And not just for your relative, (secretively) grab a classic photo book for yourself as well to store your memories and give life to them.
Ready to hold your memories in hand?