41+ Merry Christmas Wishes and Letter Samples
December 09, 2021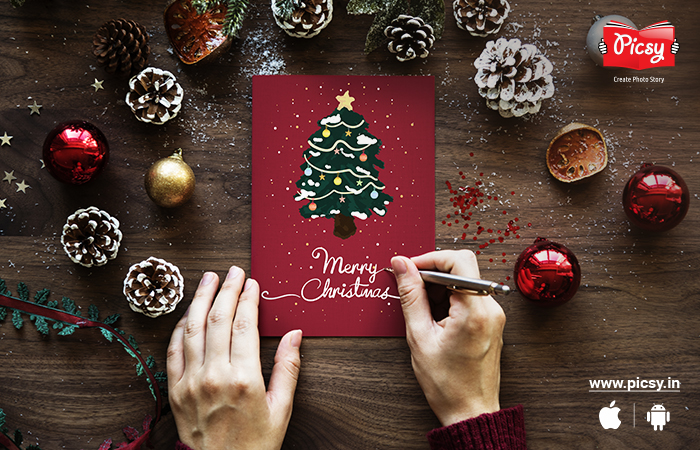 The city will paint in red and green again; the boots will step on snow in some areas; here we are again - the season of roasted turkey, fireplace, and jingle bells. The city's resilience from the pandemic will bring up laughter and happiness all over again. And we… we will be right here, for you to help your write the heartiest Merry Christmas wishes.
Christmas calls for salutation (salutation meaning in Hindi – Namashkar) and sharing the festive time together over gossips and delicious food. But, first and foremost – sharing Christmas greetings. Whether you write something funny, warm, or romantic, wishing Christmas should be presented in style. Hence, we have added 41+ happy Christmas wishes, which you can use to fill your cards or send on social media.
Merry Christmas Wishes Often Written on Cards
Whether you write a short note on Christmas WhatsApp status or send a good old handwritten letter, these Christmas wishes and quotes will surely make your loved ones miss you.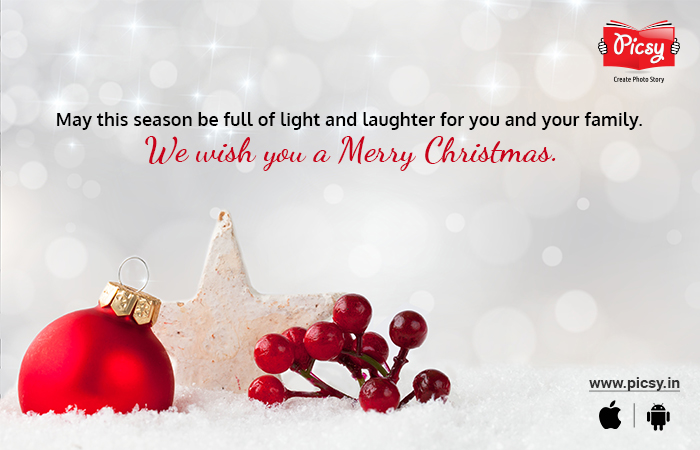 1. May this season be full of light and laughter for you and your family. We wish you a Merry Christmas.
2. Wishing you all the timeless treasures of the happy Christmas day – the warmth of home, the love of family, and the company of good friends.
3. A little more sparkle, a little less stress. This Christmas, I wish you the very best.
4. This Christmas, may your heart be light as a snowflake, your troubles melt away like snow, and drift of blessings surround you.
5. May your Christmas be merry and full of delight, with a New Year that's happy, healthy, and bright.
6. May joy be your gift at Christmas, and may faith, hope, and love be your treasures in the New Year.
7. May the meaning of Christmas be deeper, the friendships stronger, and the hopes brighter. We wish a wish you a Merry Christmas.
8. I don't want much for Christmas. I just want the person who is reading this to be healthy, happy, and loved.
9. There are many gifts under the Christmas tree, but the best one is the gift of your friendship. Thanks for being such a helpful and supportive friend. Christmas and New Year wishes to you! XOXO.
10. The gift of love, joy, peace, and more be yours this Christmas.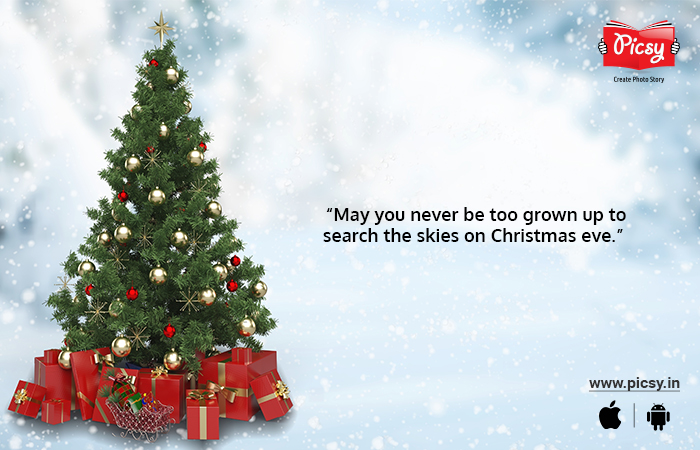 11. May you never be too grown up to search the skies on Christmas eve.
12. May this wonderful time of the year touch your heart in a special way.
13. May this Christmas, Santa, fill your tree of life with presents of happiness, joy, and love.
14. Hope your Christmas is blessed in all the best ways, and the New Year brings lots of reasons for joy.
15. May this Christmas bring your way plenty of reasons to smile.
16. I wish you and your family a very Happy and joyous Christmas season!
17. Warmest thoughts and best wishes for a wonderful holiday and Happy New Year.
18. Whatever is beautiful, whatever is meaningful, whatever brings you happiness, may it be yours this holiday season and throughout the coming year.
19. It wouldn't seem like Christmas if we didn't get in touch and send the season's greetings to the folks who mean so much.
20. Merry Christmas! May you find every reason to smile, may you stay happy all the while, and enjoy your day with family and friends. Stay blessed this Christmas!
How and What to Write on a Christmas Card?
We know you are so eager to welcome all your guests and love to sing, "We wish you a Merry Christmas" together. But, what about those who couldn't join the group on this special day? They are missing all the fun. You must be looking for some best Christmas gift ideas. Why not tag a happy new year greeting card along with the gifts? Well, we will help you to write it.
Read More : New Year Card Messages, Wishes and Ideas
Short Christmas Message Sample: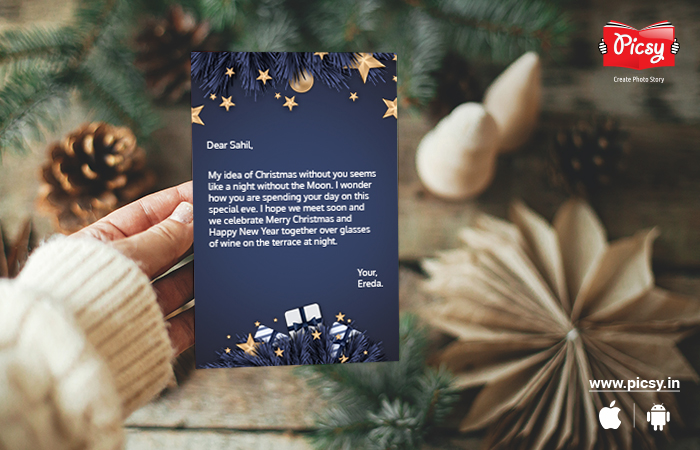 Dear Sahil,
My idea of Christmas without you seems like a night without the Moon. I wonder how you are spending your day on this special eve. I hope we meet soon and we celebrate Merry Christmas and Happy New Year together over glasses of wine on the terrace at night.
I hope this Christmas greeting card can make your heart smile.
Your,
Ereda
Long X-mas Greetings Message Sample: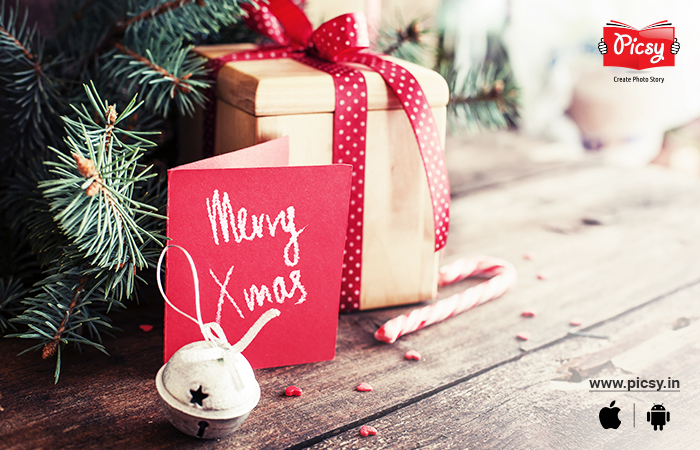 Dear Namrata,
As 2021 is about to end, and when I turn my head towards the past, I can not think of anything but the time I spent with you. You are helpful, funny, and completely weird (and thank God you are). I don't know what I would do without you. But mostly, I am stunned to see your tolerance capacity. How you handle my temper and my flaws - when I get into the mental breakdown phase and say every possible mean thing to you, and yet you forgive.
So today, when I look back to the entire 2021, all I can recall is how we cook Maggi in the middle of the night and make the kitchen a mess, how we count every penny in our pockets and settle our meals with Chai and biscuits, how we aimlessly roam around the streets just to not go back home on time, how I carelessly find you distributing food unequally so that you get the bigger half and how to stay up all night when I am sick. You are not my sibling or friend anymore; you are a part of me, a part that can't be replaced.
No matter how far you are or how busy you are, I will still call you in the middle of the night, laugh with you, send screenshots when someone tries to hit on me, cry and shout at you when I will miss you.
This Christmas, I hope we live in the same city forever. Because God has blessed me with my personal Santa, and I never want to lose you. P.S. When you get my Christmas message, I hope I make you smile.
Your other half,
Mayuri
These were samples, but make sure to add your personal touch on your long or short Christmas wishes.
Now we will add a few Merry Christmas quotes to help you send x-mas wishes over social media to your friends.
Merry Christmas Quotes for Friends
A few Merry Christmas wishes and quotes for friends: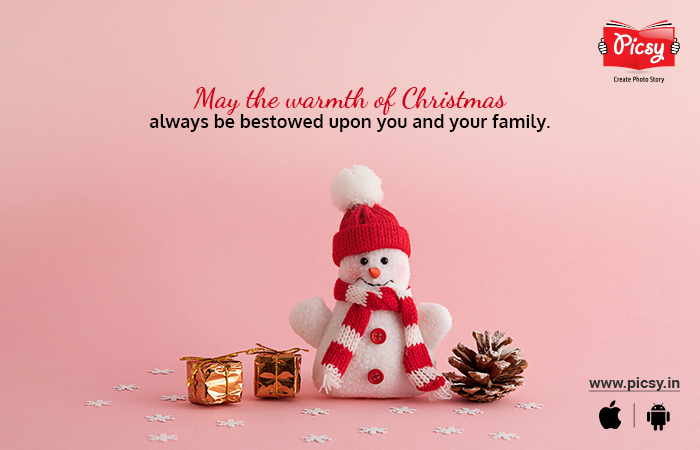 1. May the warmth of Christmas always be bestowed upon you and your family.
2. This Christmas, may the clock tick slower, and the room fills with loved ones. May the cheers of glasses and laughter get louder! Happy Christmas to you.
3. This is the chilly season that seeks warmth and togetherness. Together, let's celebrate Christmas with a smile on our faces and cappuccinos in our hands.
4. What can I ask Santa when he has already given me what I ever needed, and I never want to lose that gift? I love and miss you. Merry Christmas.
5. I do not believe in sending Merry Christmas wishes texts, but I thought, why not do something unexpected and surprising this Christmas? Merry Christmas!
6. Merry Christmas! May you always be this crazy and have the resistance to tolerate me.
7. Remember those days when we used to go out and have the junkiest street foods wearing red hats? This Christmas, I wish we get back those days.
8. No matter how far you are, you will always be my Santa. Yes, you know what that means (send gifts).
9. This Christmas, let's do something different! Why not we click a bunch of photos and get a print of the photo book online?
Merry Christmas Quotes for Family
A few Christmas wishes for family: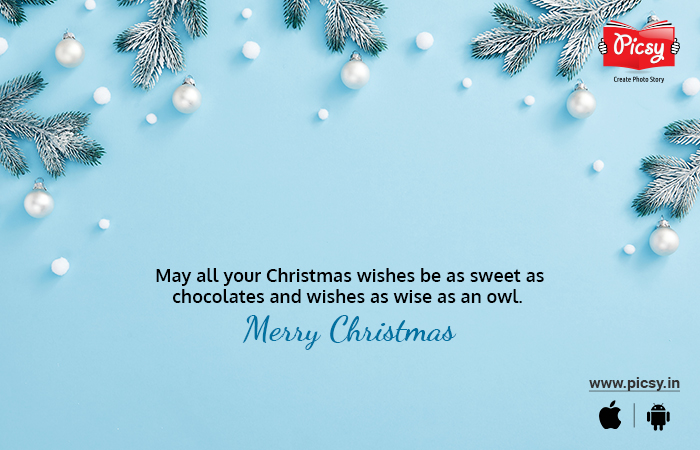 1. May all your Christmas wishes be as sweet as chocolates and wishes as wise as an owl. Merry Christmas.
2. Enjoy the sips of hot chocolate, bites of tree-shaped cookies, it is time for filling the list of gifts and wait for Santa to slip in from the chimney hole.
3. May your family be blessed with health and happiness, and you can enjoy the coming year with blossoms in your heart.
4. Merry Christmas cards are cliché. Let's roast some turkey and get everyone home this New Year.
5. May the season bring more opportunities to travel far distances this year. Merry Christmas.
6. Best Christmas wishes are those which come in wrapped color boxes and red ribbons.
Read More : Happy New Year Wishes, Messages and Quotes
Merry Christmas Literary Quotes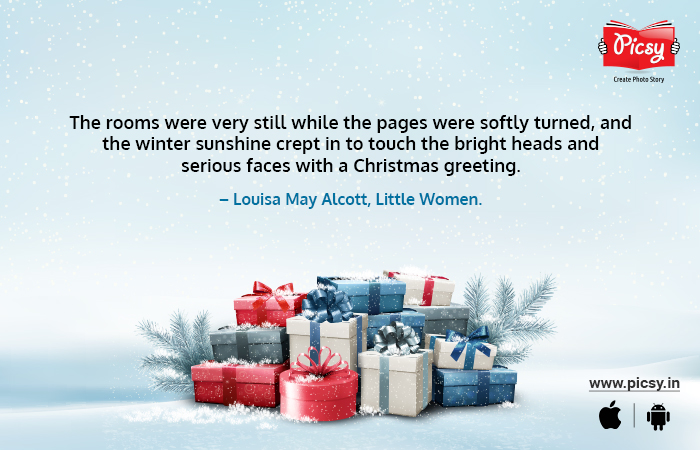 1. The rooms were very still while the pages were softly turned, and the winter sunshine crept in to touch the bright heads and serious faces with a Christmas greeting." –Louisa May Alcott, Little Women.
2. Our hearts grow tender with childhood memories and love of kindred, and we are better throughout the year for having, in spirit, become a child again at Christmas-time." –Laura Ingalls Wilder.
3. I will honour Christmas in my heart, and try to keep it all the year. - Charles Dickens, A Christmas Carol.
4. Christmas always rustled. It rustled every time, mysteriously, with silver and gold paper, tissue paper and a rich abundance of shiny paper, decorating and hiding everything and giving a feeling reckless extravagance. - Tove Jansson
5. Winter is the time for comfort, for good food and warmth, for the touch of a friendly hand and for a talk beside the fire: it is the time for home. - Stella Gibbons, Christmas at Cold Comfort Farm.
6. Our hearts grow tender with childhood memories and love of kindred, and we are better throughout the year for having, in spirit, become a child again at Christmastime. —Laura Ingalls Wilder, author of Little House on the Prarie.
7. I heard the bells on Christmas Day. Their old, familiar carols play, and wild and sweet. The words repeat of peace on earth, good-will to men! ― Henry Wadsworth Longfellow.
8. Christmas is not a time nor a season, but a state of mind. To cherish peace and goodwill, to be plenteous in mercy, is to have the real spirit of Christmas. ― Calvin Coolidge.
Common Spelling Mistakes to Avoid While Writing Christmas Messages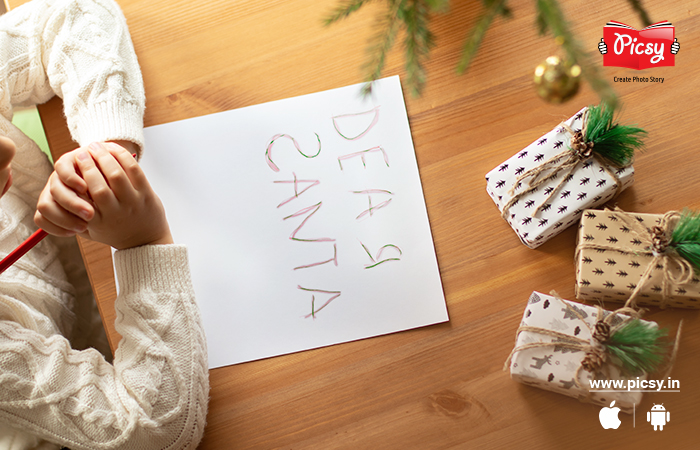 Merry, meaning cheerful, is often written wrongly. Avoid these following common mistakes:
1. Meery Christmas
2. Marry Christmas
3. Mary Christmas
The word, Christmas, too, is often spelled wrong. Avoid the following spelling mistakes:
1. Chrismas
2. Christmass
3. Cristmas
Conclusion:
With this little list of Christmas messages, we hope you can wish your loved ones. Christmas, a very special winter celebration that calls for togetherness and unity. We hope you too meet a bunch of people this season and make more and more memories - because these memories are the souvenir of your life that you can either frame in your walls with custom canvas prints or get creative with Christmas photobooks.
Are you looking for an expert to fix the idea of canvas prints? Download Picsy app! Need a photo print? We got it! Want a New Year calendar? We can get it done. Want some relationship advise? Gift a photobook! Lol! We said we are good at photo products; cracking jokes were not on the list, though. A little extra that you do out of love.
Ready to hold your memories in hand?