15 Ultimate Living Room Wall Decor Ideas
August 19, 2020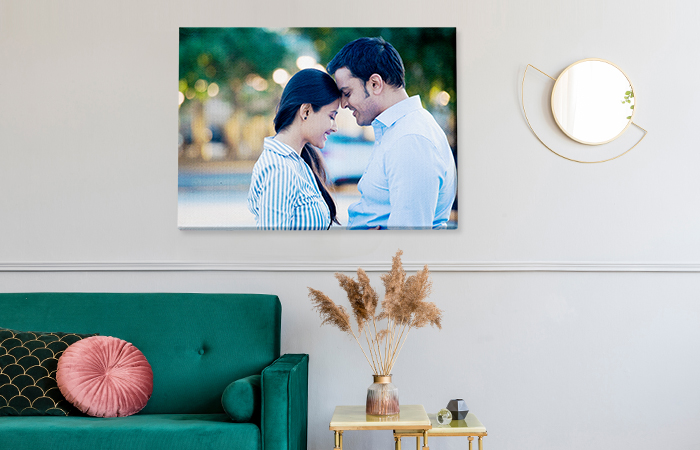 Step up the Decor of your living room with these simple yet brilliant ideas.
Picsy presents 15 ultimate living room wall decor ideas for you to jazz up your living room
Your living room is easily the most visited place in your home. Living rooms are where life happens, and that makes them special. It is where you unwind after a long day of work and also where friends and family get together to spend some quality time.
It doesn't matter what you use your living room for, entertaining guests, or lounging on your sofa, your living room decor should complement as well as augment the good energy you put out.
It is said that a living room speaks volumes about the home it is in, and therefore adding splashes of color to it will infuse its decor with your unique personality and style. So to help you on your quest to have the best living room ever, here are 15 Ultimate Living room wall décor ideas, collated especially for you.
1. Pressed plants
You can collect a few branches or leaves from your garden and get them pressed and framed to add a natural vibe to your living room.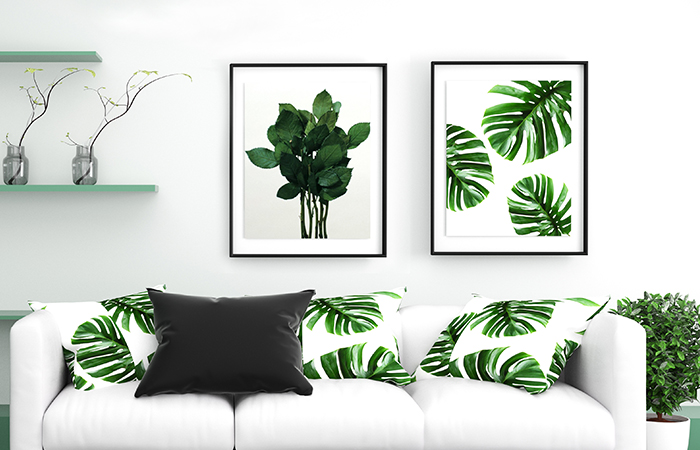 2. Postcard wall art
Postcards collected from your travels or even ones that your friends and family have sent you can be made into a beautiful collage to decorate your living room. You could also try clicking a picture of the postcards and opt for a custom canvas print.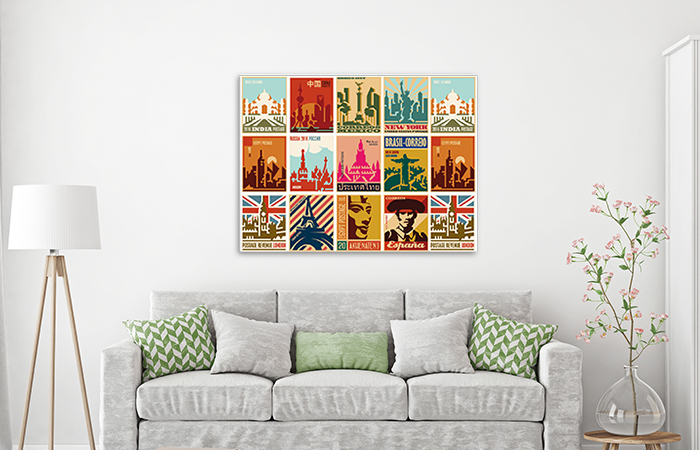 3. Landscape print
A beautiful landscape displayed in your living is a must-have. You could create canvas wall art by having the scene cut into separate canvases and left just a little apart for a subtle statement of class.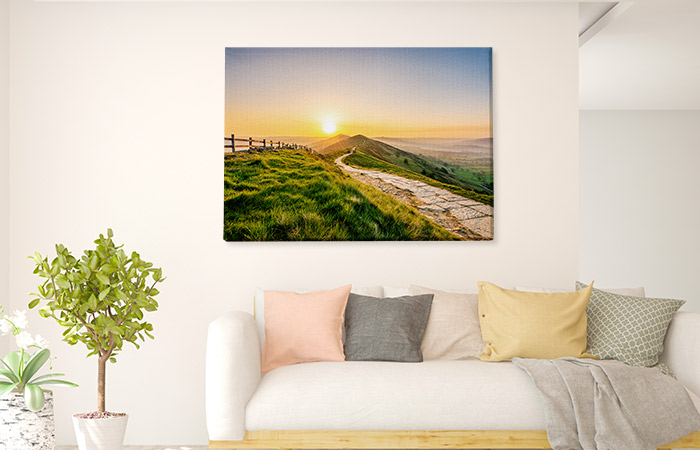 4. Water gun paintings
Your kids love water guns, and most probably, you do too. In this DIY idea, you can create a piece of art by just squirting colored water on a white canvas. If your children have already done this on paper, consider taking a picture of their work and converting it into canvas wall art.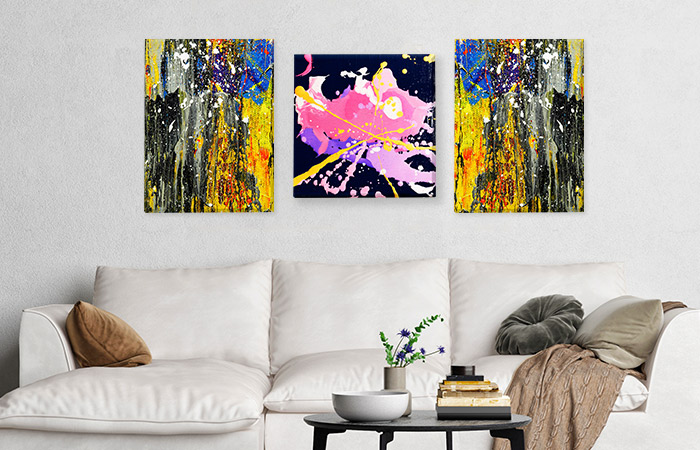 Living room décor is incomplete without memories. Hang some Vinyl Poster Frames and give your family stories a life.
5. Stencil decor-
Stencils are always fun. You can create your own artwork with a stencil and have them turned into an accent for your canvas photo wall.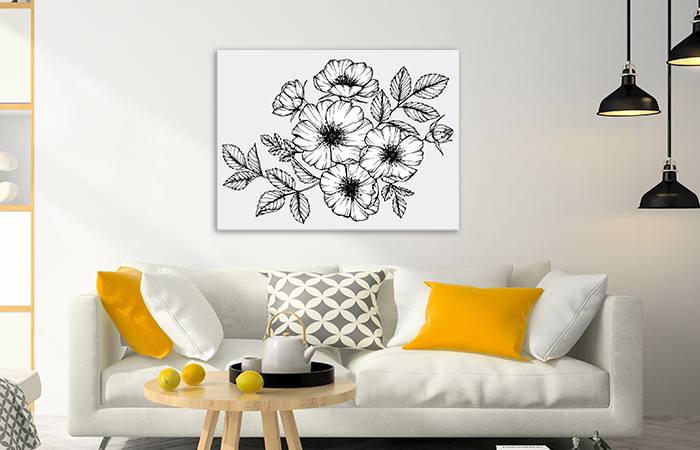 Preserve your memories with beautiful canvas prints.
6. Music sheets-
Music sheets either framed or turned into a custom canvas wall art make a superb addition to your canvas photo wall.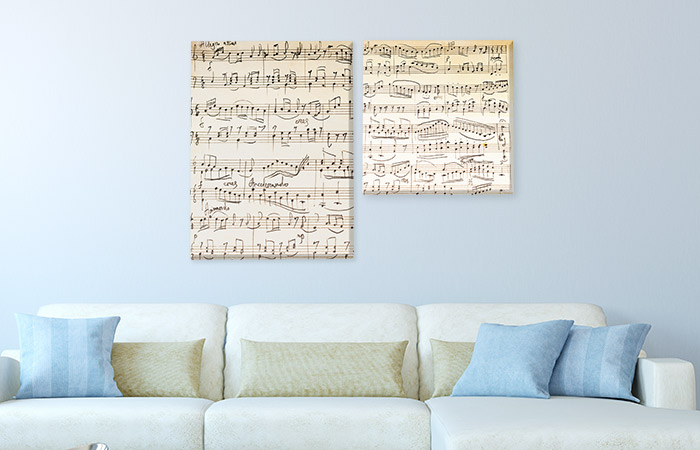 7. Family photo wall
You can add the magical ingredient of love to your living room decor by setting aside one wall filled with family photographs. These photos could either be framed or printed on canvas to create a canvas photo wall, leveling up your living room decor game.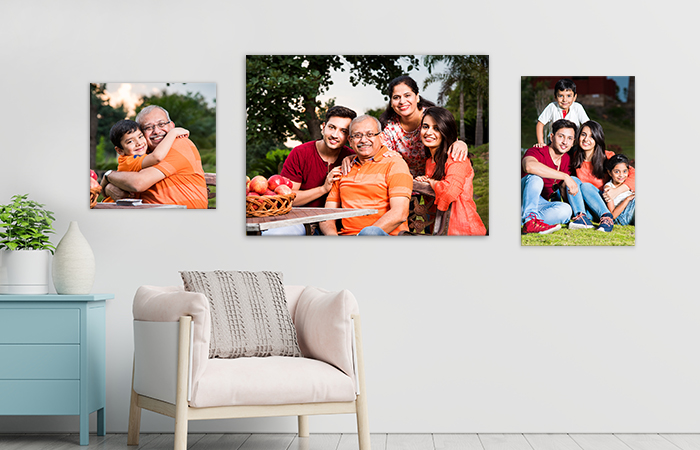 Read More : 7 Family photo wall ideas to keep you smiling
8. Washi canvas wall art
Washi tape has been gaining a lot of popularity recently and for a good reason. As a DIY decor idea you could use washi tape to create works of art to display in your living room.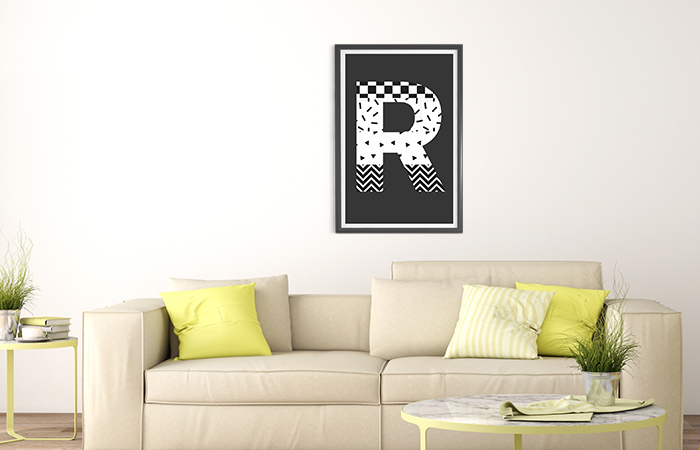 9. Drip Painting
Yet another DIY, you can create some truly stunning artwork by applying a lot of paint to a canvas and then positioning it upright without letting the paint dry. The result is a beautiful design then you can take a picture of and turn it into canvas wall art for your living room.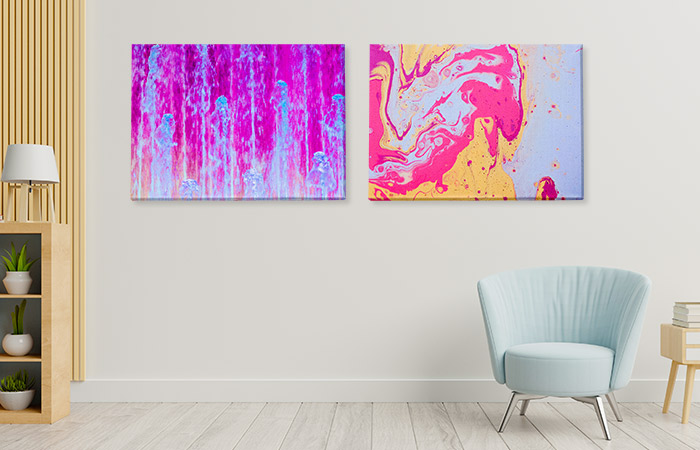 10. Family sign
You could hire a logo maker or just make one yourself of your family. It could be a shield bearing your insignia or even just a motif of a wolf (a la game of thrones). No matter what design you choose a canvas print of your family name would look absolutely breath-taking and be an excellent addition to your living room decor.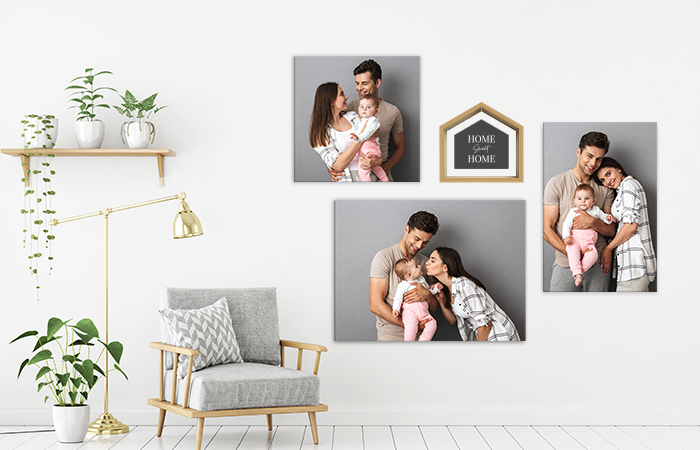 Read More : Turn Your Family Photos Into Timeless Family Canvas Print
11. Abstract photo collage
Why go for only one style when you can have many. Create canvas prints out of individual photographs or even entire collages to tell your photo story on your living room wall.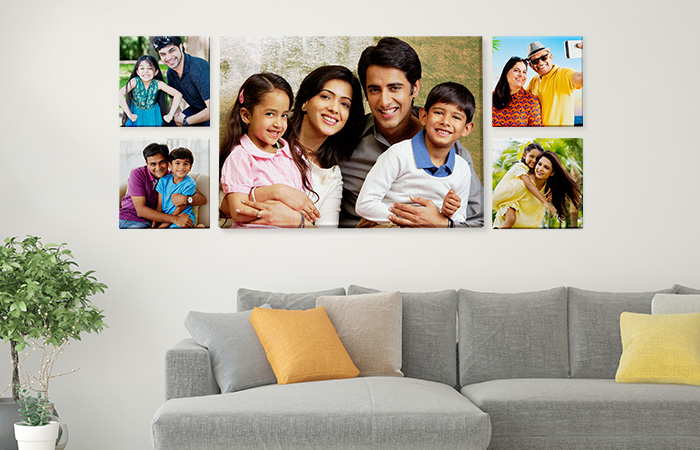 12. Beach blues
Nautical art is another fantastic art form that would make an impressive addition to your living room decor. Paint a scene your self or take a photograph of the sea and have it printed onto canvas so that you can have beach blues all year long. Try creating triplets like the idea below.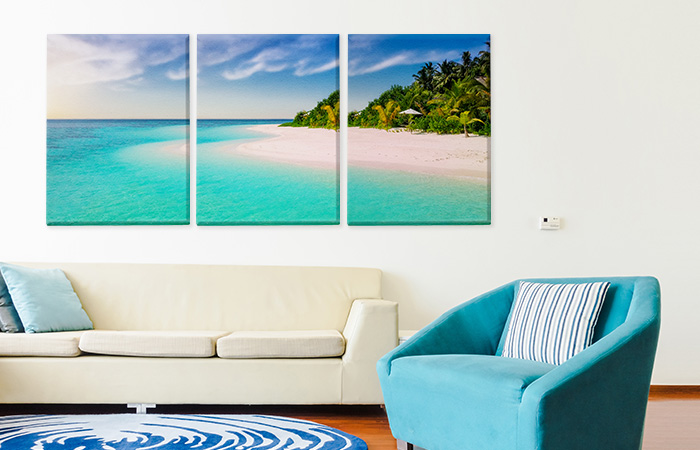 13. Junkmail collage
Junkmail isn't actually junk. Given a chance, a bit of creative wizardry can turn prints of your junk mail into beautiful canvas wall art.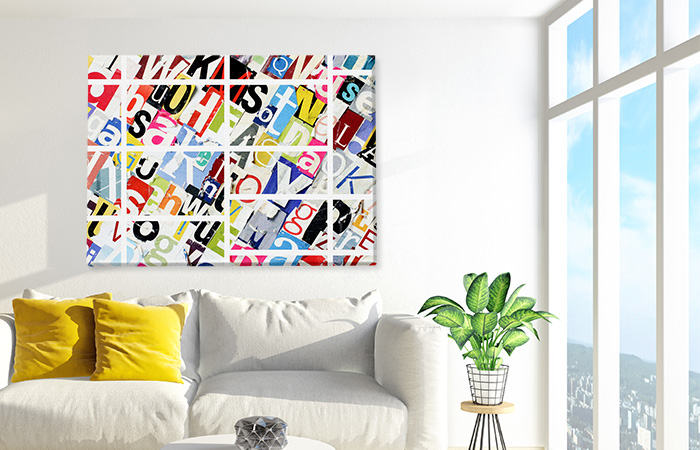 14. Sunbursts
For this home decor idea, you would have to collect quite a few bamboo sticks or twigs. Arrange them in a circular form around a canvas print or a mirror for a sunburst effect.
Create astounding space with unique wall decors from Picsy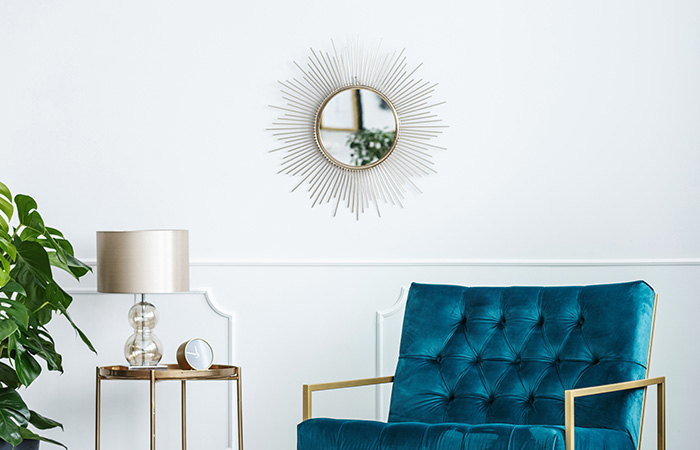 15. Furry love
How about reserving a special place for your compatriot in crime, your beloved furball. Create canvas wall art with pictures of you and your furry friend.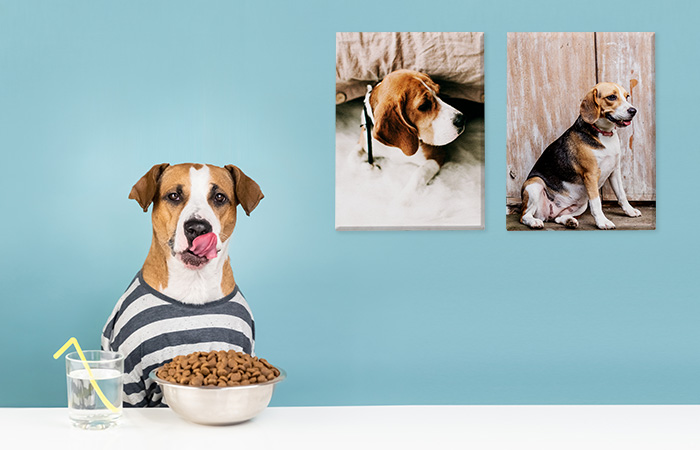 So there you have it, 15 ultimate living room wall decor ideas. All you need to do to get started with stepping up your living room wall decor is download the Picsy app, choose from our themes and layouts or create your own custom canvas prints, add your photographs, text, stickers, etc. and have the perfect wall decor piece delivered to your doorstep.
Picsy wishes you happy snapping.
Ready to hold your memories in hand?