A Guide to Photo Mounting
December 24, 2021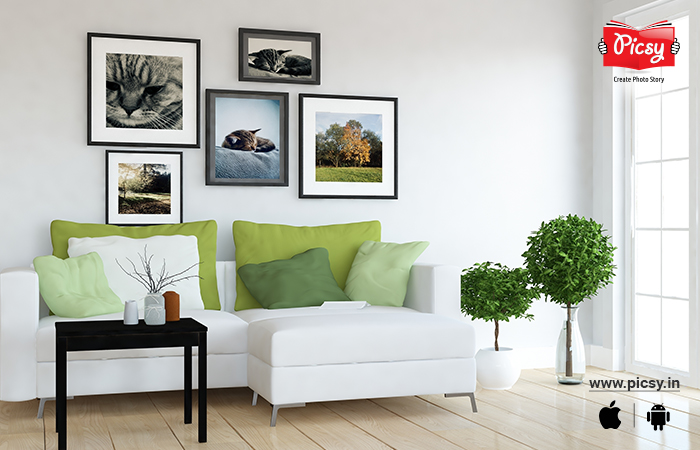 'Click,' 'Click.' In the current scenario, we all are familiar with this sound, and we all like it as well. Clicking and preserving the pictures became a part of our schedule.
And we cannot neglect the fact that we all are in love with decorating our walls. Also, if those walls include pictures, then nothing could be better than that. But do you struggle with how to use photo prints or mounting artworks in your décor? Please be eased out. We have created this guide for you to refer to while dealing with photo mounting.
Why Should You Mount Your Photos?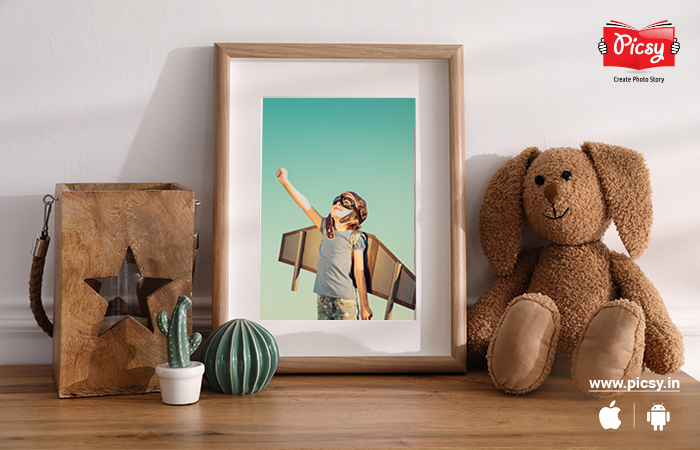 Mounting and framing the pictures gives them more displaying options rather than sticking to the conventional frames. A properly designed frame allocates a visual weight and attains the viewer's attention. Let us figure out what exactly is a mounted photo?
What is Mounted Photo?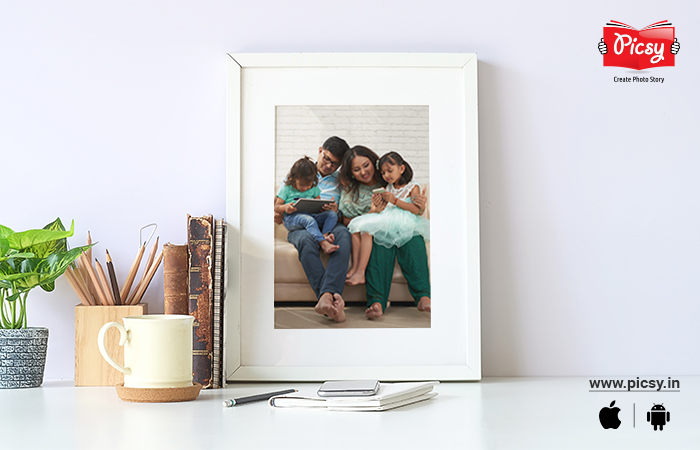 Mounting a photo implies the framed art pieces, which have a kind of card border around the art piece itself in the frame. A mount is a wonderful way to offer a breathing space between the art piece and the frame. In addition to this, it beautifies your space.
Mounting vs. Framing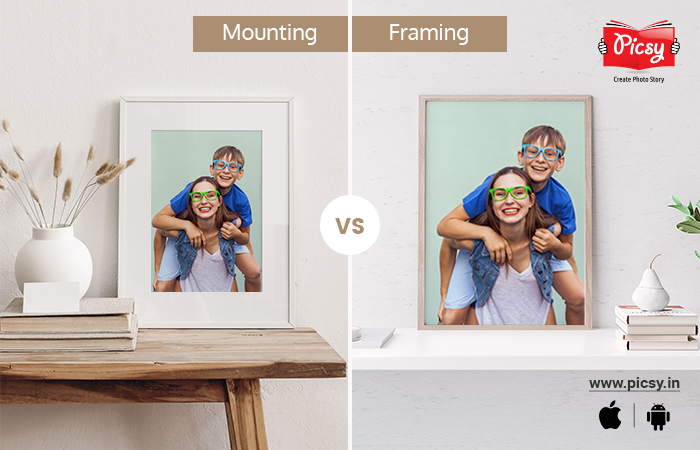 There are a few technical terms when dealing with display and mounted artwork. Indeed, there is a lot more than just stuffing a picture in a frame and placing it over the wall. Mounting and framing are two very separate terms that could be used along with each other to get a wonderful photo display.
Mounting seeks to prevent the bucking of paper a provide the mounted photo with a solid base. Moreover, a mounted photo can be conveniently tackled for matting and framing with the least risk of damaging the picture.
While on the other hand, framing is a term used to deal with materials and techniques used to protect the mounted art.
Read More : Canvas Prints Vs. Framed Prints: Which to Choose?
Types of Mounting
There are various kinds of mounting you can rely on. Let us figure out the pros and cons of each of them.
Dry Mounting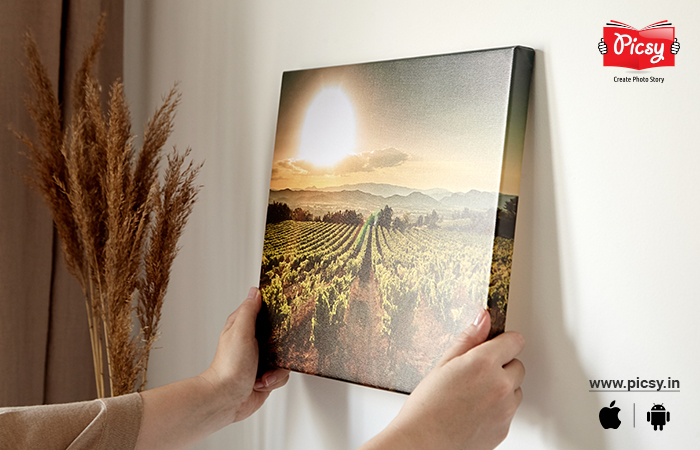 Dry mounting binds the piece of art to a firm or slightly-firm backing. It is created to be used with pictures and posters. However, it is not so suitable for fine art. One of the other ways that dry mounting could be attained is by using a heat press to affix the art piece or picture to the backing board. Nevertheless, the heat press could be great damage.
Pros: The best thing about dry mounting is it is very affordable and easy to get a hand on. In addition to this, it is available in various sizes and can fit any size photograph.
Cons: It is only intended for temporary purposes reason being the weak adhesive. Moreover, it is not efficient for heavy papers as the adhesive is unable to hold onto weighed art pieces.
Wet Mounting Technique
If you are not comfortable to use a dry mounting, try your hand on the wet mounting technique. In this technique, a wet paste is applied to the mount board prior to placing the picture.
Pros Tip: Use a solid surface to apply pressure on the picture to let the glue dry at a faster pace.
Pros: The most striking advantage of the wet mounting technique is, it is absolutely affordable, and the glue can be set within a day. Moreover, you do not seek to have any extra equipment while dealing with them.
Cons: The wet mounting technique is also addressed as non-archival, implying it is not durable and cannot sustain itself in the long run. If not done with proficiency, the glue can get over the picture.
Pressure-Sensitive (Adhesive) Mounting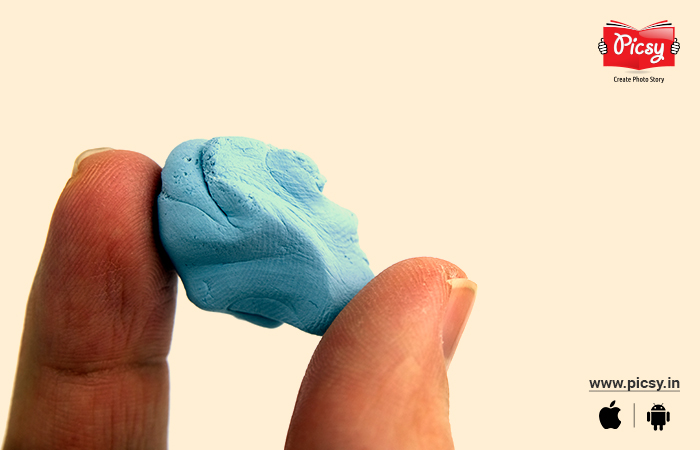 The most affordable procedure that resembles dry mounting is pressure-sensitive mounting. In addition to this, it does not require heating or any other equipment due to which the picture could be damaged. However, this procedure uses products like Perfect Mount from Crescent, which possesses a unique adhesive that does not activate till you apply pressure on the picture.
The moment you take off the protective paper from the glue and place the picture in the manner you want, just apply pressure, and the picture gets placed. But ensure to make use of the protective paper from the glue while applying pressure to safeguard the picture.
Float Mounting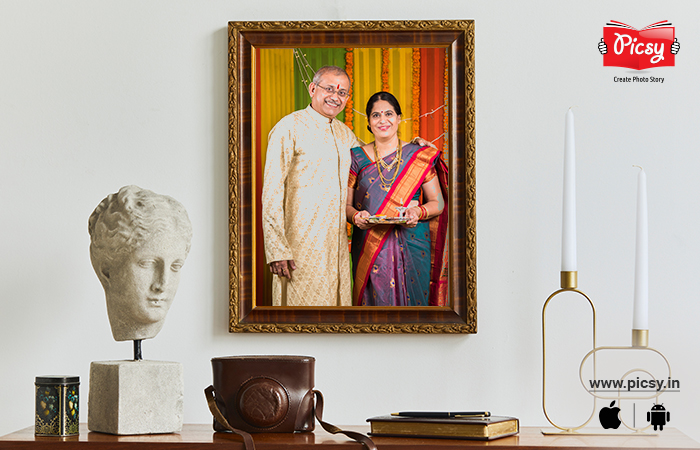 The image appears to be hanging over the mat in the float mounting instead of peaking. It becomes beneficial for the photograph with textured edges. This procedure focuses on adhesive hinging tape placed behind the image. It holds the image and can be removed later if not required.
Pros: Float mounting takes the heart away when dealing with textured paper, edges, or old photographs. It will protect the image from the back, and you also have the option of conveniently removing the image if you opt for a different mounting method.
Cons: It is quite similar to conservation mounting, but the procedure might take quite long for it to function as compared to various other methods.
Looking for a canvas floating frame to mount in your space? Order now!
Spray Adhesive Mounting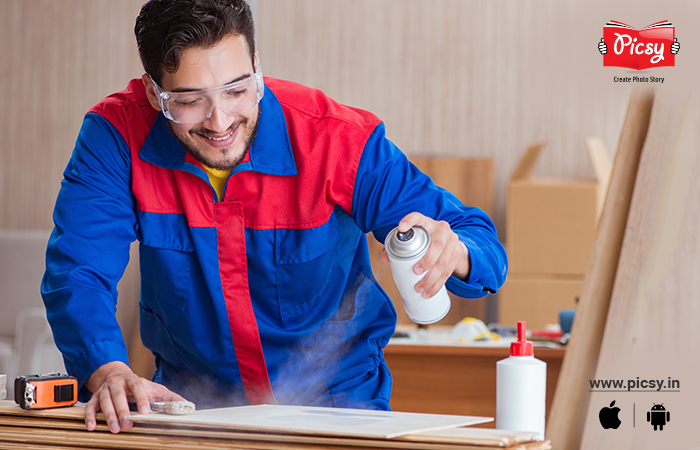 If you seek to opt for a better alternative than wet mounting, then spray adhesive mounting should be your choice. All you have to do is position the picture upside down and simply spray the adhesive over it.
Be a bit cautious and spray the sides, tops, and bottom edges of the picture prior to positioning the mount board. Once it is placed properly, you can smoothen the edges quite carefully.
Pros: The greatest advantage of spray adhesive mounting is it helps to minimize waste, but the amount of spray used for the same is a little difficult to measure. In addition to this, it is quite a portable option to go for because of its cylindrical packaging.
Cons: At times, it gets a little troublesome to reposition the picture once it is placed. Moreover, it is not feasible in the long run. Not only this, it requires a properly ventilated area to get better results.
What are the Uses of Mounted Prints?
There are indeed some uses of mounted prints. Let us figure out how to use them.
Wall Décor at a Rented Place: The rules and regulations are quite distinct for every rented flat; usually, the landlords do not permit holes on the walls. In such cases, picture frames come into play as a wall décor. They are lightweight, so you can place them with the help of hanging strips. Moreover, they are convenient to relocate when required. And they do not leave any trace of holes on the walls as they are hung with the help of strips.
Office Décor: Nobody prefers working in a monotonous environment, and if you seek to amplify your space, then try your hand at design framing photos. They are extremely convenient and can easily be modified if you get bored of the same art piece.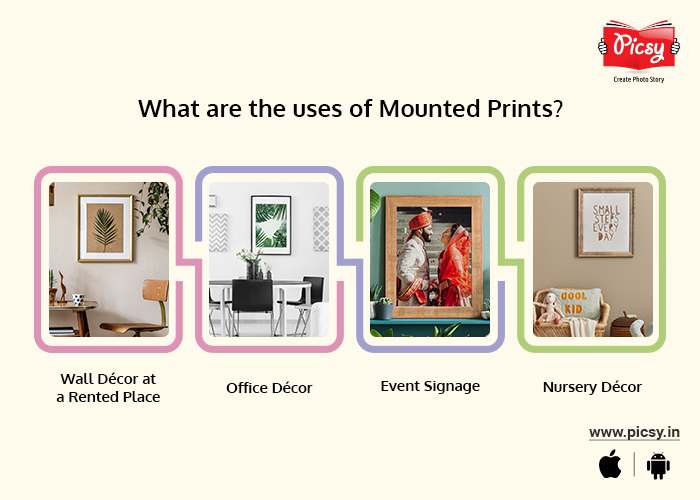 Event Signage: You can use the photo mounting as a collage at your wedding ceremony or any other occasion you are celebrating.
Nursery Décor: If you are planning to decorate the living room of your younger one, then mounting a photo is the best choice. They are light weighted and firm, and you do not have to worry about these mounted pictures falling apart.
Conclusion
Woohoo! You got the hang of the trick of dealing with photo mounting. Mounting the photo will surely take the look of your picture on a higher pedestal. As you are already excited to revamp your space with mounted art pieces, please get in touch with a reliable company that is known for serving the best personalized photo prints.
If you are wondering who offers the best services related to pictures, then the answer is Picsy. Please allow Picsy to serve you. To get your photos mounted with utmost proficiency, please download the Picsy app and experience the appropriate usage of equipment at pocket-friendly prices. Not only this, Picsy delivers the product to your doorstep. Sounds exciting, right. All you have to do it download Picsy and it will tackle all your photo-related concerns.
Ready to hold your memories in hand?