Stunning Couple Photo Album Ideas for 2023
February 21, 2022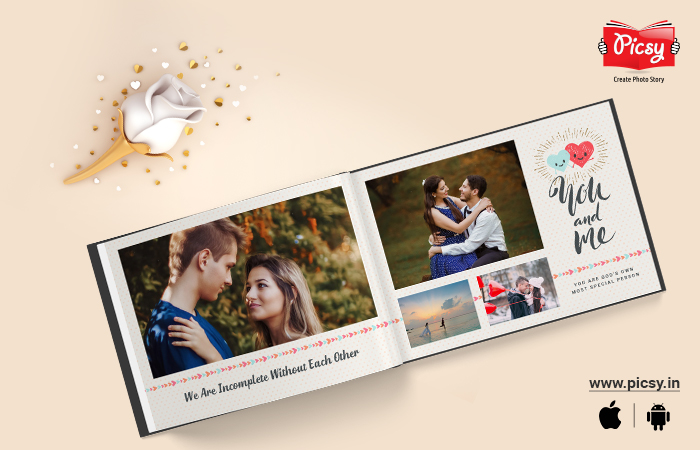 Planning is vital to any great photoshoot, and having a lot of couple portrait thoughts will assist in guaranteeing your meeting runs as flawlessly as could be expected.
To help you break out of a hopeless cycle or find something fresh to try, here is our list of couple photo album ideas to consider. They'll get your creative juices flowing and inspire you to come up with new ideas for couple photography. So without further ado, let's get to it!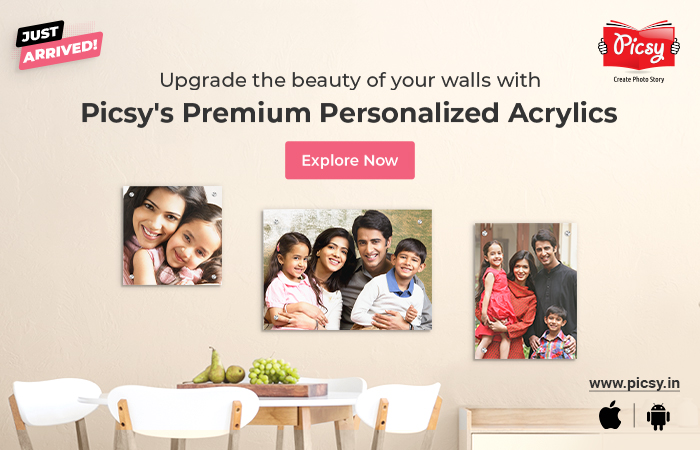 14 Amazing Couple Photo Album Ideas
Now that you are here, let's get down to flexing our creative muscles. Here are 2022's top couple photo album ideas to create a truly memorable flip-through experience.
1. Team Work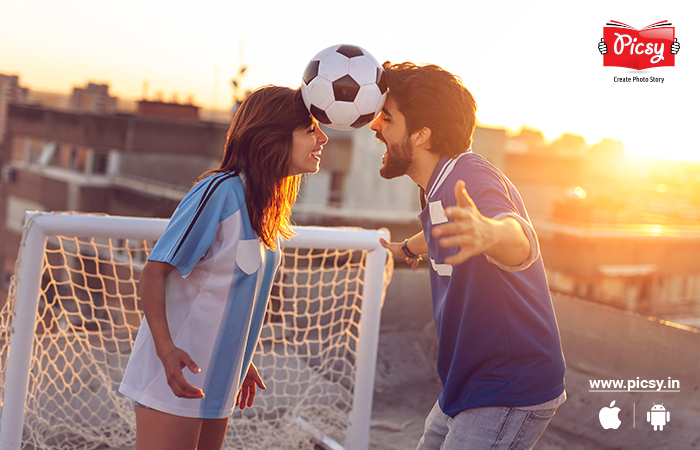 As a couple, you surely have your favorite team. Take pictures of you and your significant other dressed in your favorite team outfits. Be it Manchester United or Chennai Super Kings; this couple photo album idea is a baller! You can also include more family members. Everyone should be positioned close to one another, with those on the outside facing inward. Youngsters can either stay on the ground or be held in the arms of an adult. This is one of the best couple romantic photo albums ever.
2. Interesting Backdrops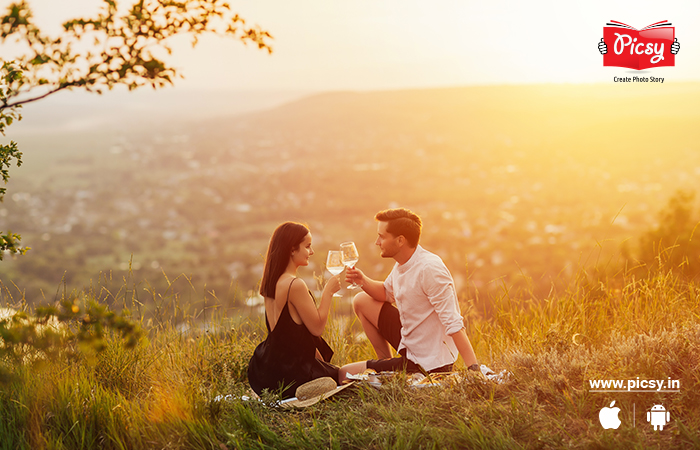 The focus of your couple photos should always be on the people in them, but if you find up dealing with repeat customers, this might help you make better use of different regions. Changing the style and feel of your backdrops and other sceneries can leave a lasting impression on your clients. This is one of the fundamentals of couple photo album design.
3. Hugs and Kisses XOXO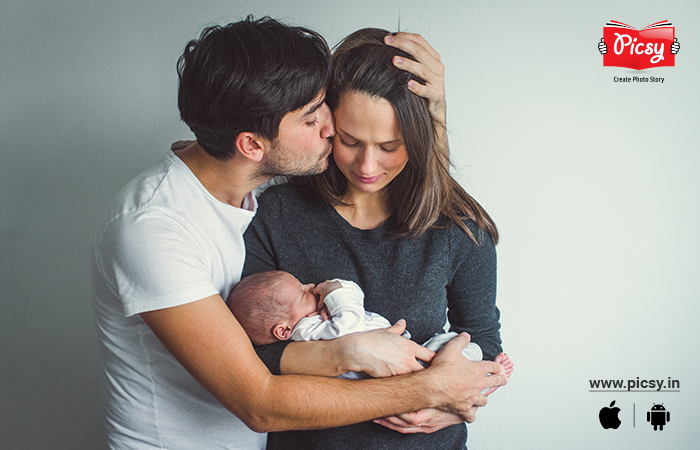 Couple photographs should be a celebration of Love and adoration. So that everyone is near to one another, arrange for the kids to cuddle up with their parents. Let the couple and those who see the images remember the Love that cannot be contained in a picture. This is one of the most cute photo albums for couples.
True love stories never have endings. Tell yours with Picsy's Love Tales Album.
4. Going For a Stroll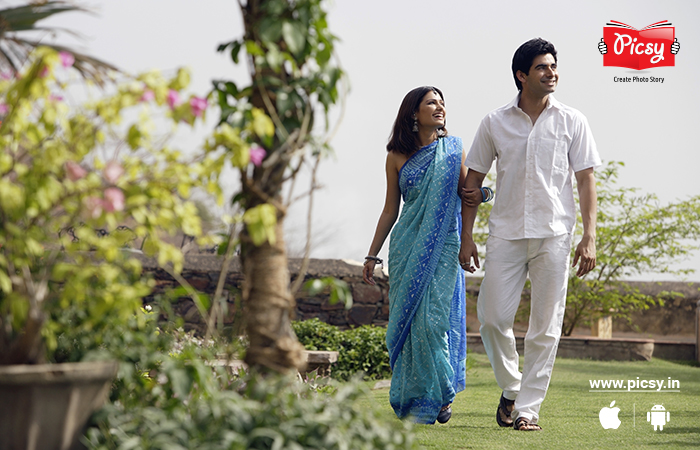 Remind the couple to keep their distance, form a line, and walk slowly toward you. Many reasons make this a standout shot. Families, on the other hand, adore it. You can take photographs from wide as well as close angles. Rest assured, this personalized couple photo album idea will make headlines.
5. Exhibit a Variety of Ages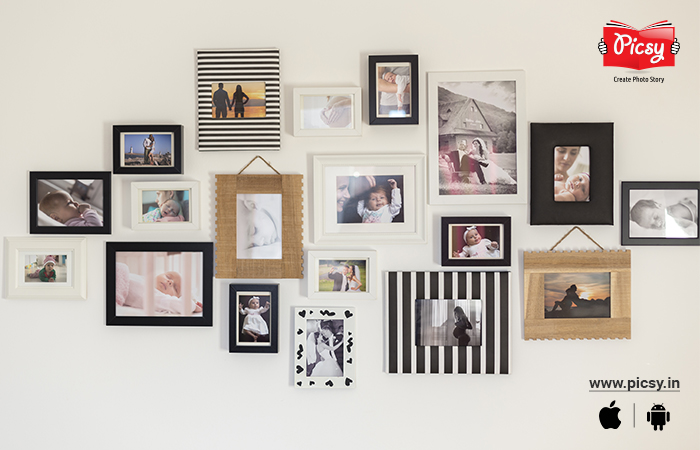 It's a good idea to include the oldest couple and their brood at least once during a multigenerational couple portrait session. Put the oldest couple at the center of the room, surrounded by their children, grandchildren, and other relatives. Those who look at the photo afterward will notice an immediate sense of closeness and couple ties.
6. Portrait Photographs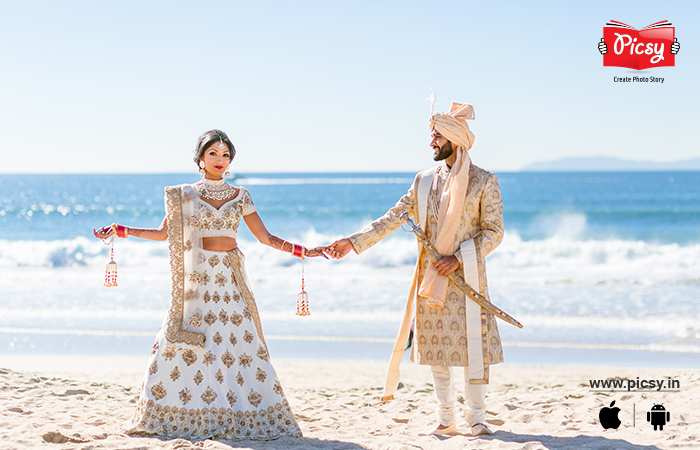 Even while a single headshot isn't quite the same as a couple portrait, a collection of headshots might do something truly remarkable. Portraits are lovely ways for the couple to remember how they looked the day they married, a memory that will last for a lifetime.
7. Gangs of Girls Vs. Boys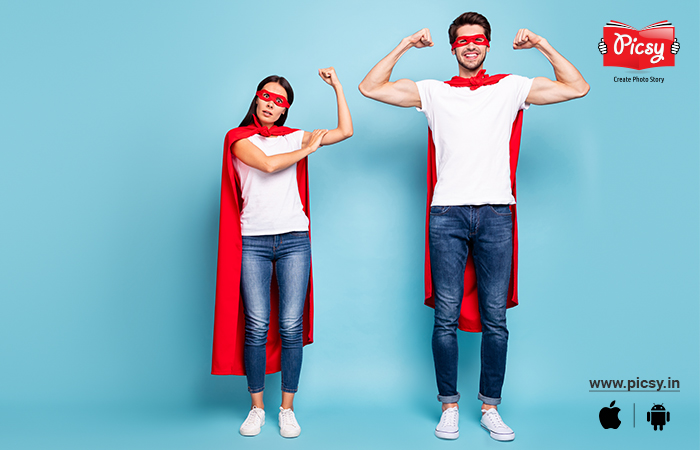 The act of assembling both sexes is very novel and noteworthy. It's a tried-and-true formula for progress – one that your clients are unlikely to consider in advance but will appreciate greatly in the long run. Set up all of the women and put in some effort first, and then move on to the men. Have them pose super-hero style, ready for action!
8. Demonstrate a Sense of Cheer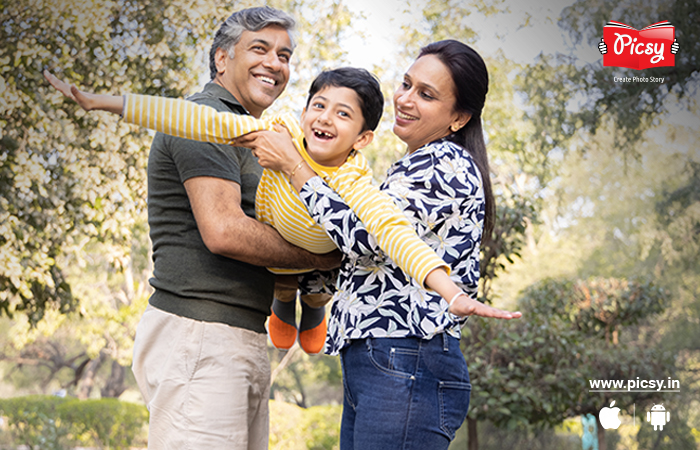 Children like laughing, playing, and running about. Allow your clients to have a good time with the kids around as you temporarily reposition your stance. When it comes to small children, this works perfectly; parents simply grab them, swing them around, and have a good time taking part in the activities of the day.
9. Create a Photo Seat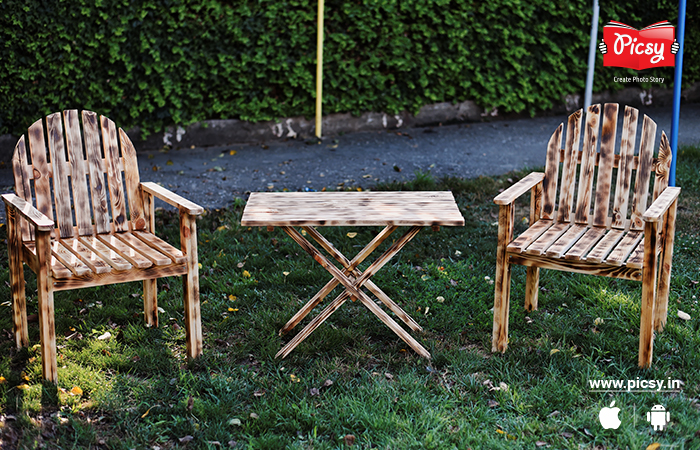 A regulated studio environment allows you to do this without difficulty. However, if you enjoy shooting in the great outdoors, you may not be so fortunate. Fortunately, all you need is a few simple pieces of wood from a home improvement store, a few tools, and a few spare hours to build your own photo chairs. Have the newlyweds grace the love seat with their friends and family standing around them.
10. Afternoon Tea with Dad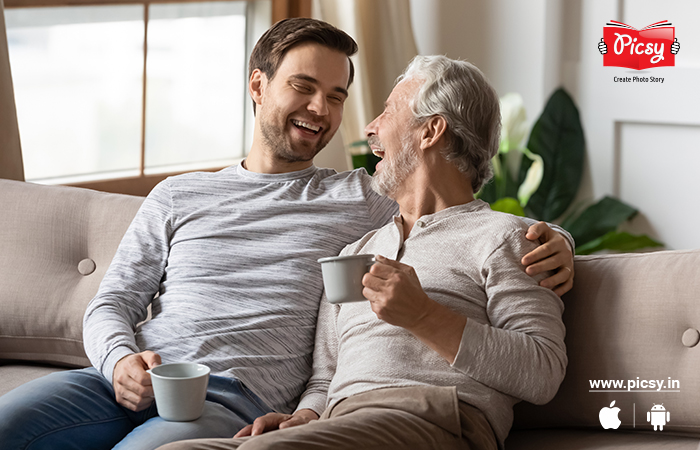 A couple photoshoot at Dad's place of employment could be a great idea, no matter what he does. It's a rare opportunity to catch a second that's both sentimental and rare.
11. Everybody's Feet in a Couple Photoshoot!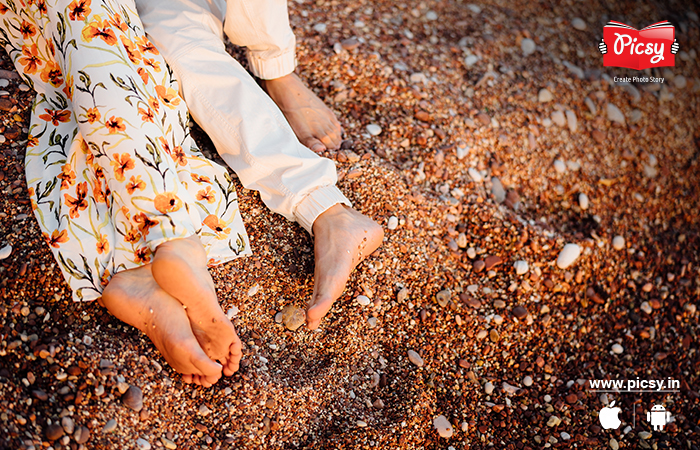 Get close to the feet of the couple to get a unique take on the superb couple representation. You could also bring in the rest of the family. Even the tiniest child toes have grown, in our opinion.
12. The Levitation Couple Photoshoot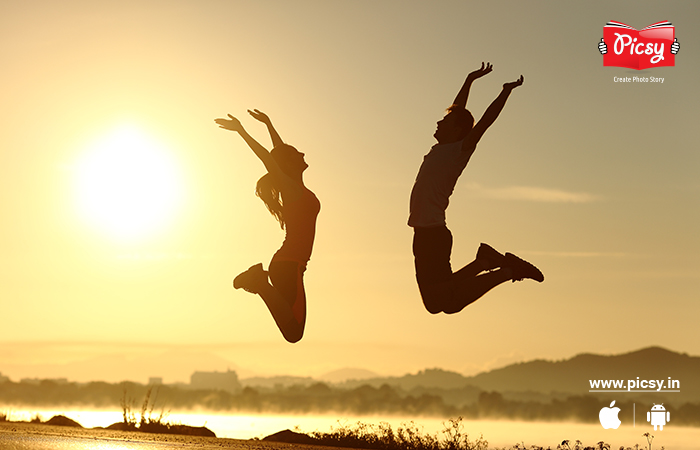 Ask the couple to jump in the air while you take a series of shots in burst mode. Look through your gallery, and you are sure to see a few images which look like the couple is floating above the ground. Love does give you wings!
13. Couple Portraits in the Stormy Weather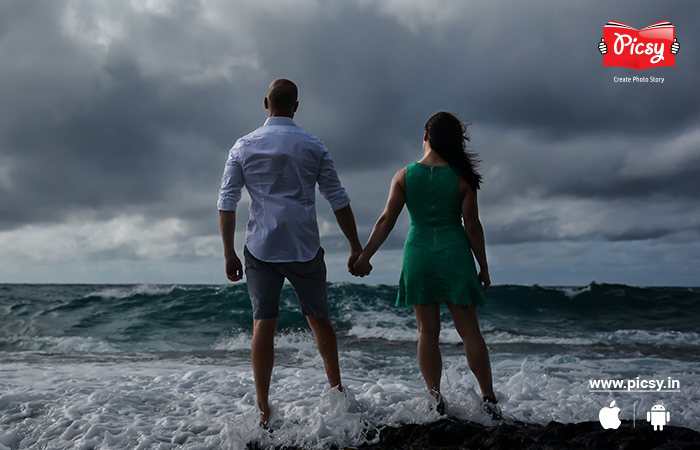 When it starts raining, grab your camera! There will be a plethora of incredible opportunities to snap photos as soon as the rain starts to fall.
14. Couple Photoshoot with Fairy Lights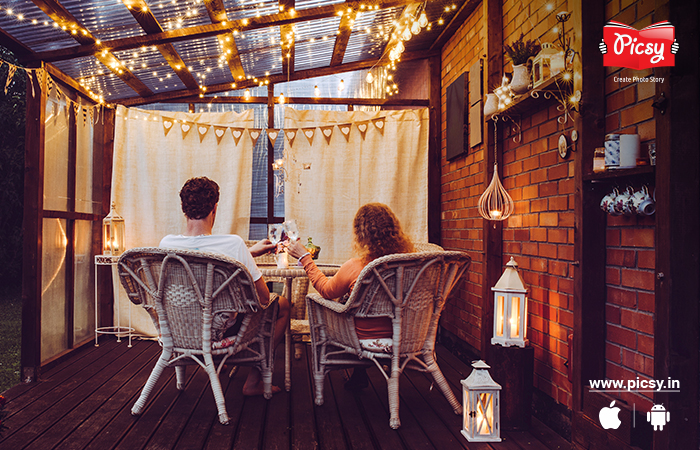 It's possible to have a great time while capturing some absolutely stunning images during a session. When it comes to couple portraits, fairy lights are a go-to accessory because of their magical appearance.
Turn your romantic memories into canvas prints. Download Picsy App to get started!
Cute and Romantic Titles for Couple Photo Albums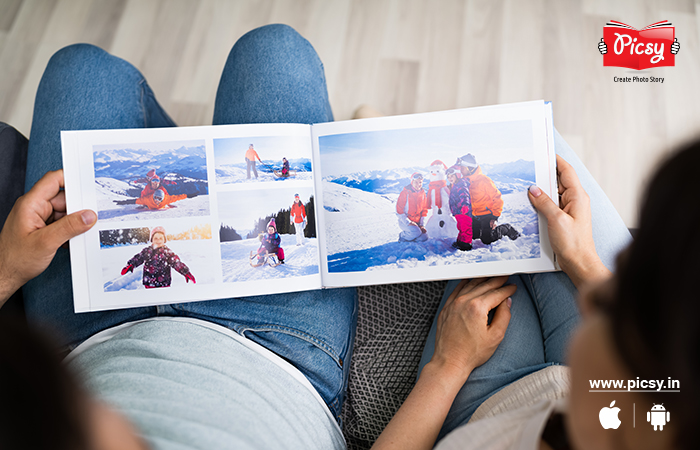 Now that you have created your couple Photo Album, it's time you give it a name. here is our list of photo album title ideas for couples-
1. His and Hers
2. Sweethearts Forever
3. Friend's Turn Lovers
4. Meant for Each Other
5. Forever Love
6. The Dynamic Duo
7. Beautiful Beloveds
8. Couple Dreamz
9. Dearest Darlings
10. Dainty Lovers
Romantic Quotes for Couple Photo Albums
Wedding photo albums with inspirational phrases in them are always a welcome addition. Add your wedding invites save the dates, and other mementos to your wedding album for a more vivid recollection of your big day. Here is our list of romantic love quotes for your couple photo album: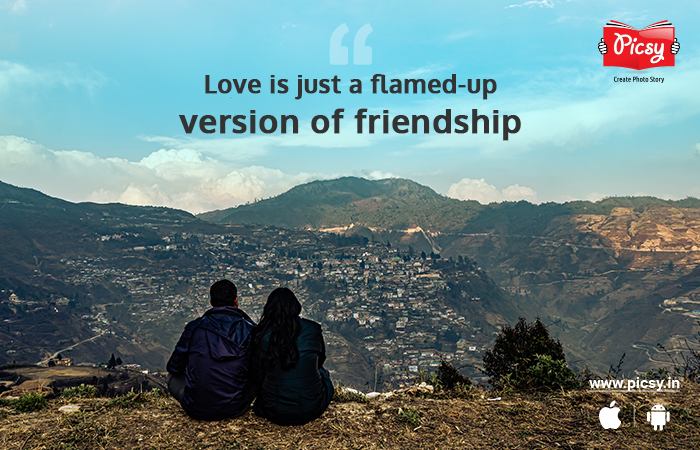 Love is just a flamed-up version of friendship.
I don't believe that Love is what keeps the world turning. Love is what keeps the journey interesting.
Love is a verb, not a sensation; it is caring, sharing, assisting, sacrificing, not just a noun.
A human giving that "borders on the miraculous" is to be totally seen by someone and to be loved no matter what.
"Despite the obstacles, it arrives at its destination with a sense of optimism."
It takes guts to Love someone profoundly, but it takes strength to be loved deeply in return.
Bravery comes from a person's loyalty and devotion to a cause. Having an attitude of self-sacrifice is a byproduct of bravery. Trust in Love's power comes from a spirit of self-sacrifice.
In the same way that two chemical compounds react when they come into touch, two people's personalities are modified when they meet.
In exchange for holding your hand, I can rule the globe with one hand.
You should be grateful for whatever sort of genuine and true Love that you come across because you never know when you'll find it again.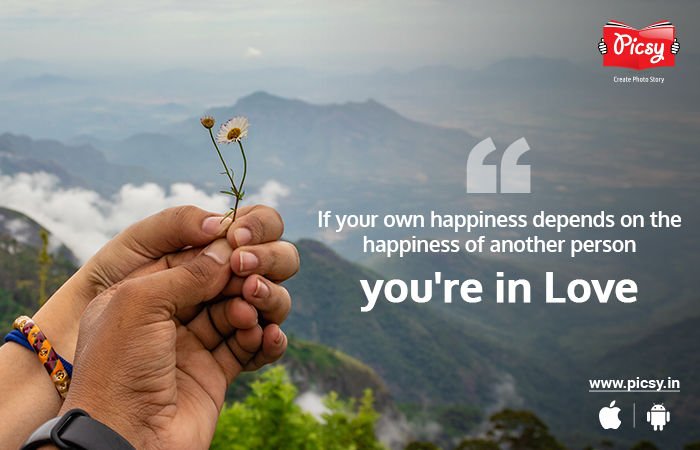 If your own happiness depends on the happiness of another person, you're in Love.
You have my undying affection because of who you are, what you've been, and what you will become.
Love is more than just infatuation. It is the want to feel entire, safe, healed and connected to another person, heart, and soul.
That's where I want to be all the time: Walking with your hands in mine and mine in yours is exactly where I want to be.
When it comes to love, "staring each other in the eyes" isn't enough.
Teamwork is the foundation of all successful relationships. This relationship is built on mutual trust as well as a good dose of admiration and elegance.
Getting married is like having a steadfast ally by your side all the time. It feels infinite, not constrained.
There are times when a new person enters your life, and you don't know how you ever lived without them.
As a poet once said: "Love isn't like a stone; it has to be made, like bread; remade constantly, made new."
What makes a good marriage great? Giving a little extra every day, as often as possible, for the rest of our lives together.
When two flawed people refuse to give up on each other, they have found a wonderful marriage.
A happy marriage necessitates falling in Love multiple times with the same person in order to be successful.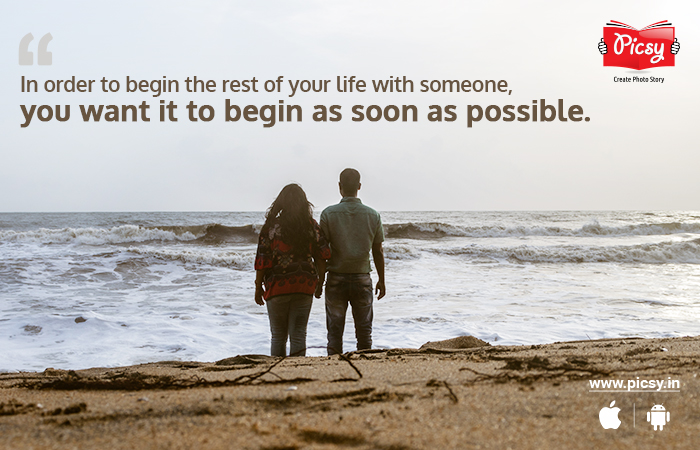 In order to begin the rest of your life with someone, you want it to begin as soon as possible.
In the end, "marriage is a process by which two people become passionate friends."
I pray that this marriage will be filled with joy and happiness and that our days together will be spent in paradise.
It's true that "to the world, you're just a guy," but to one individual, you're "the whole globe."
What a blessing to have something that makes it so difficult to say goodbye.
I only want to be with you two times in my life. At this time and in the future.
And then, all the love songs began to sing about you.
You are something between a miracle and a dream.
In order to experience the sun from both sides, one must be in Love and be loved.
The most important lesson you'll ever receive is "to love and be loved."
In the end, our Love cannot be quantified; it just is.
In order to win her over, they advised me that I needed to make her laugh.
In the end, I didn't want to grab her heart; I wanted to run with it and set mine free as well.
He wanted to spend the rest of his life finding the answer to one simple question: "What was it like to be a boy in Love?"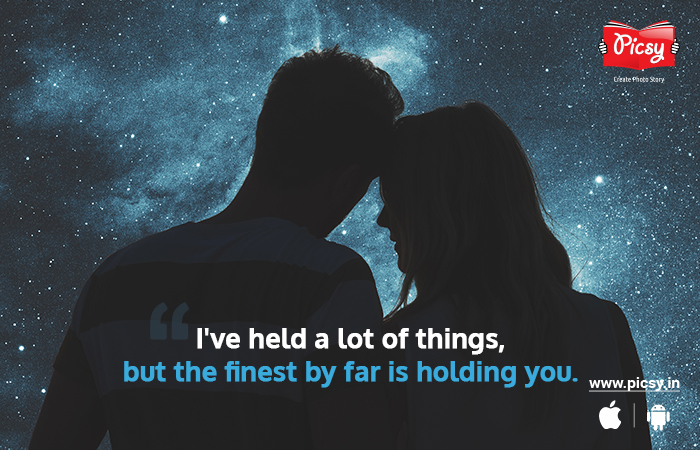 I've held a lot of things, but the finest by far is holding you.
You are the one girl who convinced me to put my life on the line for a better future.
Thanks to you, I'm gradually becoming the person I've always wanted to be.
What a wonderful woman you are; you've earned the right to a beautiful existence.
Since the universe worked together to bring us together, I love you.
When you slowly drift off to sleep and then wake up, that's how I fell in Love.
You're more than a person to me; you're my person.
Happiness is being loved by anybody and everything you care about.
What makes someone special to you isn't what they look like or what they wear; it's the melody that only you can hear.
How to Make a Romantic Couple Photo Album with Picsy?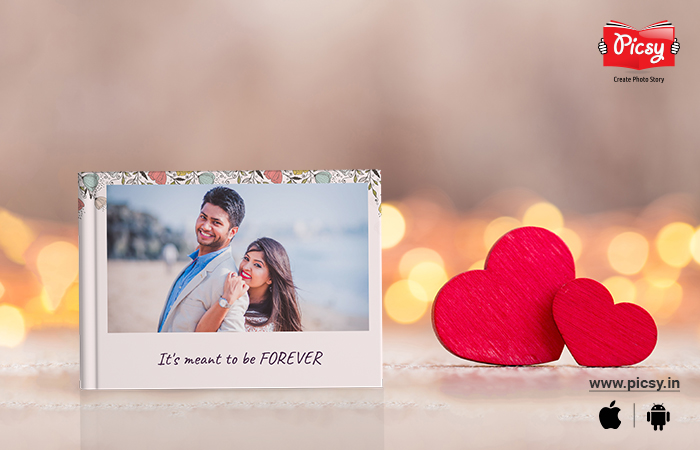 How to produce a couple photo album with Picsy. So, you have chosen to give Picsy a go. Good pick! Now let's find out how you can produce an amazing printed photo album using the Picsy app straight on your phone. Get started on your DIY couple photo album here-
1. Decide On a Theme
Not only does your relationship photo album need an organized beginning, middle, and end, but it also needs to focus on a specific subject. As previously said, Picsy offers a wide variety of designs and themes that you can incorporate into your photo album creation process.
2. Transfer Your Photos
You now have a theme to work with. In the following stage, you will choose the best images from your phone's photo album. You might also enlist the assistance of your friends and family members while you go through your photographs.
It can be a little intimidating to narrow down your choices to only the best images, but trust us when we say that it is the most enjoyable part. Remember to include everyone with whom you shared those special moments in your wedding photo album.
Read More : Tips and Theme Ideas to Create the Best Wedding Album
3. Incorporate a Personal Touch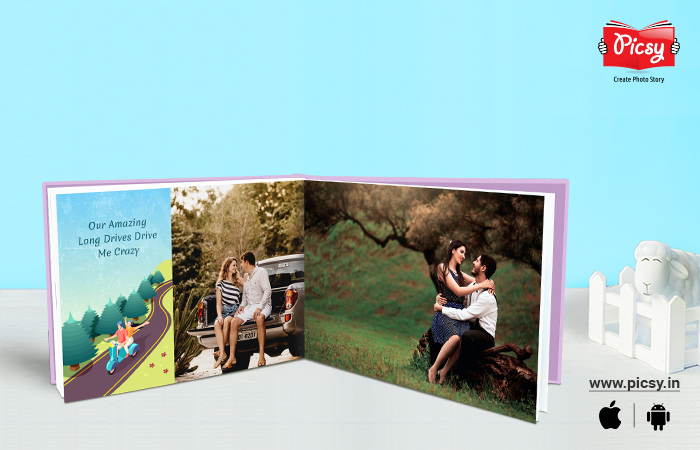 Make a choice from among the themes and templates that are available, or design your own from the start. With so many customization choices available in the Picsy app, you'll be able to create a photo album that is completely yours. Create a personalized photo album book for your child by adding embellishments such as text bubbles, quotations, and remarks.
4. An Examination of the Purchase
Finish with a final double-check to ensure that your romantic photo album is precisely how you had envisioned it when you first started the project. To place an order for your photo album, simply add it to your shopping cart, enter your shipping and payment information, and you're finished! You are completely prepared!!
It's Time to Wrap Things Up
That concludes our list of fantastic poses for couple photos. Using Picsy, you can now make a beautiful couple photo album online that you and your couple may cherish forever.
Create the ideal couple photo album or photo prints in just a few clicks with the Picsy app. Don't overlook our selection of couple photo calendars if you're seeking other personalized photo items. Have trouble coming up with new concepts? Our photo album maker app is jam-packed with inspiring ideas and a large selection of photo gifts that may be customized just for you. Are you ready to get started? Now is the time to download the Picsy app and start using it!
Ready to hold your memories in hand?