Children's Day Celebration Ideas You Shouldn't Miss in 2022
November 08, 2022
The best thing about children's day is that it takes us back to the golden period of our lives—the time when we were the happiest and carefree. Yes, you definitely guessed it absolutely right; it is none other than childhood. And as kids, children's day held great importance for us. But as grown-up adults, we seek to make this day special for the little babies.
But if you are in a situation struggling with how to make it memorable, please don't fret. We have chalked out this write-up to take you on this journey of making this day all the more special.
When is Children's Day and Why is it Celebrated?
Children's day is celebrated on 14th November every year in India. Another name for this fun occasion is 'Bal Diwas,' as it is specifically devoted to the children. The day is famous, and children celebrate it as a Happy Children's Day. It is celebrated to commemorate the birth anniversary of the first prime minister of India, Pandit Jawahar Lal Nehru. He held the perception that children are the foundation of society, which is why they should be provided with a positive environment so they can excel in their lives and make our nation proud. He also believed that these young minds are the future of our nation.
Children's Day Celebration Ideas
Whether you are a teacher or a parent, you would surely want the children to feel that you love them unconditionally. And it is the perfect time to make them feel special and let them know how important they are to you. So, seize this opportunity to make them feel special. Let us familiarize ourselves with the latest children's day celebration ideas.
Acknowledge Them
One of the easiest yet most wonderful ideas to make the kid happy is by acknowledging them for being good babies. The best way to do that is to engage in a conversation with them and start pointing out their positive points. It will make them feel really special. In addition, click multiple pictures so you can use them later as well. If you wonder how to click beautiful and fun shots, then you can seek guidance from kids photography guide .
Dance Party
Who doesn't like the party? But if you have been someone who has been asking your kid to dwell and focus on their studies, then let children's day be the appropriate event to shower them with the love you have for them.
So, this children's day, surprise your kid by throwing a theme party. And do not forget to invite their best friends and treat them with a splash of delicious delicacies. Create a whole vibe for the party, and your kid is surely going to love this surprise.
Children's Day Gift Ideas
Children's day has almost approached, and it is high time to select the gift if you haven't decided on one yet. But it may turn out a bit confusing as to what could be the best gift you're your kid. So, ease this task of yours, we have chalked out this list of interesting children's day gifts that you can use to surprise your offspring. These gift ideas are not curtailed to children's day, you can even use them for the daughter's day celebration as well.
A Customized Photo Book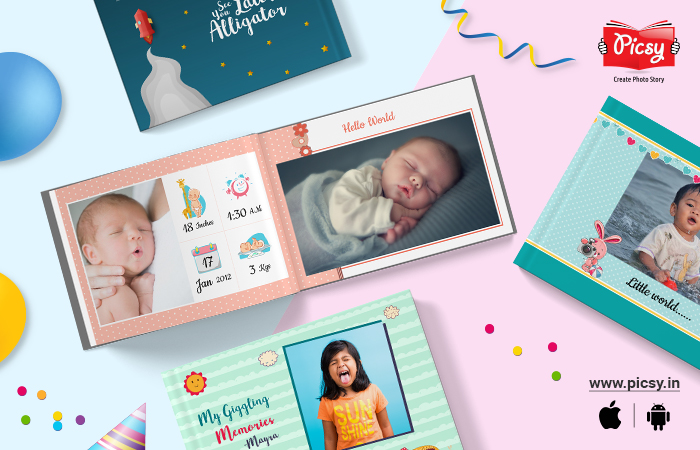 If your kid loves to travel down memory lane and relive the best memories of life, then a kids photo album will do the justice. Surprise them with a collection of beautiful childhood memories packed in a treasure booklet that is a customized photo book So, when they flip through its pages, they will be reminded of your love for them. You can even create a series of journeys elucidating the journey of your kid from birth to teenager.
Vinyl Poster Frame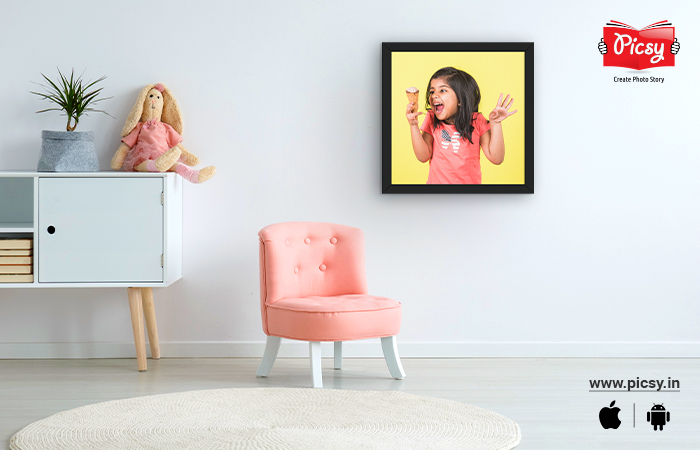 If you wish to induce a flair of positivity in your child's life, then it is indeed a great idea to incorporate a vinyl poster frame .Their durable nature allows them to stay for a longer period of time. You can include pictures of your child's first attempt to walk or even the time when they performed for the first time at the annual function of the school. They can place them in their bedroom, and it will be the first thing that they will notice when they wake up. This way, they can relive their best childhood memories.
Let Picsy serve you with the best-quality Vinyl Poster Frame!
Take Them Out for a Picnic
The favorite thing for the kids is to go out. So, this time, make your kid happy by taking them out on a picnic. With this, you can also carry the baby photo album for your kid.
LED Desk Lamp
If your kid is someone who studies late at night, then making them happy by gifting them a LED desk lamp is surely going to make them happy. They can keep it on their study table. Along with this, they will also feel that you value their efforts.
Movie Outing
The little champs are die-hard fans of watching movies. So, before taking them to a movie, please ensure which of their favorite actor's movies is releasing. However, this time children's day 2022 is on Monday. So, let your kid enjoy in school first, and then you can give them a treat of a movie. They will definitely love the efforts you have made to make them feel special.
Download the Picsy App and it will ensure to resolve your photo-related concerns.
Quotes on Children's Day
After being aware of the trendy gift ideas , let us figure out what we could write on them. Along with the gifts, the children should be treated with meaningful children's day quotes that motivate them and that they remember throughout their lives.
1. "Children are like buds in a garden and should be carefully and lovingly nurtured, as they are the future of the nation and the citizens of tomorrow." - Pandit Jawaharlal Nehru
2. "The children of today will make the India of tomorrow. The way we bring them up will determine the future of the country." - Pandit Jawaharlal Nehru
3. "I may not have time for adults, but I have enough time for children." - Pandit Jawaharlal Nehru
4. "Only through right education can a better order of society be built up." - Pandit Jawaharlal Nehru
5. "As they [children] grow up, unfortunately, their natural freedom is often eclipsed by teaching and behaviour of elders. At school, they learn many things, which are no doubt useful, but they gradually forget that essential thing to be human and kind, playful and make life richer for ourselves and others". - Pandit Jawaharlal Nehru
Closing Words on Children's Day Celebration
So, now the special day for the cute children is just around the corner. And when you are already aware of how to make a children's day celebration special for them, then it is a perfect time, to begin with its preparation. However, if you are planning to give photo-related gifts, like a kid world photobook , or Vinyl Poster Frame, then let the best company serve you with top-notch services. And when you have decided to opt for the best services, then why not let Picsy be at your service? The only task you have to do is to download the Picsy App and select the best photo-related gift for your offspring.
Ready to hold your memories in hand?