What To Write In Holiday Cards?
June 04, 2021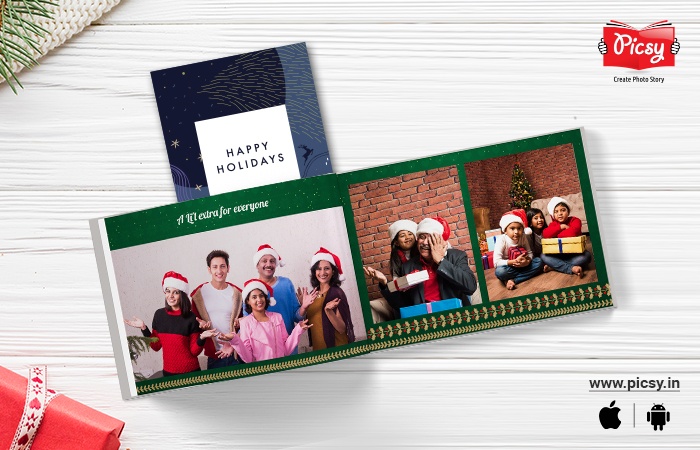 Cards are one of the oldest traditions we still look forward to gifting someone. With small personal holiday card messages to warm wishes, a holiday card makes the day memorable. A card may contain a family picture , a short letter, or a happy poem to reconnect with your friends and family. To help you understand what goes inside a holiday card, we have discussed it in detail.
What Is A Holiday Card?
The trend of sending holiday cards may be old, but it has a holiday vibe to it. Without a holiday card, the festive is incomplete. It is a reminder in a piece of elegant paper that although they are far away, they still live in memories. It is an opportunity to introduce a new family member, share a piece of good news, or simply send out an invitation.
But if these reasons are not good enough for you to send a holiday card this year, hold on! We have come up with five reasons which will change your mind.
Reasons To Send A Holiday Card
Holiday Vibe
A holiday card can enhance the holiday spirit by making it more memorable and vibrant. Whether a festive design on the top of the card, a holiday card quote, or an actual family picture, a holiday card artfully puts people in the holiday vibe. To make it more exciting and elevate the holiday aura, you can send a festival vibes photo book with all the memorable moments you have spent together.
Reconnection
If you stay away from your family or have a friend staying far away, sending a holiday card greetings is an impeccable way to reconnect with your loved ones. It shows no matter how far they are; they will always stay close to your heart. Let them know they are irreplaceable with a few holiday quotes and a personal message.
Invitation
With a perfect festive card, invite over guests or family members in a traditional way. To elevate the festive mood, you can also set a theme for your celebration and add every minute detail in the holiday card itself - from what to wear to where to meet.
Business Holiday Card
If you have a small venture or have clients who deserve a little more appreciation, giving out a business holiday card wish is an intelligent way to stay ahead in the game. Remind them you are grateful; be it your customers or clients. They make your business a successful venture.
Family Members
It goes without saying that after the emergence of COVID-19, inviting friends over is a far-fetched idea as of now. To celebrate the holiday, you can also set that perfect vibe by hanging a few holiday canvas photo prints . An image says a lot more than words can, so why not try out a different kind of 'card' - the larger, the better, right?
Read More : Must-Dos to celebrate your family togetherness
Step by Step: What to Write in a Holiday Card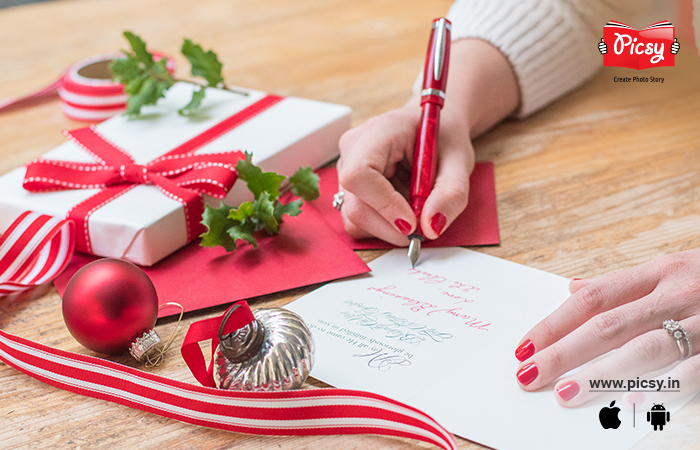 We have curated a step-by-step process to help you write a perfect and flawless holiday greetings card.
Step 1: The Sentimental Phrase
Never forget to start your card without the sentimental phrase - "Happy Holidays!" With this, you spurt an excitement in mind for the readers. With this simple statement, it gets easier to figure out what to say in the holiday card by creating a festive mood at the beginning of the note.
Step 2: Card Sayings
Choose the perfect holiday card sayings for the person you sending the greetings. Ensure your loved ones that every holiday wishes are special.
Step 3: If It Is Personal
If you are wondering what to write in a holiday card 2021 when the pandemic blues are striking off, this is the perfect time to crack an inside joke. Talk about those treasured memories or use nicknames to write your personal holiday message.
Step 4: If It Is Commercial
This is the perfect way to show your clients or customers that you care for them - with a holiday card. No matter if your venture is small or big, a card filled with gratitude is the best possible way to thank someone who has uplifted your business.
Step 5: Holiday Quotes
If you are wondering how to make a holiday card just perfect, holiday quotes are one of the easiest ways. As the saying goes, "laughter is the best medicine," send out a card with a dose of funny quote. Trust the idea; this could be the best gift during the time of COVID-19 .
Step 6: Signature
Well, you would surely want the person to know who it's from. Do not forget to add your name or a signature at the end of the card or note.
Holiday Card Wishes and Messages
A gift is only memorable when it is thoughtful. Don't you agree? With a personalized holiday card, it will not only spread happiness but will also show your care for them. To help you write the perfect jingle to your personalized message, we have written a few holiday card wishes just for you:
May peace and happiness always be with you.
I wish you all the timeless treasures of the holiday.
This holiday, let the light of joy and warmth fill the home make your life brighter.
Wishing you and your family health and happiness at this time of the year.
Sending you bountiful blessings.
May your soul be filled with happiness and love, and your time be full of positive energy and good vibes!
May the beauty of this bright season bring you joy and wealth all around the year.
COVID Holiday Card Ideas
After the emergence of mobile phones and the internet, sending a holiday gif or just a personalized WhatsApp message is the easiest way to greet someone. But, is it something you would say is special? Certainly not! To create a sense of warmth, sending a card stands out anytime, especially now when we all are going through COVID-19. You might be thinking, "Is it even safe?" Well, yes, dear reader. A post takes a minimum of five working days to reach the person, so don't worry. Moreover, the receiver can also sanitize the card before reading it. So it is implausible to spread from a gift card. Now that we have covered the fact that it is safe let's look at some of the holiday card ideas.
Telegram
No, we are not talking about the application but the actual telegram with a few personalized words and cute stickers.
Letters
With a handwritten letter and a few more words than a telegram, you can keep it more personalized—the more personalized, the more thoughtful.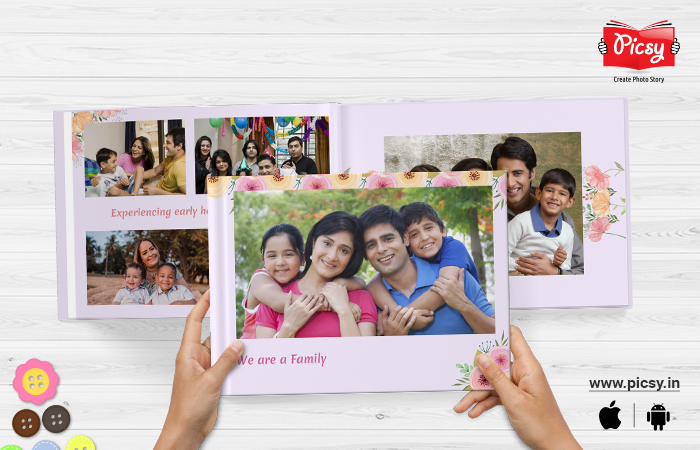 Photobooks
As always, an image can say a thousand words. Gift your loved ones with one or many printed photo books and make your loved ones smile.
Wrapping It Up!
While there are a plethora of ways to let your loved ones know that you are thinking about them during the holidays, you cannot go wrong by sending a holiday card. With Picsy's customized gift ideas, spread warmth by elevating the holiday vibe. Download the Picsy app now!
Ready to hold your memories in hand?