Framed Vinyl Prints: Everything You Need to Know
Last Updated : Sept 21, 2022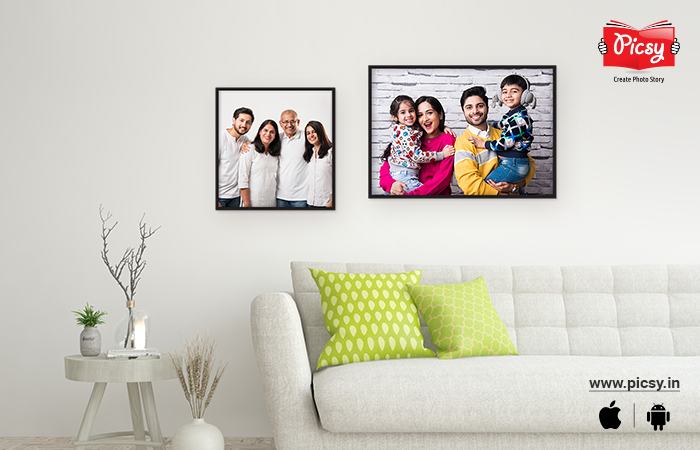 It's no secret that our preference for wall décor has changed. Framed Vinyl Prints are now replacing framed photos as our go-to wall décor accessory. But why? What are Vinyl Prints, and what are the advantages of Vinyl Prints? That's what we will cover in this article.
What Are Vinyl Prints: How Are They Made?
A Vinyl Print is a printing method that uses polyvinyl chloride (a kind of plastic, usually called PVC) to make your memories look glossy and durable. It involves inkjet printing machines to print images on the plastic coating. They are ideal for printing quotes or images (abstracts count, too) on various substrates such as paper, fabric, and plastic. It is also famous for one good reason (at least David Ogilvy would say so) - in advertising campaigns. Since they can print in a large format, they are widely used in every corporate sector for brand promotion.
However, Framed Vinyl Prints and normal Vinyl Prints are a bit different. Framed Vinyl Prints are stronger, more durable, and framed. Somewhat like canvas prints. The need for Vinyl Prints does not end in the 90's trend and the corporate world; it reaches homes as well. Framed Vinyl Prints are manufactured in a wide range of sizes and thicknesses to meet the needs of several art lovers.
How Are Vinyl Prints Used for Home Décor?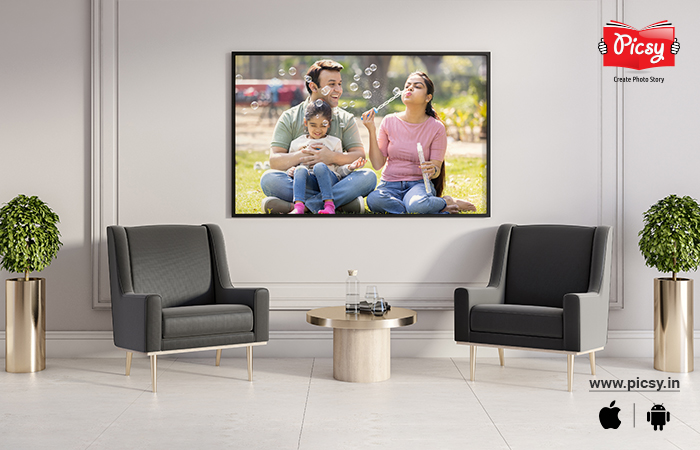 A Vinyl Print can be used as a décor item in homes or offices. Typically, they are used to make wall art, such as posters or calendars. These artworks can add a vibrant touch to any room and make it look livelier. Placed in living rooms, vinyl prints can replicate the look of canvas wall art ideas and give a glossier and finished look. Would you not want your wall décor to shine bright and make your memories look merrier? That's what I thought!
Don't miss the chance to make your memories merrier! Order Picsy's Framed Vinyl Prints
In addition, Vinyl Prints make ideal gifts - people can put them on their walls to embellish their homes or give them to friends and relatives as gifts. No matter the occasion, Vinyl frames are always the show's star. Surprise them with a warm and romantic Framed Vinyl Print if it is a winter wedding. If it is a bachelorette gift, hand them a cool, sassy Framed Vinyl Print. If you know the person you are gifting well, try to focus on what they would want you to have printed rather than wondering if this is worthy – because Framed Vinyl Prints are 100% worthwhile.
What Are the Advantages of Vinyl Prints?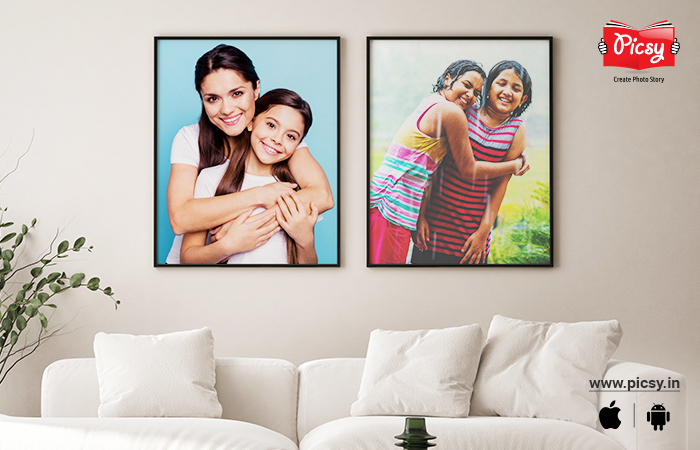 People are increasingly employing vinyl-printed products for a variety of compelling reasons in addition to its broad range of purposes. Let's understand:
The Durability of Vinyl Prints
Vinyl printing uses strong, dampproof, and scratch-resistant inks, making it ideal for advertising purposes and café decorations. I like to call it a wise investment because it can withstand all types of weather, including cold and rain, as well as heat and sunlight. So, if you are in cold chilly England, or humid tropical Hawaii, the durability of the Framed Vinyl Print will surprise you.
The Price of Vinyl Prints
With Vinyl Prints, you can be sure of at least one thing – it is reasonable enough. Whether you decide to create a wall photo album or promote your product outdoors using Vinyl Prints, it won't burn a hole in your pocket. They are reasonable and offer a quality product.
The Quality of Vinyl Prints
As I mentioned before, you won't have to worry about the quality of the product. In fact, I believe durability and quality go hand in hand. If something provides or promises lifetime durability, it must maintain its quality – just like Framed Vinyl Prints.
The Sizes of Vinyl Prints
When it comes to sizes, there are several options available:
| | |
| --- | --- |
| Category | Sizes |
| Small | 10x10, 12x12, 16x16, 12x16, 16x20 |
| Medium | 18x24, 20x30, 12x36, 20x20, 30x30, 36x36 |
| Large | 14x42, 24x36, 36x46, 30x40, 40x40 |
So many options may seem daunting at first, you must measure your wall or the area where you intend to hang the Framed Vinyl Print in order to select the proper size.
Framed Vinyl Print Ideas to Savor Your Souvenir
The best thing about framed vinyl prints? It is versatile. You can decorate it the way you want. I am adding here a few uncommon ways to use it. However, you can tweak these ideas and your own personalized framed vinyl prints as well. Let's get started!
Framing Old Records
Are you a fan of old vintage records? Print your favourite gramophone phonograph record on vinyl, frame it, and hang it in your bedroom. It will give an edgy retro feeling to the space.
Minimal Solid Colour
If your house is colourful and radiates too much colour, it needs some solid colour to create harmony. And what is better than using framed vinyl prints to do so? They are strong and glossy to get the attention of your visitors.
Beige Bohemian Decor
It is trending, it is stylish, and it is minimal. What is more appealing than classy decor? Try the beige and white bohemian decor for your living room on a framed vinyl print and see how in a single flick, it changes the aura of the house.
Welcome Name Board
Do you have a name board for your house yet? If not, framed vinyl prints are a great option. Choose a beautiful design and font to write your names and place the framed vinyl print near your main gate. Why should you decorate only the interior, right?
Step-by-step Guide to Décor Your Space with Vinyl Prints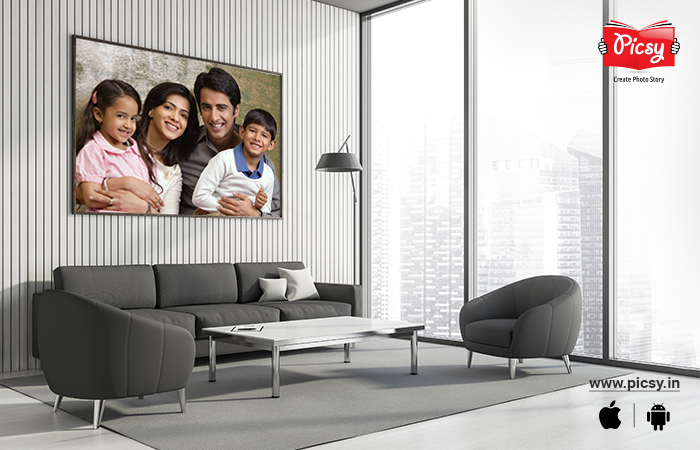 We often stumble on the idea of how to display canvas on the wall so that it looks alluring. The idea is pretty simple – let it go with the flow. But remember, there must be a flow. If you want to hang a framed vinyl print where the space is about your palm's size and order a huge billboard-sized print, it won't fit there. So, the flow is as important as the quality of the vinyl print. Vinyl wall art is easy to create if you plan it accordingly. So, what are the steps? Ask these questions to yourself –
1. Is the image you are uploading of high resolution?
2. Is the image appropriate for display? For example – office decor should be decent.
3. Did you check the size of the wall?
4. Is the size of framed vinyl print aligned with the wall size?
5. Did you download the Picsy app to order a framed vinyl print?
Why Should You Order Framed Vinyl Photo Prints from Picsy?
They offer high-quality products, and I believe we wouldn't want to skimp on quality if we were purchasing something for our homes or the homes of our loved ones. Size, color, and even image quality can all be sacrificed, but the one thing we should aim for when purchasing anything, including vinyl prints, is quality. In terms of look and quality, Picsy has won my heart. Give it a go to win you over as well.
End Note on Vinyl Frames and Prints
I wanted to get right to the point and persuade you to buy a vinyl print. I got it, and my room looks amazing. Additionally, vinyl prints give your home a stunning appearance everyone deserves to live in.
Order one from Picsy, the go-to source for customized photo items, and let your room proclaim, "I make you look stunning." Keep using Picsy and peruse all the pretty photo products they have to offer. My preferred product is custom canvas prints and Framed Vinyl Prints. Check out what you fall for !
Ready to hold your memories in hand?