The Best Photo Prints : 8 Styles for Home Décor
July 2, 2021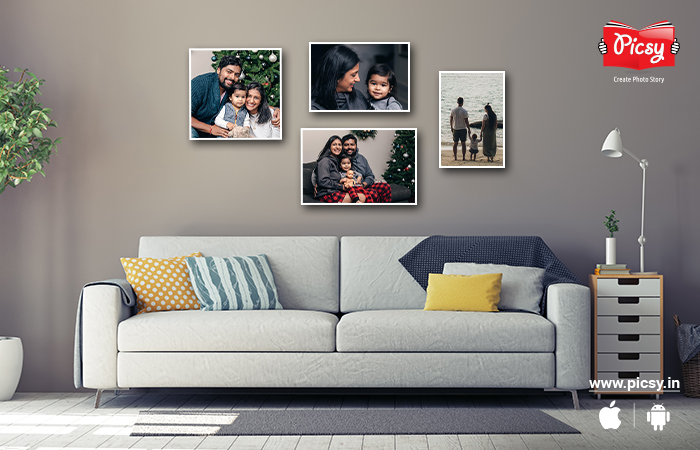 There is absolutely no better way to decor the walls with fragments of memories. It is a beautiful and gorgeous way to add a bit of extra glamour to your home. The way you put up yourself, the dresses you wear or the way you talk defines who you are. So why not the house? Rather, the place where we live should tell everything about us, not the perishable phone you are using. Ask yourself, does your house tells your story? With photo prints types, you can display all your favorite images in every dimension possible and create your own story.
These images speak of a character. By adding warmth to a home, it gives independence to rejuvenate the long-lost memories. Be it a family reunion or a trip to Mussoorie; every image captures the essence of the time traveled by after all,
We keep this love in a photograph, and we made these memories for ourselves!
Different Types of Photo Print Styles
This article brings you an unbeatable range of photo printing ideas to set a perfect tone to match your mood. Choose from the unique photo print for home decor styles below and exhibit all your pride and happy moments. Shall we start with our list then?
Style No. 1 - No Mounting? No Problem!
Are you willing to go back the lane of nostalgia and revisit your past? Why not do it in style? This home decor idea involves forming a gallery of photos in print. All you require is a measuring tape and something to stick. Arrange all the images on a bed or the floor before pasting them on the wall. It is better to check the arrangement of the photos beforehand. Trust me, you would not want to make a mistake, and hence the measuring tape is recommended. It helps to give an equal gap between all the images and form a perfectly clean and consistent wall gallery. It is not mandated; in case you are pertaining to think. To get more of a hippie style, you can get creative and paste the images haphazardly if you are not into straight lines.
Style No. 2 - Mountains Are Calling
Dying to go out on a beautiful journey to the Himalayas? Well, we experience wanderlust quite often! A cup of tea, a plate of Maggi in the chilling winter, and the amazing view from the hotel's balcony - who doesn't crave such a great getaway? To relive your travel escapes hang the most beloved vacation photo on your empty wall. A statement art - a silent promise to yourself to take some time out and pamper your heart - to go back to the mountains and adore nature.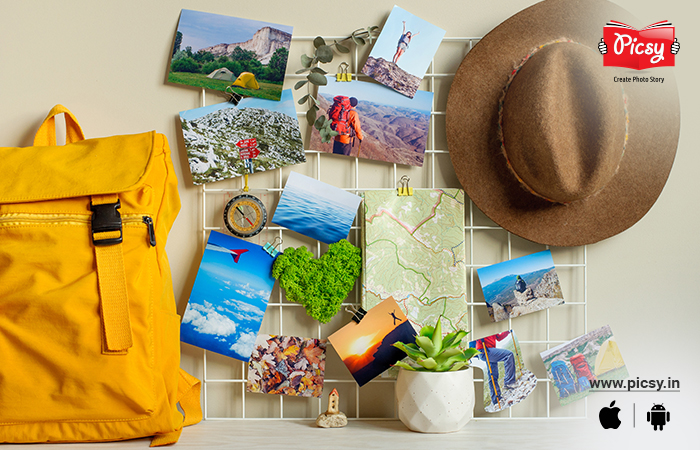 Style No. 3 - Don't Just Say It; Show It!
Glass framed custom photo prints give the opportunity to write small love notes on the glass itself. Consider writing small love notes about how much the person means to you on the glass above the image. It upgrades the room's entire look by placing thick glass frames in a thoughtful and organized way. Place it on a coffee table or wooden shelves in the corner of the room; it immediately catches the visitor's attention. It is an easy way to give yourself a constant reminder on why you should get up every morning, regretless, with a smile on your face.
Style No. 4 - A Shelf Called Shelfie
A room should look like the person living there; by using a multi-layered wall shelf, put on your pictures along with a few indoor plants, tiny lights, candles, and showpieces. Each item should uniquely speak of you - who you are, what you like to do, or what you have done. Organize the shelves with memories that mean to you the most. So the next time you look around, you don't have to call it 'my house.' Give your house some of your stories and find a space for yourself to call a 'home'; your home.
Style No. 5 - Cue Your Cuties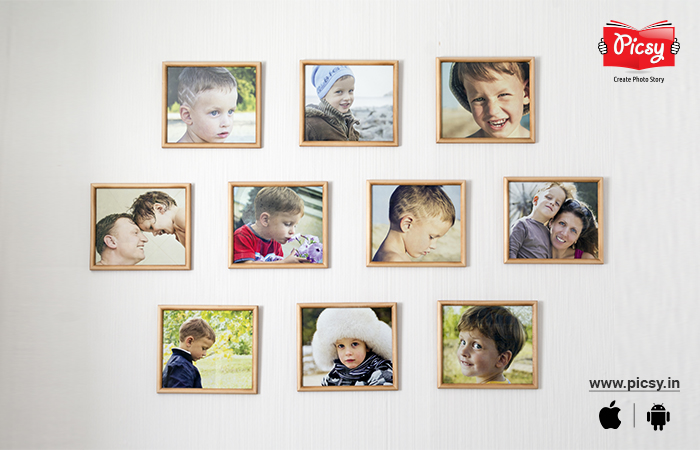 Collect all the images of your little ones and celebrate their frames as they are going up. You wouldn't believe how fast they grow up. Before the time runs out, capture all the funny and silly moments of those tiny beings who never fail you to roll on the floor laughing. It is always a good idea to fill the room with memories than materials whose meaning perishes in no time. It becomes more of a burden than home decor in the future. But with images, you will always have a part of you that can never lose its worth.
Style No. 6 - Mirror Mirror on The Wall
Before printing the images, arrange a mirror that will suit the tone of the color of your walls. Is your room ivory? Then go for a black framed mirror. Is it blue? Then white frame mirror will surely look better. When you are done choosing the glass, pick well-fitted canvas photo printing frames of the same color and arrange all of them onto the wall to create an epic wall gallery. It is ideal for keeping the mirror at the center of the gallery. It is a dynamic way to reflect on the past and the present at a time.
Style No. 7 - Classic Vintage
Are you one of those people whose heart belongs to the late 1918's? Then decorate your wall with wooden frame sepia images and go back to when people waited for letters, and the men kept a picture of their love in their wallet. This photo print style will give your house a rustic feel and fill it with happy memories.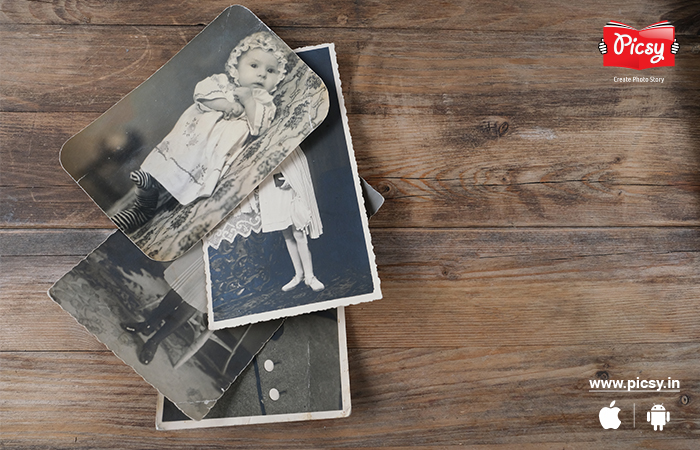 Style No. 8 - As Bright As Diwali
Symbolically Diwali is celebrated to represent the victory of light over darkness, good over evil. So why not fight all our mood swings and sad memories with the one that lits our hearts? Designing a wall with yellow lights and happy memories can turn around your mood with little or no effort at all.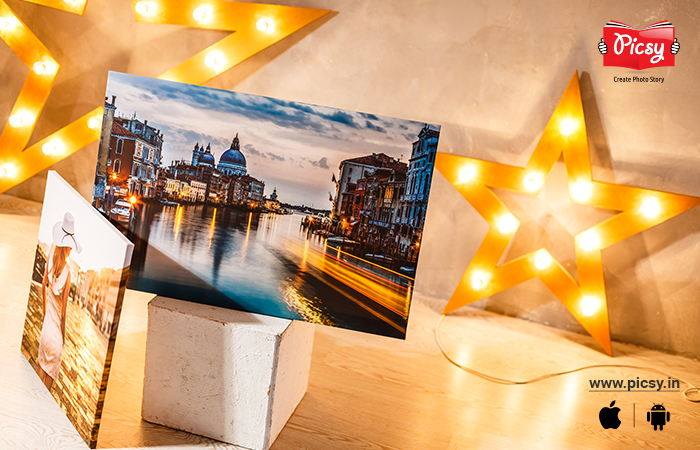 How to Order Photo Prints?
Now that you have decided on the custom canvas photo print style to decorate your walls, it is time to order the chosen pictures with a few simple clicks. We understand it is very easy to feel overwhelmed. But, with our photo print guidelines, you can choose the right option for your lovely home.
Step 1 - Choosing the Print Material
This depends on where you want to display the pictures. If you think you want the sepia style, choose something that will help make the gallery look rustic (you know what we are indicating, right? Not the glossy one). If you something Bohemian, you may choose to portray the images on wooden frames and photo prints on classic matte finish paper.
Step 2 - Choosing the Size of the Images
You know the deal; if space is less, go for the smaller size. No matter what, tiny things are always cute; you can not disagree. However, if you have a vast empty wall, spread your horizons; you are no one less than Picasso. Draw the walls with you all your memories with the best photo print sizes . But remember, however you style it, it should make YOU feel happy.
Step 3 - Choosing a Theme
Every image tells a story. And with a couple of pictures, they tell a story of a person. So what is your story that you want to tell to all your visitors? Do you want to say you miss the beach? Do you want to tell your marriage story? However you choose to frame all your reminiscence, the walls should display who you are.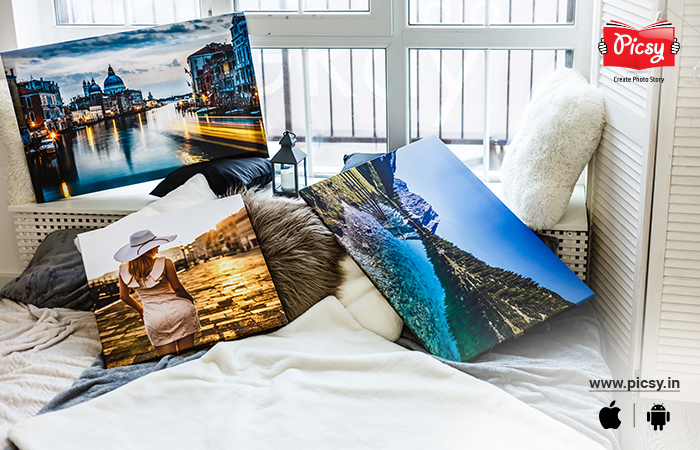 Summing Up
Stories are best told with vivid imaginations. Be creative and enjoy the process of creating the perfect online photo print wall decor. Printing photos from mobile just got easy! To get the best photo print results, choose the Picsy application and upload all your favorite images. The application will help you add a bit of extra style and glamour to your home with its range of services - canvas prints, photo books, photo prints, and what not! Take a look at the latest offers and find something beautiful for your home. What are you waiting for? A click of a button is all it takes, my mate. Download Picsy app now!
Ready to hold your memories in hand?