Motivational Wall Art for Office Decor
Last Updated : Aug 24, 2022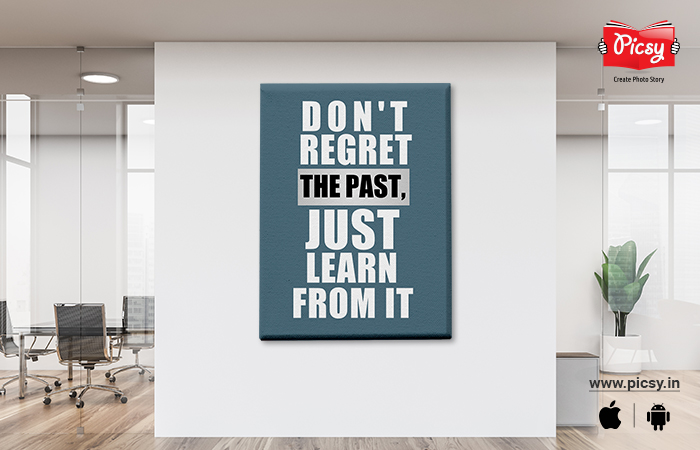 Working requires passion, dedication, and (needless to say) a lot of motivation to give your best every day. Whether you motivate the employees with a monthly free pizza or take a bi-monthly work progress meeting, they need a constant boost to keep them motivated throughout the day. And what's better than reflecting the same in front of your eyes, like – motivational wall art for office.
Decorate the walls with motivational quotes so that the office wall art helps them buckle up whenever they go through mental fatigue.
Why Should You Decorate Office Walls?
If you were given an option, where would you want to do your daily chores – in a white mundane working space or a dynamic and decorated working space with a lot of windows? You are likely to choose the second one. Nobody likes to work in a place that is dull and abates their determination to work. Moreover, you don't need a case study to understand that a motivated employee works better. The math is simple: keep your employees motivated and happy, and your business graph will be fine. Now coming to the point where we all get stuck – how do we decorate?
Need décor items to make your office look awesome?Download Picsy !
How to Decorate Office Walls?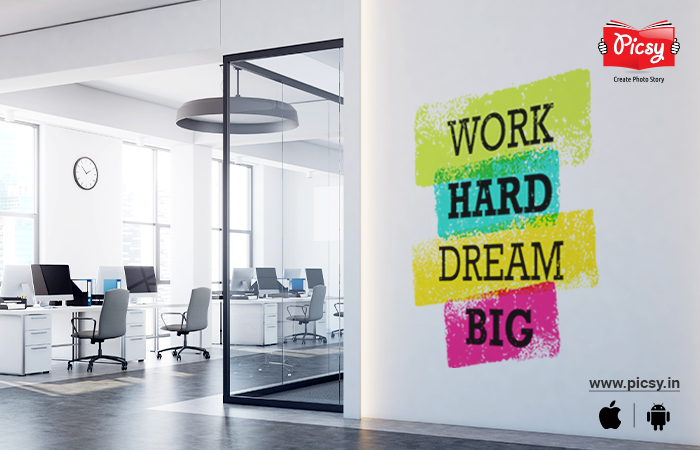 When we decorate our house, we customize it in any way we want. It is our personal space, and we can afford to decorate it the way our hearts please. But, when it comes to decorating offices, there are a few protocols to maintain. The decoration, by any means, should not offend anybody. There might be clients visiting your company or employees from several backgrounds, and none of your decorating material should affect any of them or your business. Rather, it is better to keep the office décor inclined with office goals. For example, if you have a production house of your own, mount movie canvas photo prints or camera and reel clipart. Like the color – let's talk about color.
Office Decor Color Plan
Color creates an emotional impact on the mind. If you want to keep your employees motivated, choose the color scheme wisely. Here are some office wall color ideas:
The Greyscale
If you want to reflect a professional vibe, choose the color tones such as white, black, grey, or a combination of those. It not only says how serious you are about your work but will also look sophisticated. However, if you are deciding to focus on motivating your workforce choose from the other three options.
The Shades of Pastel
Pastel is trending, looks sober, and makes everyone feel young, and when you feel young, you feel motivated. So, with the combination of Salmon pink, Mauvelous, Sunray, Turquoise, Tea green, Apricot, and much more, make your office space look like an ice cream parlor.
The Dynamic Duo
If your office work is related to media and you think that it requires artistic creativity, try the dynamic duo of orange and black. It is going to be quite an instaworthy color combination hence one of the most modern office wall design or color.
The Scandinavian Blue
With the combination of Scandinavian blue and white, your office will look elegant. It will motivate your employees to be energetic and won't feel dehydrated in the bright summer. In a tropical place like India, this color can turn out to be very productive.
Motivational Office Wall Décor Ideas in the Era of Hybrid Workspace
Now that most of the companies are allowed to work from home or come to the office once a week, I have covered two areas of wall decor for office – the home office and the physical office décor.
Transform your home office with captivating
wall decor and inspire your work every day.
Home Office Décor Ideas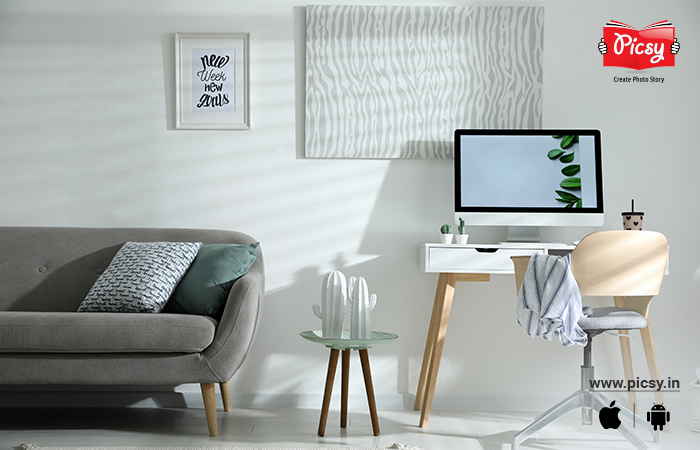 If you are lucky enough to get a specified room in the house, why not decorate it the way it motivates you to work? There are some home office décor ideas for you.
1. Wall Mounted Lamps – If you fancy yellow or any other colored lights, mount them in your place. Make your office space feel like your own paradise to stay motivated in your work.
2. Photo Prints – Is your family the apple of your eye? And they make you feel motivated to work without taking breaks? Paste a few family photo prints into your office space.
3. Wall Hanging Plants – Does plant make you feel natural and light-hearted? Add some low-maintenance plants to your place and decorate your home office walls.
4. Wall Decor – Make your home office look appealing by adding wall decor. Choose artwork, posters, or framed prints that goes with your style and inspires you. It can even be family framed wall décor if your family gives you the zeal to work. And if you are confused, you can try mixing and matching different pieces to create a unique gallery wall to spark a sense of creativity and productivity.
Corporate Office Décor Ideas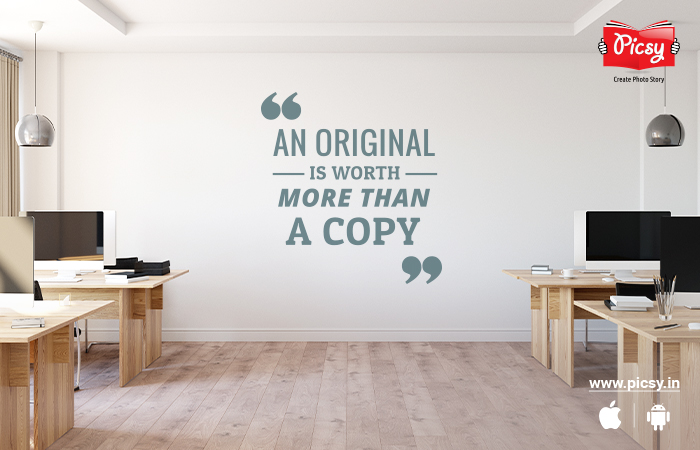 Wall décor for office can be tricky, as mentioned earlier. But with the right décor items, it can really motivate the employees. Here are a few ideas for you to implement in your office.
1. Motivation Quotes Take a white or blackboard and write one or more motivation quotes every day to keep all the employees motivated. Try calligraphy and make the quote look elegant. It is an easy office décor element.
2. Office Canvas Prints – It is a durable, chic, and eco-friendly way to decorate your office walls. Whether add quotes, abstract art, or images that would motivate the employees to give their fullest to the team.
Take your home office decoration game to the next level with Picsy's durable Acrylic Photo Prints.
3. Mount the Achievements – Let the employees enjoy belonging in a company that is acing the unachievable. Mount all the prizes and awards like it's the wall décor for office, and keep your employees enthusiastic.
Choosing the Best Canvas Printing Services
Whether you are decorating your home office with canvas prints or mounting motivational quotes in your office, finding an authentic premium quality canvas printing service can be daunting. I recommend ordering from Picsy, the ultimate hub for all photo products. Now whether you want abstract art or your company's slogan on the walls, you can customize it from its core. Choose the size, and wrap style and edit the images as you please. Picsy; it lets you customize to experience the odyssey of decorating an office space.
Conclusion
There you go, with all the motivational décor ideas for your office. I hope you like the list and implement them in your office. Trust me, it is going to look ten. Whether ordering online or making a few DIY décors, make the mundane Mondays as motivational Mondays every week.
Download the Picsy app and let the quality speak for itself. Whether canvas prints, photo prints, or photo books, Picsy provides it all. Check out the products section, and get some for your office; till then, Happy Picsy-ing.
Ready to hold your memories in hand?