Janmashtami Wishes and Quotes to Share with Your Family and Friends
Updated: August 01, 2022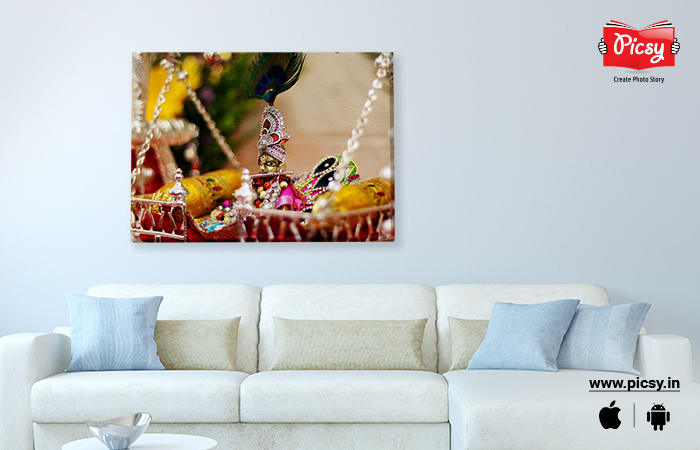 The birth of Lord Krishna is celebrated as Janmashtami or Gokulashtami every year as a Hindu festival. On this day, all the devotees fast till midnight and worship by bathing an idol of Lord Krishna in milk.
Usually, the temples are decorated on this day, and a few houses invite guests to celebrate the festival together. And every Indian guest loves to bring a handful of gifts that bring bright smiles on their faces. But we tell you, don't limit your horizons with a box of sweets. Make it thoughtful, make it innovative in a way that it not only brings a smile but also soothes their hearts. A small handwritten note does exactly that. But before that, when do we have Janmashthami this year?
When is Janmashtami 2022?
An annual Hindu holiday called Janmashtami honors the birth of Lord Krishna. This year is celebrated on the 18th of August; it is chosen to be celebrated on the Ashtami tithi according to the Hindu calendar. The promise to conduct a day-long fast and break it the next day is made by Krishna devotees. On Janmashtami, some people eat only one meal a day, while others consume only fruit. It is a practice followed by mostly across India who pray to Lord Krishna. However, since things have gone digital dramatically, Instagram and Facebook will flood with Happy Janmashtami Status Images and selfies. But we say it brings an aesthetic feel to the celebrations when it comes to messages and wishes.
Hence, we are presenting a list of top Janmashtami 2021 wishes.
Frame your Janmashtami memories with Picsy! Download the app now.
Happy Janmashtami Wishes and Messages
With a box of sweets and chocolates, when you will visit your guests on Janmashtami, they will hardly expect that secret message you will add to the list. These handfuls of Janmashtami messages will surely help you add an x-factor to bring a smile to your loved one's face.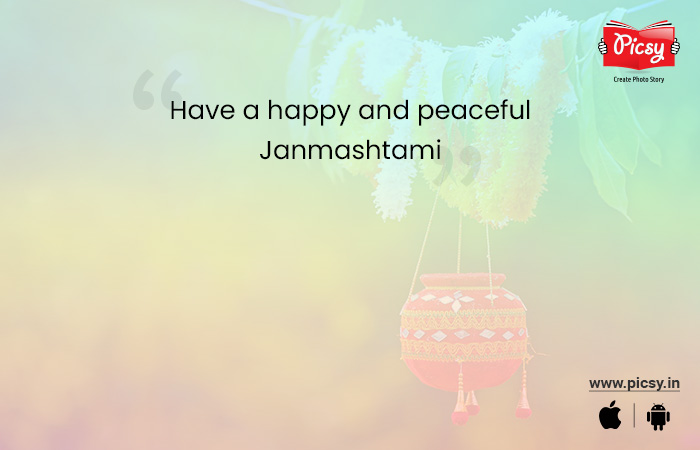 Have a happy and peaceful Janmashtami
May Lord Krishna be the savior of all your problems and keep you happy.
This Janmashtami, may all your dreams come true and achieve all your goals.
Let there be a lot of blessings and cheerfulness in your life to battle with the issues that may come.
May this Janmashtami bring a lot of joy and peace. Krishna will be there to guide you like he did Arjuna.
May Nandu Gopal sprinkle his blessings and grace on your family! Happy Janmashtami!
Janmashtami Quotes and Sayings
Another fantastic way to send Janmashtami wishes is to convey the saying and quotes of Lord Krishna. These quotes are life-changing. These will not only give them a sense of greeting but may also help them in their lives. For instances: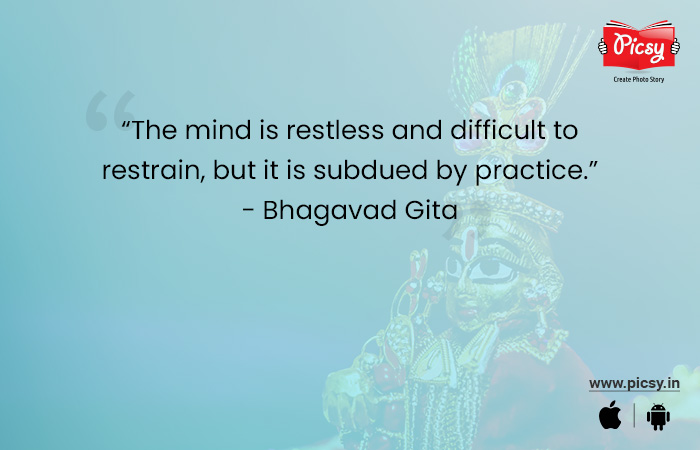 "The mind is restless and difficult to restrain, but it is subdued by practice." - Lord Krishna, Bhagavad Gita.
"For one who has conquered his mind, a mind is best of friends, but for one who has failed to do so, a mind is the greatest enemy."
"When a person responds to the joys and sorrows of others as though they were his own, he or she has attained the highest spiritual union."
"Do everything you have to do, but not with ego, not with lust, not with envy but with love, compassion, humility, and devotion."
"The mind is fickle. It won't obey you every time the; user misbehaves; use your discretionary intellect to bring it back to the equanimous position."
"You have the right to work, but never to the fruit of the work. You should never engage in action for the sake of reward, nor should you long for inaction." -Lord Krishna, Bhagavad Gita.
With Picsy's Festival Photobook, preserve your Janmashtami memories.
Happy Janmashtami Status for WhatsApp, Instagram, and Facebook
Janmashtami, these days are not only celebrated by breaking a matki or swinging an idol of Krishna but also virtually. Be it clicking images and sending them to family to include oneself in the Family Photo Albums or posting Happy Janmashtami status images.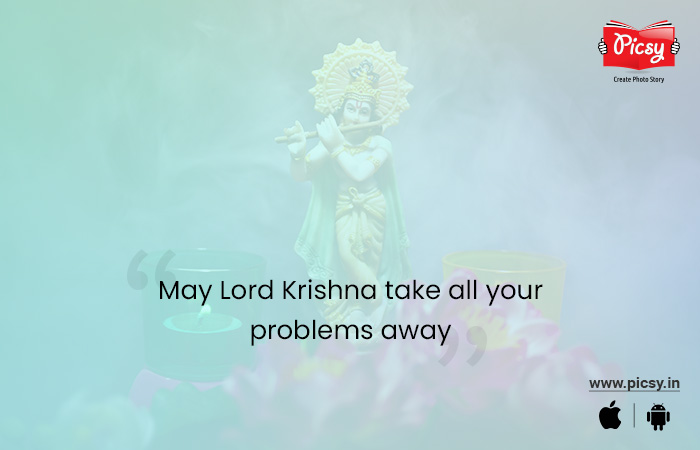 May Lord Krishna take all your problems away.
May the mighty Makhanchor bring a lot of happiness to your life and fill your heart with selflessness.
I pray today; I will pray tomorrow for you. May Lord Krishna sprinkle benediction upon you and protect you from all the evils.
May Lord Krishna give you the power and will to fight all the problems in your life.
Jai Shree Krishna! Hope this day brings enormous happiness to your life.
Krishna Janmashtami Greetings Messages
Amidst COVID-19, when people are not coming out of their houses, it is quite gaugeable; Janmashtami 2022 might also be celebrated virtually by posting Happy Krishna Janmashtami photos. To all those people who want to send greetings over WhatsApp, we have a list for you: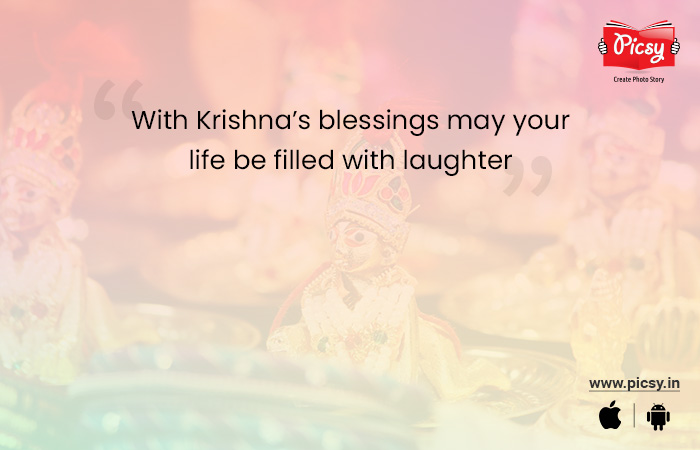 With Krishna's blessings, may your life be filled with laughter.
Wish you a very happy Janmashtami. May Lord Krishna empower you with good health and peace.
On the happy and blessed day of Shri Krishna's birthday, I wish you and your loved one wealth, peace, light, and love.
May the bravery of Lord Krishna enlighten you this Janmashtami and bring good health to all your loved ones.
May Krishna's flute bring the melody of happiness in your life and fill with the tune of love.
This Janmashtami, I wish Lord Krishna fills your life with prosperity. Jai Shree Krishna!
Hang a Janmashtami Canvas Print and fill the space with positivity.
Shri Krishna Janmashtami Wishes for Family
Sometimes wishes are most required in the family. It acts as a piece of zeal that helps us to keep going during our tough times. And what could be a better time than Janmashtami to wish our loved ones good wishes? Here is a list of Shri Krishna Janmashtami's wishes for the family.
I wish Lord Kanha always drives us to the right path and enlightens us with his values.
As Krishna believed in karma, on his birth anniversary, let us join hands to act and do good to people.
On the occasion of Janmashtami, I wish we stay fit and healthy, and may Lord Krishna bring happiness to our doorstep.
May Lord Krishna keep us all safe and secured from the hands of evils.
As on this day the lord of love was born, may he bless us with affection and adoration.
Conclusion:
Janmashtami is a happy ceremony. It is believed that with the emergence of Lord Krishna enters, the rays of happiness in houses. To celebrate this day of joy, gift exciting personalized gifts from Picsy to your loved ones. It has an enormous range of gifting options starting from printed photo books, canvas prints to calendars; awe your loved ones with amazing gifts and messages. Are you still waiting? Get the app now!
Ready to hold your memories in hand?