How to Make a Digital Photo Album: A Comprehensive Guide
March 22, 2022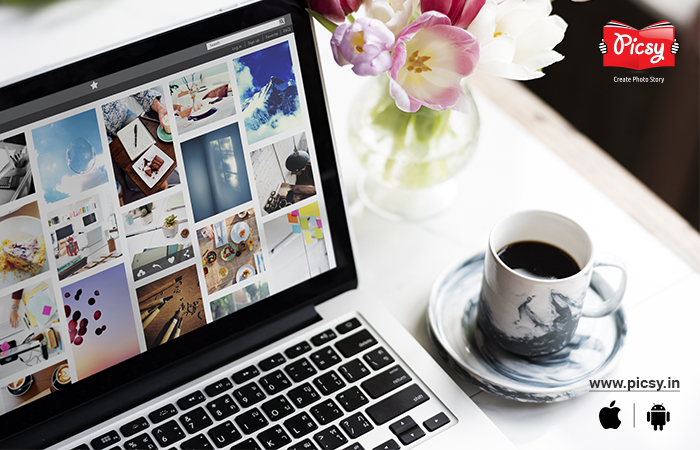 It isn't necessary to spend a lot of time or money to create a personalized digital photo album. You can make a digital photo album you'll love—and have fun doing it—with Picsy's vast choice of themes and simple-to-use tools.
What is a Digital Photo Album?
Digital photo albums are a beautiful way to tell a story while also displaying your greatest images. Because of the level of customization that a digital photo album allows, it is quickly displacing the classic 3-ton photo album. A digital photo album is the ultimate coffee table flip-through as well as your very own time capsule of pleasant remembrance, with everything from paper type to photo orientation, backdrops, and other embellishments.
How to Make a Digital Photo Album Online?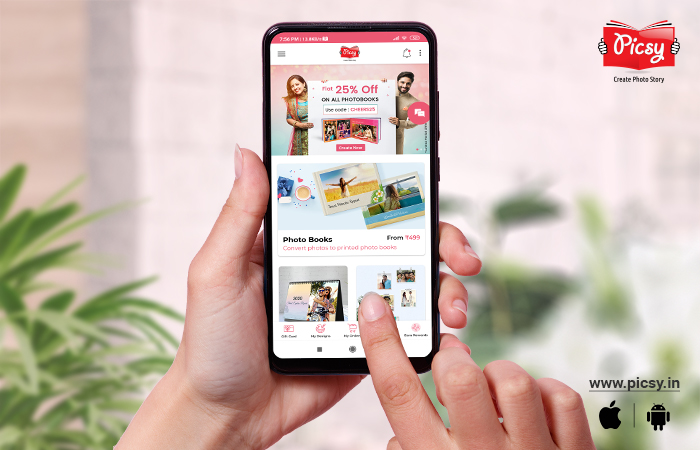 To begin, power up the Picsy app and select a template. We have designs for many occasions, including weddings, graduations, birthdays, and more. You also won't have to worry about fussing with layouts because our professionally designed templates already look excellent.
After that, you can add your photographs. It couldn't be simpler to upload your photos. Simply drag and drop files from your desktop into the editor's uploads folder, and they'll appear in your uploads folder. Here is the process broken into bite-sized steps-
Launch Picsy App
To begin, open Picsy and search for "photo book".
Look through the various themes and templates available.
Make your digital photo album as one-of-a-kind as you.
-Upload your own photographs, graphics, and artwork with ease. You can customize the color scheme, backdrop, and font style. Rearrange the arrangement according to your preferences to create digital albums.
-Save your digital photo album and click print and have it delivered to your doorstep in the blink of an eye.
Read More : 5 Reasons to Create Picsy Printed Photo Albums
Selecting Right Photos for Your Digital Photo Albums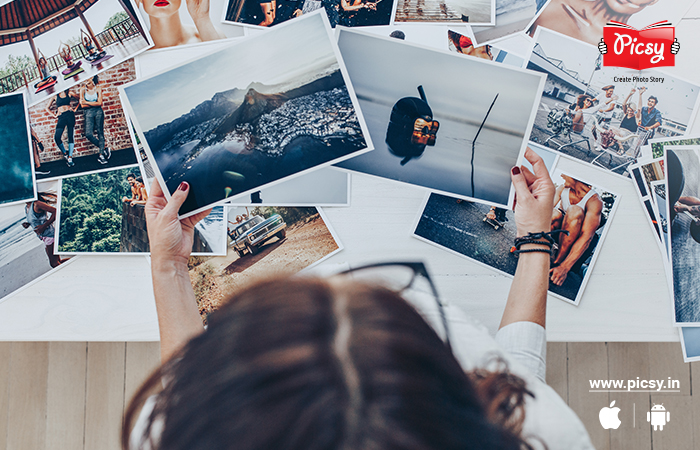 Make your images as bright as the memories you cherish. You can sharpen and adjust your photographs with Picsy's built-in photo editor. To bring forth color and texture, adjust the saturation or contrast.
Personalized Digital Photo Albums
Our templates are made to be customized, so you can modify the colors, layout, and artwork to achieve the look you want. Using Picsy's pre-designed themes and templates, you can create the perfect layout on the page.
Collaborate with Family and Friends
Turn your digital photo album into a collaborative design project with friends, family, or coworkers. To share the link, click the share button, check the box that allows them to edit it, and then share the link. Because your Picsy creations are stored in the cloud, you (and anyone else you grant access to) can access them from any computer or laptop at any time. By installing Picsy on your iOS and Android devices, you can carry your designs with you wherever you go.
Read More : Guide to Choosing Right Images and Layout for Photo Book
Title Ideas for Digital Photo Albums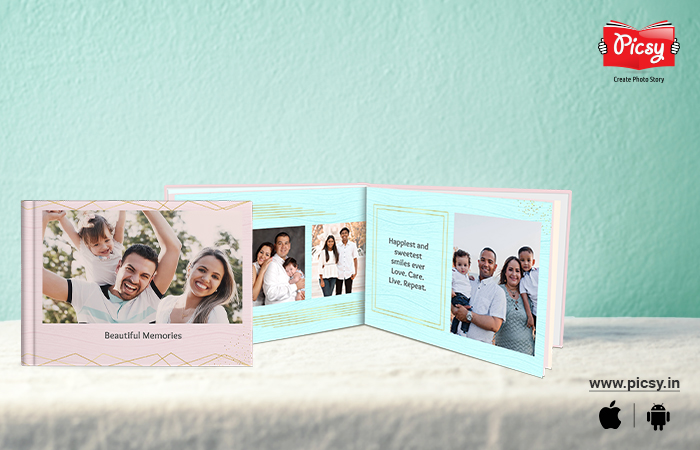 Given the level of customization levels offered in our digital photo albums, you can create one bespoke to the occasion or moments you wish to cherish. Here are a few digital photo album title ideas -
Using a memorable photo from one of your journeys is a terrific idea for the family to want new experiences and live in wanderlust. While flicking through the book, you can fill it with the entirety of your various adventures and relive them. A delightful moment that occurred in your vehicle, or even a group selfie from a family road trip, can be included in the digital photo album.
The nicest part about a Picsy digital photo album is that it doubles as a stunning coffee table book. Make a digital photo album with your favorite motivation quotes to add to your decor.
Use photos that highlight your favorite Halloween outfits and make the winning ensemble the centerpiece of your digital photo album.
A collection of all your favorite images from your favorite location bound into one book would be a fantastic way to pay proper homage to your chosen city.
In this world, there are two types of people: those who snap selfies and those who take selfies. For your digital photo album, find your favorite selfie with a spouse or family.

This idea will appeal to music fans all over the world. Use your favorite music album cover (or an arrangement of your favorites) as the cover of your digital photo album, which will be filled with photos of you performing at your favorite shows, shaking your favorite band tee, playing the guitar, or other great musical memories.
Those fluffy pets are as much a part of your family as anyone else, and they deserve a book dedicated to all of their furry adventures.
Matte vs Glossy: Choosing the Best Paper for Your Digital Photo Albums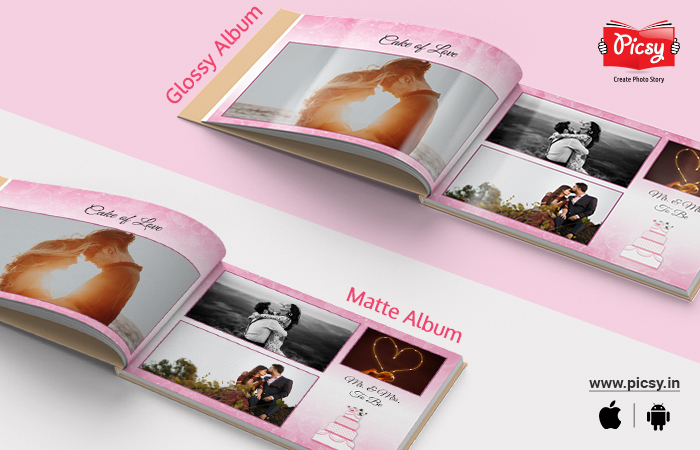 Okay. Let's get down to business now when it comes to the type of paper finish you wish to use in your digital photo album. Let's begin with the fan favorite-
Glossy photo printing on the internet is sleek and dazzling. Digital photo printing has become fashionable. The paper has a silky-smooth surface, which allows colors to pop and stand out. Glossy photo papers are the most reflecting of all, while high-gloss is the most reflective of all. Glossy paper's physics are the polar opposite of Matte paper's. Light bounces off the surface due to an extra layer of the reflective coating, making it non-refractive.
When it comes to photo printing online, pros choose matte paper. Matte is a non-shiny finish that produces muted colors and greater contrast. Light is reflected less on matte photo paper. It achieves this through a combination of the matte coating's refractive and light scattering characteristics. The term "refractive" merely refers to the fact that light striking the print is scattered rather than reflected by its surface layer. Because of the uneven surface, every light that touches a matte surface is scattered in multiple directions. Many little indentations on the surface of matte finishes produce this impression.
Bring your digital photos to life with Picsy.
Print Your Photos Now!
Our 2 Cents
We'd like to point out that the finish you choose for online photo printing is determined by how you want to display your photos and the look you want to achieve. With Picsy's online digital photo albums, you can now print and preserve those fleeting moments known as life. Picsy has pre-made themes that you can customize to match the theme of your album. Whether you want to express your affection in a stylish way, cherish the memories of your parents raising you through the years, or simply wish a loved one a happy birthday. Picsy's top-quality digital photo album should be on your list.
Now for the final word. Matte is the winner if you want to display your family photos in glass frames or other comparable display devices that have their own gloss. When you have a physical copy of your digital photo album created with Picsy, it truly comes to life.
Amazing Digital Photo Albums Ideas
Creating a digital photo album that you'll treasure for a long time doesn't have to be a difficult task. Without a doubt, you'll need to compile your best photos to create a true page-turner, but take a look at these 14 unique digital photo album ideas to get you started quickly and easily.
The best digital photo albums begin with a theme, so start your next project with one of Picsy's fantastic digital photo album ideas.
1. Digital Photo Albums of Favorite Memories and Birthday Gifts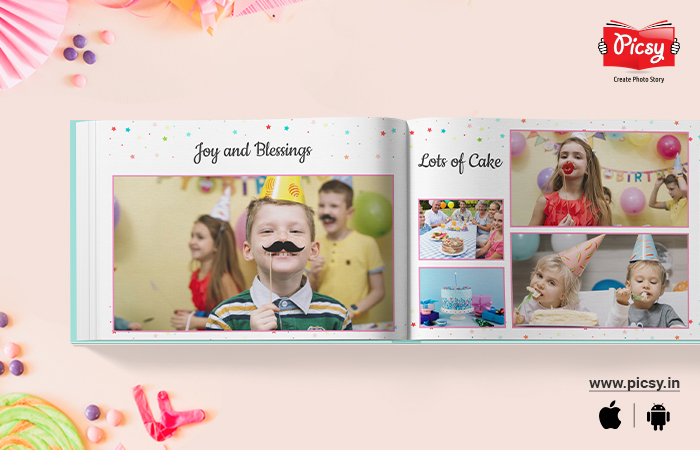 When you place a collection of your favorite images in a book, it's easy to celebrate your relationships. The best way to proceed with a "most treasured memories" or birthday gift digital photo book is to select images that convey inside jokes that depict special events spent together and stay true to the companionship theme.
2. Digital Photo Album for Anniversaries
Creating an anniversary collection with a Picsy photo album, whether it's for the first or 50th year, is a fantastic way to reflect on the experiences that make couples more grounded.
3. Recipe Books
Collect all of your favorite recipes and create a recipe book to share with family and friends. A recipe book complete with images of gourmet dinners is a terrific idea.
4. Portfolios of Design and Business
A design or business portfolio is a great way to show off your work. Choose your greatest samples and a professional digital photo album style that energizes potential consumers.
5. Pet Recollections
Curling up with a book full of pet memories is a wonderful way to honor your animal friends. Creating an awesome photo book full of your furry soul brothers makes for an amazing coffee table flip-through full of their unconditional love.
6. Guestbooks for Weddings
Wedding guestbooks with images of the happy couple are wonderful souvenirs. Include heartfelt wedding wishes, romantic images, candids, and various shots of the perfect couple.
7. Digital Photo Albums for Weekend Getaways and Travel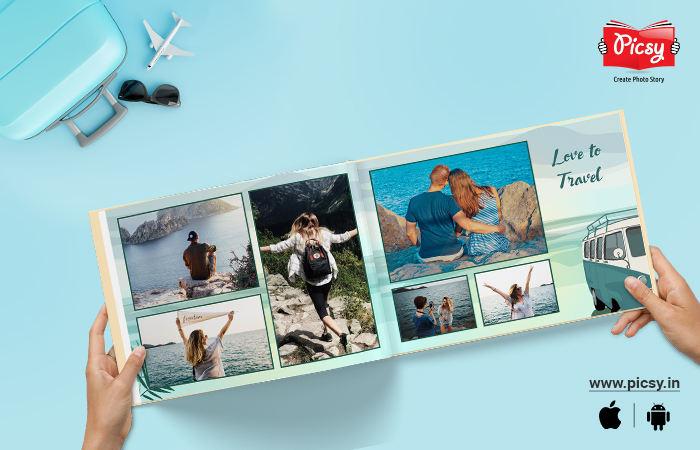 With a personalized digital photo album created to showcase your fondest travel moments, you can reminisce about fantastic weekend excursions and get-aways.
8. Proposal Books
A proposal digital print photo album allows you to look back on one of your most distinctive - and meaningful - moments, regardless of whether your meant was expecting you to pop the question or it came as a complete surprise.
2022's Best Digital Photo Album Maker Apps
Picsy: The best app for creating digital photo albums in terms of price Vs. Quality.
Mixbook: Overall, a good online photo album maker.
Shutterfly: offers the most affordable digital photo albums.
Artifact Uprising: For high-quality prints and gifts, this is the place to go.
Printique: This is a great option for special occasions.
Meijer Photo: Excellent in terms of customer service.
Snapfish: For extra photo presents, this is the best option.
Still not sure which app to choose for your photo album? Give Picsy a Try!
To Sum It Up
Gather the images you want to put in the book first. To put the book together, use an online program. Choose the appropriate size, format, and orientation. Then decide on the photos, layout, and design. Create a cover and choose your paper before printing. Between 50 to 100 images are contained in a digital photo album, with around four images per page. It will be determined by the instruments you choose for the work and the number of photos you want to include.
With Picsy, you can savor the moments that matter most to you and then return to them whenever you want. Doesn't it sound like magic? A Picsy digital photo album printing is sheer enchantment in a box.
Your collection of memories will be at your fingertips with our Picsy App. A Picsy Digital photo album is your portal to the amazing moments of life, whether you're joyful or sad, brave or foolish.
So, what do you have to lose? When you choose Picsy to print your digital photo album, you can expect nothing but the highest quality.
Ready to hold your memories in hand?