Picking the Right Cover for Photo Books
March 25, 2021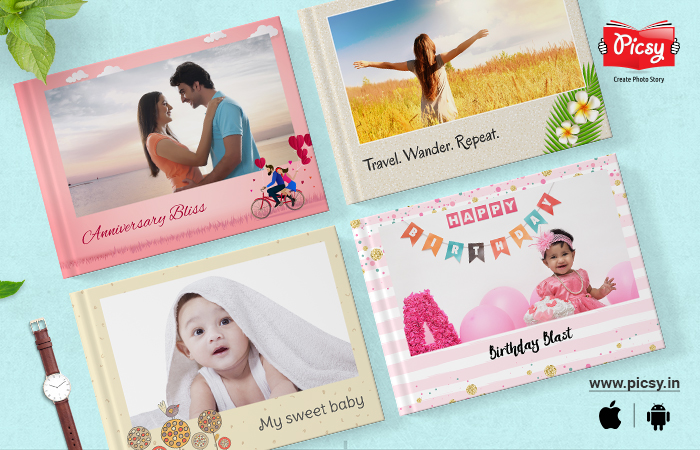 With Picsy, making a photo book to eternalize certain moments is simple. All it requires is a couple of clicks on our app, and voila, you have an awesome photo book delivered right to your doorstep.
However, no matter what others may say, a book is still judged by its cover. An unappealing drab cover can destroy the experience, paying little heed to how breathtaking the book's substance is.
Luckily, Picsy never holds you back from making your photo book precisely the manner in which you imagined them. Since your photo book's cover is irrefutably the first thing that perusers will notice before picking it up to flip through, a creative cover is a must-have. So how do you create the perfect cover for your photo books? Don't worry. Picsy is here to help.
Before deciding on a cover, ask yourself these questions-
What's the story the photo book will tell?
What's the general plan of the book's substance?
What kind of photo paper and cover material will be utilized?
These questions may appear to be nonexclusive – nonetheless, considering the responses to these, it's simpler to choose an aesthetically aligned cover. Presented below are a few creative cover design ideas.
Fascinating Photo book Cover Design Ideas
To inspire you, here are a few creative Photobook front cover ideas-
1. Family Excursions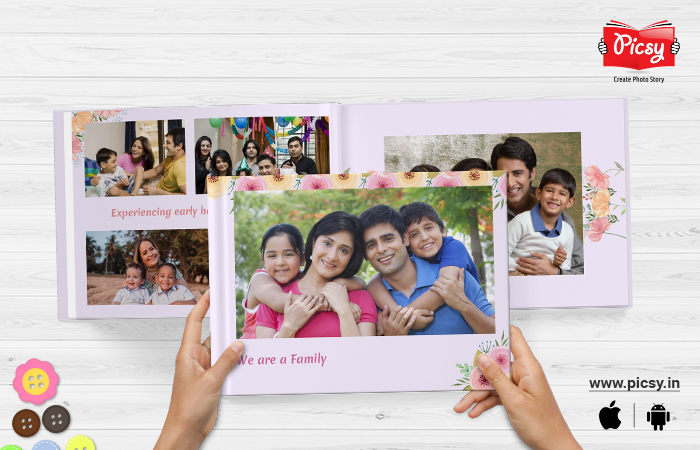 For the family to crave new experiences and live in wanderlust, using a memorable picture from one of your adventures is a great idea. You can fill the book with the entirety of your many journies and revist your adventures while flipping through it. The cover picture can be a fun moment that happened in your vehicle or even a groupfie from a family reunion.
2. Most Loved Statements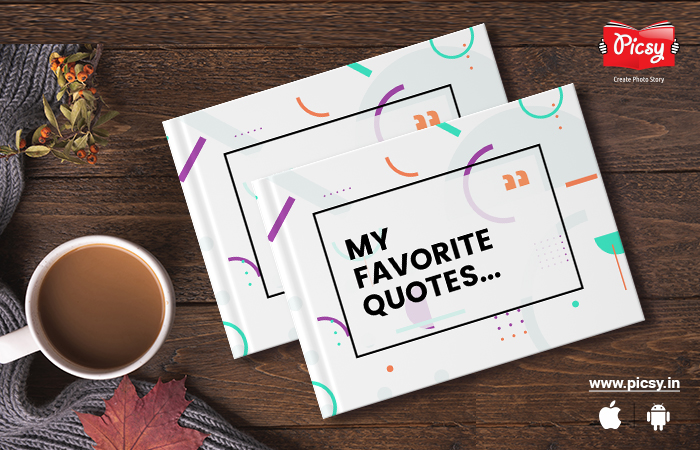 Likely the best thing about a Picsy's personalized photo book is that it makes an extraordinary coffee table book. Polish your décor by making a photo book with your favorite quote as the cover.
3. Halloween Ensembles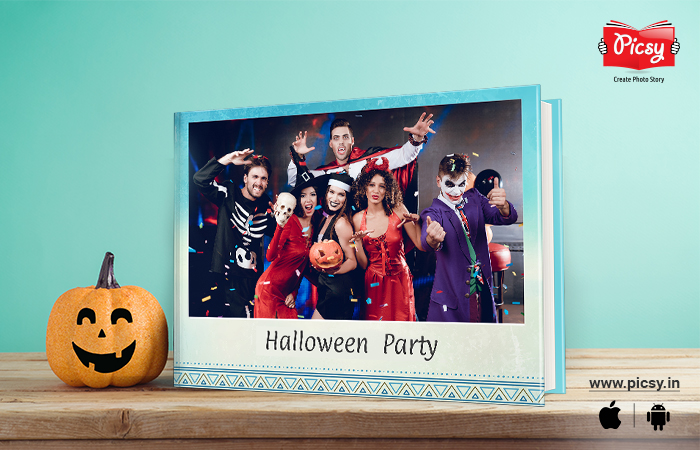 If Halloween is your #1 occasion, this book cover thought is for you. Make a book with your family's best Halloween outfits all through the years. Utilize a pic highlighting your top choice and let the winning ensemble be the cover picture.
4. Your #1 City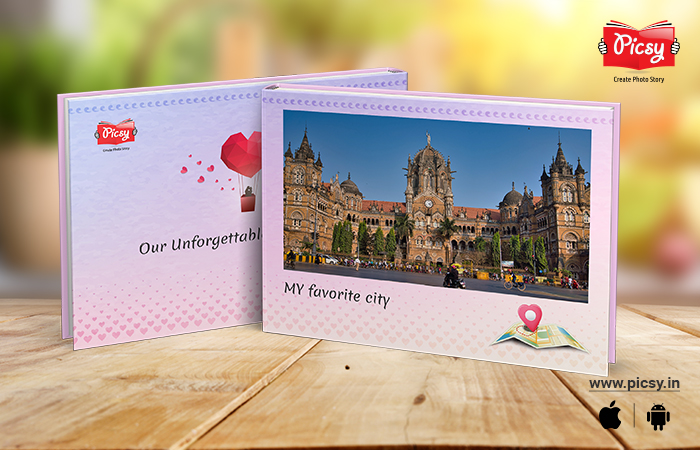 Maybe you've encountered your fantasy in the city of fondness (bonjour, Paris!), or you put several years in the city that never dozes (we ought to hear it for Mumbai). In any case, an extraordinary method to give proper respect to your city of choice would be an assortment of all your most loved photos from that spot bound into one book. Make a point to get a dazzling photo of the horizon for the cover.
5. Selfies
There are two sorts of people in this world: the individuals who take selfies and... the individuals who take selfies. Find your most loved selfie with a partner or family part and use it as a natural cover photo.
6. Most Loved Suppers (Recipe book)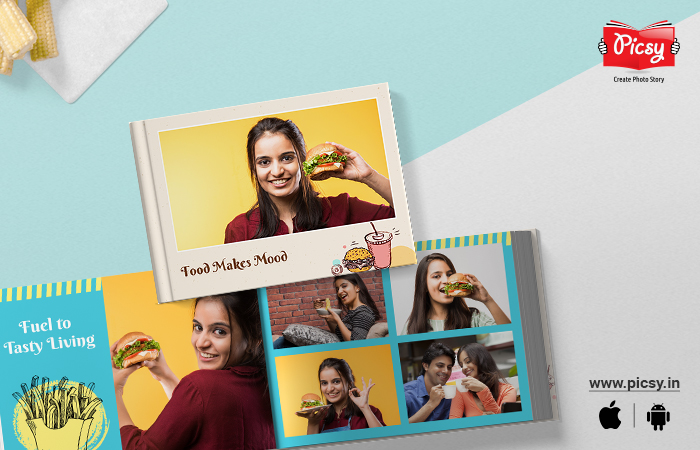 Regardless of whether you're a passionate cook or a passionate foodie, you can make a recipe book all out with photos of your favorite dishes. Put your best feast on the cover and have it someplace readily accessible in your kitchen.
7. Music Album Covers
Music enthusiasts everywhere will love this thought. Utilize your #1 music album cover (or an arrangement of your top picks) as the front of your photo book stacked with pictures of you at your #1 shows, shaking your go-to band tee, playing the guitar, or some other incredible melodic recollections.
8. Pet Pics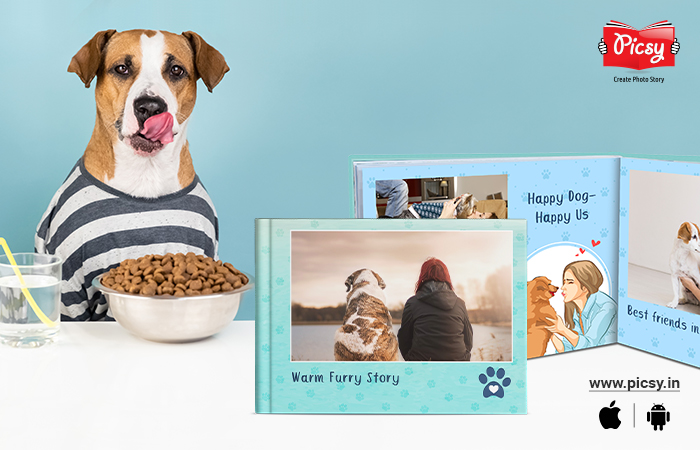 Read More : Five Artistic Ideas to create classic DIY photo books
The Most Common Photo Book Album Cover types
Softcover
Not only are softcover books the least expensive, and yet, they're the most straightforward to impersonate and to heft around. Softcover photo books are totally adjustable too, implying that there are no limitations aside from the creative mind concerning the plan of the book.
Furthermore, since it's generally connected with catching traditional minutes in a rapid yet a la mode, a softcover is typically ideal for covering books with more easygoing substances like travels and yearbooks.
Hardcover
Essentially, hardcover is maybe the best option for different reasons. First of all, it gives the solidness that photo books are related with, yet then again, it's totally adjustable, much like softcovers. Also, not only are hardcover photo books accessible in pretty much every size and shape.
Hardcover photo books are best used as anniversary/wedding albums and portfolio books.
Wrapping up
So there you go; All you need to know before picking the cover and the subject of your photo book. Now turn all your digital pictures into the actual world in the form of a stunning page-turner from Picsy. With a wide scope of pre-designed templates and themes, Picsy offers online photo book printing services land has the ideal photo book format for each event. If you happen to feel extra imaginative, you can plan your photo book from scratch preparation with every one of the embellishments, blurbs, and customizations that Picsy offers.
If you too wish to create the perfect personalised photo book for every occasion, then Picsy has you covered. All you need to do is Download the Picsy app, and within just a few clicks, get your photo book delivered to your doorstep faster than you can say 'Picsy'.
Ready to hold your memories in hand?