Understanding Abstract Wall Art : What Sets Good Abstract Art Apart?
October 27, 2021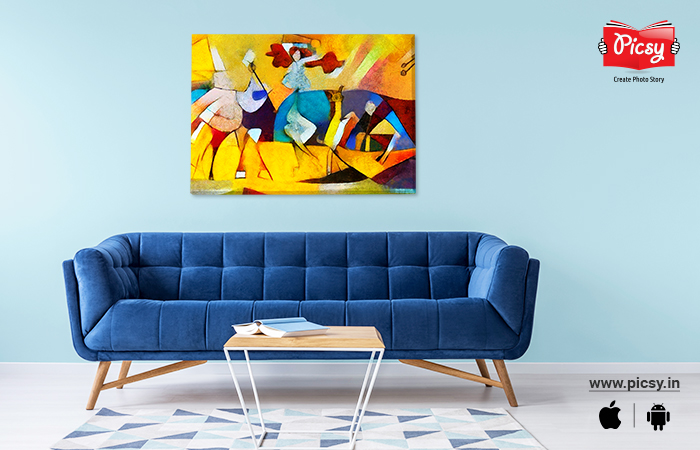 "There is no abstract art. You must always start with something. Afterward, you can remove all traces of reality," said the pioneer, Pablo Picasso.
It takes quite an eye, people say. Abstract art is for the bold and gallant, a person who is passionate about art.
But what is this abstract art that has become the subject of attention in the world of artists? Can it be the next big home décor trend?
What is Abstract Art?
An abstract painting defines the true meaning of art; it defines freedom. It does not linger on showcasing an actual depiction but uses shapes and strokes to evoke thoughts and emotion.
The art carries moral extent, an extent of simplicity, and spirituality. It has no part to play with the real world. It is imaginative and non-objective.
Originated in the 19th century, abstract art denies classism. Characterized as a major element of unconscious illustration, painters started gripping onto it during the time of Romanticism.
In respect to such free rein, Maurice Denis said in the year 1890, "It should be remembered that a picture—before being a war-horse, a nude, or an anecdote of some sort—is essentially a flat surface covered with colors assembled in a certain order."
But, does freedom define every abstract drawing as beautiful? Let's understand.
How to Determine A Good Abstract Art?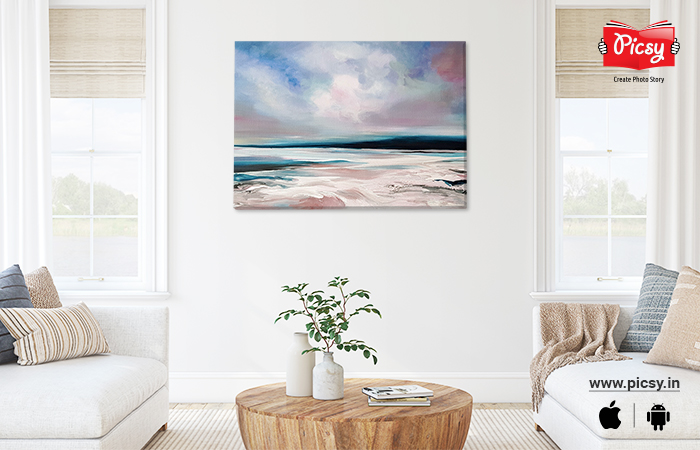 Abstract painting is an art that influences the soul. See the image above? Does it not evoke an emotion of the ocean merging with the sky?
You might be quite familiar with people saying, "I don't understand abstract art." The point is, these paintings don't ask you to understand the meaning behind it, but help you get into your mind palace and make meaning out of it, exercise your artsy nature.
Once Alfred H. Barr, the director of NY's The Museum of Modern Art, rightly said, "The observer must learn to look at the picture as a graphic representation of a mood and not as a representation of objects."
So, pay attention to what you feel and take note of the following points to determine good abstract art.
1. The Combination of Colors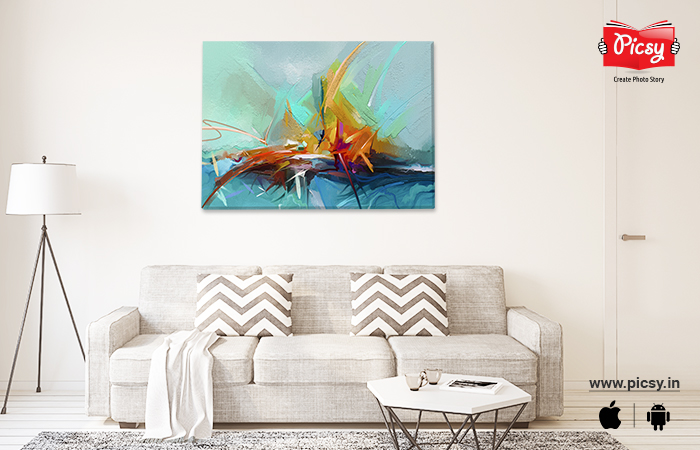 Color is the first element of attention. Did you see the art galleries, how exhibit paintings and pieces of art on white walls? The subtle background gives the maximum push to the colors used in the painting. Whether framed or canvas prints, the flow and harmony of colors stimulate a feeling of drowning in art.
2. The Blend of Texture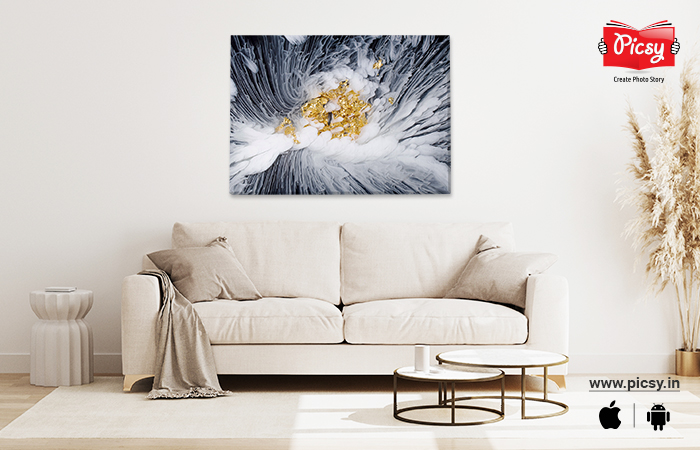 Abstract artists successively use layers of color to form texture and character in their work. Sensation, sprinkle, and grit are kinds of textures you can consider when visualizing abstract art. If the art appears to be of low quality, it can never be considered as pleasing. It is unbalanced and superficial.
3. The Myth of Understanding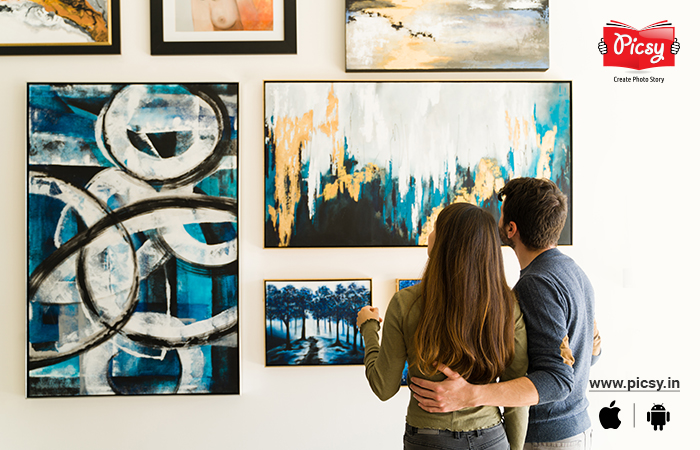 "Oh sure, they create art! But you wouldn't be drawn to any of them," said an art gallery manager.
If people are not drawn to your art, you are not worthy of the title, artist. You sure are creating art, but who can draw attention is the artist.
People often think others don't understand abstract art, so they can paint anything and put it up in a gallery. But the truth is, abstract art is more prominent than classic painting.
Art is all about emotions. To understand the difference between high quality and low quality abstract wall art, go with your gut because it is mostly, "if you know, you know." And if you are thinking abstract canvas to hang on your wall, we have a few tips.
Transform your space into a captivating gallery with abstract wall decor that sparks imagination.
How to Choose Abstract Wall Art for Your Home?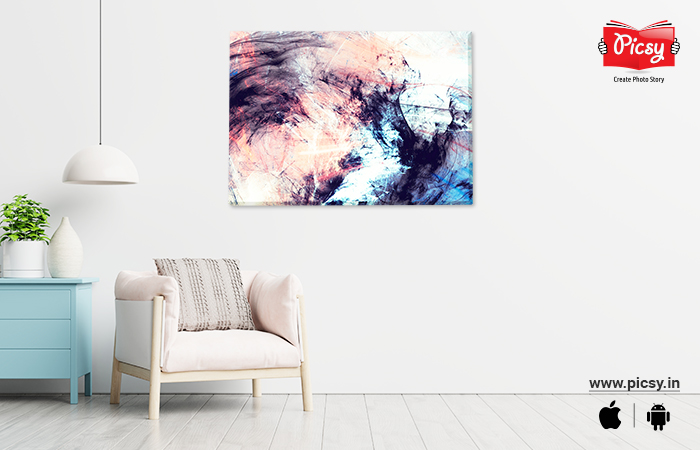 In the world of abstract art, how can you pick out the one that goes well with your home? No idea? Well, let us give a few.
#1 The Size of The Art
Make sure to buy a custom canvas print that fits in your wall and reflects the importance of the strokes applied to the image. Your empty walls are sure going to be the best friend, making your home look extravagant.
#2 The Shape of The Art
When you can be extraordinary, why not add that extra in ordinary? Consider hexagonal simple abstract art for your house. Not everything needs to be basic; add a bit of fun and charm to spice up your home décor.
#3 Choose Art That Describes You
Not every image suits people. Just like every other thing in this world, not all art can define you; choose the one that goes with your décor and your persona.
Now that you have understood the type of art you must choose for your house, how will you incorporate the same?
Ideas to Assimilate Abstract Art in Your House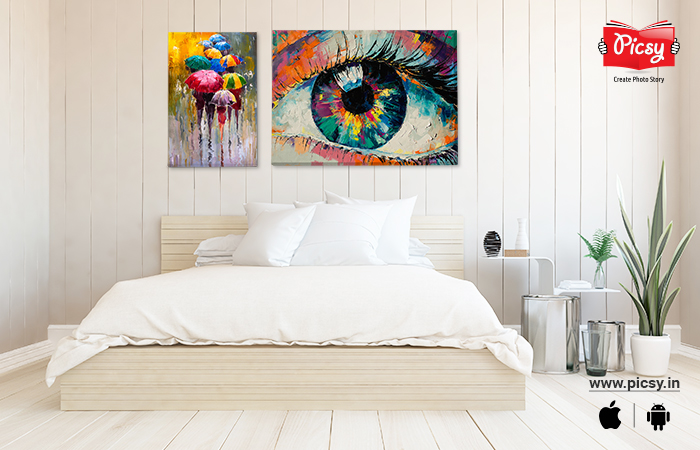 If you are wondering how to hang the canvas on the wall that would look stunning, we have listed down a few abstract art assimilation ideas.
#1 Floral Abstract Art
When the house calls for a big and vibrant change, abstract art is a perfect choice. A vague and open-ended subject that overpowers the version of the room. It is an appealing composition that creates fluidity, and it does more with a floral print. It has an unknown depth that provokes thoughts when hung on a white wall.
#2 Black and White Abstract Art
The combination of black and white is itself an art. Often used to make a statement, add this monochromatic abstract art to your home décor. The eclectic energy of the art quite effectively does the trick of making your room look interesting. It intrigues romanticism and adds upbeat energy.
#3 A Bit Extra Abstract Art
How does it feel when you are all alone and sad? Quite lonely, isn't it. Don't keep your wall art pieces lonely as well; give it a companion. A simple trick to extract the best of it. Whether you place them side by side or hang them vertically, two abstract art pieces hung together reflect balance. But remember to keep the sizes of the frames uniform to make it look like a set and not be added haphazardly.
#4 Complementary Abstract Art
Wondering how to create canvas prints online that complement your walls? With a photo product, experts do it in seconds. To give the look of interdependence, abstract art does not need to screech for attention. Project an artwork that completes the style of the room, sets off the colors and subtly says, "look, I make your room beautiful." Choose a hue from the room, be it the color of the bedsheet or an item of furniture, the edginess of the abstract canvas art will enhance the beauty of the home.
#5 Abstract Art Gallery
Abstract art can be varied and sometimes too overwhelming to choose from. However, the good news is, you don't need to choose one. You can in fact choose a whole bunch. With an abstract wall gallery, you can uplift your existing wall décor and create a personal art gallery for yourself. Nevertheless, it is advised to use cool hues or only black and white to create harmony in the existing large expanse of wall. You sure may create an articulation with the same frame sizes, but incorporating assorted abstract art sizes can create perfect home décor.
#6 A Dash of Color
In the chaos of heavy furniture and colossal lifestyle, give your room a serious dose of hue, breaking the brisk busyness. Whether rock solid or with subtle pattern, this abstract art has an in-depth impact that stimulates purity. A classic example of this kind of artwork pioneer would be Ellsworth Kelly.
Conclusion:
To come to a conclusion, there sure are dynamics to determine the characteristics of worthy abstract art. But it is the idea and thought that create the true dynamics of compelling art. Choose the right canvas prints for your home and let your inner Picasso speak through your walls.
Oh, did we tell you that you can choose different types of Canvas prints for your abstract art? Download the Picsy app now and get access to varied photo products for your home. Are you still reading this article? Go, and get the Picsy app already!
Ready to hold your memories in hand?