5 Tips that Will Bring Life to Your First Photo Book
Dec 20, 2019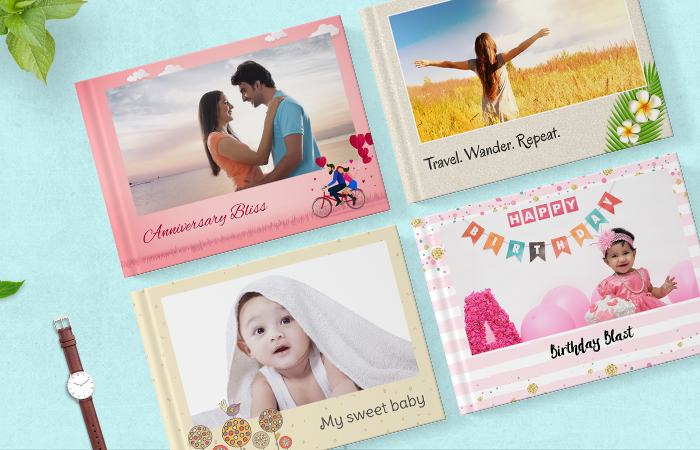 Without photographs, a moment is lost forever, as if it never existed. To keep the most important memories going afresh, you can immortalize them into a photo book. And as if we needed any more reasons to go back to the lane of memories, psychologists speculate that the nostalgia associated with a happy picture reminds us of simpler times.
This is where Picsy comes in- Let our happiness experts take you through a thrilling yet exciting ride that helps you to make a photo book- full of warm emotions.
So if you're planning to make your personalized photo book but aren't sure where to begin with, here are some expert tips to make your first experience with photo books less daunting and easier:
Organize Your Photographs
Preparation is important, Yes! There is no second thought that photographs are your focus points inside your printed photo book that reflects your experiences. Nothing compares to the joy of looking at a picture that takes you back in time and sharing it with others. To avoid any stress during photo selection, you can start by decluttering the less relevant photos.
Start with a story. If you are making an anniversary, birthday, vacation or family photo book- all begins with a story. Select the photos that are simple yet give a powerful memory. The photo book loses its impact when the reader has to flip through the pages to catch up with the pictures, it is highly recommended to organize the pictures in chronological or geographical order. Also, make sure your pictures are of high quality- it helps in better printing. Also you can explore our filters to make the photos look the way you want them to be when placed and printed in the photo book.
Pro Tip: Before getting started, move all your selected photos in a folder in your phone for quick access.
Experiment with Emotions
Monotonous is redundant- What suspense is to reading- emotions is to photo books. Add photos with mix sentiments to ensure you or others do not lose excitement to turn to the pages next.
Get a stylist viewpoint, add more emotions, adrenaline rush and laughter is an outstanding way to make personalized printed photo books.
Pro Tip: Have any weird shots- Add Them. Humour always helps.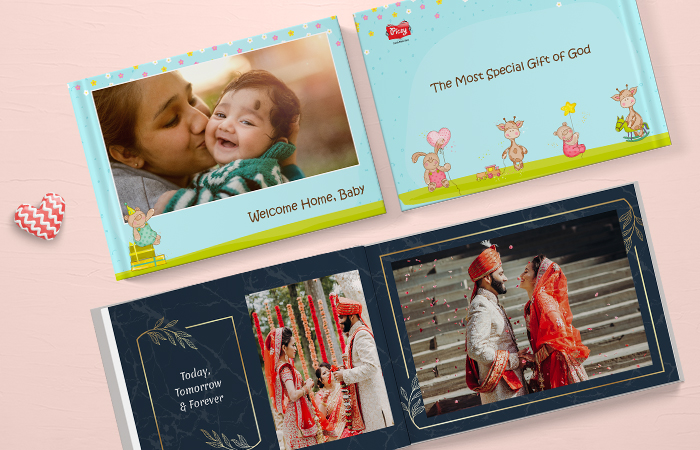 Keep it Minimal
Less is more- People usually get puzzled over the thought of screening the huge number of pictures before putting them up in a photo book. While there is no such limit to the number of photos to be put up, a maximum of three or four pictures per page is preferable.
If you're trying to put more, you are going to struggle for an overall effect. It is a common tendency to include all your best pictures in order to produce a book of the maximum memoirs, but it is equally important to give your photos some room to breathe.
Pro Tip: Go for a simple cover for your photo book. A personalized title along with the cover will definitely add a cherry to the cake.
Prepare a Storyline
Narrate a story- A message is best conveyed when the narration is simple and realistic. Think of the real story behind your photos and plan the book accordingly. Each picture adds an episode to your photo album. Sort the pictures in the way you want your ideal story plot to commence ( obviously with lots of mystery ) and conclude ( with a happy ending ).
It can be a year-long review of your journey, memorable moments of someone's life, an homage to your furry friends, family history timeline, a throwback to your vacation or even a collection of your artwork. A typical story is put up chronologically, but don't fear to break the stereotype if your story demands it. As a photo book, all that is important is a rhythm and completeness that tells the whole story. Stay easy, we have more than 150+ specially designed themes for all your occasions of life.
Get Worry Free. Just upload your photos and get your PhotoBook ready in few mintues with Picsy creative designs. Order it and get it delivered at your door step. As simple as that.
Add Personalized Text
Text matters- Photos tell a story by themselves, but it's always interesting to know the background happenings. Thus captions add life to pictures, be it the backstage facts, personal message, quotes or the location, dates, places. Choose short text so that it does not overpower the photos in the photo book.
Don't sweat yourself while putting up the caption - the most candid words leave an everlasting impression. Again, including text in your book is completely optional. In case you decide to, make sure you align it within the layout, it needs to go along with the overall style of the photo book.
Pro Tip: Don't bore the viewer with too much empty space, but also don't strain them with too much content on every page either!
Choose a Proper Layout and Theme
Quality is the key- So you've got your shots ready and they're all in order, now it's time to decide how you want to present them on the photo book. You can choose whether or not to add borders to your photos. There are indeed a surprising amount of options Picsy offers. We offer designs for every occasion.
Test different photo combinations that might pair well together while balancing the patterns in colour, tone, and texture. Do not forget to consider the storyline captured in your photos while previewing different styles and layout. An irregular combination of photo sizes and layouts within a book gives an unsatisfying view!
The best photo books have a cohesive theme, regardless, whatever you decide, keep it simple and consistent.
Pro Tip: Remember, perfection is an illusion. The more elements and details you add, you end up being messier. Keep it Simple and Classy!
Firsts are always special and so is creating your first photo book online. We at Picsy understand this spirit and offer you an easy and hassle-free solution to create your photo book online. With these insider tips in mind and Picsy app on your phone, you're all set to make your best ever personalized photo book, all by yourself.
To narrow down these to just one piece of advice, we would say, enjoy the reminiscence. After all, the process of making a photo book should be a pleasure, not a nightmare, so cherish your creativity and have fun!
Ready to hold your memories in hand?