Best Modern Restaurant Decoration Ideas to Inspire You
Last Updated : October 31, 2022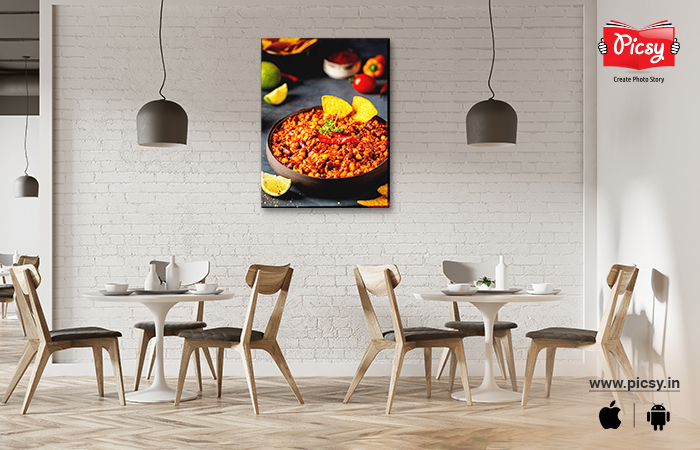 In today's time, we all love to hang out at a place that has a positive aura and has a modern touch to it. When we visit a restaurant, the first thing that catches our attention are the walls and interior of that place. In addition to this, the taste of the delicacy gets accentuated when we have it at a place that is peppered with beautiful walls, and the owner has put in effort for restaurant decoration.
That is the reason the walls of the restaurant ought to look appealing, and people opt for trendy restaurant interior design ideas. But you might be in a dilemma about decor gift ideas for your restaurant. To help you out with this, let us take you on the journey of giving a modern yet chic touch to your monotonous walls and some trendy restaurant wall design ideas. So, before any more delay, let us dive into it.
How Can You Make Restaurant Wall Decorations Attractive?
There are numerous ways to give a wonderful makeover to your boring walls. We have shortlisted the best ones for you.
Pick a Theme for the Art piece
Themed restaurants hold a reputation for appearing beautiful. Try to pick a theme that aligns with your interior and the color of the walls. And if the theme of the art piece matches the wall color, then it anyway adds up to the beauty of the place, thereby attracting a great number of visitors and will make your restaurant design all the more beautiful.
Download the Picsy app to explore the best wall decor products!
An Eye-Catching Entrance
When we visit the place, and if the entrance is attractive, it surely lures us. So, if you want to attract visitors to the place, then it is important to create an eye-catching entrance. You can hang beautiful art pieces over the entrance. It is one of the most important restaurant décor tips.
And the moment the visitors will enter, they will be induced with positivity. Along with this, avoid using dull colors, or else they might not be able to grab the visitors' attention. Instead, get your hand on the bold and vibrant colors.
Be Vigilant in Choosing the Colors
Aren't we already aware of the fact that if the color choice is appropriate, then it anyway adds beauty to the space? So, be vigilant while choosing the colors of the decorative for your restaurant. Also, try to get your hand on bold, solid colors. For your modern restaurant wall décor, the best shades to use for restaurants are blue, yellow, orange, green, and brown.
Best Modern Restaurant Decoration Ideas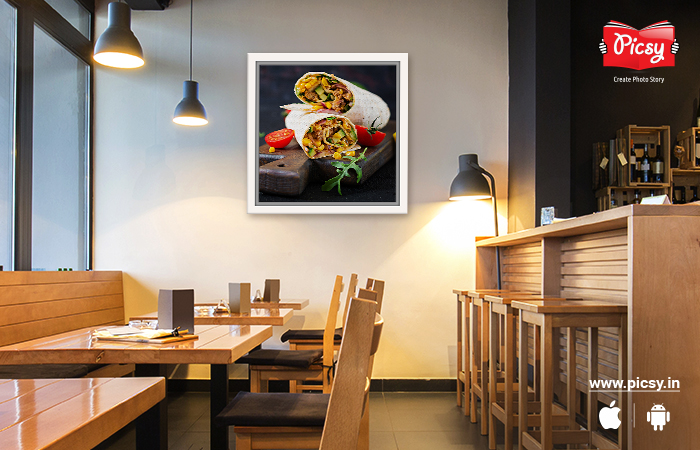 There are various restaurant decoration ideas. Let us figure out the ones that suit our taste in the best way.
Acrylic Photo Prints
If you wish to glamorize boring walls and induce a touch of liveliness in them, then get your hand on acrylic photo prints. They not only look amazing but are durable as well. Along with all these benefits, we cannot miss out on mentioning the various sizes available. You can place a couple of art pieces in a series of the same size to give a look of uniformity to the wall. It will help you to opt for the best restaurant décor ideas.
Canvas Floating Frames
Canvas floating frames help in redefining the styles of your walls. Whether you add pictures of the inauguration of your restaurant or pictures of your scenic beauty where there is a rugged mountain flaunting its beauty. Oh! Surely we are going to fall head over heels for such an enthralling art piece because it holds the potential to beautify your restaurant design interior.
Vinyl Poster Frame
A remarkably beautiful and wonderful art piece that holds the potential to bring life to your boring walls is none other than vinyl poster frames. They are made with top-notch quality synthetic PVC black frames. And one of the factors that make us fall for this art piece all the more is it is absolutely light on the pockets, which means they are very affordable. And if something is affordable and of great quality, then surely we would love to own it.
To get the best and durable Vinyl Poster Frames for your Restaurant, try Picsy app!
Canvas Prints
How about getting your hand on a wonderful art piece that will make your restaurant walls appear more attractive? Treat your restaurant walls with customized canvas prints. They come in different templates, so you can choose the one that complements the walls of your restaurant. You can hang them on any of the walls. And it will add up to its beauty and give life to your canvas wall art ideas.
Go Vocal for the Local
It is indeed a great idea to flaunt the local art to add to the beauty of the space. It will give a homely touch to your walls. They will look attractive and allows you to experiment with your wall décor ideas.
Pay Attention to the Lighting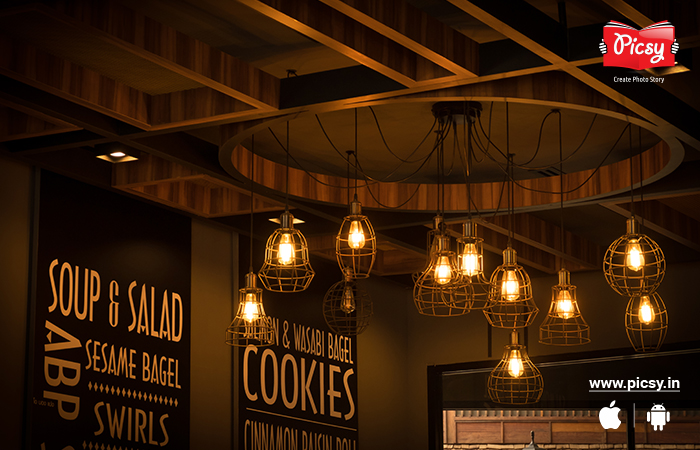 One of the most important things that we have to keep in mind is the lights of the restaurant. Good lighting contributes to the good ambiance of the restaurant and makes your restaurant wall design ideas executed. So, do not shy away from investing in good lighting.
Beautify the Bar
For a lot of people, the bar is the soul of the place. That is the reason why it is very important to have an attractive-looking bar. So, make the bar most beautiful and let your visitors be lured by it.
Closing Words on Decoration Ideas for Perfect Place
Hey folks! Here we are, at the destination of our journey of giving life to our boring restaurant walls. Now, you have gained a complete understanding of how to induce life into your restaurant design ideas.
And you definitely don't have to get worried when Picsy is at your rescue. The one and only thing you have to manage is to visit the play store and download the Picsy app. Rest, we will take care of all your photo-related concerns. So, you get the best art pieces to flaunt your restaurant walls.
Ready to hold your memories in hand?