Photobook Image Caption Ideas and Hacks You Should Know
September 24, 2021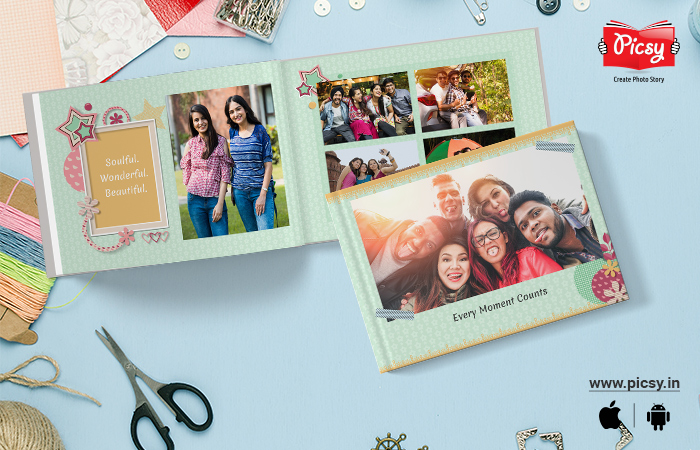 "A shop in the USA."
Do you think that caption is enough to describe the photograph? Are you not scratching your head to find out where EXACTLY the shop is, who clicked the image and why? Is it an old picture or a random newly clicked image with black and white filter? You must have already piled up a bundle of assumptions, and we get it.
Because that's the point of writing well-formed image captions. What's the use of a caption if you are trying to find out a thing or two about an image that intrigued your curiosity and you get nothing? It is just frustrating! These are caption murders, if nothing else.
Now that we have poured our resentment over bad captions, let us understand how you should dictate your images.
Guide to Write Proper Image Captions in a Photobook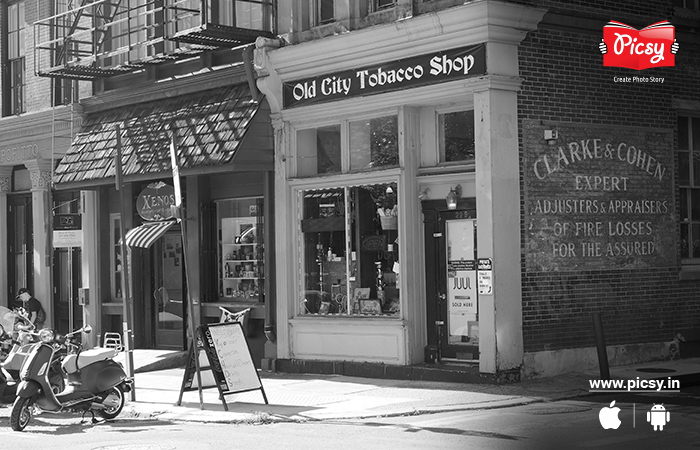 Imagine you are cleaning an almirah of your great grandmother, and you find a few worn-out images. You flip the image, and all you see is the date written carefully. So, all you know about the image is if it was taken before 1947 or not. That's not how our little Sherlock-minds wonder. We have more questions, don't we?
Speaking of which, photo captions are not only important for single photo prints but also, it is an exceptionally personalized and special idea to make a memory book. Let's dive into the rabbit hole and figure out your wonderland.
1. Every Story Has a Begging
No matter if it's a personal photobook or a novel, a preface adds minutiae to the story. However, a preface of a book and a photobook is a lot different. Establish the roots of the photo story in fewer and simpler words.
Examples -
|Preface for a wedding photo book
"Here's to the journey of our forever and after. 12.01.21. The Chatterjee's"
|Preface for welcoming a newborn into the family
"Welcome, our little bud, Ansh. Born on a bright sunny day, Tuesday, 14-09-2021."
|Preface for a recipe book
"154 recipes from Grandma's kitchen. Family recipes of Basu's."
2. Every Image Tells a Story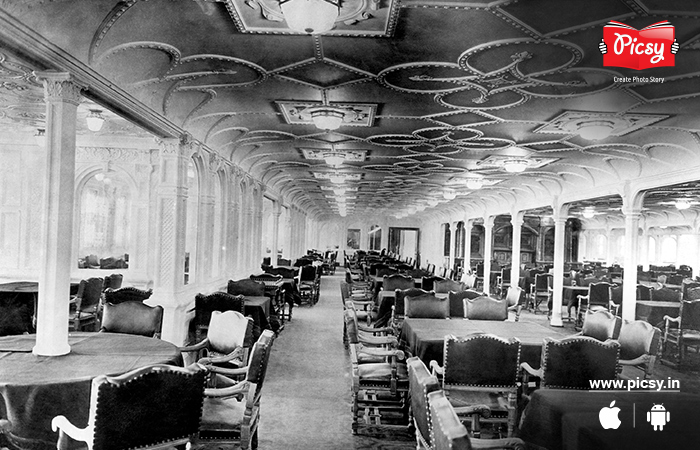 Have a close look at the image. What do you think it is? A restaurant... theatre? Something similar, right?
It is true that an image says a thousand words, but an image without a few words is left in the void.
This image is the dining room of the RMS Titanic. Yes, the one which sank after hitting an iceberg in 1912. We bet you couldn't have guessed until we said so.
3. Wise Words by the Wise People
Does it ever happen to you that you are in trouble, you tell the situation to one of your friends and don't like their advice? And when your mother gives you the same advice, you just grab it in a moment. It happens, right? We listen to people who are closer, wiser, and perhaps experienced as well. With the same logic, we present to you an interesting twist to your special photo books.
Add quotes. It adds details, aesthetic feel and builds a story.
Here are a few examples of classic quotes which you can add:
|For Travel Photobooks: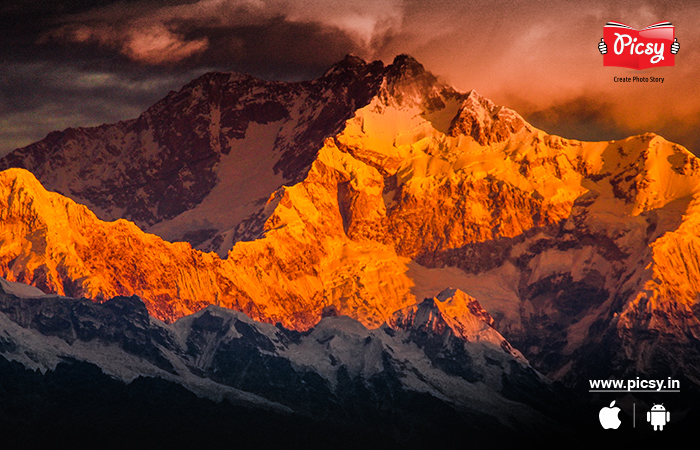 This is Kanchenjunga of the Himalayan range. You could say that without a second guess. Possibly, we all could. For images such as this, which do not require much explanation, can be accompanied by glorious quotes.
"It is better to travel well than to arrive." - Gautam Buddha
"Wherever you go, go with all your heart." - Confucius
"We take photos as a return ticket to a moment otherwise gone" – Katie Thurmes
"Traveling – it leaves you speechless, then turns you into a storyteller" – Ibn Battuta
Also Read : How to Become a Travel Photographer
|For Wedding Photobooks:
A few mind-blowing and inspiring quotes for the wedding day.
"We loved with a love that was more than love." – Edgar Allan Poe
"Love doesn't just sit there, like a stone, it has to be made, like bread; remade all the time, made new." – Ursula K. Le Guin, The Lathe of Heaven
"Who, being loved, is poor?" – Oscar Wilde
"There is no remedy for love but to love more." – Henry David Thoreau
Now with the help of these quotes, you can craft creative photo book ideas to freeze your special moments.
That's not it! We still have a handful of tips left. Keep reading.
Layout Guide to Create Your Memory Book
A custom photo book is not only about image dictations but art as well. Whether it's the typeface or the caption color, it defines the layout.
|The Typeface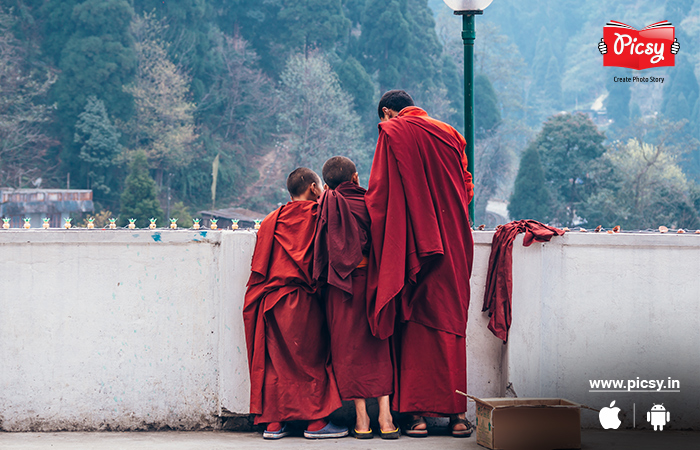 These are three Buddhist monks at Dali Monastery, Darjeeling.
What kind of feeling does the picture evoke? Where some may say peace, some would go for monkhood. Do you think in this image, any dynamic font type would be befitted?
Certainly not. Calibri Light, Segoe UI, Kigelia are a few of the names of typeface that would suit well as image caption in a subtle memory book.
|Readability
Case 1: It is good to be creative, but make sure that your words are visible. After all, you want people to know what you are writing, right? If the background is subtle, use a darker color to write the captions or quotes. If you use a light color, such as yellow, it will arise a readability issue.
Case 2: Similarly, if you are using cursive font, try to read in the third person. Do you think all the characters a readable enough? Proceed only if the answer is yes.
|Font Color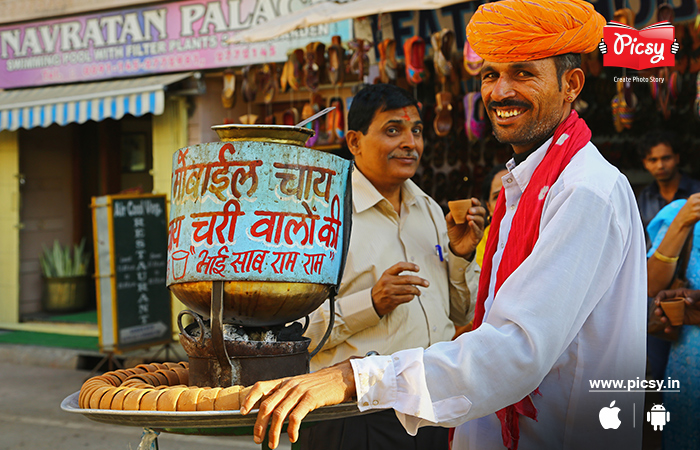 Quite a cheerful image – a happy tea seller at Amber Fort, India, in 2012. For images, so dynamic the font colors can be bold and colorful. They look extremely appealing with a dark background and contrasting font color coordination.
Let's Acknowledge the Theory of 3F's – Ways to Write Image Captions in A Photobook
Some things are best learned with experiences, and so as to image captions. The more you will read image captions, the more you get the grip of the pen.
Yet, we have mentioned a few quick tricks to ace your image captions for your memory book.
|Formal
Ever noticed how the reporters write the image captions in the newspaper? Imagine a picture where M. S. Dhoni is a wicketkeeper against Kumar Sangakkara. The image caption would go as such:
"M. S. Dhoni, former Indian capt. wicket keeping (at the back) against Kumar Sangakkara, Sri Lankan Batsman, ODI, Eden Gardens, Calcutta."
It is a perfect example of a photography portfolio caption. They are formal, descriptive, and to the point.
|Funny
A few inside jokes or witty lines are fine; after all personalized, photo albums should reflect a part of you. So, if you think you want to talk about your uncle's extra-large tee-shirt or aunt's overly done make-up, be open; we won't judge you.
After all, "everything is fair in love and war," and customized photo products are pure love.
|Flamboyant
Image captions sure should tell more about the image, but very briefly. It does not need to be thorough, but explain enough about the image confidently. Let's take a few examples to master the writing of image captions. Shall we?
Example One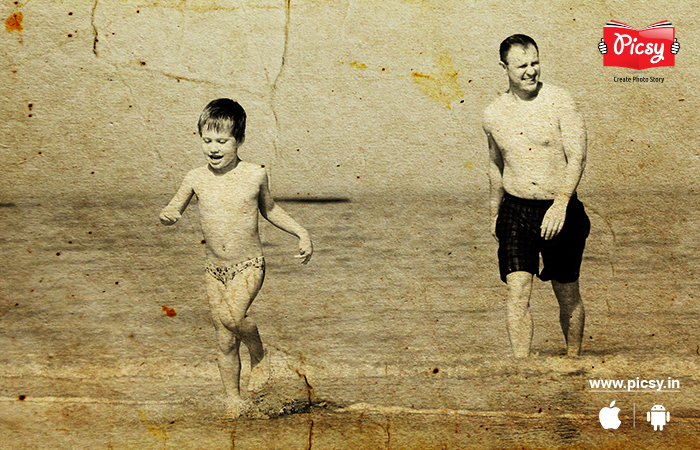 "Me and Dad, playing by the beach."
Is the caption a 'no' or a 'go'? What do you think? Is the caption settling all the questions that may have arrived?
Who is 'me'? Which 'beach'? When was it clicked? The caption basically says nothing that's beyond what we can see. So, it's a 'no.'
Example Two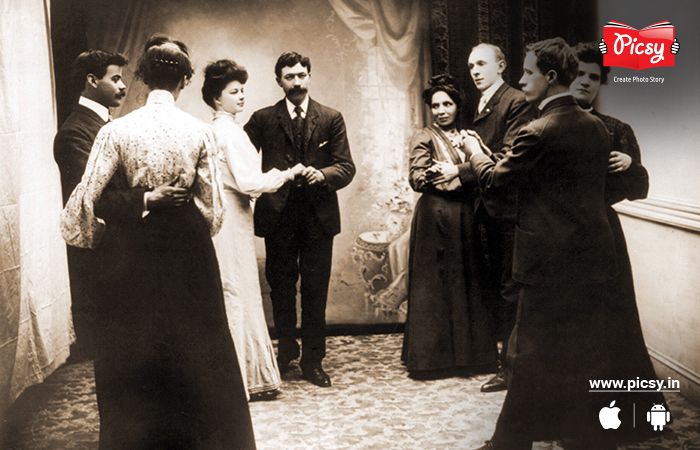 "Members of Monaghan Men Performing Irish Quadrille in 1905."
This caption tells enough about the event. Now we know who they are, what they are doing, and when. Not only that, if we want to know more about them, we can attain more information by just copy-pasting the caption in a search engine. How cool is that?
Example Three
"Pillar pathway in Katni Fort, India. This Fort became the revolt station against British Raj in 1857. The architecture of this fort is made of limestone is nearly 200 years old."
The caption is explanatory, descriptive, and answers most of the questions that may arrive. But is it right? Unfortunately, not, it is too long to be called an image caption. A caption should explain more in lesser words.
Conclusion:
Image captions may sound tricky, but with the perfect sense of descriptive writing, it can be the real catch of a photobook. With the help of the above guide, create a personal scrapbook photo album for yourself.
Oh, did we tell you, there are hundreds of photobook templates at the house of Picsy? Check out and get one today! Nah, it is not a lengthy process at all. Actually, you can do it in four simple steps – download the Picsy app, upload your favorite images, customize, order. It is easier than it sounds. Try Picsy!
Ready to hold your memories in hand?