Why Should You Create a Photography Portfolio: Here's Why with Examples
March 04, 2022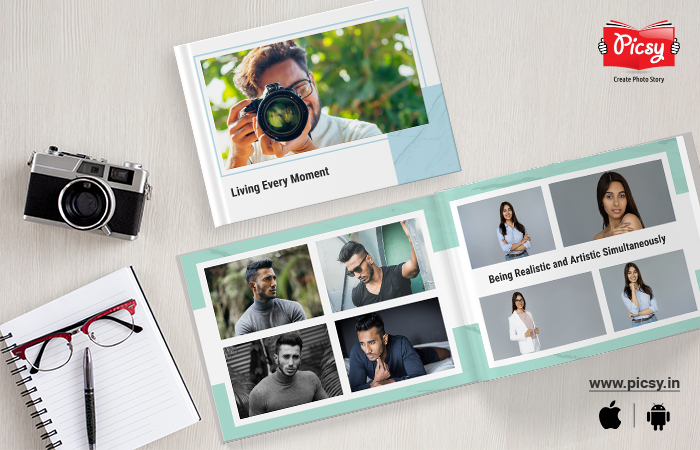 Consider photography as a business and imagine how you can sell it. Can you sell it just by your words? Or do you need real-life examples, for that matter? You need a bunch of examples, rather. Products don't sell without the concrete existence of the product. So, if your product is photography, the concrete proof is your photography portfolio. Consider it as a must-have weapon to raise your bar.
Now, you might get stuck while understanding the weapon itself – what is it and how to create a photography portfolio? Here's your guide.
What is a Photography Portfolio?
A portfolio is a compact compilation of photographs that you would use to exhibit your greatest work to others. Its fundamental objective is to attain a photographic vocation. A portfolio is a weapon that demonstrates your talents to a customer, regardless of whether you would like to do street style photography, wedding photography, or commercial assignments.
Why is Photography Portfolio Essential if You Are a Photographer?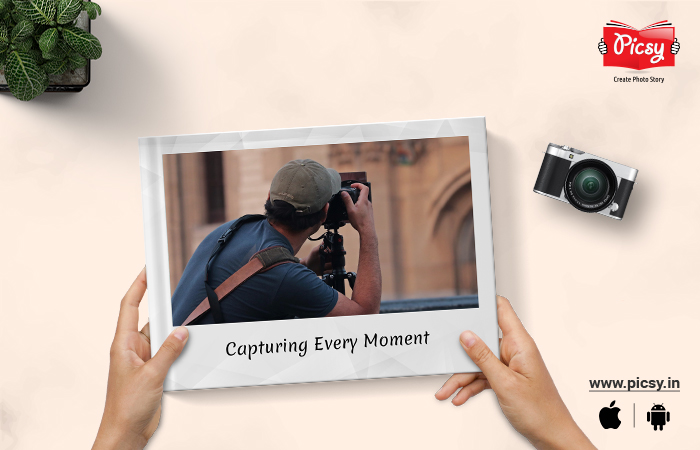 The portfolio is the weapon that showcases the greatest images, i.e., their work, to the potential clients quickly and easily. A good portfolio will get you a lot of work, whilst a bad one will get you far too little. But, exactly, what makes a strong portfolio? And how can you know when you've made a mistake, even while you're looking over your own work?
While portfolios are as diverse as the personality of individual photographers, there are a few tips to determining whether your portfolio is fit to go or needs a little more work.
Build a stunning portfolio of your amazing Clicks! Download Picsy app and Get Started!
How to Build a Photography Portfolio That Clicks?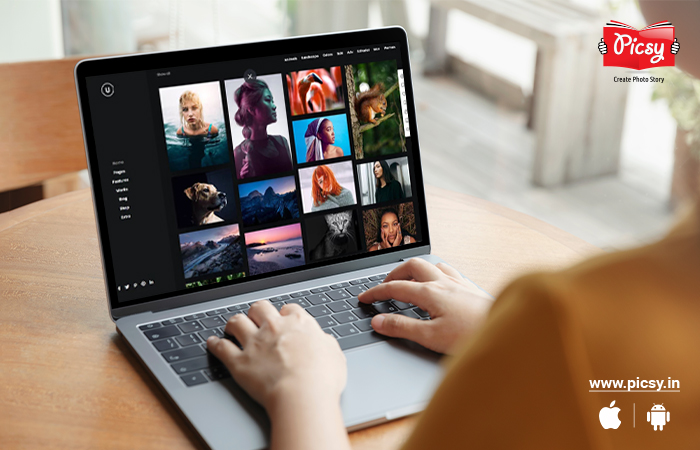 Making photography portfolio may sound quite a daunting task, but in reality, it is as easy as melting a cube of ice. In a photo portfolio, you need to gauge all the greatest work of your life to impress your clients or interviewers.
Whether you're a photographer, cinematographer, or other artistic talent, having your personal portfolio webpage is so significant that you can't possibly expect customers to come knocking on your door if you don't have one. With the world going digital at a rapid pace, setting up an online photography portfolio or photobook portfolio that pops out from the throng might provide you with a competitive advantage!
Here are a few ways how to build a photography portfolio:
Adding the Best Images at First
You must have heard the saying, "first impression is the last impression." And we believe in setting the first impression. To catch hold the attention of the clients, your best shots should be in the first few pages.
Segmenting Photography Portfolio Ideas
To grab the attention of first-time readers, your work has to be well classified. Otherwise, people will come and close the browser or photography portfolio without flipping the pages. Instead of displaying random photoshoots, try categorizing your work into categories such as portrait, pre-wedding and wedding, family, black and white, and so forth.
Choosing the Best Online Portfolio Maker
Without beating around the bush, by choosing the best online photography portfolio maker, we mean reaching out to Picsy. It has hundreds of free templates for your portfolio hardcopy; however, we recommend choosing the free web building sites if you want to create a portfolio website. They are good enough to serve the purpose of displaying your awesome clicks.
Give a kick start to your photography career and
create a Portfolio Photobook from Picsy!
How Many Images Should You Add in Your Photography Portfolio?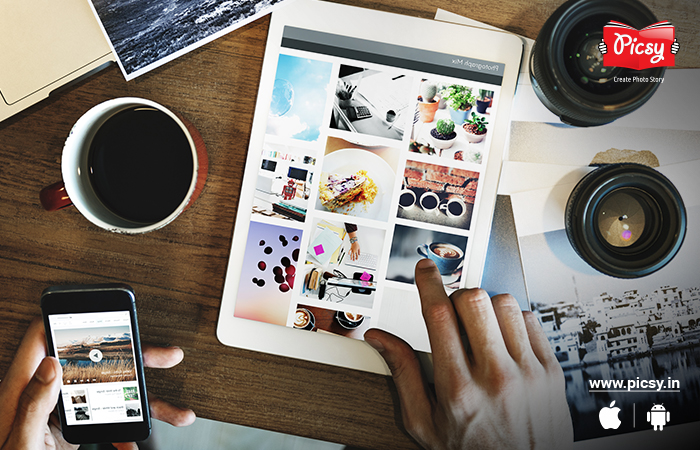 You can, in reality, keep as many pictures as you want. But, to keep things professional, you must keep it concise. While creating a photography portfolio, put only the best images you have clicked. To give you a brief idea, adding images should be between ten to twenty; if you add more, it might look like you are trying too hard to make an impression or you are not confident.
Where Can You Create Your Photography Portfolio?
Now that you know how to make a photography portfolio let's understand how or where you can give life to your photography portfolio ideas.
For Professionals
If you sound enough about WordPress and how to build a website, and you soon want to start your photography business, go for traditional web designing with Elementor.
For Newbies
If you are new in the area and just getting started with your photography portfolio ideas, then the free automatic web-building websites will work just fine. Whether you choose Wix, jimdo, or any other, to give a kick start to your photography career.
For Everyone
Whether you are getting started or have enough clients in your hand if you want to go bigger, get a photography portfolio online from Picsy. Picsy provides world-class photo books with premium page quality with hundreds of template options.
Read More : 13 Creative Photo book Ideas for Everyone
Stunning Photography Portfolio Examples and Ideas
To help you design your photography portfolio book, we have added a few creative ideas for photography portfolios. Keep reading.
André van Rensburg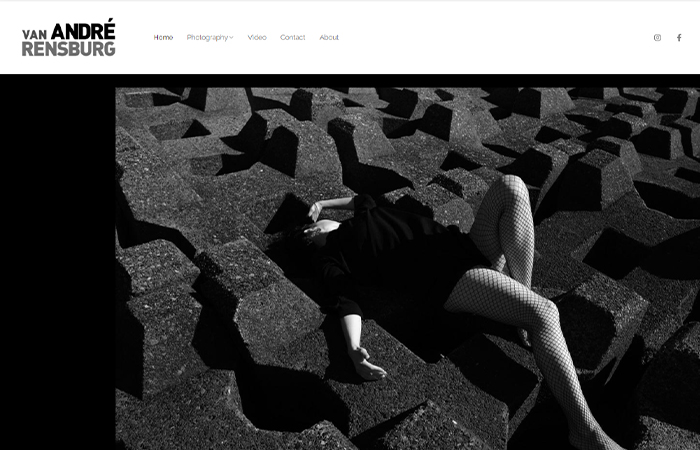 André van Rensburg's photography portfolio is the ultimate example of black and white photography. No unnecessary words or promotional lines, just showcasing what's he is good at.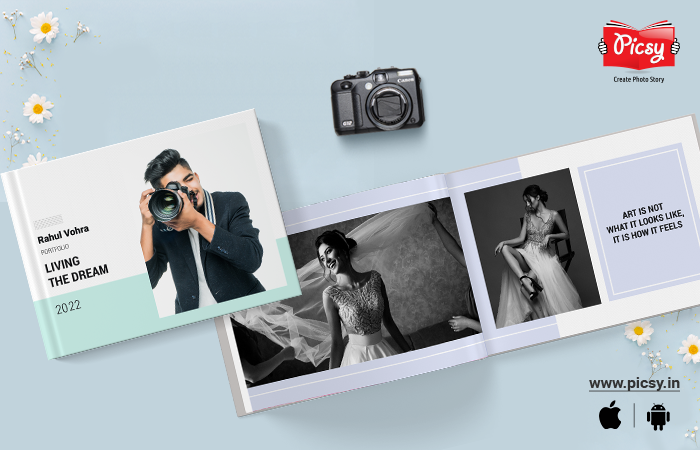 A stunning, creative, and out-of-the-box photography portfolio template that can elevate your photography and impress potential clients in seconds.
Benny Cuppini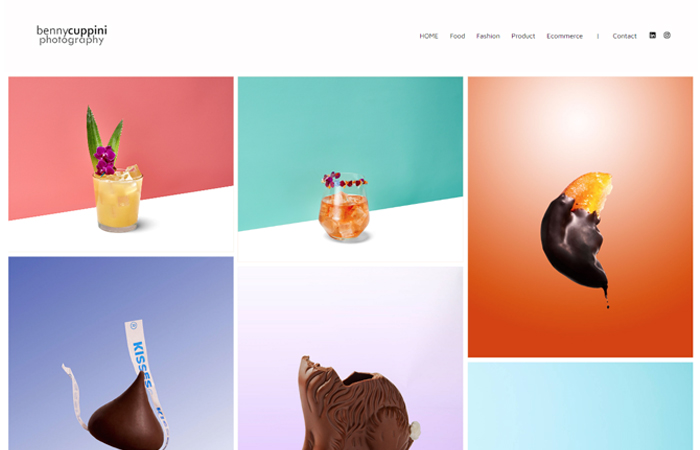 Photography portfolio of a photography agency based in United States – Benny Cuppini. If you are looking forward to creating a product photography portfolio, this is a good example to refer to.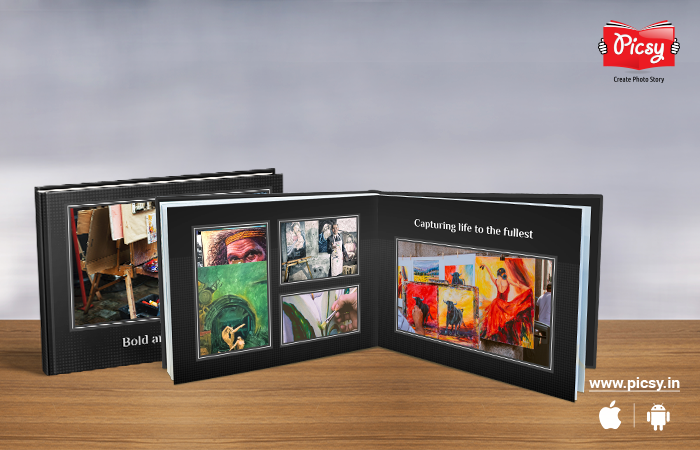 Available in three different sizes, this portfolio is one of the greatest photography portfolios if you are printing them. Customize the way you want and give a platform to your exclusive photos.
Read More : How to Make a Stunning Photography Portfolio Book
It's Time to Wrap Up
We hope our photography portfolio guide helped you the way it was intended. Always keep in mind a portfolio should reflect quality over quantity. Before creating a photography portfolio, look at all the photography portfolio examples we have provided, and then follow your instincts.
To create a stunning portfolio online, download the top photo album maker app such as Picsy. It creates the best Photography Portfolio Albums with hundred other photo products. Download the app and keep Picsying!
Ready to hold your memories in hand?