How To Make A Graduation Photo Book
August 14, 2020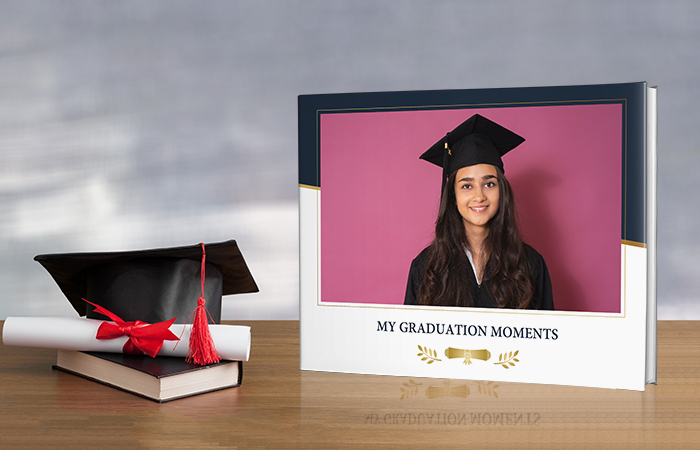 A compilation of 6 brilliant ideas for your graduation photobook
Remember the day you threw those black hats in the sky and kept on those black robes longer than you should have. Graduating is a major milestone in life and with it come moments that you would want to cherish for a lifetime. The moments leading up to the occasion, the fun-times you had with your friends you had that day, the actual ceremony, all come together as experiences that you will never be able to forget. But even though you remember how all of it felt, wouldn't it be nice if you could revisit those times of fun, frolic, and not to mention achievement, again?
If so then a fully customized, bespoke graduation photo book from Picsy is just the answer. Now you can keep all these memories a page turn away and with the quality of texture and finish we offer, you would want to turn your photobook pages again and again.
Presented below are a few photographic themes that you could use while bringing your graduation photobook to life.
1. The Journey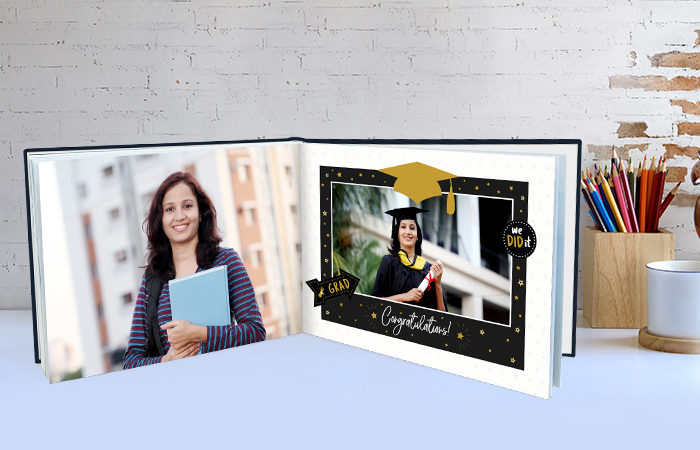 You could create a photobook documenting your entire education. You can use images from when you were in primary school right up to your graduation day, a picture for each standard ending with your graduation. This idea is beautiful representation of your journey from a child to an adult, one which not only you but your loved one too will enjoy reliving.
2. D-day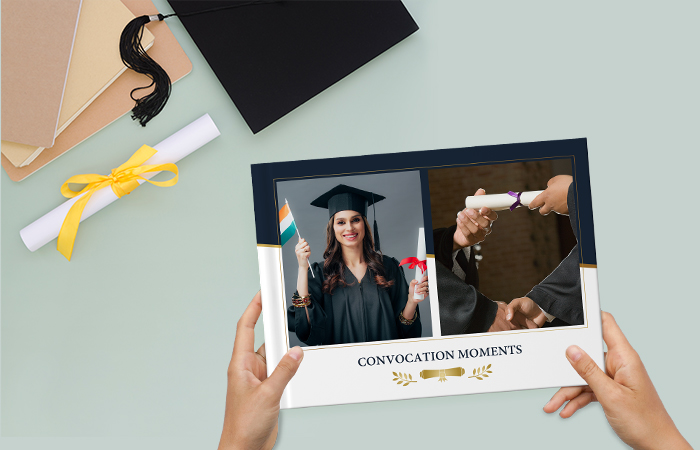 You can have a family member take pictures of you from the time you woke up on your graduation day throughout the function. This gives you an amazing photo story of all what you did on D-day, leading up to the big moment on stage and then to the fan-favorite. "the tossing of the caps." Graduation is a massive milestone but yet it was the little things that helped you on your way to this achievement. By capturing instances of the day from your choice of cereal to old cd's of your favorite bands you used as study music, all add up to you D-day.
3. Party time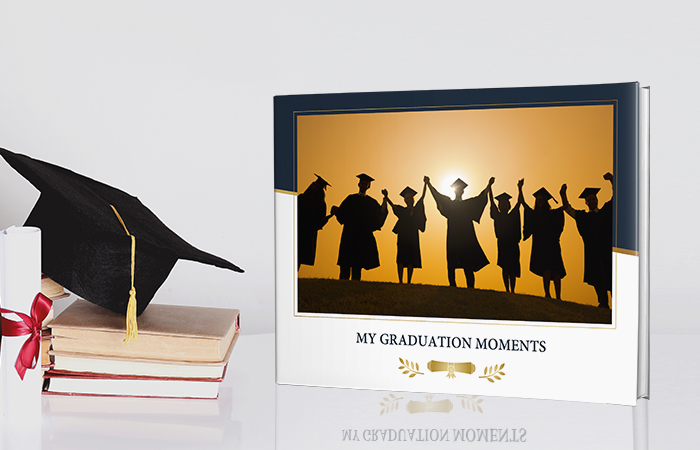 Whether it's an intimate dinner party with your family or an all-nighter with your buddies, pictures of the party make good additions to your Graduation photo book. You have graduated. Now it's time to let your hair down and roll up your sleeves, because this is an occasion that warrants celebration. You can include picture of your classmates enjoying at the party and even picture of your parents shaking a leg!
4. With the teachers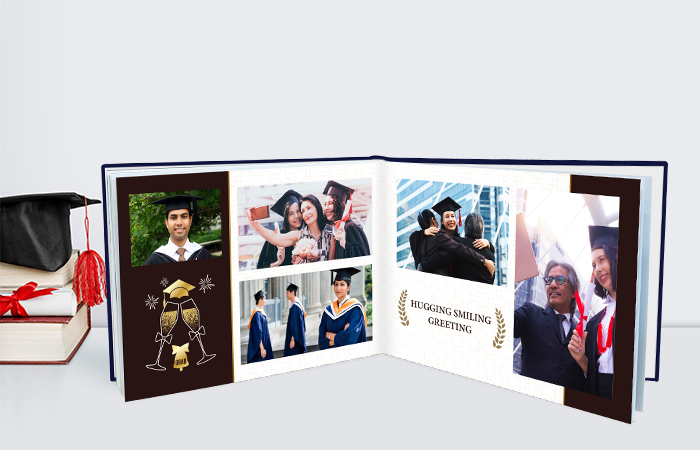 Your teachers have been tolerating you for the past year and now you are finally leaving college. Capture their smiles of pure relief with a few pages of your graduation photobook dedicated to your teachers. Teachers form a cornerstone of every person education and even though we might sometimes feel stifled by the discipline they enforce, once we move on to the next stage of life, we soon come to realize how influential their presence was in us growing up in the true sense of the word. Keep images clicked with them in your graduation photo book to think back to and smile over.
5. With the family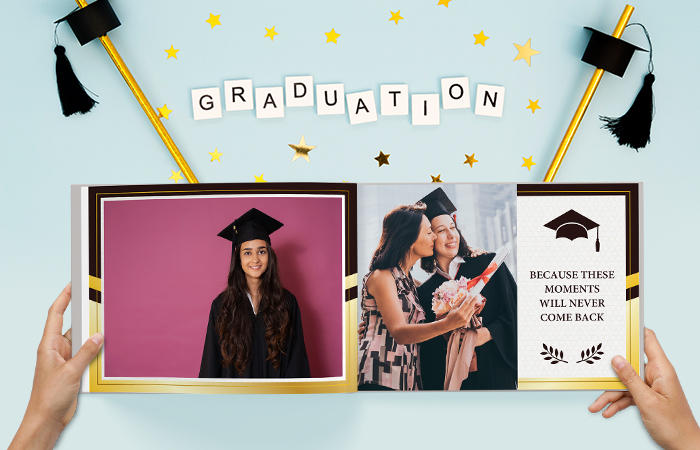 Your family has been with you from the very beginning and will continue to remain so. They are just as happy as you when you graduate. Capture the special moments of your family rejoicing with you in a premium quality printed photo book. Your immovable pillars of support your family has seen you through thick and thin. What better way to celebrate their solidarity and kinship than by capturing their smiles of pride in your graduation photo book.
Read More : 8 Creative Family photo ideas
6. The Reunion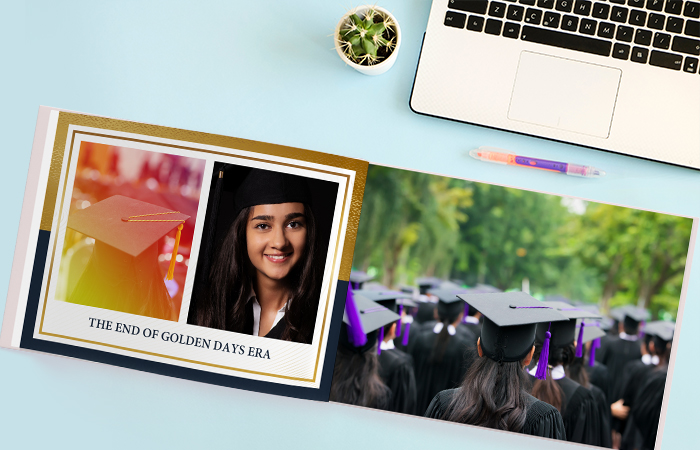 Maybe its years since your graduation. We know you have the photos stashed away somewhere. With Picsy you can compile your graduation pictures in the form of an exquisite photobook and relive all the moments you had with the crazy zany people in your class. A beautiful way to get together again and bring back the magic and wonder of those days, you can ask them to pool in with picture that they have and you don't to make your graduation photobook a collaborative venture and a reason for all of you to get together again.
With Picsy you can create a graduation photo book that you can customize as much as you want by choosing from our selection of themes, layouts and embellishments like ribbons, banners, stickers and even quotes and thoughtful text. Whether you are celebrating your graduation from school, college or university, it one of those occasions in life that deserve a beautiful keepsake. Along with a variety of other printing services, Picsy offers premium quality printed photo books so that you can keep all your favourite memories from your graduation close at hand. Download the Picsy app and get started on your graduation photo book now!
Ready to hold your memories in hand?