Canvas prints above traditional photos: Here are the pros and cons
January 25, 2021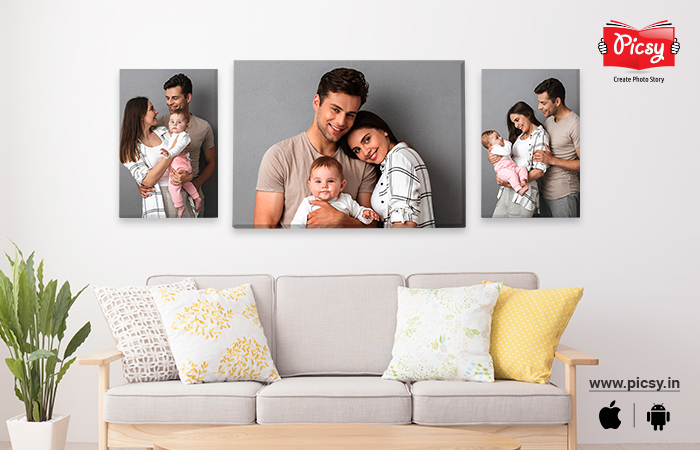 With each passing day comes a new trend in every field, and people are positively adapting to all of them. Be it technology, clothing, fashion, or designing; changes are always exciting. However, photos are the most precious treasures one has because they include all the cherishable memories preserved in them.
Along with just getting the pictures print, today, people also take care of all the minute details allied with it. Some of the essential questions include:
Will the frame go with the décor?
Will the size and color reflection be aligned with space?
Will it be high maintenance?
Will it last long?
Or will it add beauty to your photos?
And many more of them.
Many questions, doubts, and dilemmas come in your way when you decide to freeze your beautiful memories into a lovely keepsake.
Therefore, we are here to answer every question of yours and solve the puzzle for you. Personalized Canvas Prints with Picsy will make you sure about your selection with its wide assortment of canvas prints. But before you choose, let us review who vs. who.
Canvas Prints vs Traditional Photos
This article will debate over the benefits of canvas prints vs. Traditional photos and sway your dilemma away from choosing one.
1. Contemporary look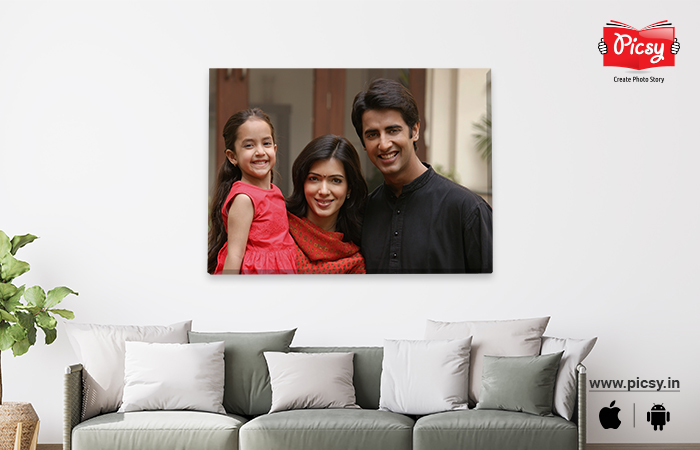 Canvas prints give your pictures a modern yet subtle look. On the other hand, traditional photos give your photographs an authentic and ancient look. Canvases themselves look like an art, which more or less conventional pictures don't. Hence, Canvas prints look much more stunning than traditional ones. We at Picsy make sure that we deliver a canvas not less than an art piece. Our online photo printing services guarantee 100% happiness with our 12 colored ink that will never dull you and your picture's sparkle.
2. Lightweight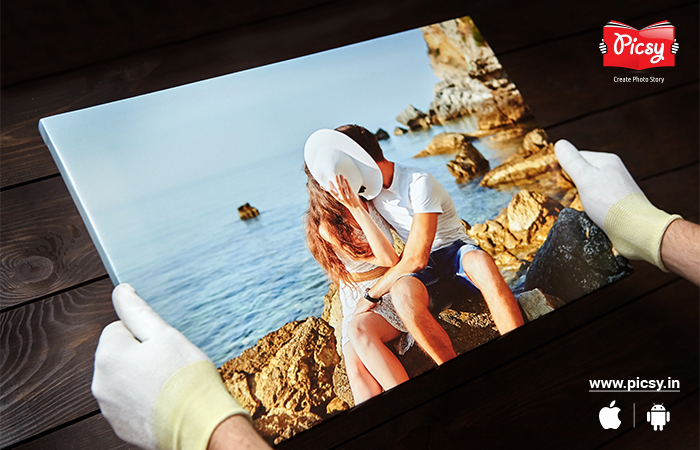 Canvases comparatively are lighter in weight than the traditional ones. We say so because there's much difference in the material used in these two, making the difference. The lesser the weight, the lesser there will be a risk of its breakage.
3. Framing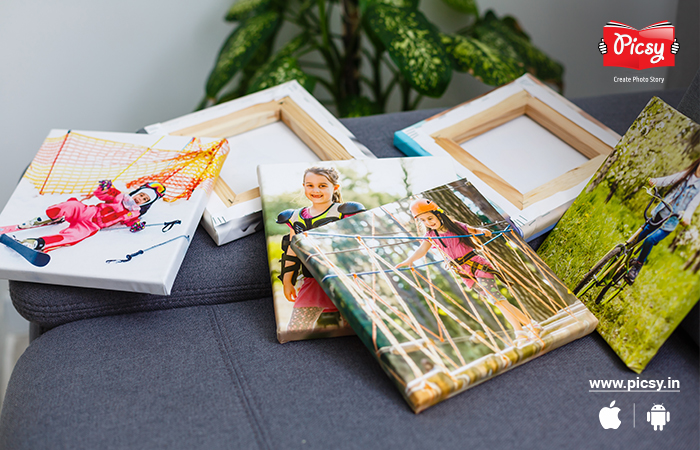 Canvases don't have frames; instead, they have wrap styles, whereas traditional ones have frames. The wrap style in the canvases gives you pictures a timelessly classy look. With Picsy, you can choose the wrap style you want for your canvas print as it offers several wrap options along with its size and shape.
4. Finish type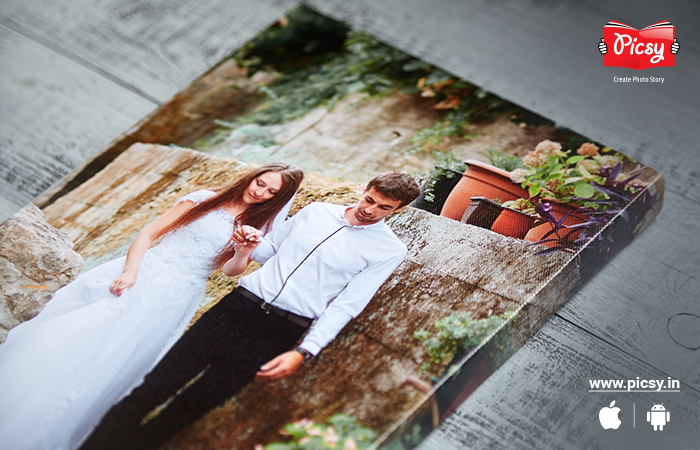 Finish type is essential for aligning your picture frames with your space's décor and color. Canvas prints offer you options such as glossy and matte for finish type, whereas traditional ones are usually printed in a polished finish. Moreover, a matte finish gives your pictures a clean and elegant look whereas, glossy doesn't. Pick the image finish you prefer on the Picsy app from its various size options and finish and get your artistic piece delivered to your doorstep.
5. Material and its maintenance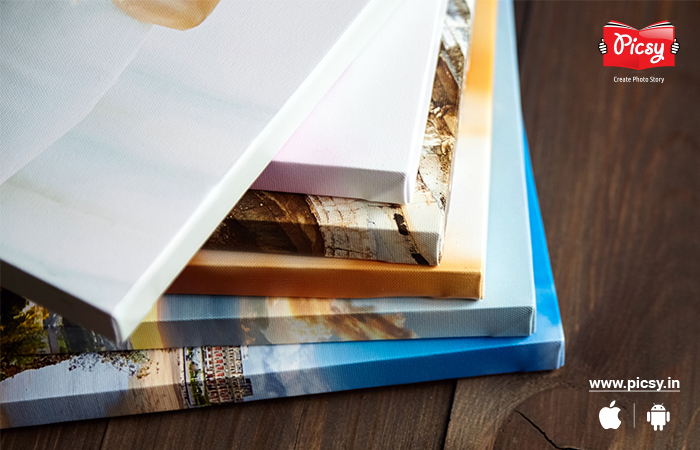 The canvas material is a thin fine fabric that lasts much longer than traditional print paper. Canvases are just a fine fabric on a board, whereas traditional photos are paper framed with glass. That is the reason traditional images are high maintenance and canvases are not. One doesn't have to take care of canvases much compared to glass frames. Picsy's Customized Canvas Prints will help you get off your dilemma and love the canvases more than the traditional photos. Its vast selection of canvas prints will make you drool at the beauty of canvas prints.
Looking for a unique canvas print? Order Floating Canvas Frames.
6. Durability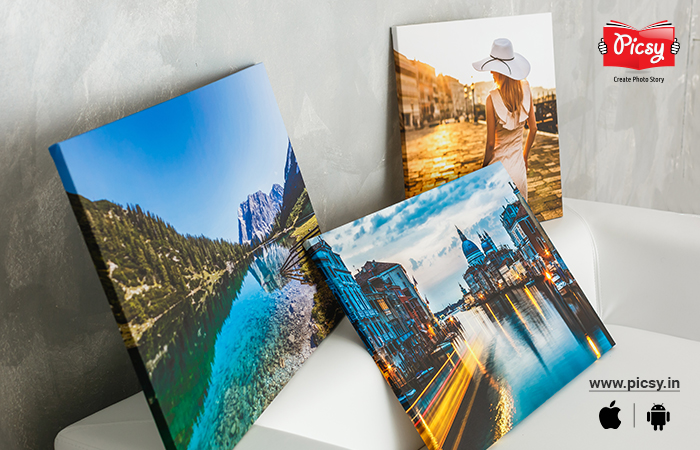 As we discussed above, canvas fabrics have a long life than traditional glass frames. As with time, papers in traditional prints get stains and can't be wiped off. While on the other hand, canvases can be wiped off with a delicate and damp cloth, and it will turn as clean as when it was new.
Picsy's Canvas Printing Online services ensure your canvases' quality and durability and make them last longer than you expected.
With all the points in mind, we now hope you must be clear with your selection concerning Canvas Prints vs. Traditional Photos.
Read More : How To Choose The Right Photo For Your Canvas Prints
To summarize the above article, canvases are more of a contemporary, subtle, lightweight, durable, and elegant piece. On the other hand, traditional photos are more authentic, glossy, heavy, and high maintenance. Canvases highlight your photograph's minute details, whereas traditional ones aren't the same. The choice is yours now!
Be it a beautiful landscape, a photograph, a quote, or your favorite painting; canvases are meant to add charm to all of them. Being a renowned printing brand, we are overly excited to serve our customers with such delight. Download the Picsy app now and select your favorite picture or a quote from your gallery. Pick your choice of shape, style, size, and filter, and get your customized piece delivered to your doorstep.
Ready to hold your memories in hand?