5 Exotic Photo Ideas for Your Perfect Vacation Photo Books
May 13, 2019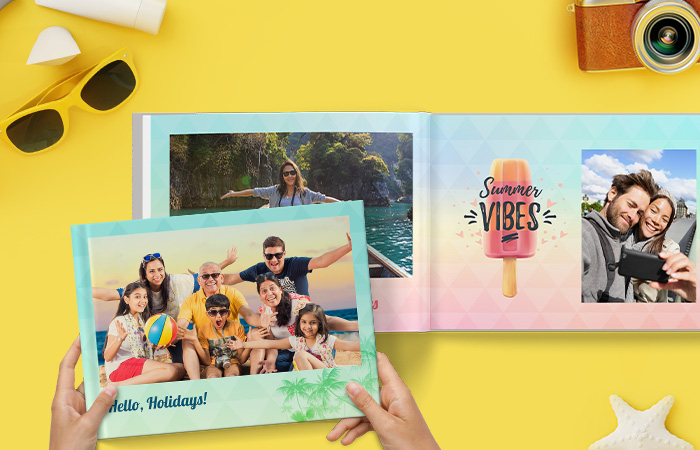 Who doesn't love a vacation? Some days just with yourself, your family or best of friends in a distant land is like pampering oneself with doses of laughter, good mood and good food, of course! Vacation calories don't count, but photos certainly do.
While you are on the trip, it is not compulsory to find a professional photographer; just you, your camera (and some of our photo ideas) are enough to get you the most amazing photo-book-worthy clicks that will be as zingy and fresh for years ahead. Don't get hassled of owning the perfect DSLR camera, your phone camera can work magic too, if you use it properly to get the right frames.
Every vacation has a story- Isn't it? Just like a good story try to include a tempting start, captivating plot elements and satisfying conclusion. For the perfect theme to suit your story-flow, you can choose any Picsy travel photo books. Each travel photo book in Picsy app is stunningly crafted to match the mood of your vacations. Go on to read the best photo ideas to relish your vacation memories:
Start from the Very Start
Yes- that is where your story will begin. Whether it is packing your stuff, airport hustle, or the road from the station to your destination, try to capture people and places that you encounter on the way. Also, don't miss the chance to capture the view from the airplane or touch down on the tarmac.
New Eyes for New Perspectives
No, I am not asking you get a whole set of new eyes- but just a different vision. Just change the way you see things. At your vacation destination, there would be scenic locations, museums, architectural marvels, heritage sites, mountain tops or beaches. Make sure you move out of your comfort zone and click from a different perspective- like looking up or down shots if you are in a museum or on a cliff.
Trying to size down your friends or family from a distant vantage point can help to show how breathtakingly beautiful your surroundings are. Also, action shots make up some amazing photos. Rustling up leaves, splashing waves, or a snowball fight will look great when put together in a travel photo album.
Iconic Landmarks and Incredible Landscapes
Ditch the mandatory group pictures and try to add a fresh twist to get great shots of landscapes and landmarks like people usually do. Try getting the reflection on your sunglasses, climb up a nearby tower to get a shot from some height or stare at the monument in awe. Some crazy shots of 'holding up' the monument from its tip will never go out of fashion. Look out for a striking dash of colours on a natural landscape in the background.
It is special to mix people who you love and iconic locations in one frame- so just go ahead and let your imagination help you.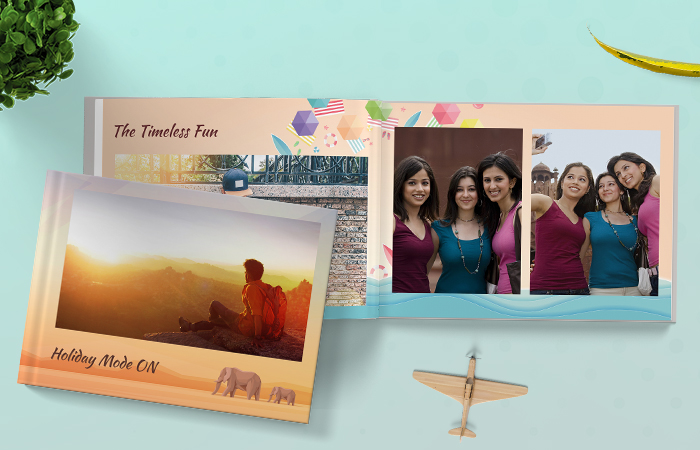 Crispy Golden Hour
It may depend in which part of the world you are- but you can easily sneak in your group out during at least one golden hour. An hour after sunrise and one before sunset (golden hours) is the best natural light to capture silhouettes and beautiful contrasted photos.
Go Local- Feel Local
When in Rome, do as Romans do- goes the old saying. Yes- try capturing local people, cuisine, events, festivals and wildlife as much as you can. Get the food shots, ask your taxi driver to pose, or any interesting person you find on the streets. Go and travel on foot to soak in the vibe of the place for a day. Also, check for any cultural or special events happening during your stay. It makes up for a visual treat and you'll have in detail stories to tell when you return home.
If you are vacationing at a location where you find unique wildlife like birds, dolphins, or any region specific animals- make sure to capture it. Try to go on an excursion with a guide that helps to increase your chances of spotting those animals or birds closely.
Show Off Your Travel Pictures with Swag
But wait- don't forget to put yourself too in some frames too. Don't let yourself lag behind since you're just busy capturing. Make your travel story tell its tale in Travel photo books that is full of all these mentioned shots and few candid shots of the people who mean the world to you.
Because when you look at this photo book, it will definitely make you feel the cool mountain air on your face or the sands below your feet slip away finely in the waves.
Ready to hold your memories in hand?