43 Bedroom Decorating Ideas, Trends & Tips
July 06, 2021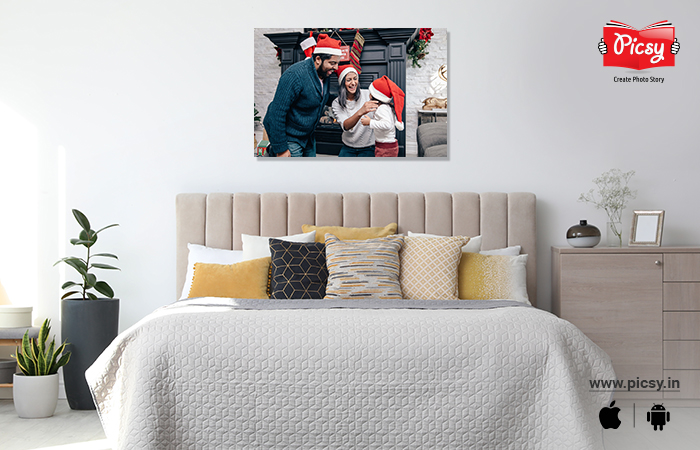 Your bedroom is a place where you have the liberty to be yourself, to relax, and rest after a hectic day at work. Thus, it is quite important to make it comfy and leisurely. With some basic décor upgrades, you can make your bedroom appealing and mesmerizing. Undoubtedly, your bedroom is the essential room in your entire house. Ultimately, you begin and end your day there. So, it is a wise decision to decorate the bedroom. But are you struggling with what to do and how to re-decorate your room? Don't get stressed out. We have these really amazing ideas which you can use these bedroom decor ideas to amplify your bedroom.
Read out the following bedroom decoration ideas to decorate the most comfortable place of your house.
Unique Bedroom Design Ideas And Styles
1. Opt for a vibrant color scheme
Colors add happiness to the gloomy day. You can add a vibrant color bedding or a bright lamp to opt for liveliness in your room.
2. Comfortable corner
Your bedroom is your personal space, so why not secure a place for your me-time. Thus, you can comfortably spend your time by opting for a cozy corner.
3. Marvel wall
A wall having an aesthetic beauty attached to it can make your bedroom wall décor. The marvel wall will give your bedroom a fashionable touch.
4. Complementing pillows
Complement your bed with peppy pillowcases. Use the contrasting pillows to make a statement.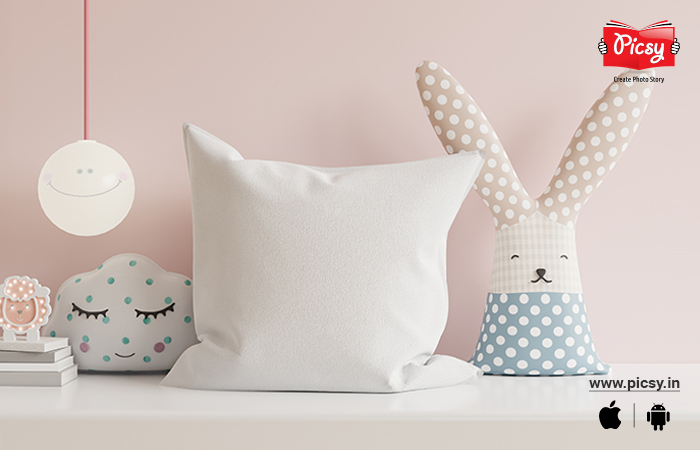 5. Textured bed frame
Opt for a textured bed frame to intensify the beauty of your bedroom instead of going for a wooden or metal one.
6. Symmetrical elements
Adding the symmetrical elements to your bedroom gives a chic perception of the room.
7. Lets light up the room
Who does not like to get the feeling of staying in a hotel at home? To make your room seem like a splendid and lavish hotel, you can add a stylish light to your bedroom.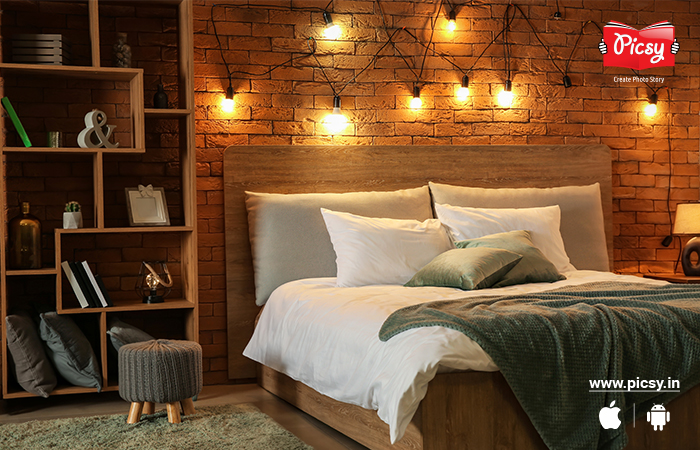 8. Let the headboard be the showstopper
Add a unique headboard for the low-maintenance yet stylish look for your bedroom.
9. Elegant sitting
You would not use your bedroom just for sleeping. Include a piece of elegant furniture for a classy look.
10. A classy art piece
Bedroom decoration could be hassle-free if you add a classy art piece as it amps up the beauty of the room.
11. Monochrome is stylish
If you have a small bedroom, you can use monochromatic color to make it less enclosed.
12. The layering of the bed
Your master bedroom could be designed by using layered bedding as it will instantly upgrade your room. In addition to this, it would keep you cozy and in winter.
13. An easing color palette
Pick the colors of your choice to create an easing and comfortable atmosphere in your room. As you will be relaxing in your bedroom, the colors should not cause pain to your eyes.
14. Say No to family photographs
You can keep family photographs for other rooms. But in the bedroom, there should not be any family picture.
15. A dramatic touch
Give your bedroom a dramatic touch by balancing out the bright and dark elements and creating a vintage look.
16. Floral alignment
Floral alignment is a wonderful thing to wake up to. Amp up your bedroom by adding a floral pattern on the wall. Moreover, it helps you to be familiar with greenery in the chilly winter when you wish to be in your bed and ditch going out.
17. A specified workspace
Though the designers are not much in favor of including a workspace in the bedroom, it adds beauty. The only aspect to remember is to make the workspace a bit away from the bed.
18. Magic of mirror
Mirrors create magic by making space feel larger and beautiful. So, if you have a small bedroom, then opting for a mirror would definitely elevate your room.
19. Accumulate your favorite things
An amalgamation of your favorite things is a great way to give a beautiful touch to your room. It would bring a cheek-to-cheek smile to your face when you have a glimpse of them.
20. Blending patterns
Blend in subtle and bold patterns to give your room a tailored and sophisticated look.
21. Natural neutrals
Bring serenity to your room by using a soft color scheme inspired by nature to add that quirkiness to your comfort zone.
22. An attached bookcase
If you possess a small bedroom, go for an attached bookcase to accentuate the beauty of your place. You can even add other stuff like small planters to the bookcase.
23. Classic wood accents
Ditch out the old, monotonous cupboard and opt for the classic wooden ones to give your room a chic and elegant look.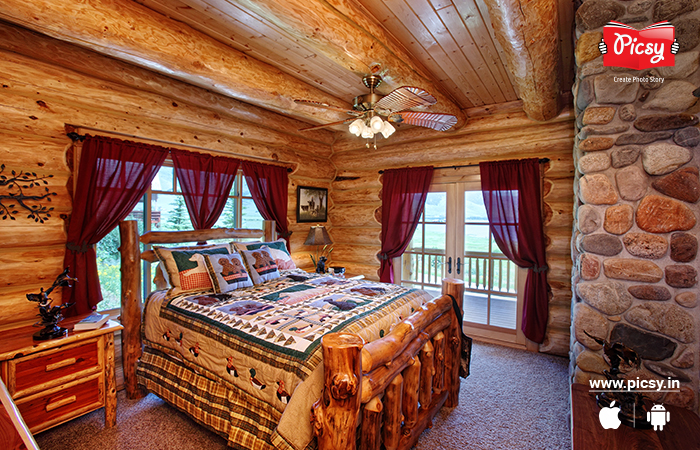 24. Embracing architecture
Embrace and magnify the antique artifacts to amp up the entire look of your room.
25. Cherish the art
Opt for miniature artworks which you really cherish to give a beautiful touch to your room.
26. Add the Victorian touch
The inclusion of a Victorian parlor will give a top-notch setup to your bedroom decorating ideas.
27. Golden area
If you want your master bedroom design to make a statement, the golden accent peppered with mild yellow tones will undoubtedly intensify the bedroom.
28. Easy breezy
Make the canopy the star of your room and allow your bedroom decorating perspective to stand out.
29. Heavenly blues
A lighter shade of blue hue gives a soft touch to the room, thereby making it subtle and cohesive.
30. Cottage bedroom
Old is gold and opting, or the cottage-style bedroom would dispense the antique yet classy feeling of spending time in a royal setup. It would not only make you comfortable but would give you the feeling of luxurious space.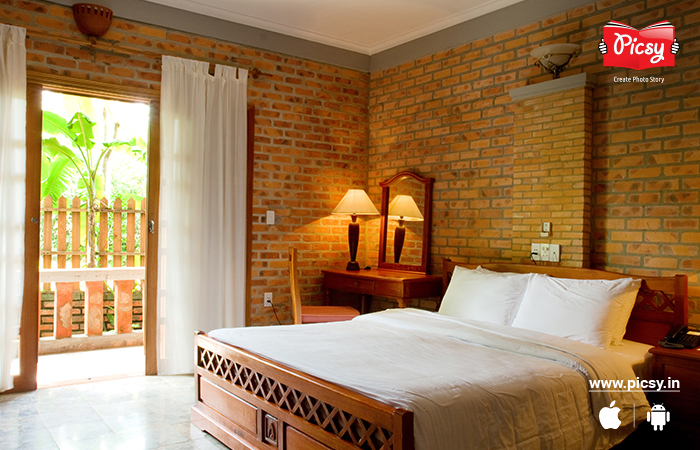 31. Simplicity is elegant
Overdoing something might make it seem shallow and unattractive. Thus, if you are stuck with what to go for as there are a plethora of options, you can stick to minimalistic aspects and still get a elegant look for your bedroom. The feasible choice is to go for photo prints online as they will give that wow factor to your bedroom and would not seem overdone.
32. Include the outdoors
Use the neutral palette windows or doorways to give an illusion of including the outdoors with the bedroom. It would not only give your bedroom a voguish touch but also keep you close to nature.
33. Pattern play
Have a pattern play by including chandelier, lamps complementing each other's pattern. This would create a subtle and sophisticated look for your bedroom. This bedroom decor idea diy is definitely worth trying.
34. Wallpaper walls
Why not go for trendy wallpapers to give life to the monotonous walls? Applying wallpapers on the wall would give a polished look to your room. Bedroom wall décor is a go-to way to make the room look voguish.
35. Retrieve wooden walls
Experience the nostalgia by using these classy wooden walls and refine the setting of your bedroom.
36. Whiteboard for voguish feel
The color white has a royalty attached to it. Thus, why not opt for a whiteboard to get a voguish feeling and experience the kingly feeling with immense royalty.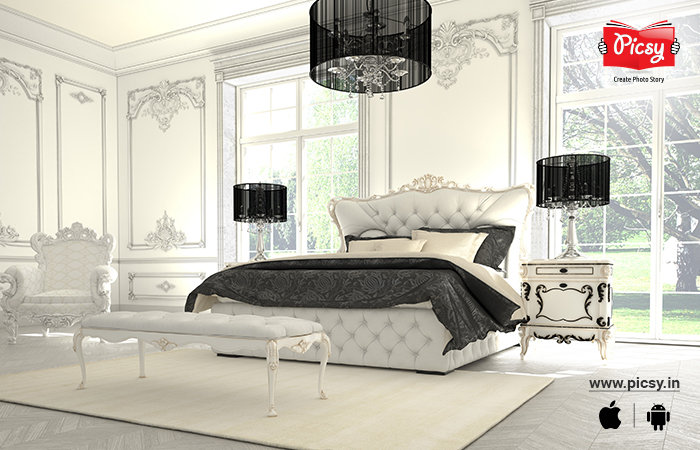 37. Bedroom for countrymen
You can choose the vintage iron cot to have an impression of a rustic look for your bedroom.
38. Blend modern and traditional
One of the best ways to amp up your bedroom is by having an amalgamation of modern with traditional. You can simply add a few artifacts to your old-style bedroom to revamp the look. By doing so, you would not have to make the extra efforts, but you can use the existing objects.
39. Hues of grey
Grey is one of the sophisticated colors when it comes to home décor ideas . Thus, if you are tussling a bit with the choice of colors, you can straight away go for grey. Choose the lighter ones for a subtle look of the walls and darker tones for the furniture.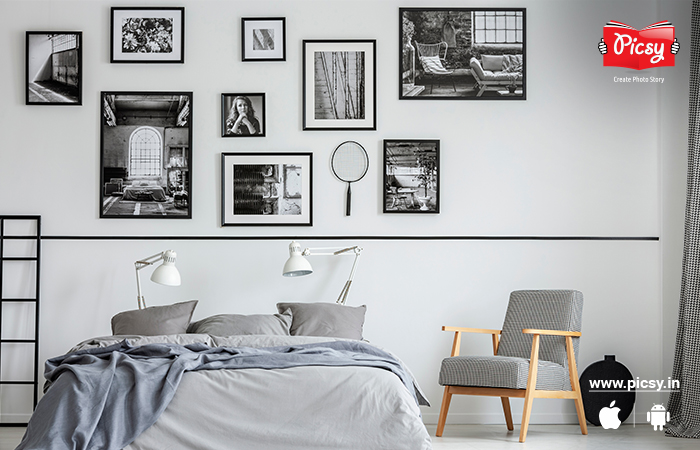 40. Pink palette
Girls are quite fond of pink. Thus, you can choose the pink palette to let the princess of your house get the fairy tale feel.
41. Polka Dot play game
A chic polka dot pattern elevates the entire design. Go for the polka dot pattern to add the quirk to the bedroom.
42. Neutral bedding
The neutral shades in bedding give the voguish feel. You can use neutral bedding to have a classy and elegant feeling for your room.
43. The bold, the better
Having a bold wall would undoubtedly create a sophisticated look for your room. That, too, a wall with a bold print on it would give a classy texture to your comfortable space.
Winding-up
You can even have a couple canvas print for bedroom to give a lavish touch to your bedroom. The canvas is available in different shapes and sizes. You can select the one as per your choice. Picsy is the reliable choice to go for canvas prints. Our expert team is at service to assist you.
Moreover, you can choose custom canvas photo print according to your comfort and choice and let it make your room classy and sophisticated. So, let us not waste time and quickly download the Picsy app and experience the professional photo editing services and canvas prints delivered by Picsy.
Ready to hold your memories in hand?